Cloud & Social Media Data Aggregator ZeroPC Now Available On iOS
Dropbox revolutionized the field of data storage, and iCloud went a long way in bringing the concept to iOS. With cloud storage becoming the latest buzz in the tech world, it is understandable that a lot of cloud services have sprouted their wings in recent years. All this is useful but what's the point of it all if you're using one too may services and can't remember which item is stored in which one? Recently covered Greplin for iOS and ZeroPC Cloud Navigator for Android are excellent solutions to said problem, and now, an iPad variant for the latter is available on the iTunes App Store. For those who haven't read our review of ZeroPC Cloud Navigator, it is a free app that integrates with almost all popular cloud services and social networks, and lets you browse directly through data stored on each.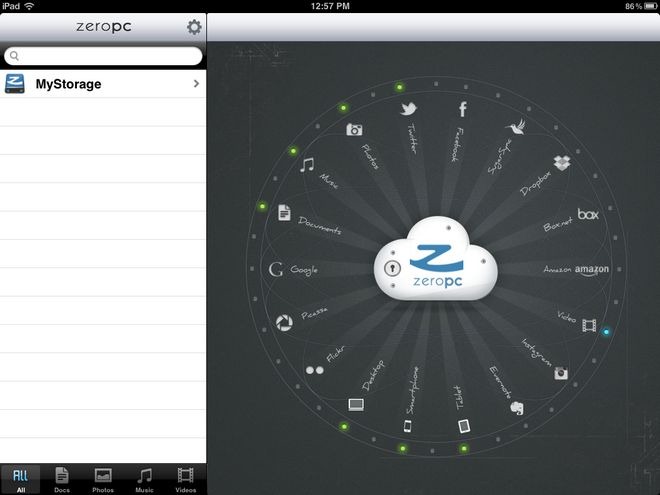 ZeroPC can be thought of as an app that brings the whole cloud together for you, and allows you to view the data in there without having to worry about which service it's on. You have to sign up for a new ZeroPC account to start using the app. Once you have done that, all you will see is the data that resides locally on your iPad. No matter which account you used to sign up, ZeroPC will not connect to any of the associated services automatically. To connect the app to your services, you'll have to log in and grant ZeroPC access to each one.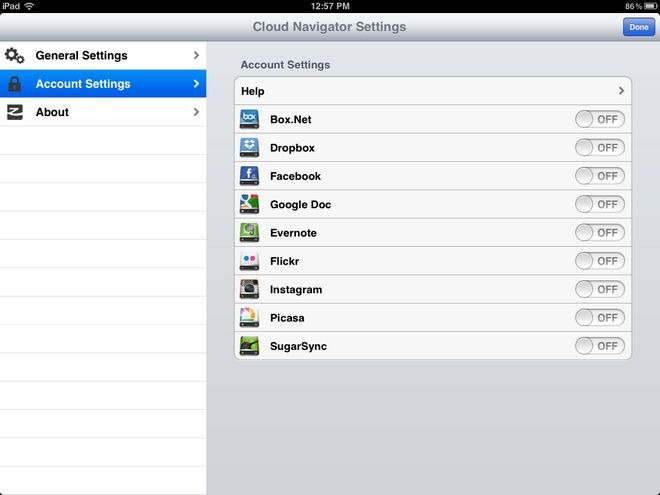 Currently, the services that ZeroPC supports include Dropbox, Facebook, Twitter, Google, Amazon, Flickr, Picasa, Box.net, Evernote and many more. The whole point of adding these services to the app is to be able to search through all of them in one go. That is where the app's search feature steps in. It looks through all the services you have added and brings the results up pretty quickly.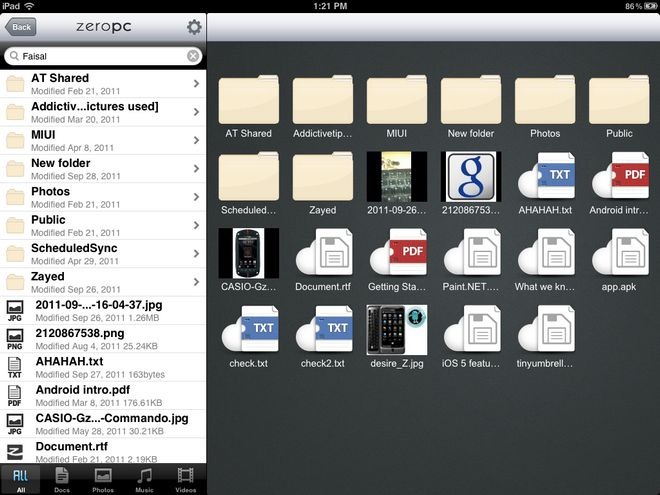 In addition, you can browse through your cloud and social media data manually. Tap on any of the added services, and the data in it will be displayed in the form of files and folders. Your Facebook folder will contain subfolders named after each of your contacts. In each folder, you will find posts by the associated contact in which you were tagged.
Like the service itself, ZeroPC Cloud Navigator is absolutely free. iPad owners who use more than one cloud service, or social network, are likely to find it very useful.
Download ZeroPC Cloud Navigator for iPad
Update: Now available for iPhone as well.
Download ZeroPC Cloud Navigator for iPhone