Zoolz Comes To Android; Browse Uploaded PC Data From Cloud By Folders
Adding to the rather healthy and rapidly growing list of extremely efficient cloud storage services is Zoolz that that offers each registered user free 4GB of online storage space. The feature that sets Zoolz apart from its counterparts is its ability to let users decide what folders/files of their computer they wish to sync with the service. You have the choice of either adding your entire computer, documents folder or just a handful of directories/files to the sync mechanism. Once desired directories are synced successfully, you can access them (and all the underlying data) from virtually any computer that is connected to the internet. To help mobile users access their personal Zoolz data on the go, the service released its dedicated mobile client for iOS-powered devices a little while ago, and now it's time for Android users to avail the service right from their devices. Using the official mobile app of Zoolz, users can access, explore, search and share their Zoolz cloud content with utmost ease. Apart from supporting firm integration with Facebook (for photo-sharing), the app also lets you download and open files on your device via compatible apps. In addition, the app also features a timeline-based native photo gallery so that you can take a trip down the memory lane via all the memorable photos captured at various occasions/events. That's not all; with Zoolz, you can add multiple PCs to the sync mechanism, and access content of the desired one on your device. With the service's Windows Phone 7 client releasing soon, Zoolz vows to be your one-stop shop for online data backup, syncing and exploring needs.
Before installing the Zoolz mobile client on your device, make sure that you have its dedicated desktop client up and running on your computer. Apparently, the desktop client of Zoolz is available only for Windows, and can be downloaded from the Zoolz website for free. Once the desktop client is installed, you can start syncing any required directory/file of your PC with Zoolz. In addition, using the web version of Zoolz, you can decide whether you wish to sync the entire My Computer, Documents, and/or Pictures, Music, Videos and Documents folder(s). Needless to say, the very first sync process might take some time depending upon the amount of data that you want to sync. However, once done, you can easily access all the uploaded content from your mobile device using the Zoolz client.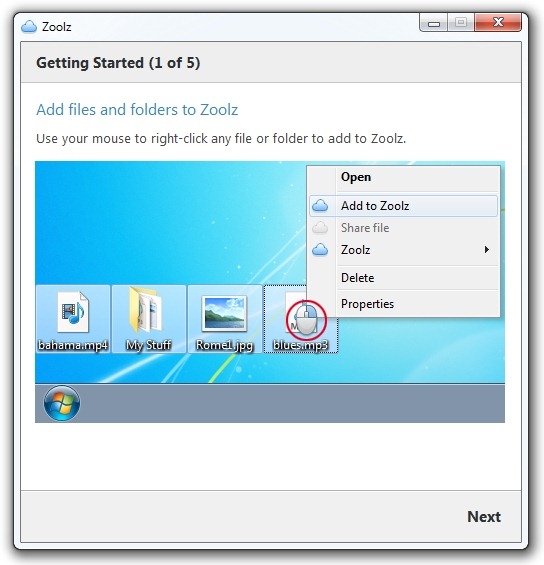 As mentioned earlier, the mobile app of the service lets you explore your personal Zoolz content in the same folder hierarchy structure as found on your computer. This is made possible by a neatly designed native file explorer interface that lets you browse all the content by associated PC(s) > Data Categories > Directories.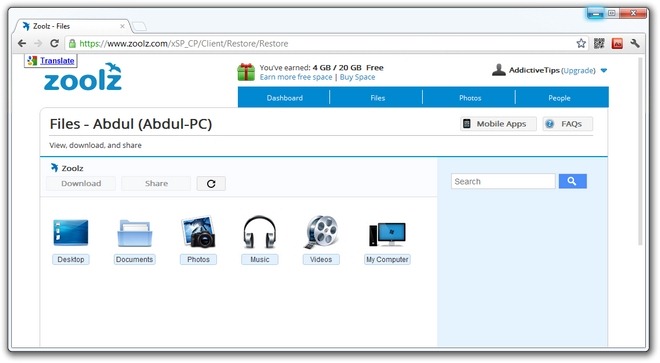 But before all that, you must log in to the app using a valid Zoolz or Facebook account. New users can grab a fresh account for themselves for free from within the app. To begin with, Zoolz offer a small matter of 4GB of free online storage space per account. The allocated space can, however, be extended to a maximum of 20GB per account through in-app purchasing or referring the service to your friends.
The app's homescreen interface lets you explore your personal Zoolz content by Files, Photos and Favorite. Provided you have multiple computers added to the sync process, you can tap Computers, and select a specific computer to explore.
While within the app's native photo gallery, you can tap the calendar icon at the top-left of the screen, and select an exact timeframe (year) for which you wish to explore the photos. Tapping an image thumbnail lets you view the photo in full screen whereas tapping the menu button at the top-right side lets you choose whether you wish to share the image via mail, post it to Facebook, save it to your device's local storage, or add it to the app's Favorites list.
To open all other file types on your device, you'll first need to download them, and then select a compatible app that supports opening that particular file. Tapping a file starts downloading it whereas long pressing on a file lets you share its download link with your friends, download it to the device, or add it to Favorites.
Now to the missing bit (and it's a pretty big miss, mind you). The mobile app of Zoolz is currently restricted to letting users only explore their cloud content, and does not let you manage or upload data from your device. This implies that the app is useful if you only want to access your computer data from anywhere on your device without tinkering with it in any way. Hopefully, future updates of the app will allow users to upload/share data to cloud from their devices, and also enable them to modify cloud content as per requirement.