We are reader supported and may earn a commission when you buy through links on our site.
Learn more
5 Best IT Threat Monitoring Systems and Why You Need It
IT Security is a hot topic. That's the least we can say. Threats are everywhere and protecting against them is a never-ending battle. Gone are the days where all one needed was some virus protection software. The complexity of the IT threat scene of today is equal–if not superior–to that of the systems we're trying to protect. Attacks come in all shapes and forms and put our businesses at risk on a daily basis. To protect against them, we need some top quality threat monitoring system. Luckily, we've done some of the hard work of finding them and we're glad to present out top IT threat monitoring systems.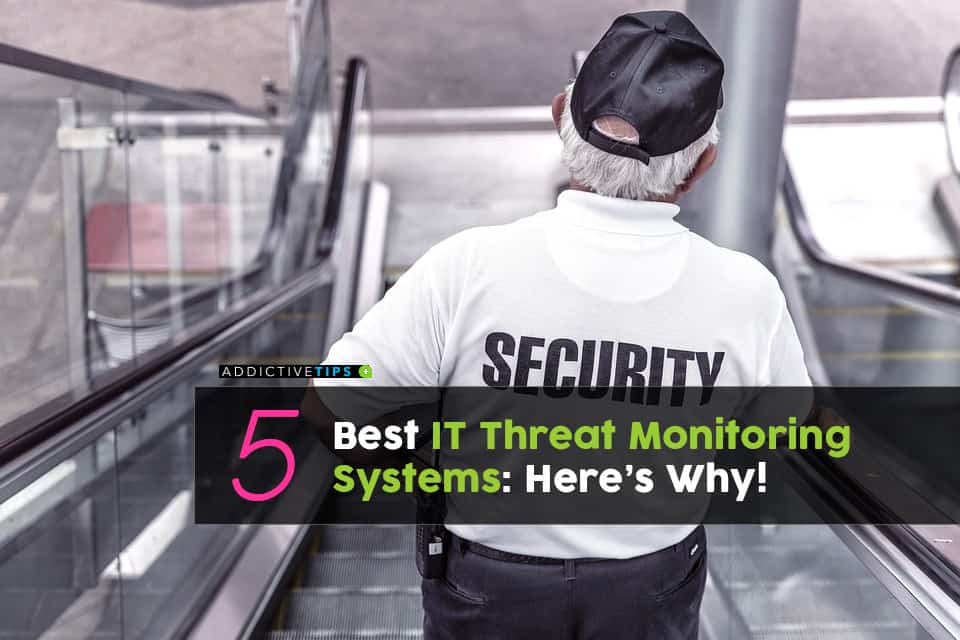 We'll begin our exploration by trying to define what IT threat monitoring is. Different people might have different definitions–and they're all equally good–but, for the sake of our discussion, it is important that we are all on the same page and share a common understanding. Next, we'll try to eliminate some confusion as to what IT threat monitoring is and, more importantly, what it isn't. We'll then proceed to explain how IT Threat monitoring works, what are its benefits and why you need it. Finally, we'll be ready to reveal the result of our search for the top IT Threat monitoring systems and we'll review each of the top systems we've found.
What Is IT Threat Monitoring — A Definition
IT threat monitoring typically refers to the process of continuously monitoring networks and their components (including servers, workstations, and other equipment) for any sign of security threat. These could, for example, be intrusion attempts or data theft. It is an all-encompassing term for the surveillance or a network against all sorts of malicious activities.
IT professionals rely on IT threat monitoring to gain visibility into their networks and the users accessing them. The idea here is to enable stronger data protection and prevent–or at least lessen–the possible damages that could be caused by breaches.
In today's world, where it is not at all uncommon to see organizations employing independent contractors, remote workers, and even in-house staff using their own devices at work, there is an additional risk to the organizations' sensitive data. With no direct control over these third-party devices, the only option is to effectively monitor all activity.
IT threat monitoring is a rather complex matter mainly because malicious users and groups use techniques which evolve as fast as–if not faster than–the rest of the information technologies to breach networks and steal data. For that reason, IT threat monitoring systems must also evolve constantly to stay abreast of the threat scene.
What It Is Not – Avoiding Confusion
IT security is a vast and complex domain and it is easy to get things mixed up. And there could easily be some confusion as to what IT threat monitoring is or what it is not. For instance, Intrusion Detection Systems (IDS) are, of course, used to monitor networks for threats. That would make these systems IT threat monitoring systems. But this is not what we typically refer to then talking about IT threat monitoring.
Likewise, Security Information and Event Management (SIEM) is also often considered to be a form of IT threat monitoring solution. Understandably, these systems can also be used to protect our infrastructures against malicious utilization.
Virus protection software could also be considered to be IT threat monitoring systems. After all, they too are used to protect against the same type of threats, albeit using a different approach.
But taken individually, these technologies are not usually what we're referring to when talking about IT threat monitoring.
As you can see, the concept of IT threat monitoring is not exactly clear. For the sake of this article, we've relied on the vendors themselves and what they see as an IT threat monitoring software. It makes sense because in the end, IT threat monitoring is a vague term that can apply to many things.
How IT Threat Monitoring Works
In a nutshell, IT threat monitoring consists of the continuous monitoring and the subsequent evaluation of security data with the objective of identifying cyber-attacks and data breaches. IT Threat monitoring systems collect various information about the environment. They acquire that information using different methods. They can use sensors and agents running on servers. Some will also rely on analyzing traffic patterns or analyze systems logs and journals. The idea is to quickly identify specific patterns which are indicative of a potential threat or an actual security incident. Ideally, IT threat monitoring systems try to identify threats before they have adverse consequences.
Once a threat is identified, some systems have a validation process that ensures the threat is real and that it is not a false positive. Different methods can be used to accomplish that, including manual analysis. Once an identified threat is confirmed, an alert is issued, notifying the proper personnel that some corrective action must be taken. Alternatively, some IT threat monitoring systems will also launch some form of counter-measure or remedial action. This can either be a custom-defined action or script or, as it is often the case with the best systems, an entirely automated response based on the discovered threat. Some systems will also allow the combination of automated, predefined actions and custom ones for the best possible response.
The Benefits Of IT Threat Monitoring
Identifying otherwise undetected threats is, of course, the main benefit organizations gain from using IT threat monitoring systems. IT threat monitoring systems will detect outsiders connecting to your network or browsing it as well as detect compromised and/or unauthorized internal accounts.
Although these can be difficult to detect, IT threat monitoring systems correlate various sources of information about endpoint activity with contextual data such as IP addresses, URLs, as well as file and application details. Together, they provide a more accurate way of identifying anomalies which could indicate malicious activities.
The biggest advantage of IT threat monitoring systems is the reduction of the risks and the maximization of data protection capabilities. They will make any organization better positioned to defend against both outsider and insider threats, thanks to the visibility they provide. IT threat monitoring systems will analyze data access and usage and enforce data protection policies, preventing sensitive data loss.
Concretely, IT threat monitoring systems will:
Show you what is happening on your networks, who the users are, and whether or not they are at risk,
Allow you to understand how well network usage aligns with policies,
Help you achieve regulatory compliance that requires monitoring of sensitive data types,
Find vulnerabilities in networks, applications, and security architecture.
The Need For IT Threat Monitoring
The fact is that today, IT administrators and IT security professionals are under tremendous pressure in a world where cybercriminals seem to always be a step or two ahead of them. Their tactics evolve rapidly and they work real had at always staying ahead of traditional detection methods. But the biggest threats are not always coming from the outside. Insider threats are possibly just as important. Insider incidents involving the theft of intellectual property are more common than most would care to admit. And the same goes for unauthorized access or use of information or systems. This is why most IT security teams now rely heavily on IT threat monitoring solutions as their primary way of staying on top of the threats—both internal and external—that their systems are facing.
Various options exist for threat monitoring. There are dedicated IT threat monitoring solutions but also full-suite data protection tools which include threat monitoring capabilities. Several solutions will offer threat monitoring capabilities and incorporate them with policy-based controls having the ability to automate the response to detected threats.
No matter how an organization chooses to handle IT threat monitoring, it is most likely one of the most important steps to defend against cybercriminals, especially when considering how threats are becoming increasingly sophisticated and damaging.
The Top IT Threat Monitoring Systems
Now that we're all on the same page and that we have an idea of what IT threat monitoring is, how it works and why we need it, let's have a look at some of the best IT threat monitoring systems that can be found. Our list includes various products which are widely different. But no matter how different they are, they all have one common goal, detect threats and alert you of their existence. This, in fact, was our minimal criteria for inclusion on our list.
SolarWinds is a common name to many network and system administrators. It is famous for making one of the best SNMP monitoring tool as well as one of the best NetFlow collector and analyzer. In fact, SolarWinds makes over thirty different products covering several areas of network and system administration. And it doesn't stop there. It is also well-known for its many free tools, addressing specific needs of network administrators such as a subnet calculator or a TFTP server.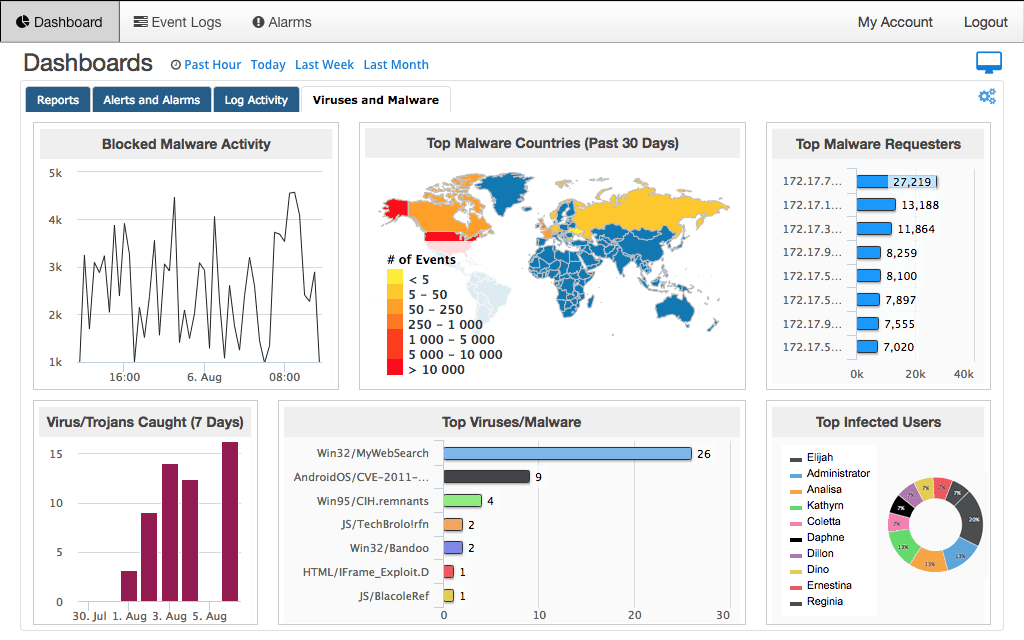 When it comes to IT threat monitoring, the company offers the SolarWinds Threat Monitor – IT Ops Edition. The "IT Ops Edition" part of the product's name is to differentiate it from the managed service provider edition of the tool, a somewhat different software specifically targeting managed service providers (MSPs).
This tool is different from most other SolarWinds tools in that it is cloud-based. You simply subscribe to the service, configure it, and it starts monitoring your environment for several different types of threats. In fact, the SolarWinds Threat Monitor – IT Ops Edition combines several tools. It has log centralization and correlation, security information and event management (SIEM) and both network and host intrusion detection (IDS). This makes it a very thorough threat monitoring suite.
The SolarWinds Threat Monitor – IT Ops Edition is always up to date. It constantly gets updated threat intelligence from multiple sources, including IP and Domain Reputation databases, allowing it to monitor for both known and unknown threats. The tool features automated intelligent responses to quickly remediate security incidents. Thanks to this feature, the constant need for manual threat assessment and interaction is greatly reduced.
The product also features a very potent alerting system. It as multi-conditional, cross-correlated alarms that work in tandem with the tool's Active Response engine to assist in identifying and summarizing important events. The reporting system is also one of the product's strong suits and it can be used to demonstrate audit compliance by using existing pre-built report templates. Alternatively, you can create custom reports which fit your business needs.
Pricing for the SolarWinds Threat Monitor – IT Ops Edition starts at $4 500 for up to 25 nodes with 10 days of index. You can contact SolarWinds for a detailed quote adapted to your specific needs. And if you prefer to see the product in action, you can request a free demo from SolarWinds.
2. ThreatConnect's TC Identify
Next on our list is a product called from TreathConnect called TC Identify. It is the first tier component of ThreatConnect's series of tools. As the name implies, this component has to do with detecting an identifying various IT threats which is precisely what IT threat monitoring systems are all about.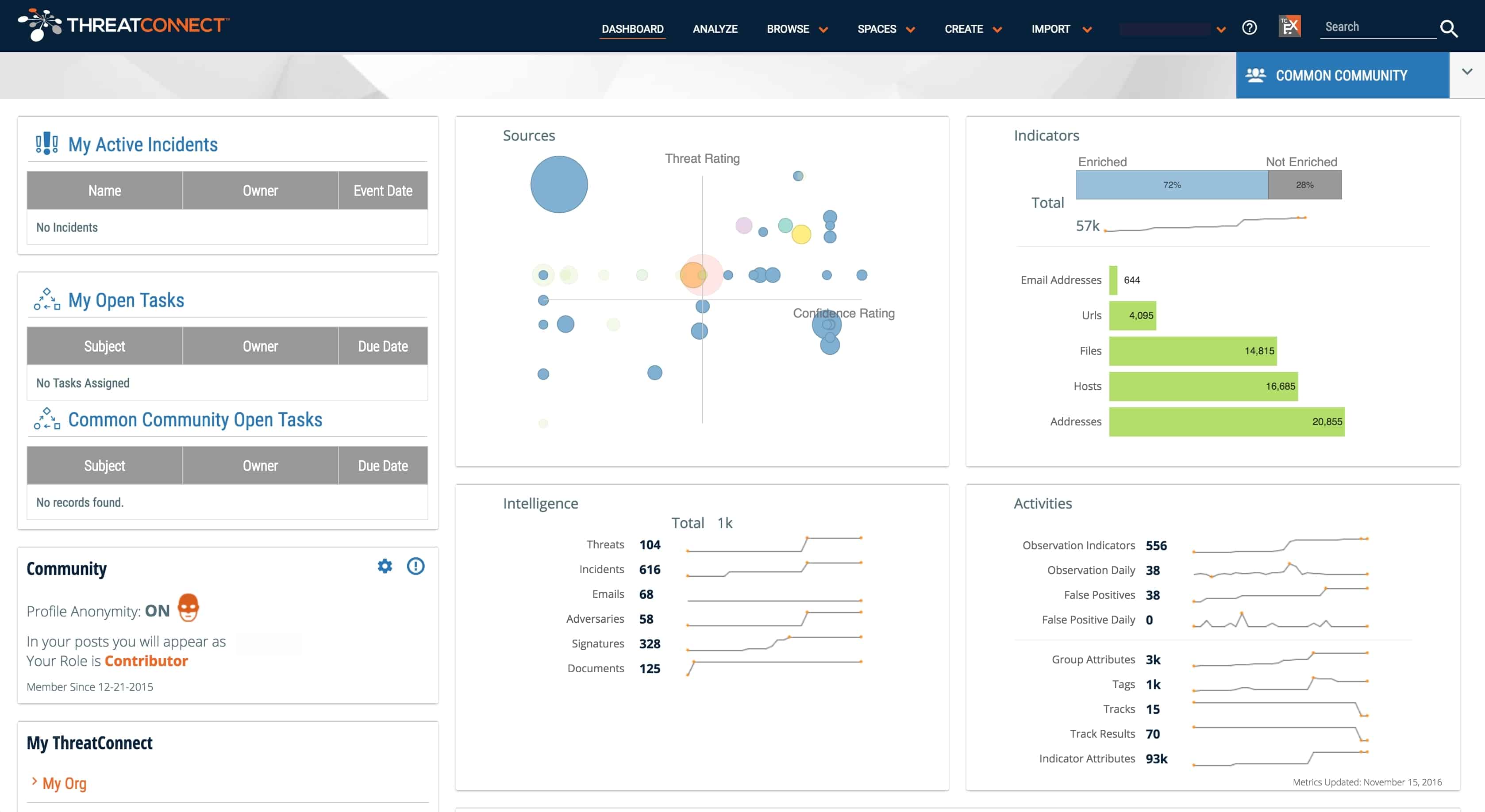 TC Identify offers threat intelligence compiled from more than 100 open source feeds, crowdsourced intelligence from within dozens of communities, and its own ThreatConnect Research Team. Furthermore. It gives you the option to add intelligence from any of the TC Exchange partners. This multi-sourced intelligence leverages the full power of the ThreatConnect data model. In addition, the tool features automated enrichments for a robust and complete experience. The ThreatConnect platform's intelligence sees what's behind the activity and shows how it is tied to other events. This gives you the full picture, allowing you to make the best decision on how to react.
ThreatConnect offer a series of progressively feature-richer tools. The most basic tool is TC identify described here. Other tools include TC Manage, TC Analyze and TC complete, each adding a handful of features to the previous tier. Pricing information is only available by contacting ThreatConnect.
3. Digital Shadows Search Light
Digital Shadows is a Forrester New Wave Leader in digital risk protection. Its SearchLight platform monitors, manages, and remediates digital risk across a wide range of data sources within the open, deep, and dark web. It works effectively at protecting your company's business and reputation.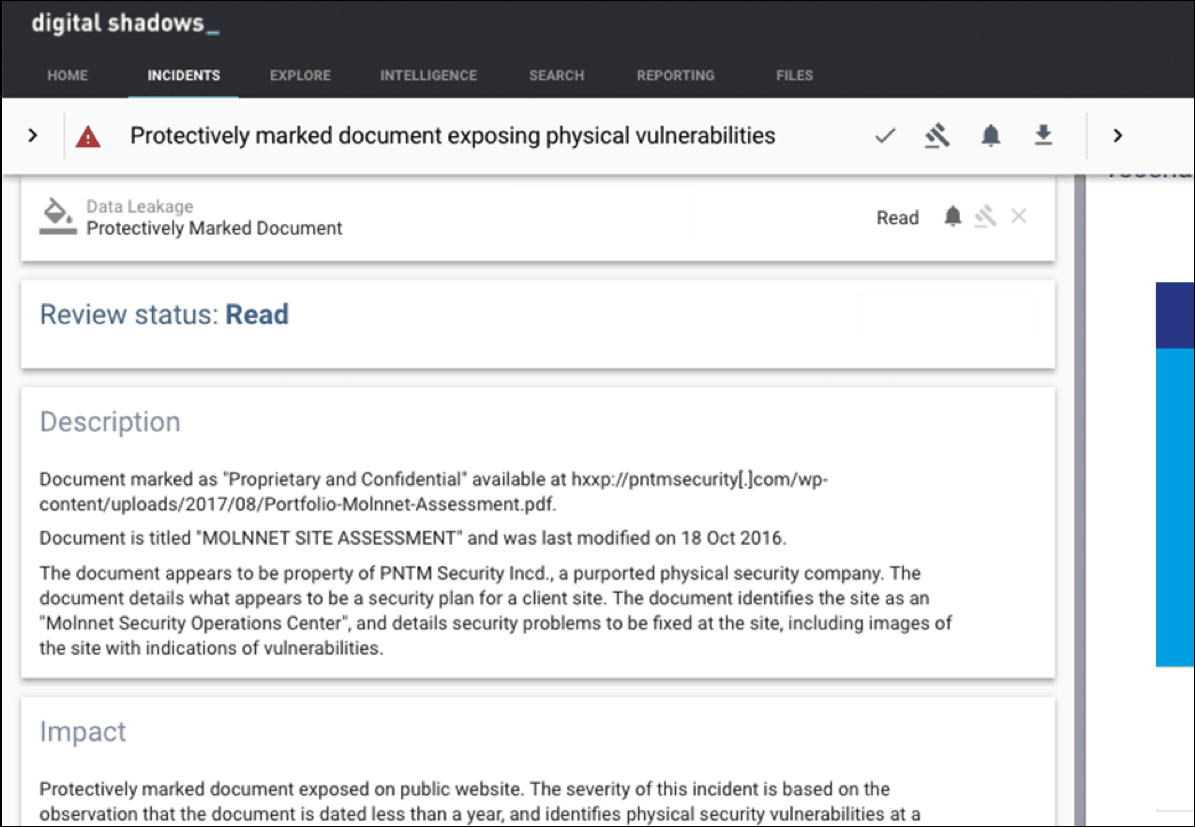 Digital Shadows Search Light can be used to protect against seven risk categories. The first protection is against cyber threats which are planned, targeted attacks on your organization. The tool also protects against data loss such as the leakage of confidential data. Brand exposure, where a phishing site is impersonating yours is another risk that the tool protects you from. The next risk this product guards against is what Digital Shadow calls third-party risk where your employees and suppliers can unknowingly put you at risk. Search Light can also protect your VIPs from being intimidated or threatened online just as it can be used to counter physical threats and protect you against malicious infrastructure changes.
The tool uses a wide range of automated and human analysis methods to narrow down detected anomalies and filter out real threats, thereby avoiding fast positives as much as possible. Purchasing Search Light requires that you first sign up for a free demo of the product, after which detailed pricing information can be provided based on your specific needs.
4. CyberInt Argos Threat Intelligence Platform
The Argos Threat Intelligence Platform from CyberInt is a Software as a Service (SaaS), cloud-based system which provides organizations with a sophisticated solution to the emerging trend of cyber threats commonly faced by organizations. The Argos platform's main features are its targeted, highly automated managed detection and response technology.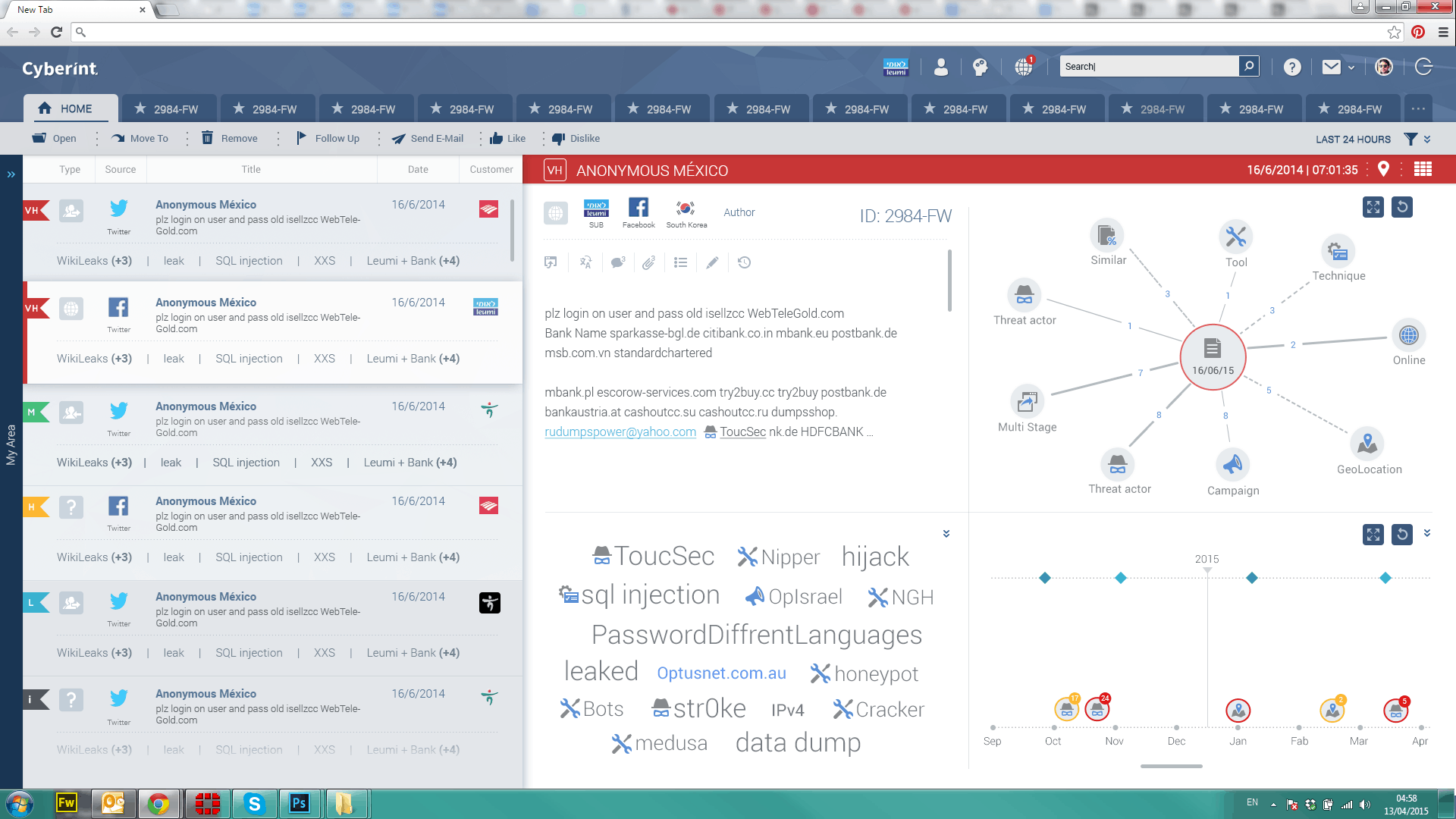 Concretely, the solution offers targeted and actionable intelligence obtained by pooling both technological and human resources. This allows Argos to generate real-time incidents of targeted attacks, data leakage and stolen credentials which could be compromising your organization. It uses a strong database of 10 000 threat actors and tools to maximize context. It will also identify threat actors in real time and provide contextual data about them.
The platform accesses hundreds of different sources such as feeds, IRC, Darkweb, blogs, social media, forums, and paste sites to collect targeted data and automate a proven intelligence process. Results are analyzed and provide actionable recommendations.
Pricing information for the CyberInt Argos Threat Intelligence Platform can be obtained by contacting CyberInt. As far as we could find out, the company doesn't seem to offer a free trial.
5. IntSights
Our final entry is a product called IntSights, a full-featured threat intelligence platform. It provides a wide array of threat protection against risks such as fraud and phishing. It also features brand protection and dark web monitoring.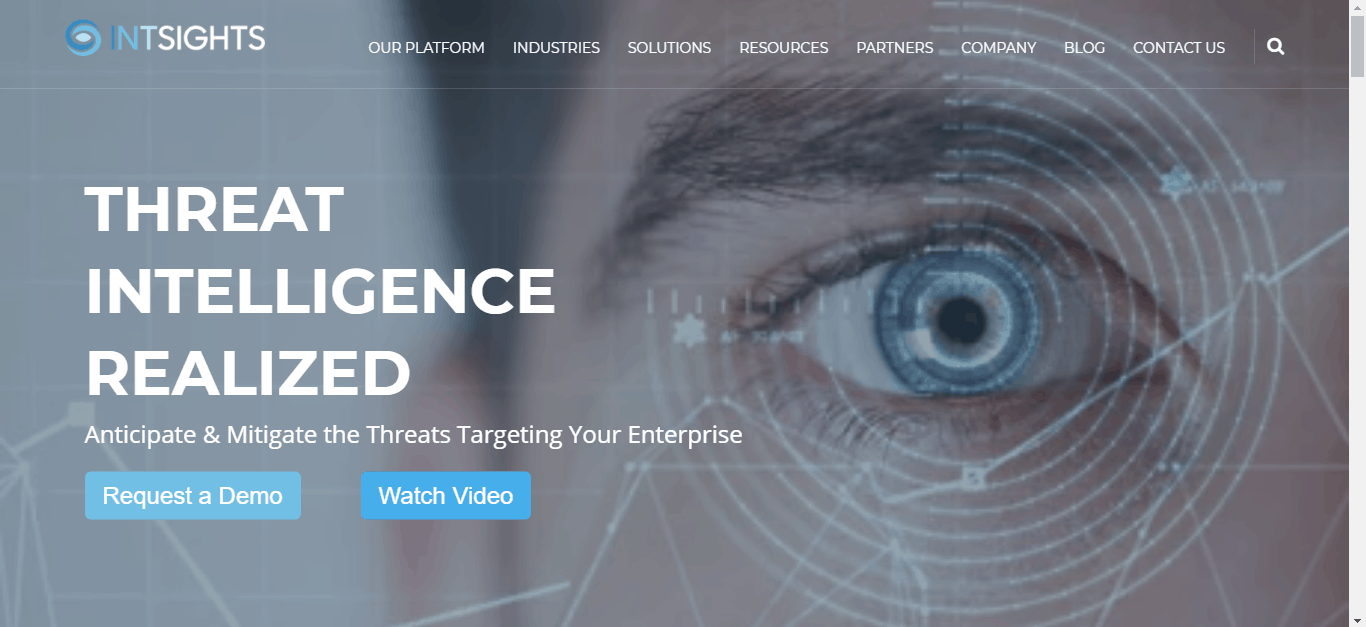 IntSights claims to be a one-of-a-kind enterprise threat intelligence and mitigation platform that drives proactive defense by turning tailored threat intelligence into automated security action. Concretely, the product provides active monitoring and reconnaissance of thousands of threat sources across the surface, deep and dark web, offering real-time visibility into threats targeting your network, brand, assets, and people.
Threat research and analysis is another of the IntSight's strong suit, using a multi-layered database for threat investigations of the deep and dark web to identify trends, provide contextual intelligence, and survey threat actors. The system can integrate with your existing security infrastructure as well as registrars, search engines, app stores and leading email systems to enable automated mitigation of external and internal threats.
Much like many other products on our list, pricing information for IntSight is only available by contacting the vendor. And while a free trial does not appear to be available, a free demo can be arranged.