We are reader supported and may earn a commission when you buy through links on our site.
Learn more
ManageEngine OpManager Review (2021): Rating, Pricing and Software Explained
We're having an in-depth look at ManageEngine OpManager, an infrastructure monitoring and management platform. In a nutshell, this is a great all-in-one tool which can cover various IT management tasks such as infrastructure management, network monitoring and even Application Performance Management (APM) using the appropriate plugin.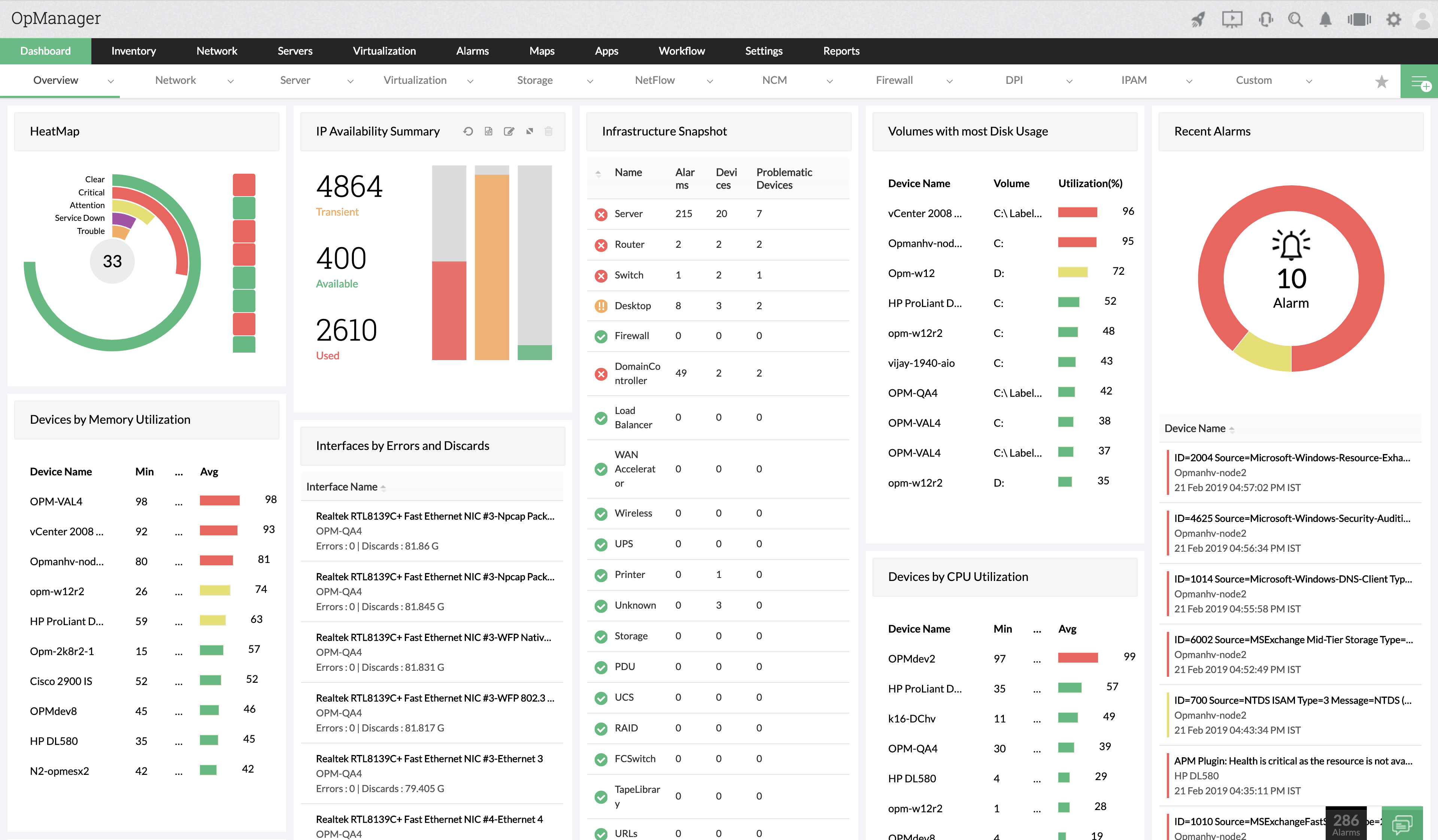 It is often said that knowledge is power and when it comes to managing networks, this is possibly truer than anywhere else. Knowing what is happening on the network should be an administrator's top priority and using the right tools is the key to success.
ManageEngine OpManager Review
ManageEngine—which is part of Zoho Corporation, an Indian software development company specializing in SaaS—offers a wide range of tools aimed at managing and monitoring your IT environment, including hardware, software and physical as well as virtual resources.
We'll begin our exploration of this great tool by having a brief look at its most common and useful features.
We'll then have a look at the product's installation. As you'll soon discover, this is where a lot of the tool's strength lies.
We'll follow by having a look at the OpManager's user interface. We'll see how its customizable dashboards let you adapt the interface to your needs.
Then, we're going to discuss the product's plugin structure as well as its alerting and reporting capabilities which, like the rest of the product, are quite comprehensive.
Before we conclude, we'll explore the pros and cons of the ManageEngine OpManager as reported by its users before we explore the product's pricing structure—which, by the way, is relatively straightforward and quite affordable.
The ManageEngine OpManager In A Nutshell
The ManageEngine OpManager offers comprehensive network management and monitoring capabilities. It can help you keep a watchful eye on network performance, it will help detect network faults in real time, assist in troubleshooting errors, and it can even prevent downtime by alerting you before the situation gets too problematic. This tool supports most environments from multiple vendors and can scale to fit your network, regardless of its size. It will let you monitor your devices and network and gain complete visibility and control over your entire network infrastructure.
Installation and setup of this product are both quick and easy. You can get it running in under two minutes. It requires no complex installation procedures and comes bundled with databases and web servers.
The ManageEngine OpManager constantly displays your network's performance in real time via its live dashboards and graphs. It monitors several critical operational metrics such as packet loss, errors and discards, etc. It will also evaluate performance metrics such as availability, CPU, disk space, and memory utilization across both physical and virtual servers.
The tool will help you detect, identify, and troubleshoot network issues, thanks in part to its threshold-based alerts. It allows one to easily set multiple thresholds for every performance metric and get individual notifications for each threshold. But alerting is definitely not all there is to this tool. Reporting is just is another area where this tool shines.
Its smart reports will give you detailed insights on your network's performance and that of its various components.
There are more than 100 built-in reports and you can customize, schedule and export these out-of-the-box reports as needed.
Installation-wise, ManageEngine claims the tool can be installed in less than two minutes. Once installed, it will automatically discover your devices without requiring any manual configuration steps. Furthermore, the system boasts a very intuitive and highly customizable graphical user interface where you'll easily find all the information you may need about your network.
Reports-wise, there is a full complement of excellent pre-built reports. That's not all, though. You can also create custom reports that better suit your needs. Finally, the product's alerting features are just as good as its other components.
Product Installation
The ManageEngine OpManager can be installed on either a Windows or a Linux server. Furthermore, it can be installed as easily on a physical machine as on a virtual one. No matter what your environment is made of, chances are you've got what's needed. By default, the installation process will take care of installing a PostgreSQL database for the system's usage. Alternatively, you can opt to use an existing SQL server of your choice, a useful option if you already have such servers.
A nice installation-related feature of the product is how ManageEngine includes batch files to assist you with hardware configuration. Let me explain with an example: There's a sFlowEnable.bat file that you can run on an HP ProCurve switch to enable sFlow management and monitoring on the device. This makes the process much easier than having to look up commands in that documentation and enter them one by one.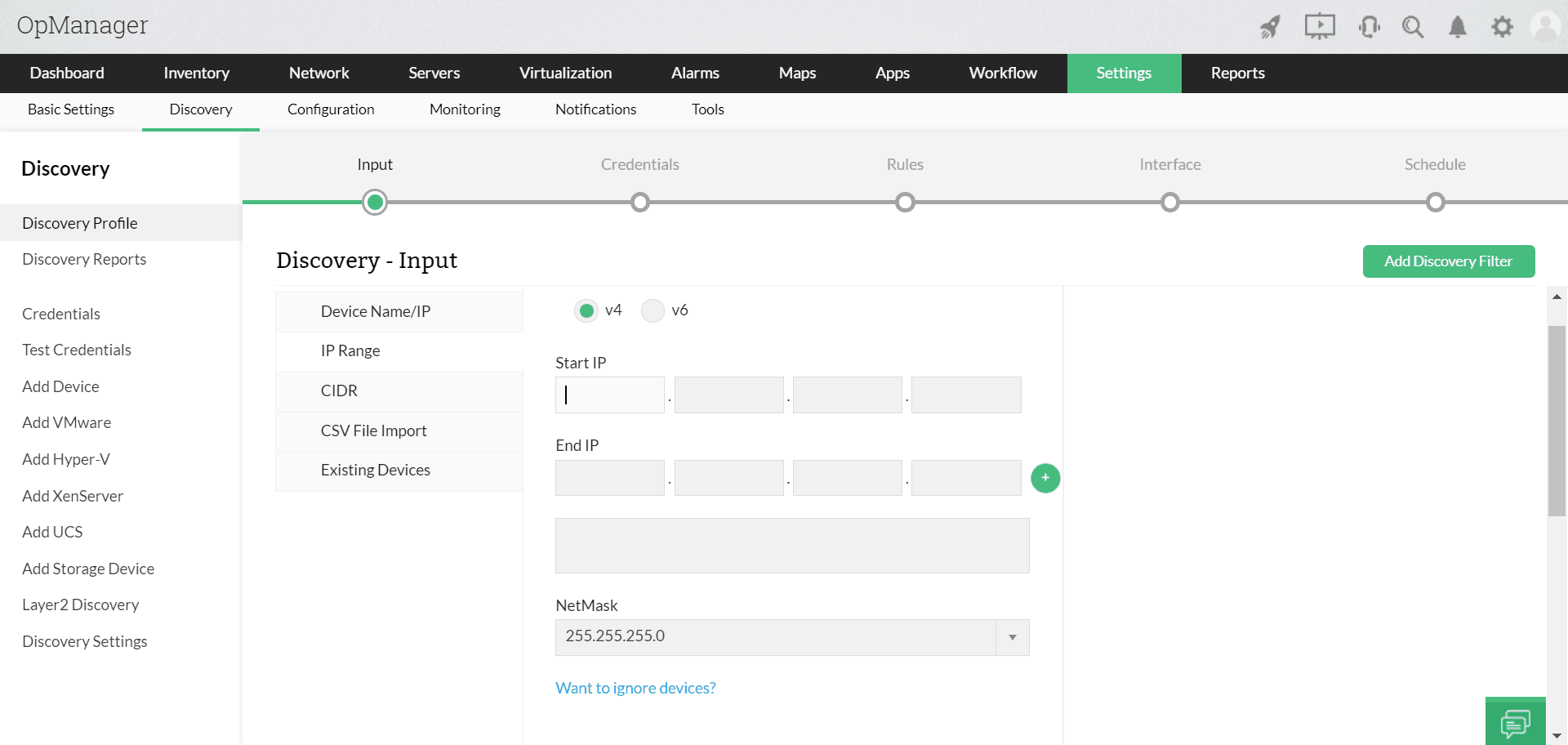 At its core, the ManageEngine OpManager uses SNMP, WMI, and CLI for device monitoring and management. Other technologies can also be used and are available as additional plugins.
Back to SNMP, the product has an auto-discovery feature that will scan your network for manageable devices and automatically add them to the tool and start monitoring them. It goes beyond that, though, and it will also find non-manageable devices and add them to the system's dashboard and monitor their up or down status.
Any device that responds to ping requests will be added by default. The only input the system needs from the user during the discovery process is the IP address range(s) to scan. The rest is all automated and it works rather well.
You can also use the platform to monitor services running on devices. You do that by selecting service monitors from a list of what is available on each specific device. What services can be monitored varies by device, as you would have imagined.
The Tool's User Interface
The ManageEngine OpManager's dashboard is one of the product's best asset. It is both easy to use and highly configurable. It really has all the components needed to make it a pleasure to use. The default dashboard is loaded with widgets of all sorts. Some of them are there as a sample and they contain sample data. Their purpose is to give you an idea of what's available.
Of course, widgets can be added, removed, and rearranged at will. The dashboards use an intuitive drag and drop interface. You won't have to read the documentation in order to learn how to get the most of them. Most of what is displayed on the dashboard can be clicked to reveal details about each object's operation. Again, this is a very nice and highly intuitive feature.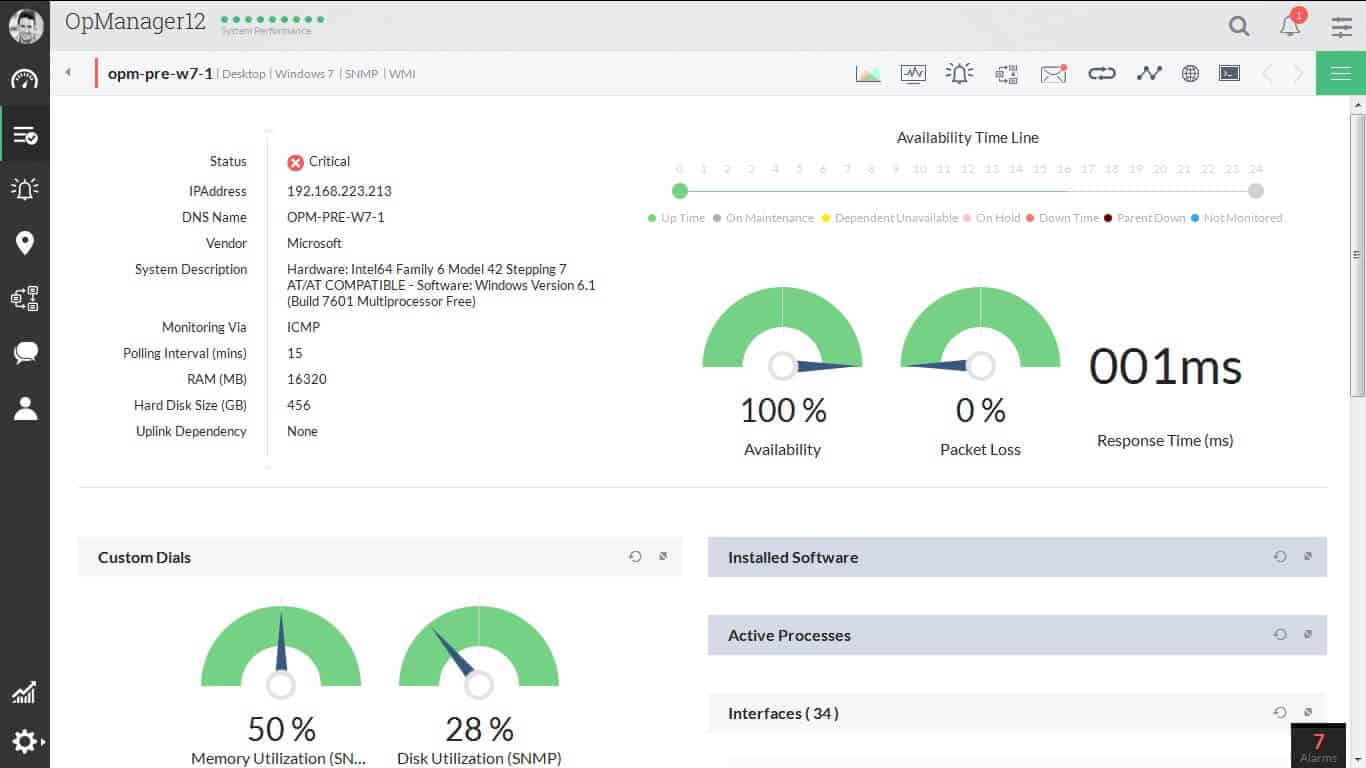 The ManageEngine OpManager is not only a network monitoring tool. It will support most network-attached devices. Virtualization is, for example, another place where it really shines. It has built-in support for Cisco UCS, Citrix XenServer, Microsoft Hyper-V, and VMware vCenter. Virtual machine status is conveniently presented along with key information about its virtualization host. Alerts related to virtualization appear on the main dashboard to notify an administrator of any problems.
Let's head back to network monitoring. After all, this is usually the primary use of these kinds of tools. Well, here again, using OpManager is a real pleasure. Every useful information about your network is neatly presented, right there on the dashboard. You can easily see the top bandwidth hogs down to the port level and then click through to see detailed port usage information on a secondary page.
Extending The Tool's Functionality
Out of the box, the ManageEngine OpManager is a great platform. It's even greater when you consider that it can be expanded through the use of installable add-ons and plugins.
We've previously mentioned the NetFlow Analyzer add-on which gives you the ability to utilize flow information from any NetFlow-enabled device. NetFlow is a proprietary technology from Cisco which is available on most of the networking giant's devices. It is also licensed to other manufacturers and a handful of vendors have developed their own flavour of NetFlow that the plugin will also support. There even an IETF standard version called IPFIX, also supported.
Another popular network-related add-on is the Network Configuration Management (NCM) module. It can be used to maintain, backup, restore, compare, and audit your networking devices configurations. This add-on can not only provide peace of mind but it can also come in very handy when it comes to demonstrating configuration compliance to various regulatory frameworks such as SOX or PCI-DSS.
Also popular is the IP Address Management (IPAM) plugin. This one, as its name implies can help you manage your devices IP addresses by not only keeping a database if IP address to device correspondences but also by integrating with your DNS and DHCP infrastructure, making it a seamless tool.
Last but not least to make an impression, is the Firewall Analyzer add-on. It provides a wide range of reports for external threat monitoring, change management and regulatory compliance, and supports an extensive array of perimeter security device logs which include firewalls, VPNs, IDS/IPS and proxy servers.
Alerting And Reporting
What good is a monitoring tool that just sits there and does nothing else? This is not the case with the ManageEngine OpManager.
The product comes with what is referred to as threshold-based alerts. You are able to easily set multiple thresholds for every performance metric and get notifications whenever a threshold is reached. Overall, this alerting scheme is both flexible and efficient and it's actually easier to use than our description lets it appear.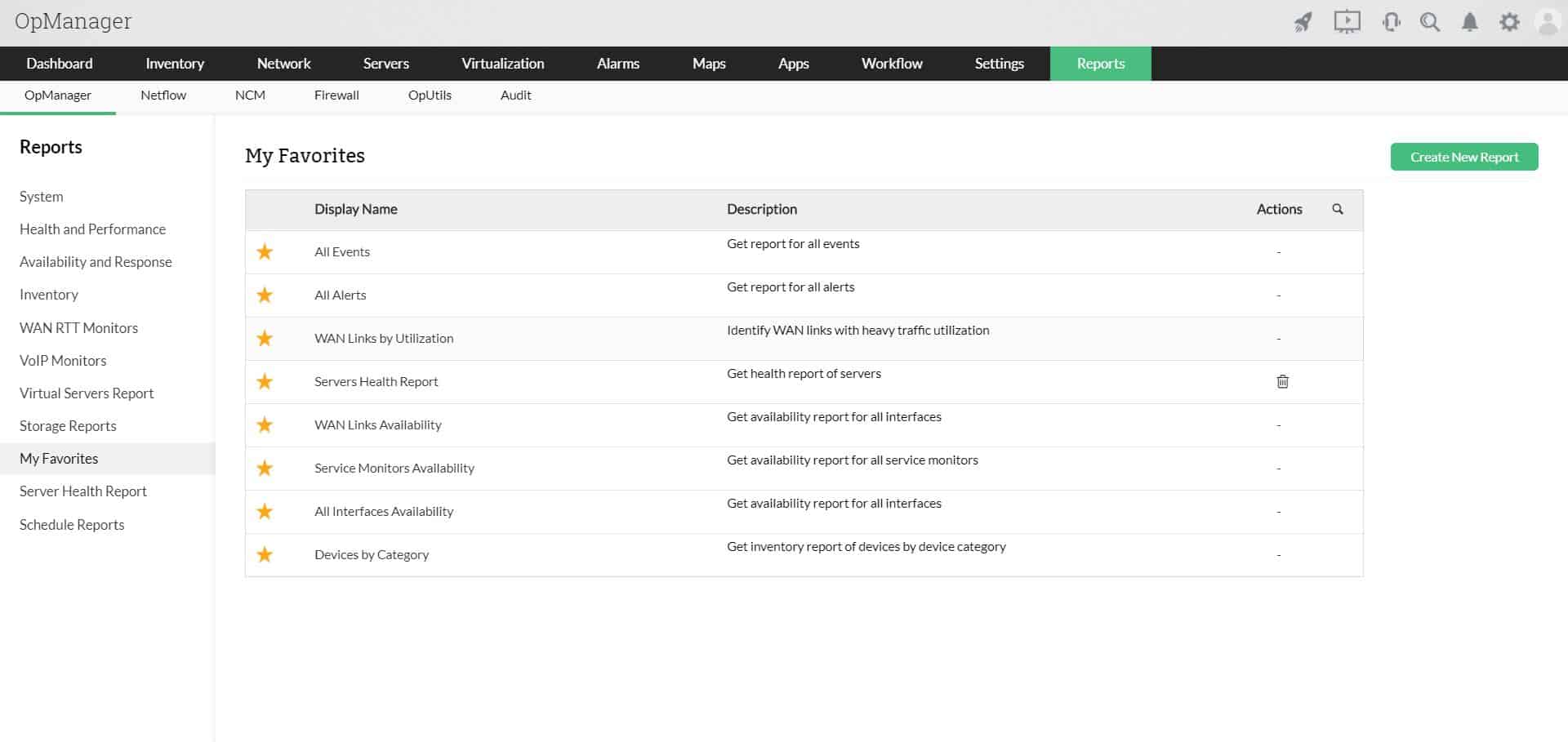 While alerting is important, reporting is just as much and this is another area where this tool shines. Intelligent reports will let you get detailed insights on network performance. There are more than 100 built-in reporting profiles.
You can customize, schedule and export these out-of-the-box reports as needed. Once run, reports can be automatically emailed in either PDF or Microsoft Excel format. You're not limited to built-in reports, though. Custom ones based on a wide range of monitored parameters can be quickly created right from the tool's main page. The reporting capabilities of the ManageEngine OpManager are among the very best on the market.
Pros And Cons Of The ManageEngine OpManager
Since you don't necessarily have to take our word for it, we've searched the web for user comments about the ManageEngine OpManager. We've compiled this list of some of the most important pros and cons as reported by OpManager users.
Pros
The most common comment about the ManageEngine OpManager is how easy it is to use while still providing a vast amount of data out of the default dashboards and graphs that they comprise.
We've also found several excellent comments about the vendor's exceptional customer service. Although you won't likely ever have to use it, It is reassuring to know that you'll readily have access to some excellent support should you ever have a need for it.
Tons of praise about how the tool's automation and its notification engine go hand-in-hand to keep administrators constantly aware of the state of their network
Cons
We've indicated how alerts could be created for most monitored parameters. This also means that, unfortunately, not all of them are available for creating specialized alerts. This could, at times, become a limiting factor.
Some users have complained about a lack of integration with the MIB library which could cause issues down the line if you require more information than what the basic SNMP OIDs provide.
Users of past versions complained that the latest version of the GUI was making it harder than before to find certain functions which had been relocated. This, however, shouldn't be a problem if you've never used the product before.
Pricing Structure
The pricing structure for the ManageEngine OpManager is somewhat complex. It is available in several editions with an increasingly complete feature set and capacity.
The Standard edition has the smallest feature set and can monitor up to a thousand devices. Prices vary according to the number of devices and start at $245. This version won't support virtual infrastructure monitoring or application server monitoring.
For the full functionality, you need to use the Professional edition. It does include several more features and raises but still has the same 1000-device limitation. It will also keep the data for sixty days as opposed to only seven for the lower edition. It is only slightly more expensive than the Standard edition with prices starting at $345.
For larger organizations, an Enterprise edition is also available. Feature-wise, it is identical to the Professional editions. The main differences are that this version and scale up to ten thousand monitored devices and it will keep data for 180 days. It is, of course, the most expensive version with prices starting at $11,545.
A free edition limited to monitoring up to 3 devices can also be obtained. Feature-wise, it is identical to the Standard edition. This is barely enough for even just testing the product.
Fortunately, all three editions can be downloaded as a thirty-day free trial from ManageEngine. This will let you run the product in your environment and thoroughly evaluate what it can do for you. And if you don't fancy going through the product's installation and initial configuration and still want to see it at work, a demo can be arranged with the vendor.
In Summary
With a very complete feature set, an easy-to-use user interface, a complete set of reports, and a top-notch alerting subsystem, a lot of good can be said of the ManageEngine OpManager. Is it the best available monitoring platform? This is, more than anything, a matter of personal taste and it has more to do with how the product fits your specific needs.
Considering the product's broad feature set, it is more than likely a great fit for most network administrator's need and it is right up there with all the other great monitoring tools. Given the fact that a free trial is available, perhaps your best bet would be to take advantage of it and see for yourself how it can be of use in your specific situation. Apart from a few hours of setup and configuration time, what have you got to lose? And chances are you won't regret giving it a try.