HP Print and Scan Doctor: How to Download, Install and Use
Printers and scanners come in large, industrial-sized units and they come in small, home-use desktop units. For home-based used, you can buy a printer and scanner in one, or you can buy them separately. Both types of models are available with the composite models costing slightly more than a single-purpose model.
Printers and scanners are clumsy hardware to work with; they tend to work slow and often run into problems that require considerable time and human intervention to solve.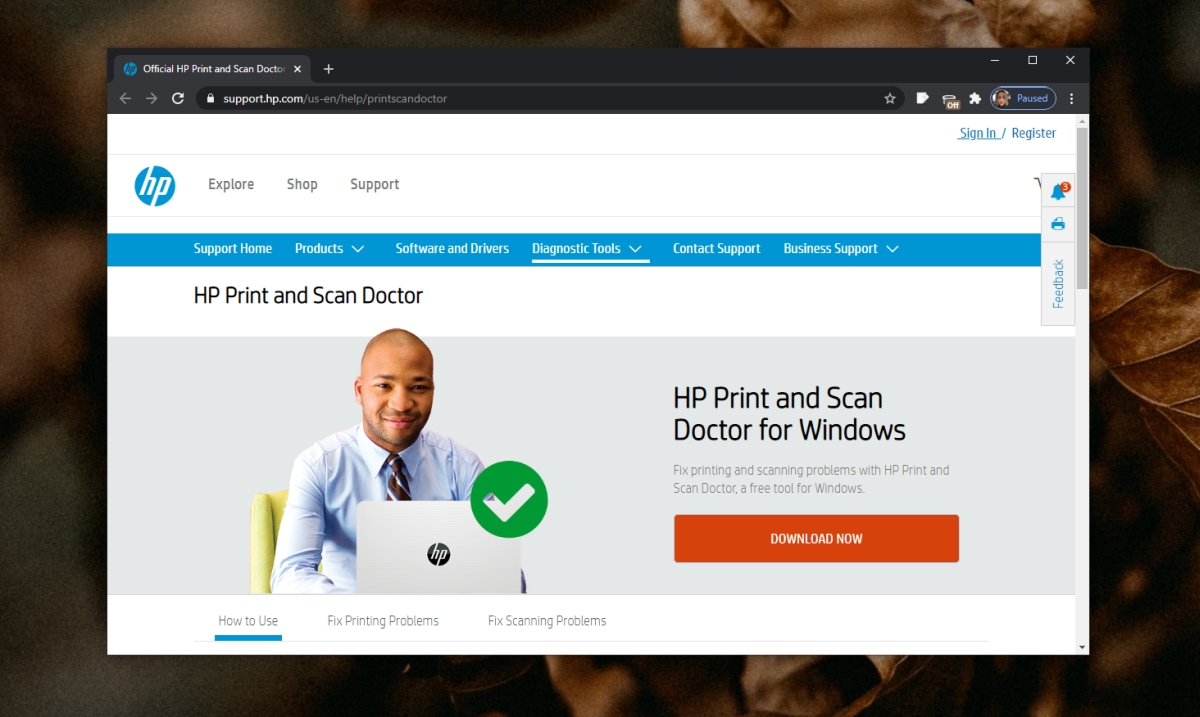 HP Print and Scan Doctor
Problems with printers and scanners are hard to troubleshoot because the source is almost impossible to find. There could be a problem with ports, with software, with the drivers, or with the app that you're scanning or printing from, among other things.
HP makes both printers, scanners, and composite printer-scanners. To help users troubleshoot problems with their devices, it has a dedicated tool for the job called the HP Print and Scan Doctor.
The HP Print and Scan Doctor is a free app developed by HP. It works exclusively with HP printers and scanners. You cannot use it with printers or scanners from other manufacturers. This app is a non-essential app if you're looking to print or scan from an HP device however, if you often run into problems with your printer or scanner, this app should be used to try and resolve them.
Download & Installation
You can download the HP Print and Scan Doctor from the official HP website here. Click the Download Now button and save the file to your local disk. To install the app, simply run the EXE file that you've downloaded.
Troubleshoot with HP Print and Scan Doctor
The HP Print and Scan Doctor app can troubleshoot problems with both a printer and a scanner. Your printer should already be installed to use it, follow these steps.
Connect the printer/scanner to your system.
Power the printer/scanner on.
Run the HP Print and Scan Doctor.
Click 'Choose your product' and allow the app to detect the model of the printer that is attached.
Choose how the printer is connected to the system.
Select your device from the list.
To troubleshoot printing problems, click Fix Printing.
To troubleshoot scanning problems, click Fix Scanning.
Allow the app to run a full scan.
Follow any instructions that it gives and apply any fixes that it recommends.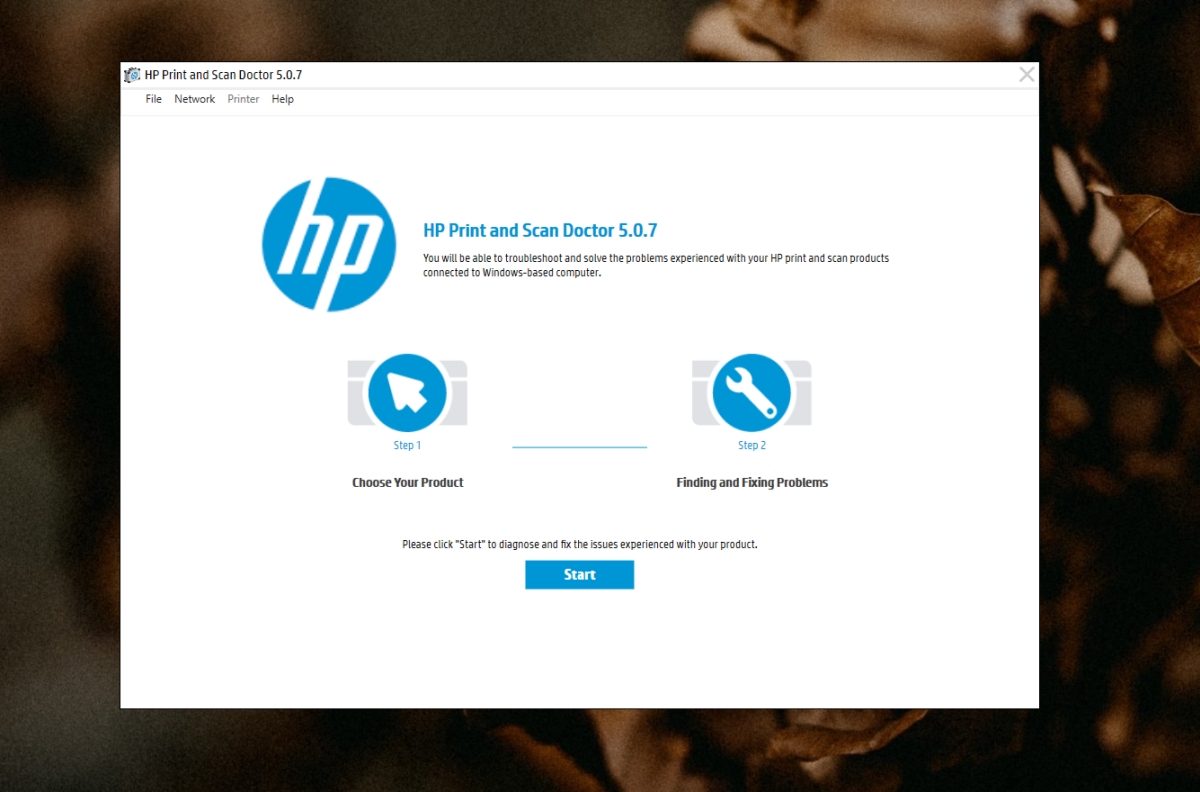 Printer/scanner health check
When HP Print and Scan Doctor completes a scan, it gives your printer/scanner a complete health check. It will check if the services required for printing are running, the correct drivers have been installed, the drivers are up to date, the device is connected to the right port, there is nothing stuck in the print queue, and the device is online.
In short, the app will troubleshoot everything from the software side.
For everything that is working as it should, you will see a green checkmark next to it.
If the app resolved problems with a component, it will indicate this with a wrench icon.
If the app ran a test on a component and the test failed and was subsequently skipped, you will see a yellow exclamation mark.
A red cross will indicate problems with the device. Click it and follow the instructions you see on the screen to resolve the issue.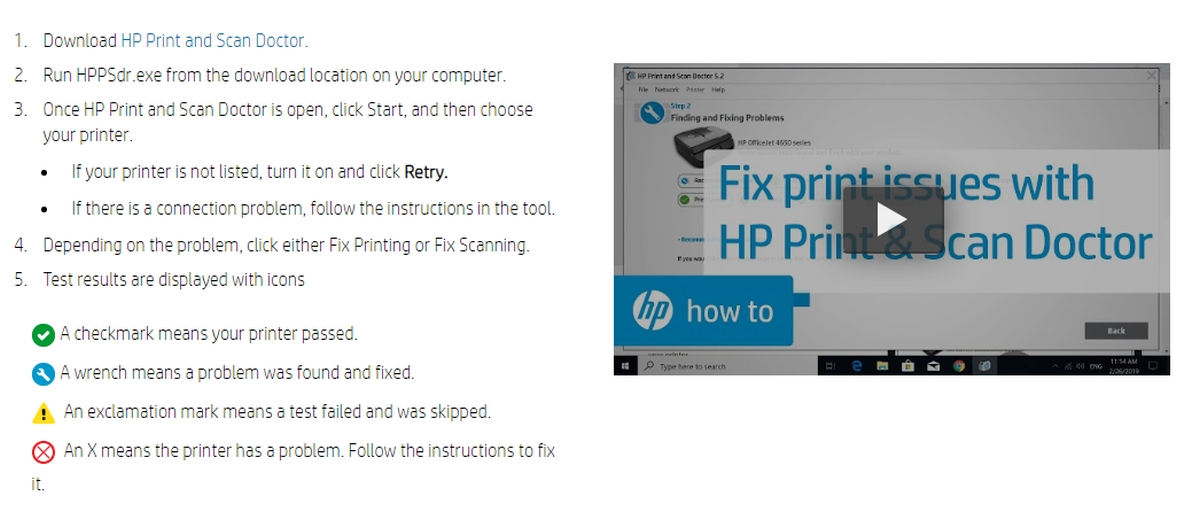 HP Print and Scan Doctor – Failed tests
If the HP Print and Scan Doctor fails to run a test, it may point towards hardware problems. Make sure your printer is set up correctly and that there are no paper jams. Go through this basic troubleshooting guide for printers and then try running the HP Print and Scan Doctor app again.
If the printer is offline, try these fixes.
Conclusion
The HP Print and Scan Doctor app is a great app for fixing printer and scanner problems. You should use it alongside the Windows 10 printer troubleshooter. It works with both newer HP models and older legacy ones.