We are reader supported and may earn a commission when you buy through links on our site.
Learn more
7 Best Alternatives to SolarWinds N-Central, Reviewed and Tested
Managed Service Providers need specialized tools. SolarWinds N-Central (formerly known as N-Able N-Central) is one such tool. It is what we commonly refer to as a Remote Monitoring and Management (RMM) tool. This is a vague concept, though, and different RMM tools have vastly different feature sets. If you're looking to get a new RMM tool or if you're looking to replace your existing N-Central installation, this post is for you. We're about to review some of the best alternatives to SolarWinds N-Central on the market.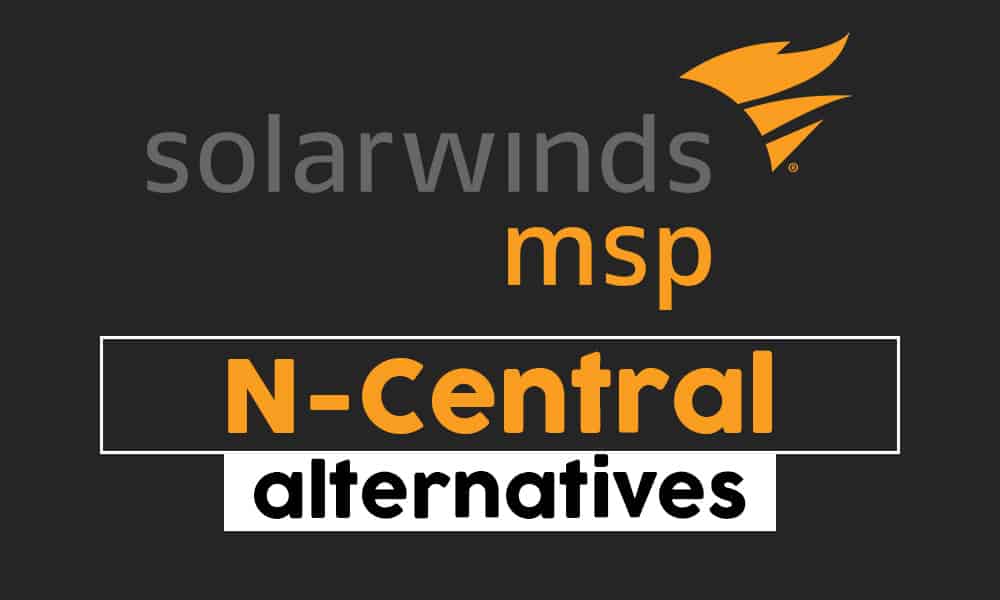 Don't think that our researching alternatives to N-Central is a sign that it is not an excellent tool. On the contrary, it is such a great tool that the company that made it was acquired by SolarWinds, one of the best network and system administration tools maker. But as great as it is, it might not be the right product for you. All the products we're about to review are excellent products and picking the best one for you is, more than anything, a matter of matching each product's feature set to your specific needs. The best product for me might not be the best one for you.
About SolarWinds N-Central
Before we have a look at the alternatives, let's see what SolarWinds N-Central has to offer. It will help us compare the other products. This product is designed to assist Managed Service Providers and corporate IT departments manage remote resources from a central location. It is an integrated tool that offers several remote management and monitoring features.
Some of SolarWinds' key network monitoring tools are integrated into N-Central. They give you a view of the status of the circuits and services that deliver apps to end users. This includes, among others, web services and Microsoft Office 365 applications as well as on-premises and in-house applications.
N-Central's primary monitoring element is called NetPath. It displays all components of the network that contribute to the delivery of an application to each end user. The performance of each element is displayed in real time, allowing support staff to instantly see if application delivery is impaired and which network service is the cause of performance issues.
Another important component of SolarWinds N-Central is the Endpoint Security Manager. This module focuses on patch management and lets MSPs or IT Management teams keep track of the versions of all applications, services, and operating systems. The tool's central console polls software providers for updates, letting humans decide which patches should be rolled out automatically and which should be managed on demand.
Patch updates can be scheduled to take place during off-peak hours. The scheduler features process automation that includes rollback and error notification. The patch manager can record when individual nodes are offline or when some other condition prevented updates. Incomplete tasks can be queued to be performed when an offline device next powers up.
SolarWinds N-Central can integrate with other SolarWinds tools such as the MSP Manager and Help Desk Manager. This integration can enable the automation of tasks such as Help Desk ticket creation and task assignment, for example. If you prefer to use the Help Desk services provided by other vendors, APIs within N-Central will allow data exchanges with a wide range of commonly-used tools, such as Autotask, Tigerpaw, and ConnectWise, just to name a few.
SolarWinds N-Central installs on a bare server and includes the CentOS Linux distribution within the package. It will run on any Red Hat-certified hardware. However, some elements of the N-Central package, such as the NetPath module, for example, require a separate host running Windows or Windows Server.
SolarWinds N-Central is a product from SolarWinds MSP, a division of SolarWinds which specializes in tools for Managed Service Provides. Pricing for the product is not readily available. You'll need to Contact SolarWinds MSP for a detailed quote. A free 30-day trial of N-Central can be obtained from SolarWinds MSP, should you want to give the tool a test run.
The Best N-Central Alternatives
Finding an exact replacement for SolarWinds N-Central, one with the exact same feature set is impossible. What we found is a variety of tools with different feature sets. Some closely resemble N-Central while others are significantly different.
SolarWinds RMM is another tool from the SolarWinds MSP division which also makes a few other MSP-oriented tools such as MSP Manager, SolarWinds Backup, SolarWinds Mail Assure, SolarWinds Risk Intelligence, and SolarWinds Take Control. All these tools are designed to work together with the SolarWinds RMM software. SolarWinds RMM's functionality is a relatively close match for N-Central's. So much so that it is a bit puzzling that SolarWinds keeps marketing these two competing tools.
SolarWinds RMM's primary purpose is to let you manage the assets of clients on remote sites, via direct contact or automated procedures. Patch management and antivirus update coordination are two strong features of this tool. Furthermore, the Risk Intelligence module greatly improves the security features of the tool, which include malware protection as well as website protection. The system also protects against the possibility of infected websites being used as an entry point to the network.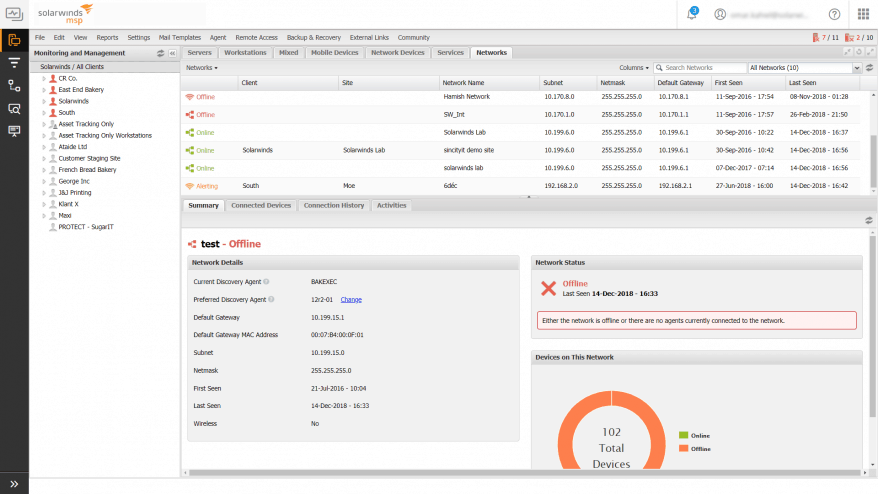 This is also an excellent monitoring tool which covers a wide range of devices, both physical and virtual. SolarWinds RMM enables administrators to keep track of system status on client sites from one console. The tool's dashboard includes automation features such as drag-and-drop activity configuration.
The tool includes several built-in reports to help you monitor the performance of your staff as well as the condition client's sites. By combining the tool's reports and its dashboard, you will be better able to identify security and performance threats to your clients' systems and address them before they cause damage. One of the tool's greatest assets is the simplicity of its interface as it enables support staff to get to the most frequently-used tools quickly.
Pricing for the SolarWinds RMM can be obtained by contacting SolarWinds MSP. A free 30-day trial is available, as it is almost always the case with SolarWinds products.
2.
OpenRSM
OpenRSM is an open source project, hosted on Sourceforge. You can just download the package and install it for free. While it might not be as sophisticated as some of the paid options on this list and while you can't get any technical support from the vendor as there isn't one, having access to the source code means that you can be sure that there are no hidden tricks. And if you have programming resources available, you have the option of customizing the code to get the perfect RMM solution for your particular needs.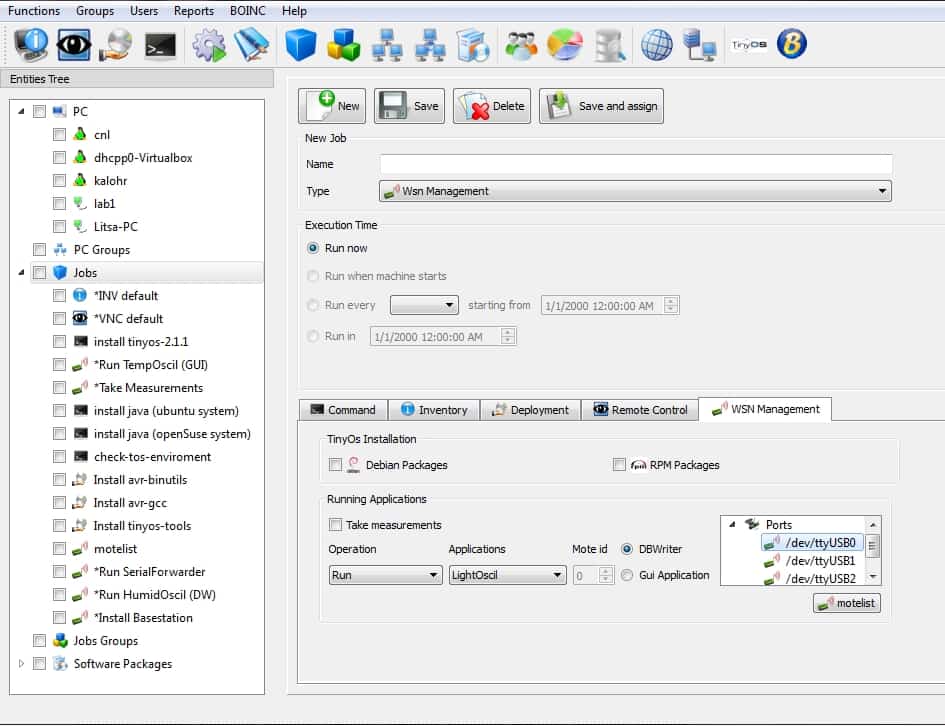 The core of the OpenRSM system is a remote access and monitoring service. The central module can be expanded through plugins that can allow you to monitor wireless networks and even IoT devices. This is an agent-based system, with local agents on remote equipment communicating with the server, which provides a centralized command center.
The three primary modules offered by OpenRSM are:
Asset management
Network monitoring
Remote Desktop control
These main modules combine to allow multiple tasks such as path distribution, user credential management, and status reporting. The OpenRSM package can be installed on both Windows and Linux operating systems and there are agents that operate on embedded systems.
If your network—or your client's in the case of MSP—include virtualized resources, OpenRSM can manage these as well. It can also bypass the virtual machine environment whenever queries to the underlying hardware and operating systems are required.
Reporting in OpenRSM offers the option to create your own reports. This is good as the software doesn't ship with many pre-built reports and it isn't specifically designed to serve as an SLA compliance reporter. You will need to set up those types of reports for yourself if you need them.
Compared to the commercial packages offered by the major players, this product might need you to put in a bit more work. However, its customizability is hard to beat and OpenRSM could very well be what you are looking for.
3.
OpenNMS
OpenNMS is another free and open-source RMM package. And while the tool's core service is open-source and anyone can read the code, this is a commercial product and it is copyrighted. There is a paid version of OpenNMS available as well.
The free OpenNMS is called Horizon and the paid version is called Meridian. The Meridian version has more features and is subjected to more rigorous software testing than Horizon. Technical support is available for the paid version, including the release of more regular updates and bug fixes than what's available for the free version.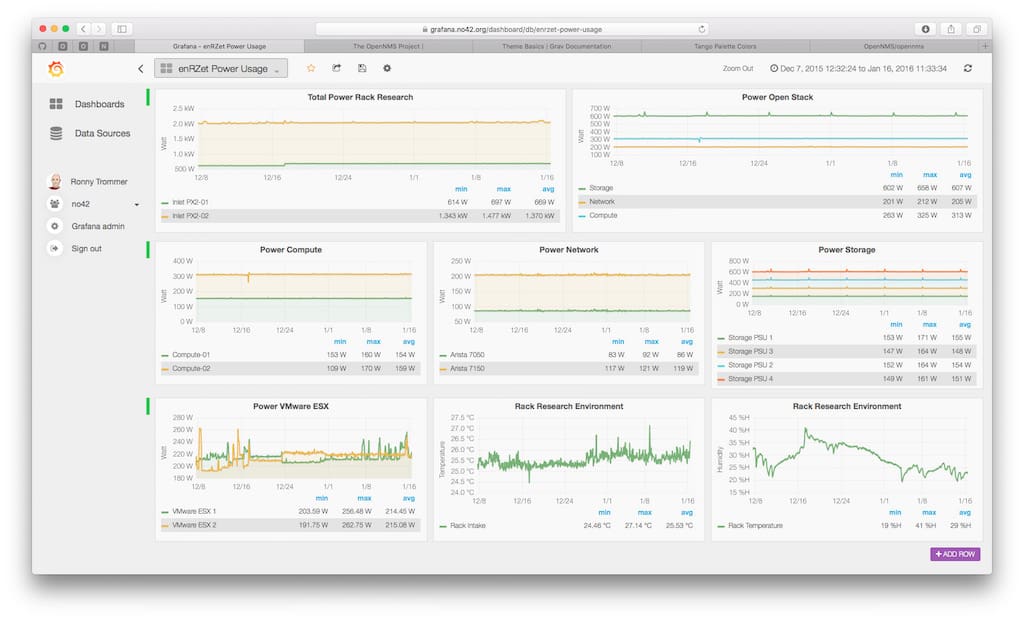 Bug discovery and fixes for Horizon is community-driven effort whereas a dedicated staff monitors the code for the paid version. This means that bugs identified by users eventually get their fixes integrated into the paid version, but only once the code is judged to be stable. In a way, Horizon can be considered as the beta version of Meridian.
The NMS part in OpenNMS stands for "Network Monitoring System." This tool is primarily a traffic monitor that can be used on WAN circuits and, as such, would also be suitable for managed service providers to monitor the activity of clients' networks.
The company behind this product is constantly improving the visual aspect of its dashboard. However, the back end remains the same and that is primarily an SNMP-based monitoring tool. This is a solution for Managed Service Providers that monitor network performance and have contracts that include the continual availability of network services. And while the tool doesn't include any problem resolution module, its remote access facility could be used to check on configurations and also to roll out patches.
In addition to MSPs, this product would also be well-suited to a back office system for the IT department of a medium-sized organization.
4.
Comodo One
Comodo One is yet another free RMM platform although its security modules are paid. Comodo specializes in cybersecurity and it Comodo One platform enables it to sell several of its security features into an integrated, single access point. The system can monitor LANs, Cloud-based services, and hybrid systems. It is also particularly strong at protecting web applications. The key element of Comodo One is the Comodo Remote Monitoring and Management (CRMM). This module offers endpoint access, remote desktop sharing, and professional services automation (PSA) which includes ticketing, task allocation, policy enforcement, and logging.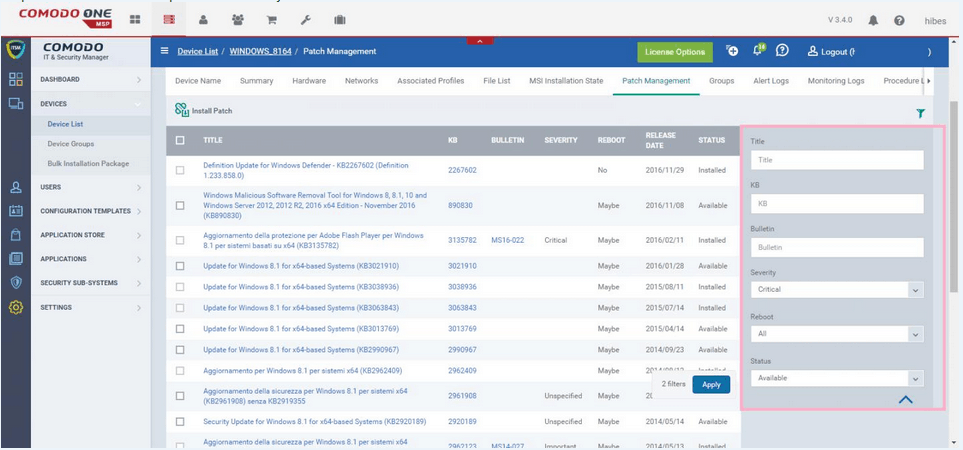 The tool's central console communicates with an agent module which needs to be installed on each remote endpoint. The agent software can be installed remotely. Once a monitored site is connected through its gateway, the network monitor built into the package automatically seeks out and logs all of the assets on that network. The Comodo One system monitors networks, servers, and application performance as well as risks to the network, with 18 different tests to detect security flaws. Once the RMM connection is established, you have the option of adding other Comodo services, such as edge security for web servers. The console also gives access to a task manager for support staff and a patch manager for the systems administrator.
The Comodo One RMM service is cloud-based, but it can monitor on-premises assets that run on Windows, Linux, and Mac OS. The service can also include mobile device management and software distribution. If a free RMM from a reputable source like Comodo seems too good to be true, just remember that you will have to pay for some modules in order to assemble a complete MSP system.
5.
ConnectWise Automate
ConnectWise Automate is basically a network management system but it includes a number of remote administrations features. These characteristics make the product a suitable N-Central alternative for Managed Service Providers. It can handle system monitoring and alerting, patch management, remote control, scripting and asset management. Overall, it is a rather complete tool. As you'd likely guess from its name, automation is a key element of this product. Automation is everywhere in the product and it can be further enhanced through a scripting module that lets you create your own automated workflows.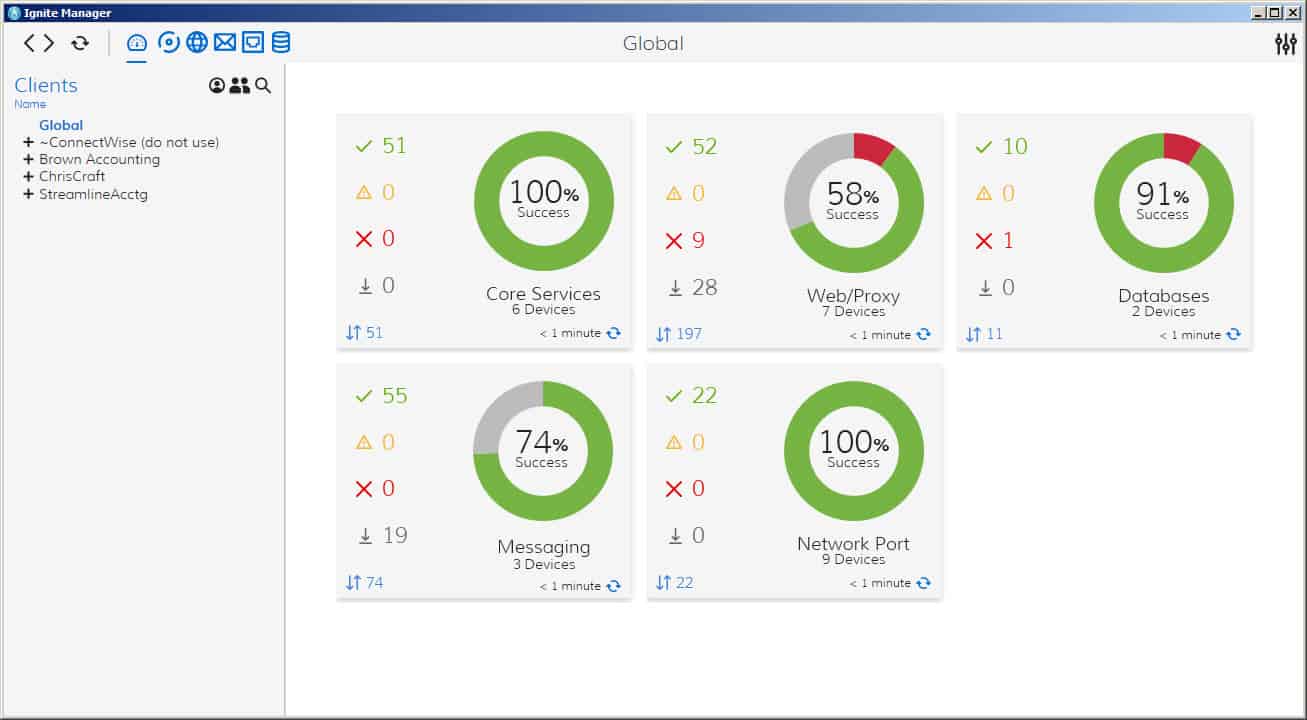 The remote access module of ConnectWise Automate is called Screen Connect. It lets Help Desk technicians remotely access and fix problems on remote computers. The mix of scripting language and manual access offered by Screen Connect covers the whole spectrum of customer support functions. The numerous features of ConnectWise Automate make this tool suitable for remote services conducted by an individual operator—such as training and one-on-one support—and also suitable for MSPs with a large number of clients.
ConnectWise Automate is available on a cloud-based Software-as-a-Service model, which makes it easy to add technical staff and onboard new clients. The service is highly scalable and therefore suitable in a great variety of situations. Pricing for ConnectWise Automate can be obtained by contacting ConnectWise. A free 14-day trial version of the product is readily available. If you need more time, you can request your trial period to be extended to 30 days.
6.
Pulseway
Pulseway is a cloud-based network management system with a feature set that can certainly appeal to Managed Service Providers, making it an interesting alternative to SolarWinds N-Central. The tool's scalability and its pricing model makes it very easy to expand the service as you acquire new clients.
The online Pulseway dashboard lets you perform remote desktop control, patch management, software deployment, update management, and application monitoring. In addition, some of the tools built into the dashboard provide advanced automation, operative monitoring, customer SLA reporting, and custom management information reporting.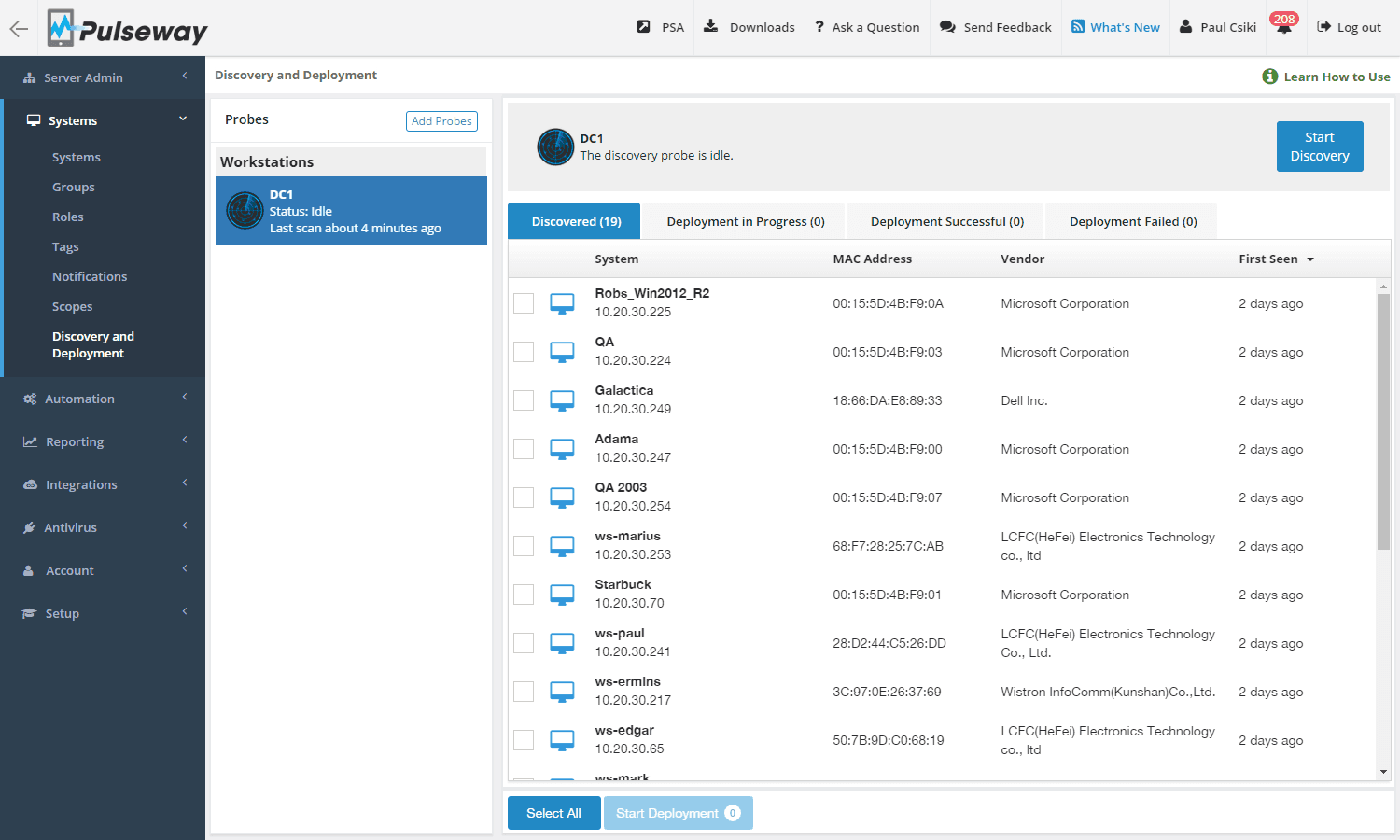 The system allows for multiple logins and group account which let you adapt the dashboard to each employee's role. You can also customize the system monitoring alert settings and direct service alerts to different team members by email. You can also create automated workflows that get triggered by specific events.
Pulseway offers a base subscription package to Managed Service Providers that includes all of the RMM functions that they will need to support their clients. In addition to the standard RMM, there is also an extensive array of add-ons available to enhance the system, covering many of your client interactions and in-house systems. Additional modules include web server protection, virus protection, cloud data backup service, and a PSA module.
Pulseway is available in a free version for very small businesses. It only allows one user account and gives you the ability to manage just two endpoints. For the full package, prices are $3.95/month per server and $1.85/month per workstation with a minimum charge of $47/month. The full version is also available as on-premises software. A free trial of the product is also available.
7.
Kaseya VSA
Our last entry is an MSP support platform that excels at task automation called Kaseya VSA. It also incorporates a remote control module, called Live Connect, allowing you to implement bulk updates as well as remotely connect to and administer any end device. And just like N-Central, Kaseya VSA provides automated network monitoring with built-in alerts, patch management, and service auditing, making it a more than acceptable alternative.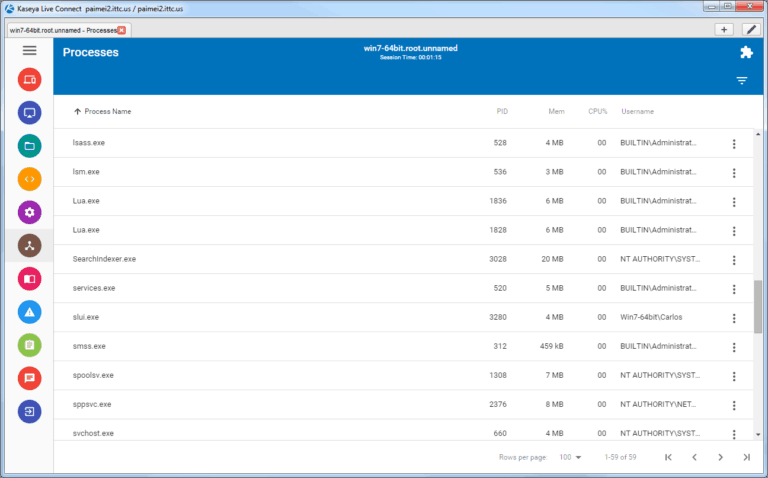 Feature-wise, Kaseya VSA has everything you'd expect from any RMM tool. It has remote control, patch and vulnerability monitoring, audit and inventory, network monitoring, virus protection, unified backups and compliance management.
One feature we particularly liked is a module called AssetIQ. It is a contextual documentation management system and it is made to ease the tasks of any Managed Service Provider. It is highly flexible and configurable and could even, to a certain extent, replace manned Help Desks. It could also be structured as a script for Help Desk agents to work through an incident and eventually direct problems to back office staff.
Whether you are contemplating using the product for in-house network operations or for providing managed services, Kaseya VSA will cover most, if not all, of your management requirements. Pricing for the product can be obtained directly from Kaseya. Note that both a demo and a 14-day free trial are available so you can see for yourself what Kaseya VSA has to offer.