We are reader supported and may earn a commission when you buy through links on our site.
Learn more
Network Magic Alternatives: 6 Best Tools to Replace Network Magic Pro
Cisco System's Network Magic used to be a popular product with home users and small businesses. It helped monitor and diagnose network issues and allowed for tracking and controlling computer usage. You could also use it to help with configuring and managing any Cisco/Linksys home network devices, verify if your computer needed updates for its antivirus and anti-spyware software or if there were critical Windows updates available. Unfortunately, the tool is no longer available from Cisco, leaving many users looking for an alternative. This can prove to be a complicated task, though. The tool offered a strange mix of functionalities which are hard to find in other tools.
We've tried to find some direct, feature-for-feature Network Magic alternatives but were not very successful. Instead, we've found many products, each offering some of its functionality. But considering that not that many users were using all the features of the toolkit, perhaps one of the products we've found will meet your specific needs.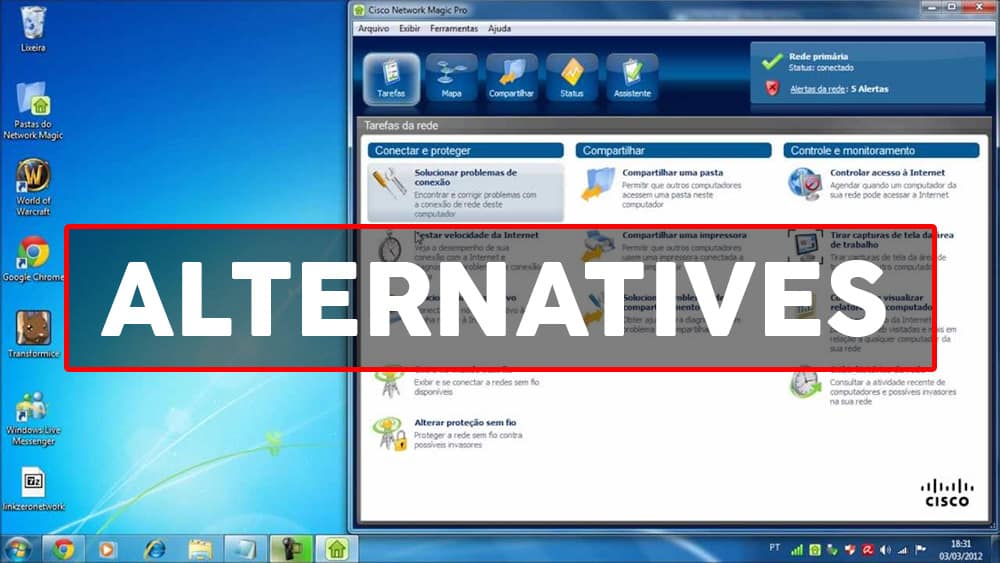 Before we begin, we'll have a look at what Network Magic was. That will help us identify what to look for in alternatives. Without going too deep in the details of the product, we'll do our best to provide an overview of its primary features. And then, we'll jump right in and review some of the best "alternatives" we could find. We'll do our best to highlight the best features of each of our selections, insisting on what common features each shares with the defunct Network Magic but also presenting exclusive features. Our goal is to allow you to pick the tool that best matches your specific needs.
About Network Magic
Before we can evaluate potential replacements, let's have a look at the main features of Network Magic. Some were quite unique others were more standard. At its core, Network Magic was a network scanner. It scanned networks and reported on IP address usage as well as the hardware and software (operating system) behind each IP address. The tool could also map networks automatically. It had the possibility to communicate with both Windows and Mac OS and to perform remote tasks. It could, for instance, automatically take a screenshot of a remote computer at regular intervals.
Network Magic was also a useful debugging tool and it features maintenance utilities and troubleshooting tools to assist with issues and help improve the performance of networks. It also gave you the possibility to capture bandwidth usage history for each computer. Other advanced features of the product included enhanced WiFi security, status alerts as well as Internet access control.
Although Network Magic was marketed as a home tool as much as one targeting small businesses, we've concentrated our efforts into finding business-grade replacements. Many tools, however, are also available for home users. Some are even free for personal use but require payment to use them in a professional context. Likewise, there were two versions of Network Magic. The Essentials version was destined to home users, had a reduced feature set, and was free whereas the Pro version was aimed at small businesses at a cost of $50. Since Cisco Systems discontinued the product a while back, many users have kept on using it but it is getting more and more outdated and is no longer receiving bug fixes which has prompted many users to seek alternatives.
The Best Network Magic Alternatives
As we hinted in our introduction, finding an exact, feature-for-feature replacement for Network Magic is an impossible task. We've tried, however, to find tools that offered at least some of the functionality of the ex-Cisco tool. Some of our suggestions are tools with multiple features while others are more limited. Picking the best tool for your needs is, more than anything, a matter of finding one that has the features you need.
First on our list is a tool from SolarWinds, a company that makes some of the best network administration tools. Its flagship product, the Network Performance Monitor is known to be one of the very best network bandwidth monitors and, as such, it could be considered as an alternative to Network Magic. SolarWinds is also famous for its free tools such as the Advanced Subnet Calculator or the SolarWinds TFTP server.
But the product that provides the best match for many of Network Magic's features is the SolarWinds Engineer's Toolset, a bundle of more than 60 useful, Windows-based network management and troubleshooting utilities. The bundle includes many dedicated troubleshooting tools. Tools like DNS Analyzer and Traceroute can be used to perform network diagnostics and help resolve complex network issues quickly. For security-oriented administrators, some of the included tools can be used to simulate attacks and help identify vulnerabilities.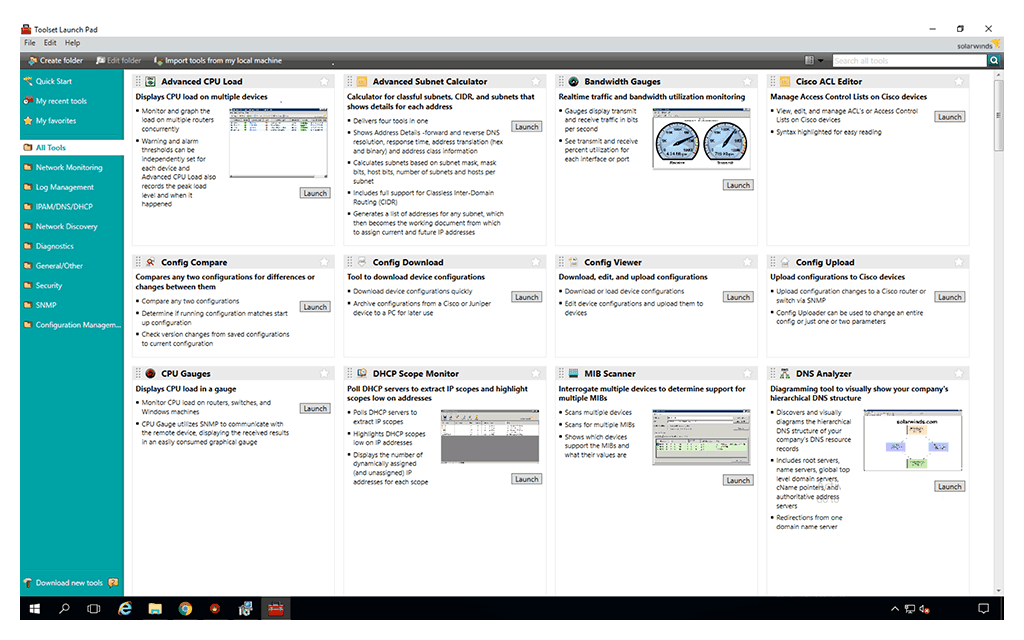 The SolarWinds Engineer's Toolset also features some excellent monitoring and alerting capabilities. It includes several tools to monitor your devices and raise alerts for availability or health issues. In addition, you can use some of the included tools for configuration management and log consolidation. There are simply too many tools included with this product to review them all. Here are some of the most important and useful:
Port Scanner
Switch Port Mapper
SNMP sweep
Ping sweep
IP Network Browser
MAC Address Discovery
Response Time Monitor
CPU Monitor
Memory Monitor
Interface Monitor
TraceRoute
WAN Killer Network Traffic Generator
Router Password Decryption
SNMP Brute Force Attack
SNMP Dictionary Attack
Config Compare, Downloader, Uploader, and Editor
SNMP trap editor and SNMP trap receiver
Subnet Calculator
DHCP Scope Monitor
DNS Structure Analyzer
DNS Audit
IP Address Management
With so many included tools, this is the Swiss Army knife of network administrators. It covers most of the functionalities of Network Magic and then some. This is not a tool for home users, though. It is really meant for bigger networks and its got a price that matches its target audience.
Prices for the SolarWinds Engineer's Toolset start at $1 495. This is a per-named-user price so you'll need one license for each user. Considering the amazing plethora of tools that are part of the bundle, it is certainly well worth the investment. And since a 30-day free trial is available, your best bet might be to give it a test run and see for yourself all it can do for you.
2-
Paessler PRTG Network Monitor
The PRTG Network Monitor from Paessler AG, is an all-in-one infrastructure monitoring tool. It can be used to monitor usage and performance of network devices, network circuits, servers and much more. The capabilities of this tool are expandable by using PRTG sensors which can be thought of as extensions or add-ons except that they are supplied with the tool. There are some 200 sensors available covering various things such as DNS name resolution or Microsoft Exchange email delivery, just to name a few.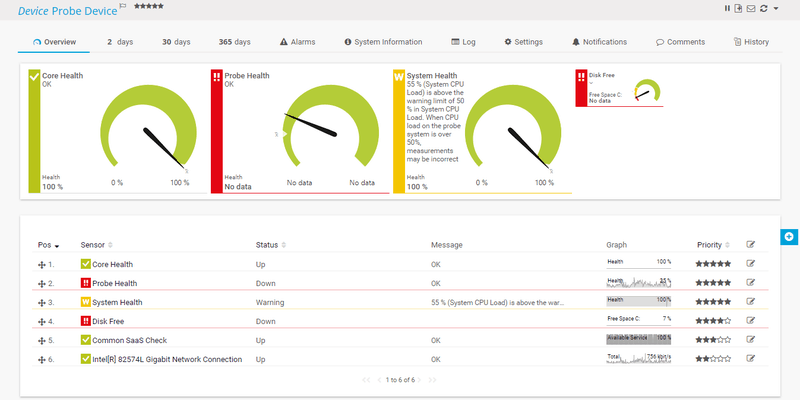 The PRTG Network Monitor installs easily and quickly. Paessler claims you could be running within a couple of minutes. Part of this is due to its auto-discovery feature which will discover and map all of your infrastructures. This initial scan creates a baseline against which future measurements obtained through monitoring can be compared. The tool uses several monitoring methods.
First, the device monitor uses SNMP to read operational metrics from your equipment. For a deeper insight into the network's performance, other technologies such as NetFlow, IPFIX, jFlow, and sFlow can be used, as long as the monitored devices support it.
The PRTG Network Monitor also includes alerts which can be triggered when some monitored element is out if its normal operating range. You could also be notified whenever new equipment connects to the network as you would be able to see unusual activity, giving the tool some crude intrusion detection capabilities.
This product is available in two versions. The free version is full-featured but it is limited to 100 sensors with each monitored parameter counting as one sensor. For example, if you monitor two interfaces on a router, it will count as two sensors. Any extra sensor, as described above counts as well. For more than 100 sensors, you need to purchase a license. Their prices start at $ 600 for 500 sensors. You can also get a free, sensor-unlimited and full-featured 30-day trial version.
3-
Spiceworks IP Scanner
The Spiceworks IP Scanner is a cloud-based service. As such, it is quite different from Network Magic and the differences don't stop there, as we're about to see. The system requires a local agent to be downloaded and run onto your computer. This tool will give you the basic network discovery and device inventory functions that were available in Network Magic. It will work with Windows, macOS, as well as Ubuntu and Debian/GNU Linux. The tool's dashboard is web-based and, therefore, platform agnostic. It allows any user to filter and sort the list of connected devices or to optionally export the status report to a CSV file for easy analysis using external tools.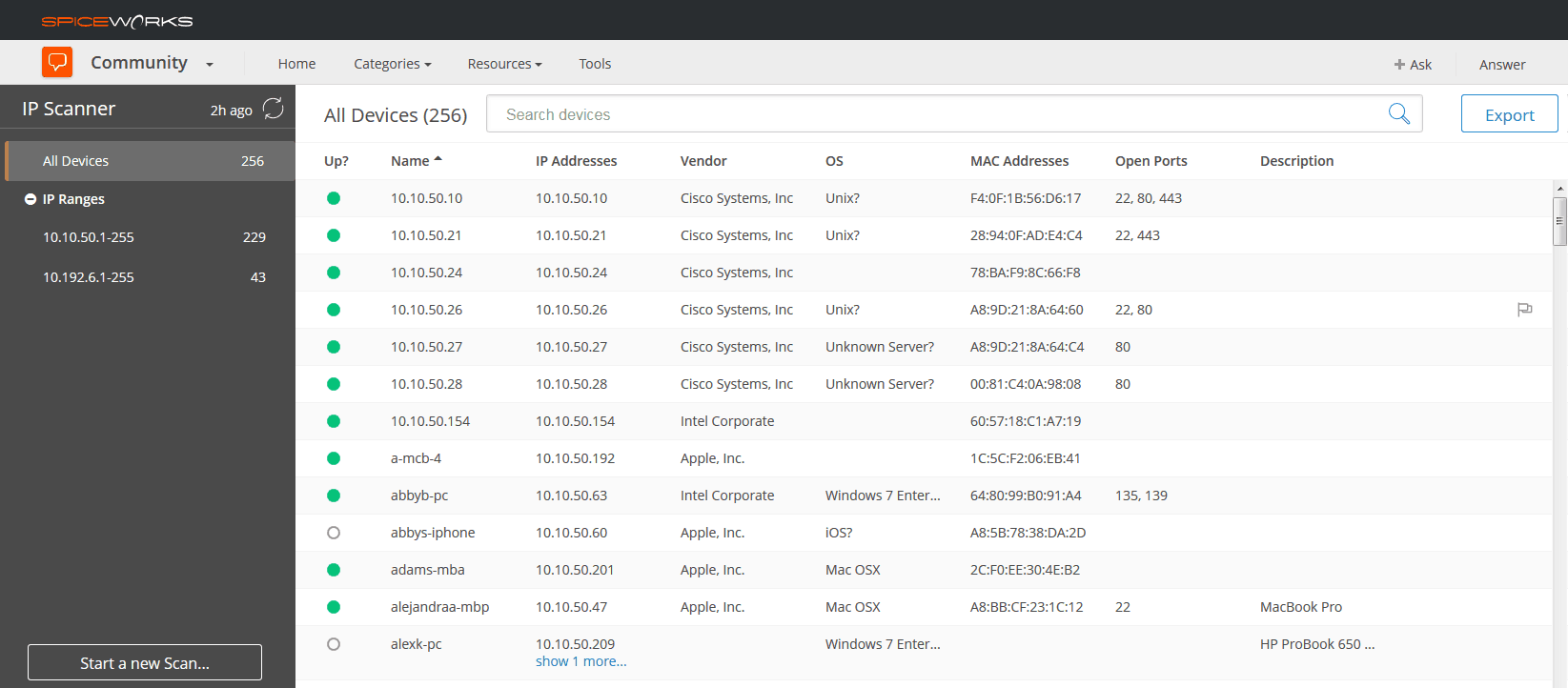 The Spiceworks IP Scanner can automatically trace all the devices that are connected to a network and take the inventory of each device's parameters including its IP address, MAC address, hostname, manufacturer, operating system, description, and a list of open ports.
The locally installed agent handles the gathering of your system's operational data about your network and uploads it to the cloud. For obvious security reasons, the communication between the agent running locally and the Spiceworks server is encrypted and so is the operational data kept on the server. A special access key is required from anyone in order to see the information on your network. This can prevent unauthorized third parties from being able to glean information about your network. This is not the type of tool that is left running permanently. This tool is not typically left running at all times and it is instead run in specific situations to document your network on demand.
For those looking for a tool which goes deeper, Spiceworks Inventory might be better suited. It is also a free, cloud-based product. This is a product which is likely more appropriate for small businesses as it tracks user activity as well as any software installed on devices on your network in its inventory. Contrary to the Spiceworks IP scanner, the Spiceworks Inventory can be scheduled to run periodically, giving you a near-live network monitoring tool.
4-
Lizard Systems Network Scanner
Of all the tools on this list, the Lizard System Network Scanner is likely the one closest to Network Magic in terms of functionality. The software is available for free for personal use while businesses need to purchase a license for $79.95. The tool does not require admin privileges to collect data. Any user connected to any network can run a scan and get a report. While this might seem like a security risk, keep in mind that a malicious user would have to have the software installed on his computer. For extra protection, none of the included modules will authorize the modification of the network setup. This tool only gives information.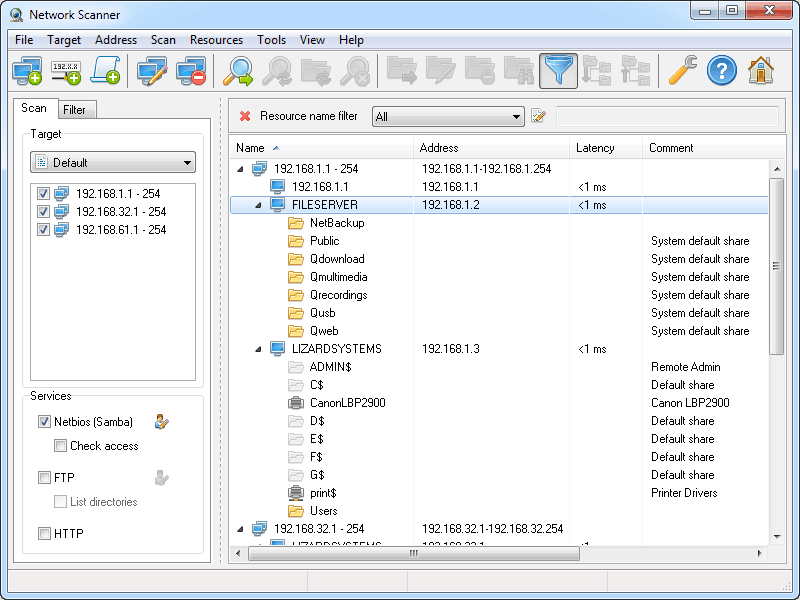 This very potent tool initially scans your network to discovers all devices. It will give you a report on the addresses and statuses of each device. There is no limit to the number of IP addresses that this utility can handle. For larger networks, you can narrow down the report to a range of IP addresses or just one device. You also have the possibility of limiting the scan to a specific device type.
The tool's scan feature can validate network ports on each device and assess whether it is on and whether a specified user has access privileges to it. While access rights can't be modified using the system, the information from the scan results lets each user know whether they can connect to a specific resource, such as network attached storage.
Report results can be both filtered and sorted and you can export their data to HTML, TXT, or XML formats. The Lizard System Network Scanner is specifically made for identifying devices and shared resources on the network, which also includes cataloging all the shared folders on your systems.
5.
Axence Net Tools
Axence Net Tools is a free toolset which includes ten different tools. The toolset's user interface is available in several languages besides English such as German, Polish, and Spanish. These tools will exclusively run on Windows operating systems.
The toolset's Network, Port, and Service Scanner is the tool that is most like Network Magic. It's got an auto-discovery feature to find all the devices connected to your network. It will then check which services are running on each device and verify that each one is operating properly. The system will, for example, specifically looks for HTTP, POP3, and SQL services. These are just a few examples, though. In all the tool will check 50 different services.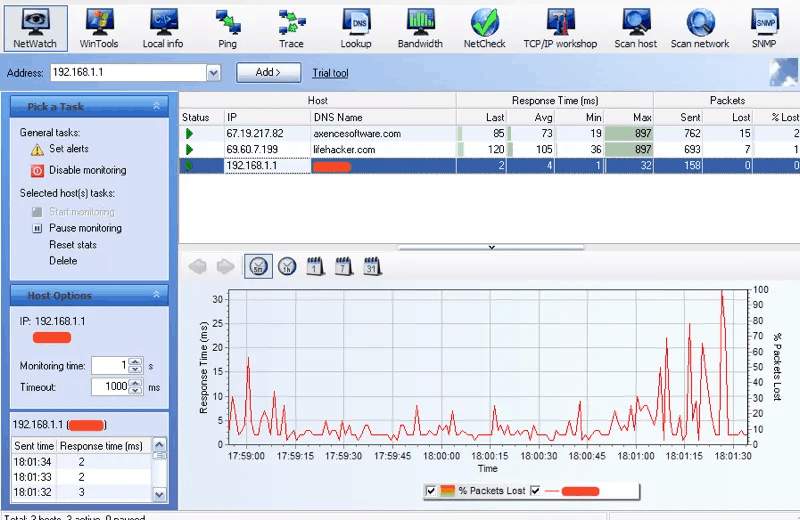 The Netstat tool—which gives a list of all open ports on your network-attached devices as well as each port's activity—is another tool that closely mirrors some Network Magic functionality. Another tool called Local Info lists the configuration details of each device while Netcheck tests the physical attributes of your network, such as the quality of the wiring. The toolkit also includes a very useful Bandwidth Tester.
Another included tool is Netwatch which can monitor any servers on your network including mail servers. This tool has the ability to generate a report that lists the activity on a range of ports as well as the packet loss rate. The utility can also be configured to monitor the DNS entries for your host servers every ten minutes.
A Wintools utility will monitor the event logs of each Windows host on your network, reporting back on a handful of performance issues such as CPU, disk, page swapping, and memory usage. There is even an SNMP Browser which can query the status of any SNMP-enabled device.
While traceroute—or tracert on Windows—is an excellent tool that is available in most—if not all—operating systems, Axence has created its own advanced version. It can trace the location of any specified IP address and report on the performance of the network connection between you and that address. Finally, a Lookup function will let you query DNS and WHOIS information for any given address.
6-
NetAdmin
If your environment is mostly made of  Macintosh computers you will most likely be annoyed that so many of the products on this list are only available for Windows. There is, however, an excellent network monitoring package just for Macs called NetAdmin. While it is not free, its price is very reasonable. This is not a cloud-based service but rather locally installed a software package which runs entirely on your Mac under Mac OS X. There is also a version for iOS tablets and smartphones.
NetAdmin is meant to be left continuously running to collect live traffic data on your network. You can, of course, use it in a stop-and-go fashion if you prefer. One advantage of this monitoring tool is that it can handle both wired and wireless networks. Furthermore, the tool was written with both home and small businesses in mind, making it a close match for the Network Magic audience.
The tool's user interface boasts attractive and easy to understand graphs depicting the evolution of network performance over a user-specified time span that can range from 90 minutes to one year. Reports are also available in addition to the live dashboard and they can be exported to .pdf or .csv files for further processing. NetAdmin can be used to monitor several of your network's operational parameters such as port usage, online or offline device status, address allocation history and network response times of each monitored device.
Being a Mac tool, NetAdmin can display Bonjour information as well as data gathered through the use of SNMP technologies. Despite the fact that this tool will on run on Macintosh computers, it can monitor other network-connected computers and devices running Windows, Linux, Unix, and mobile operating systems. It will also monitor printers, scanners, and VoIP devices.
NetAdmin, like many similar tools, is available in two versions. The basic version, which is available from the app store for $38.99, is limited to monitoring only one subnet. While this might be enough for home networks or small businesses, it might not be sufficient for larger organizations. For those, you'll need to pick the NetAdmin Pro version. It too can be found on the app store and it will cost you $49.99.