We are reader supported and may earn a commission when you buy through links on our site.
Learn more
Mobicip Review 2021: Parental Control App (Tested)
When making a product selection for parenting controls, you have no room for errors. This is about your kids. Your kids must have the best for their online safety. Luckily for you, there is a high variety of leading parental control solutions on the market today. Mobicip is one of the most versatile of today's brand leaders.
So what makes Mobicip such a powerful parental control? Who is Mobicip the best option for? We'll break it down for you all the way to the bare metal in the following moments.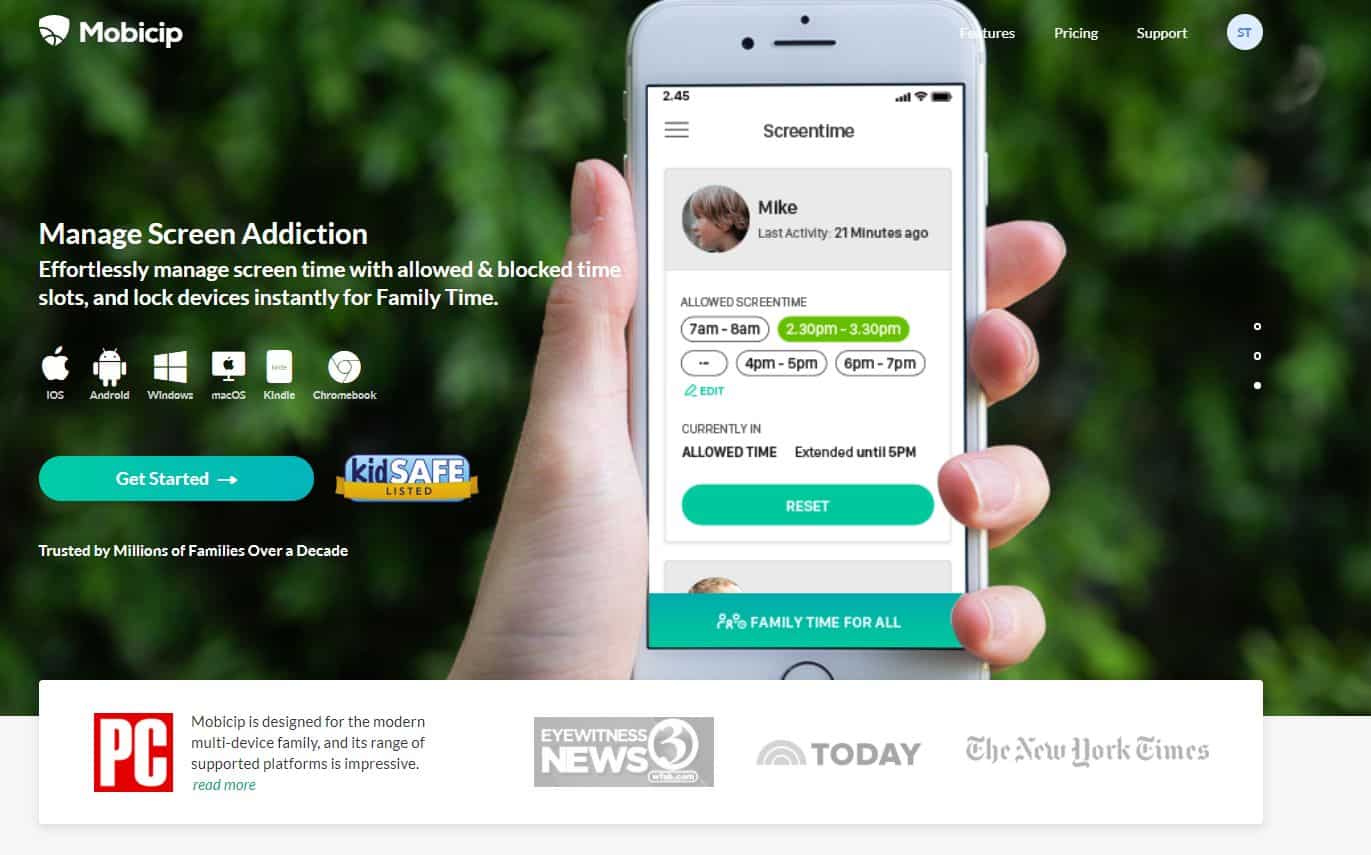 Self-described as the "best internet" filter, Mobcip scans websites in real-time ensuring child-safe content. The Moicip app works on Safari, Chrome, and just about any other iPhone browser.
Limited screen time 
We can't be with our children 100% of the time they are online. The web can be addictive. Children who spend too much time on the internet are more susceptible to various internet crimes than those who are moderated. That's why Mobicip acts as your child's web proctor. Time limits for browsing sessions keep your child from spending an unhealthy time frame online.
Why you need Mobicip to fight phone addiction
Citing New York Times, Apple won't be as keen to help you monitor iPhone addiction as they may have led the public to believe. It makes sense. The iPhone is, after all, their bread and butter. Yet, for you, a concerned parent, iPhone addiction is the last thing you can have with the delicate balance of a developing mind.
In-depth review of Mobicip
Opinions are great. At the end of the day, these only reflect customer experience. You may need and want a deeper technical analysis. Let's say you have a highly tech-savvy teen you need to protect from their own antics. Is Mobicip right for you? Or can your teen hack it and make it obsolete?
Who developed Mobicip? 
The developers behind Mobicip named it after the Children's Internet Protection Act. You can read a copy of that act at the Federal Communications Commission. 
The company is headquartered in Newbury Park, California. Its CEO is Suren Ramasubbu. Ramasubbu is a former member of the UCLA Anderson Alumni Network, where he served as an IT director. He managed the UCLA network for Ventura and Santa Barbara's chapter.
The Chief Technology Officer is Pradeep Adhipathi. He has a masters' degree from Virginia Polytechnic Institute and State University. He also has a storied career software development for companies such as Lexmark International.
Knowing who the developers are, we can see that Mobicip has the foundation to be rock-solid software. Now, we need to take a look at all the official critique of its tech.
What do real parents have to say? 
The majority of parents give Mobicip a positive review. It consistently receives 9/10 stars or higher across parental control forums like Parental Control Software Now. Parents have found the tool helps them set "switch-off" rules much more easily with their kids. They are also fond of the location tracking, safe browsing, and communication monitoring the app provides.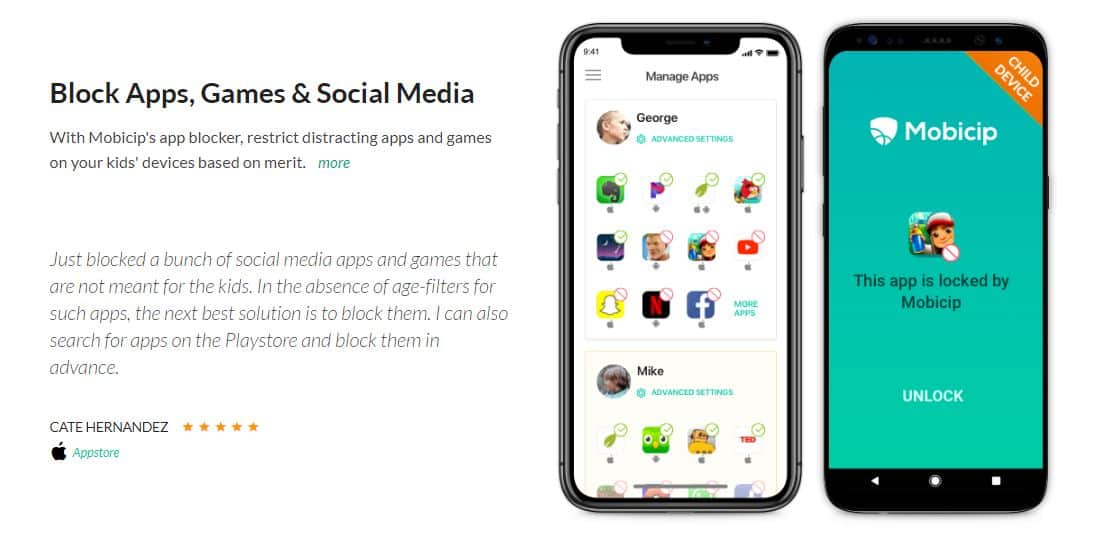 Some parents were a bit disappointed by the customizations' features. Customization and update times were a consistent complaint.
Yet, the parents also consistently agreed that Mobicip was the app to beat. The complaints they had centered around nonessential things.
An overview of the app
In use, Mobicip of 2019 has developed a complex interface. Under daily activity, it keeps a percentage track of the content in each profile's most visited sites. It also takes inventory of the apps you use the most frequently.

It then goes on to take account of recently watched videos, recent searches, and recently downloaded apps.
Under the family tab, it lets you set up a profile for your child that lists their age and their daily screen time allowance.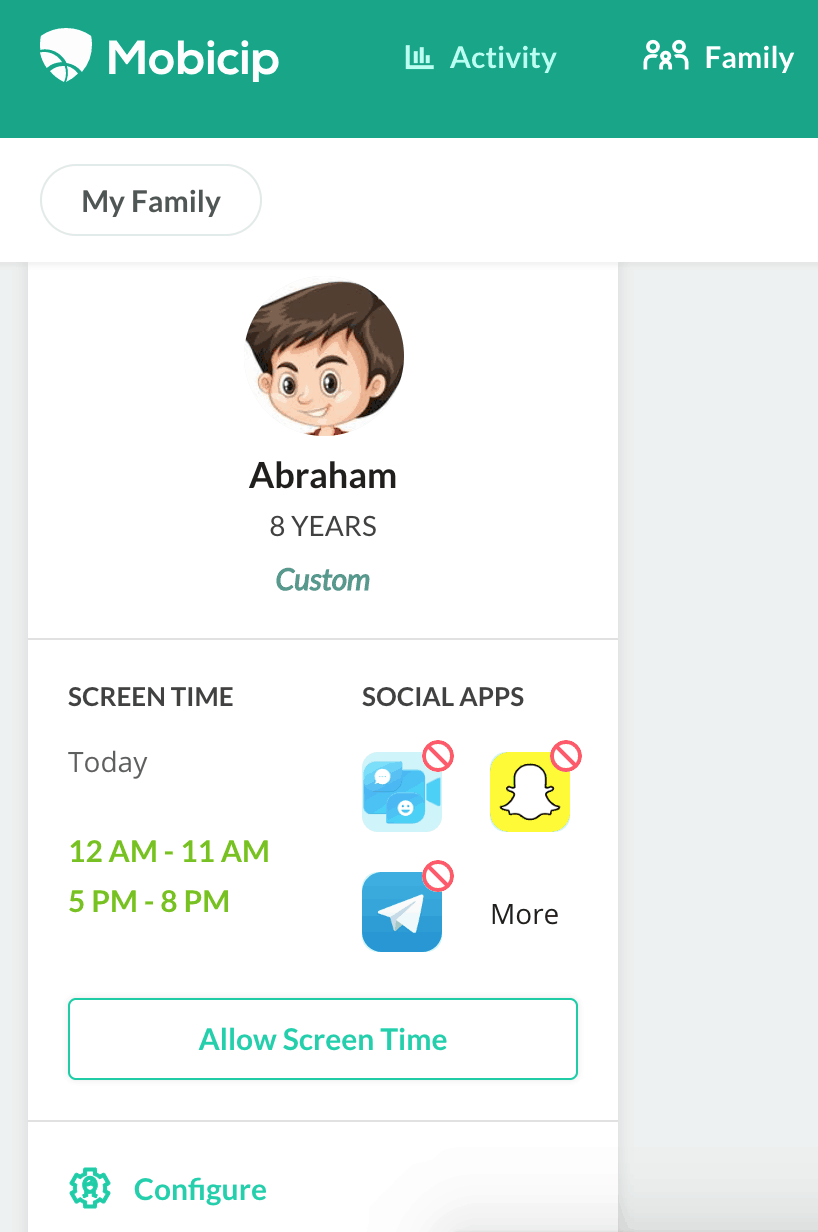 You also have the option to block children from screens if it is family time.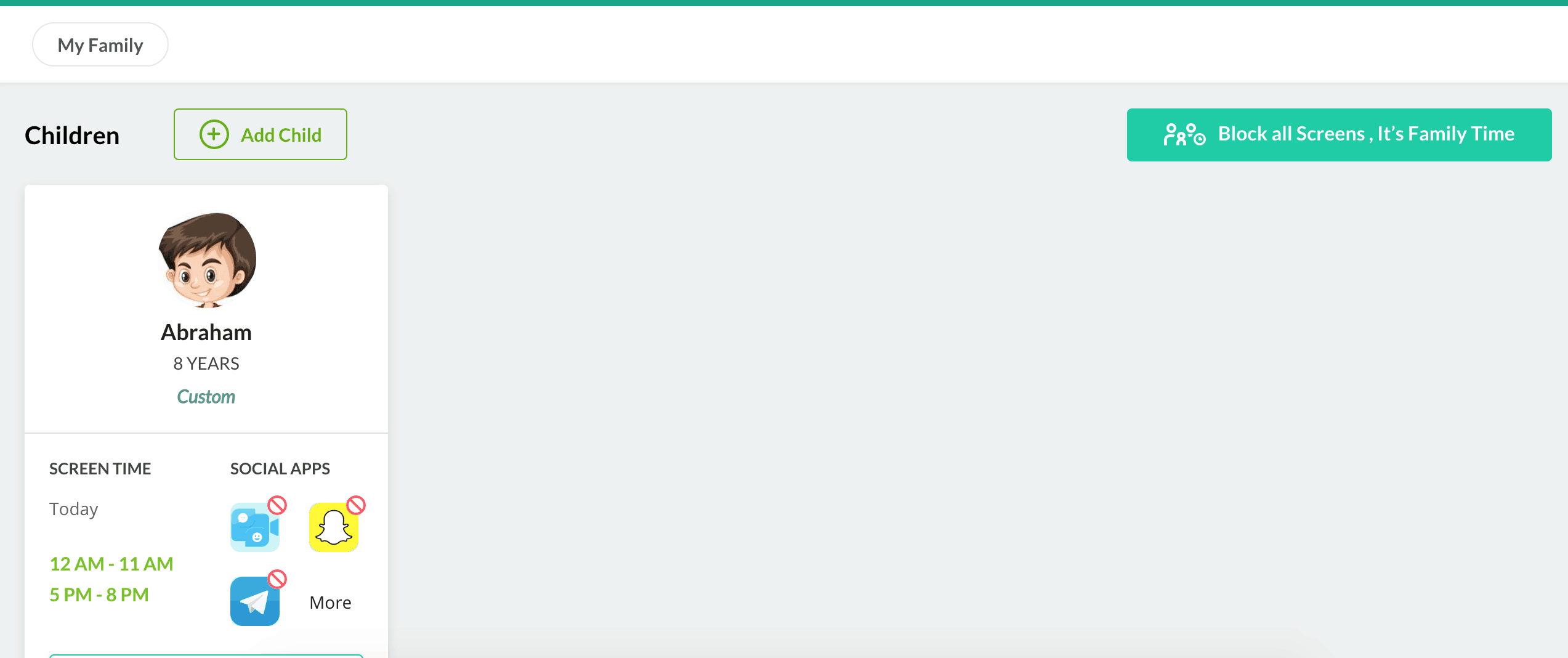 Mobicip will watch your child's viewing history and block the sites with the highest adult-based content. This includes site links as well as videos and images associated with them.
Mobicip will also block potentially harmful downloads.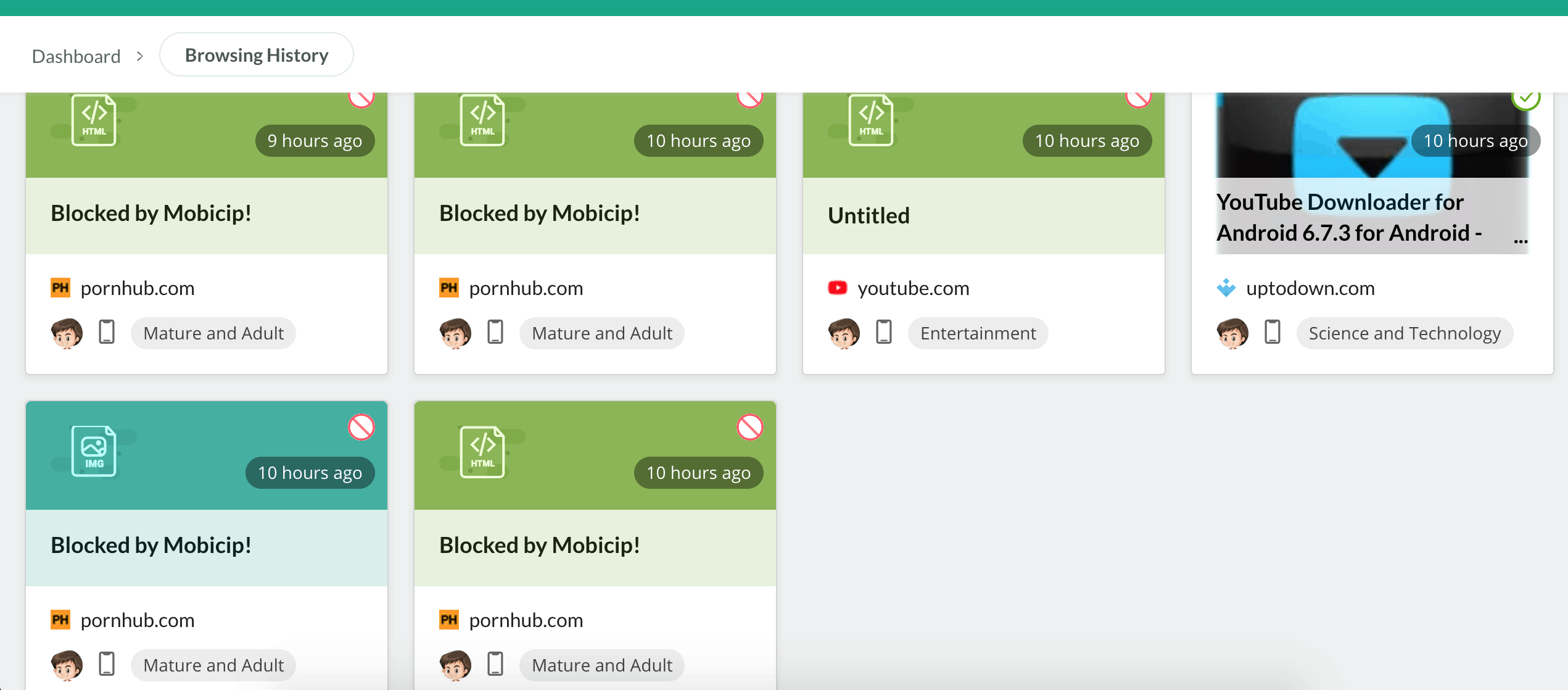 You can access a calendar of browsing history from this page. This calendar allows you to view in "Today", "This Week", and a "Custom Range" of browsing history.
You can use these tools to block sites such as these across a span of devices. For the account featured in these screenshots, the blocking tool works on a span of 5 devices.
The tool is not limited to blocking sites. You are also able to block or approve apps.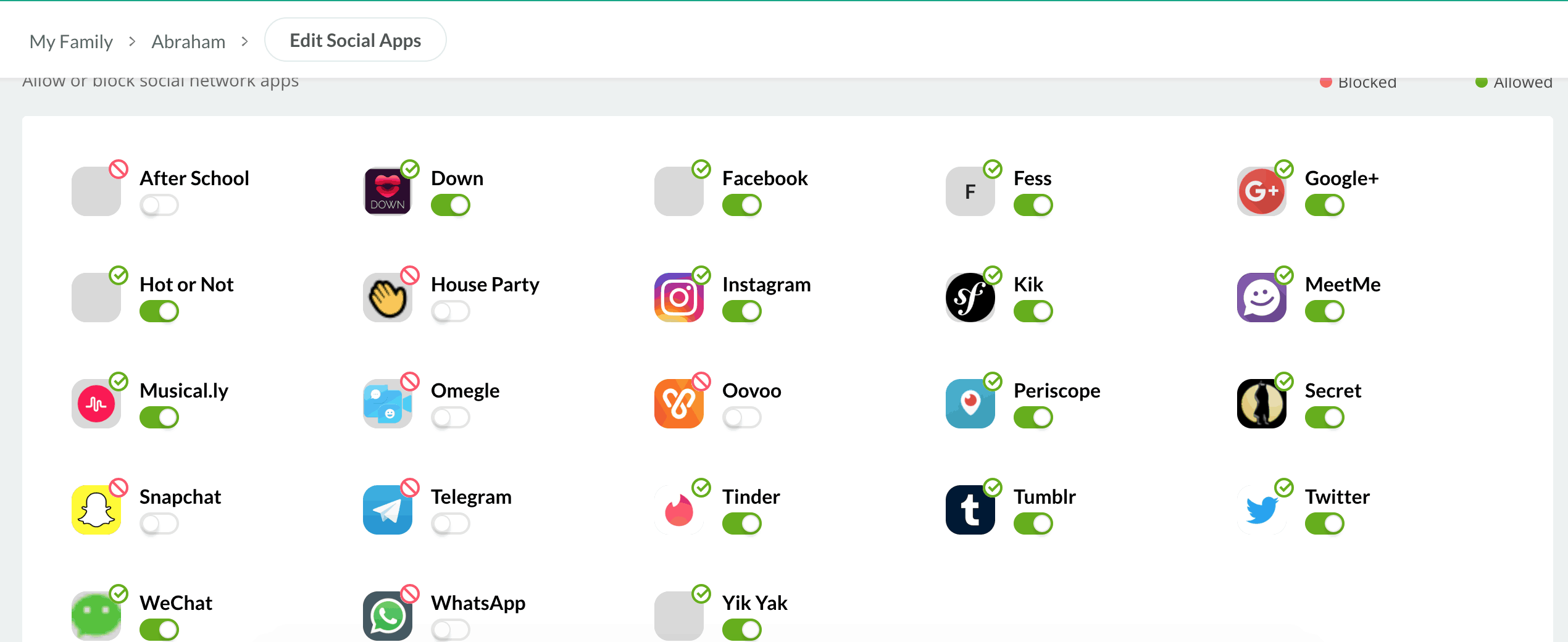 For this child's profile, the green checks are apps that are okayed by the system. The red checks are those that are blocked. For this child, apps that encourage live video chat like Omegle, Whatsapp, Oovoo, Telegram, and Snapchat are blocked.
The toggle switch allows the parent to also change the status on a certain app. If your child downloads an app that your mature content blocker doesn't catch, you still have the power to block it. For young children like the child in this profile, turning off apps like Tinder may be advisable.
For children who are experiencing cyberbullying, turning off social media apps temporarily may be in their best interest. Since we maybe don't want to block the app permanently, but for the time being, the toggle switch is ideal.
There is an advanced setting for mobile app blocking. It allows you to scroll through all the apps downloaded to a given device. Some of them were never submitted to Mobicip to define their "allow" or "blocked" status. By clicking on an allowed app that is not highlighted, you can block it.

Mobicip takes its app blocking a step further for video streaming. Another feature allows you to block video channels directly.

On this child's profile, we see that the child's parent has blocked Netflix, YouTube, Showtime, and MovieBox. They still have access to some other more customizable TV tools like Vudu, Amazon Prime, and more. This allows the parent to give their child streaming privileges that they can feel good about.

Hangouts was previously undefined in this list. By selecting it, it moved to the top of the queue and is now labeled as "blocked". You can simply click on it a second time to unblock it.
MobiCip goes a step even further by offering a content category blocking feature.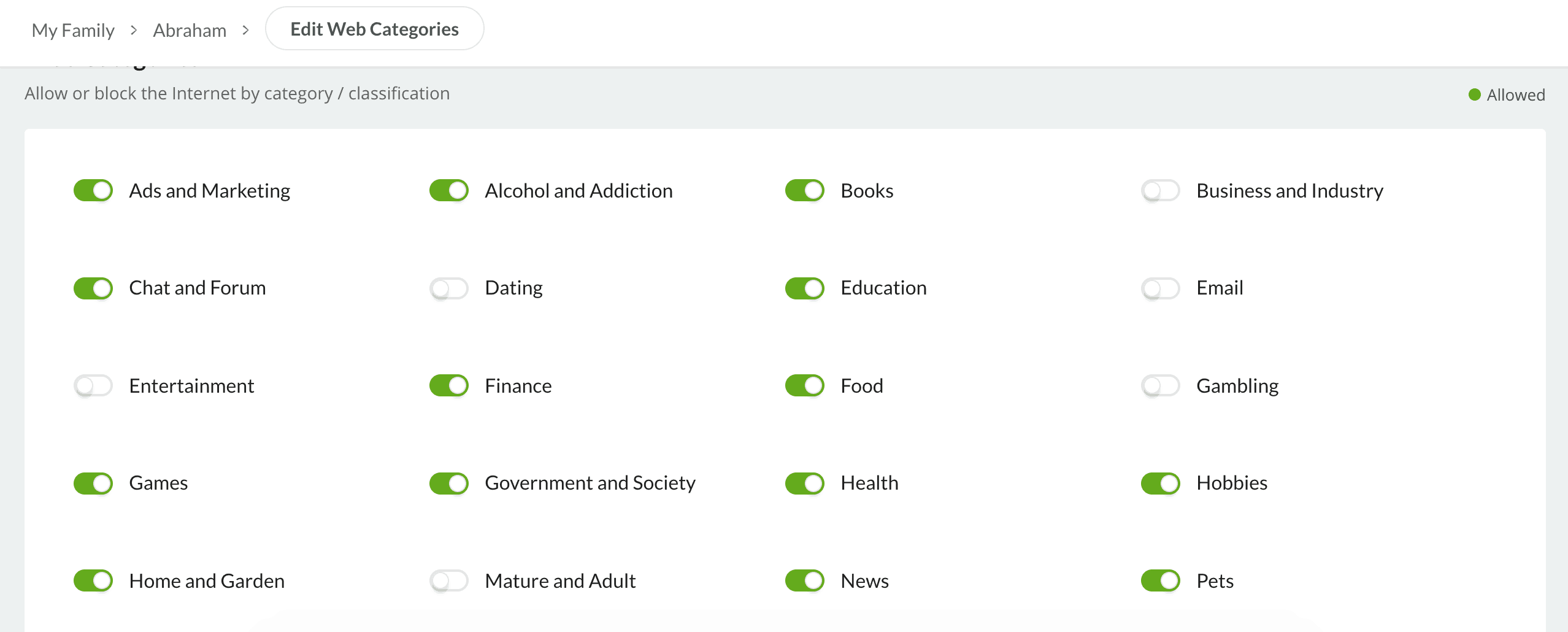 By flipping the toggle on one of these categories, the parent can block the child from seeing content that contains keywords or related keyword searches. This can be a great asset when dealing with children who are a bit older and more search-savvy.
Yet, hackers can find a way around category blockers. This is the reason why Mobicip goes a step yet further by offering a feature to block specific websites.

To block a certain website, you need to type its URL into the address bar and then click the "Block" button. Underneath this address bar, there will appear a menu of other sites you have blocked. There is also a feature to Allow certain websites.
This feature will also allow you to whitelist one website and block any others. This can severely limit a device. It's recommended for the device that your child uses for school. Keeping their device focused on their virtual school room will improve their productivity while also preventing them from having run-ins with any inappropriate behavior online between teachers, other students, or a third party.
Mobicip goes a step further than site-blocking with a feature that blocks phrases from your child's search. This follows the same design model as the website blocker tool. With this feature, you can block or allow certain phrases to a child's browsing options. This means that similar search results to the sites you have blocked are also blocked from your child's browsing.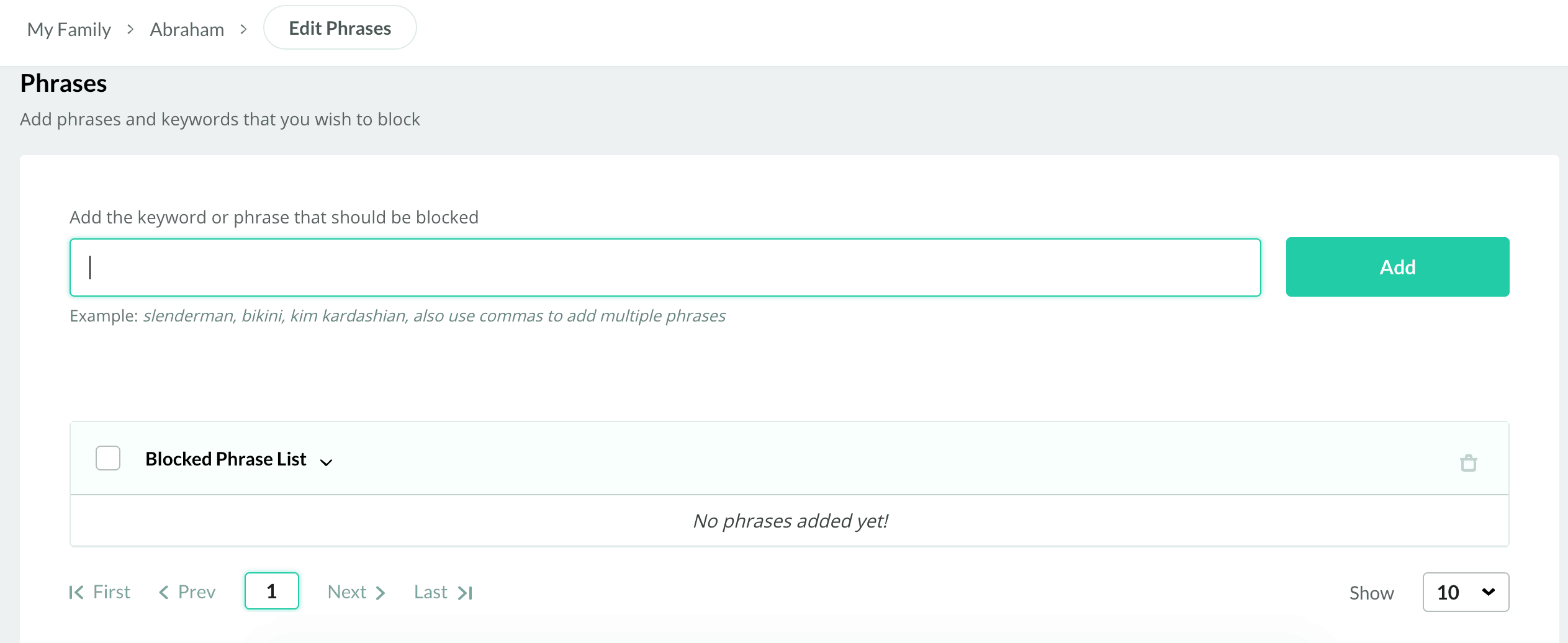 The final feature allows you to allow or block certain networks. You can allow a certain range of IP addresses by typing the IP address into the feature pictured below: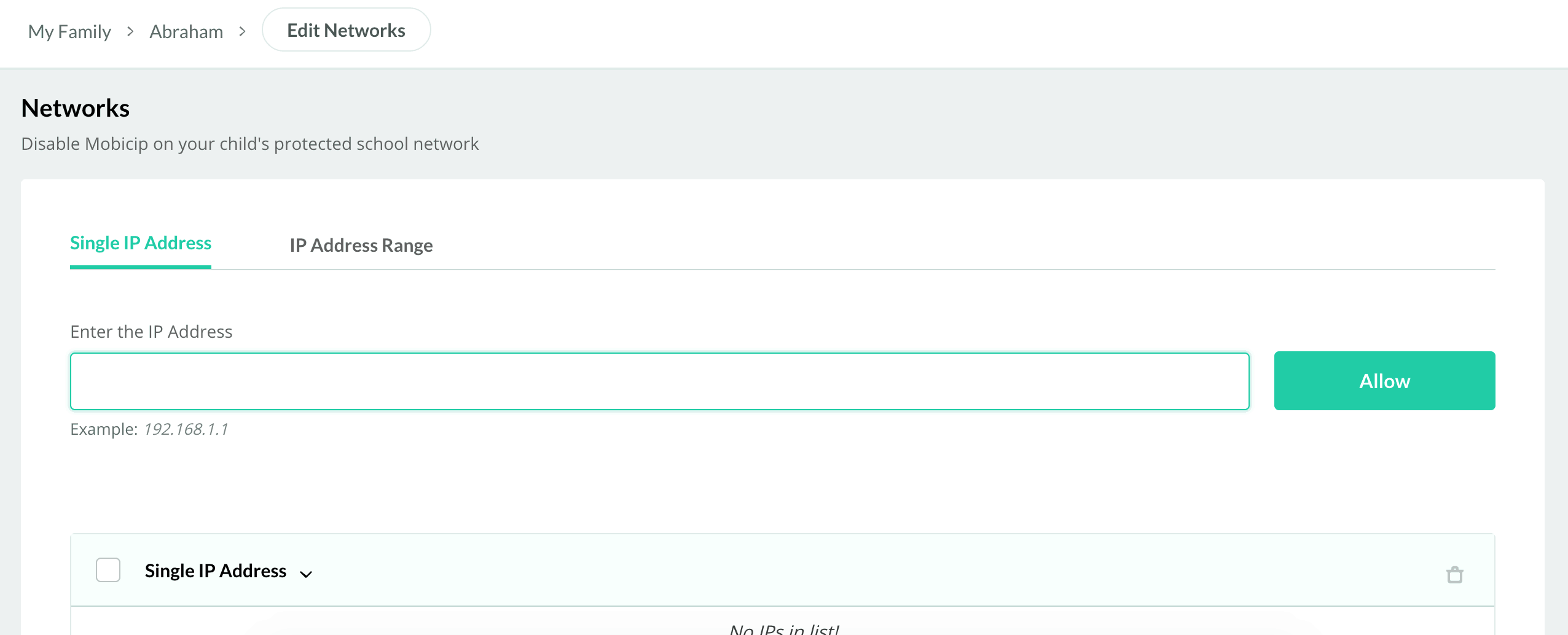 The idea behind this is to protect children's browsing time from unfamiliar and potentially hostile networks. Allowing IP addresses or their range will keep children browsing in the same field as the other tools allow them to.
How do I use Mobicip most effectively?
There are different degrees of monitoring and control you can have with Mobicip. They go by levels. First, second, third levels. There is also a customizable internet filter. You can use the filter tools and the levels of surveillance to monitor your children remotely or on the device.
The levels act as a screening system check and balance. Mobicip begins filtering with the first level. The software will run category diagnostics and check back to their database to see if the site is kid-safe. The next two tests screens the site in question against the rules set forth by the Family Online Safety Institute. If the test fails at the second level, a third and deeper level of diagnostics launches. This third level analyzes in real-time to check for safety.
How to set up the Mobicip
1 . Create the profile from Mobicip dashboard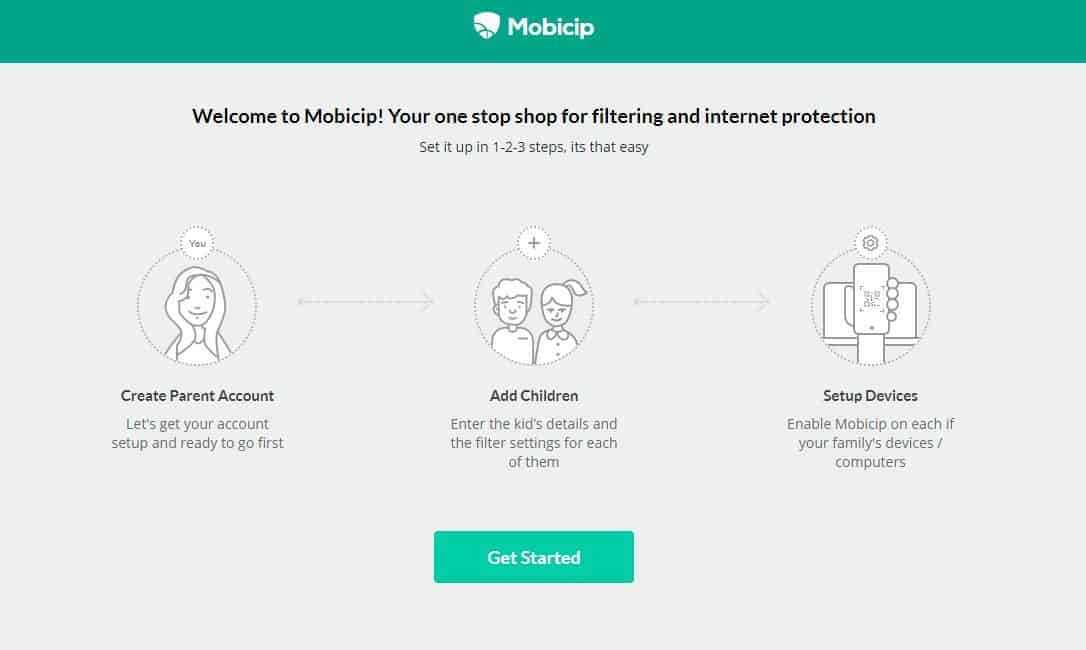 2. Add child name and age.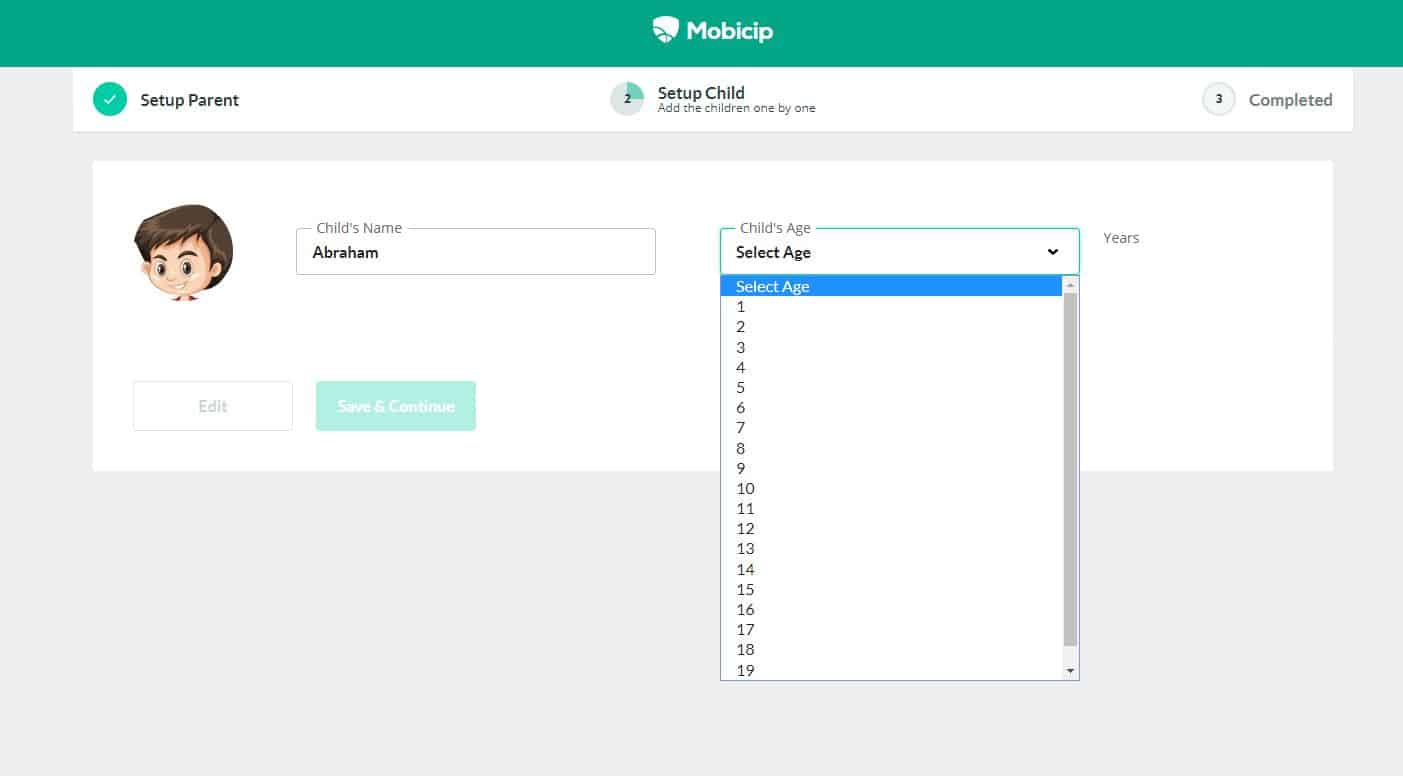 3. Choose the recommended age-appropriate parental control setting for the child – Monitor, Strict, Moderate or Mature.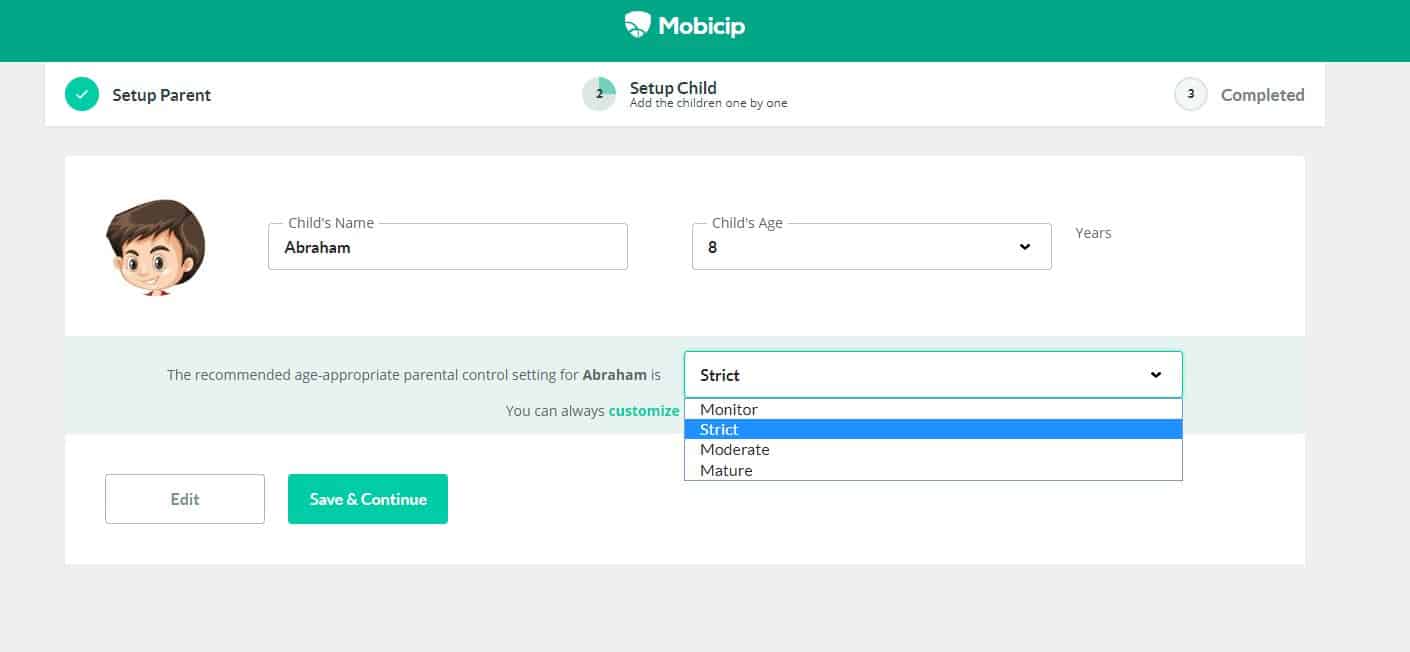 4. Save and go to next step.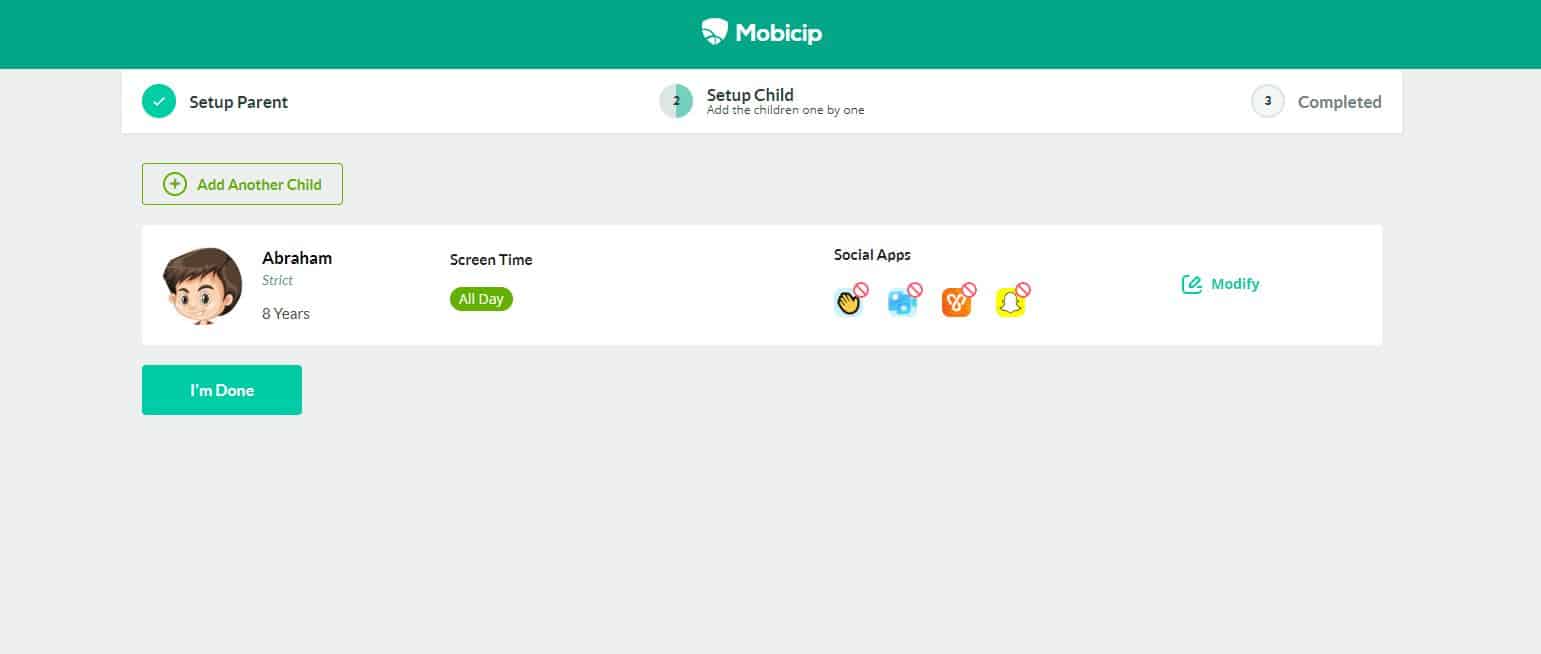 5. Change the screen time, allow or block social networks, videos mobile apps, websites, web categories or phrases.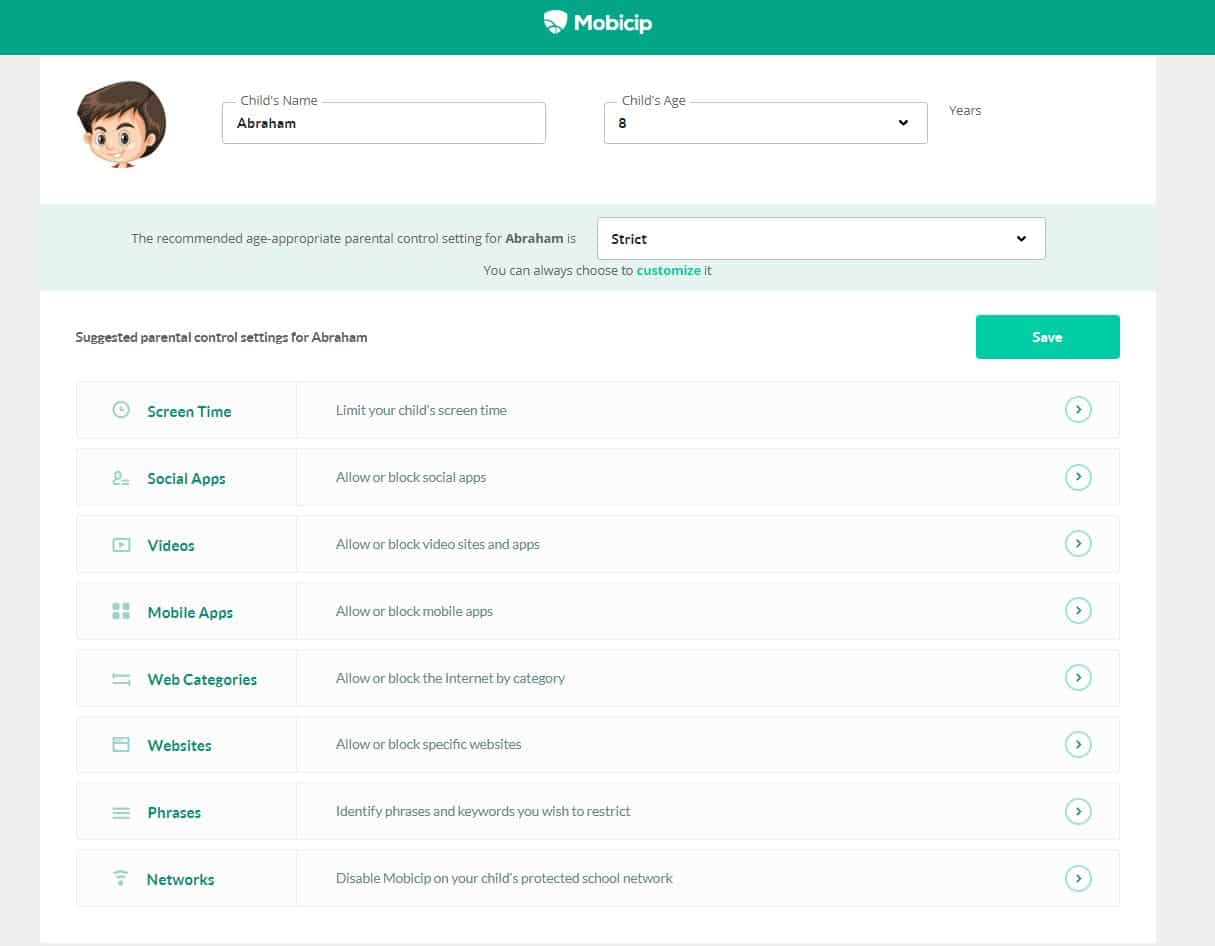 6. Seat a healthy time for your child's screen time based on the time of day.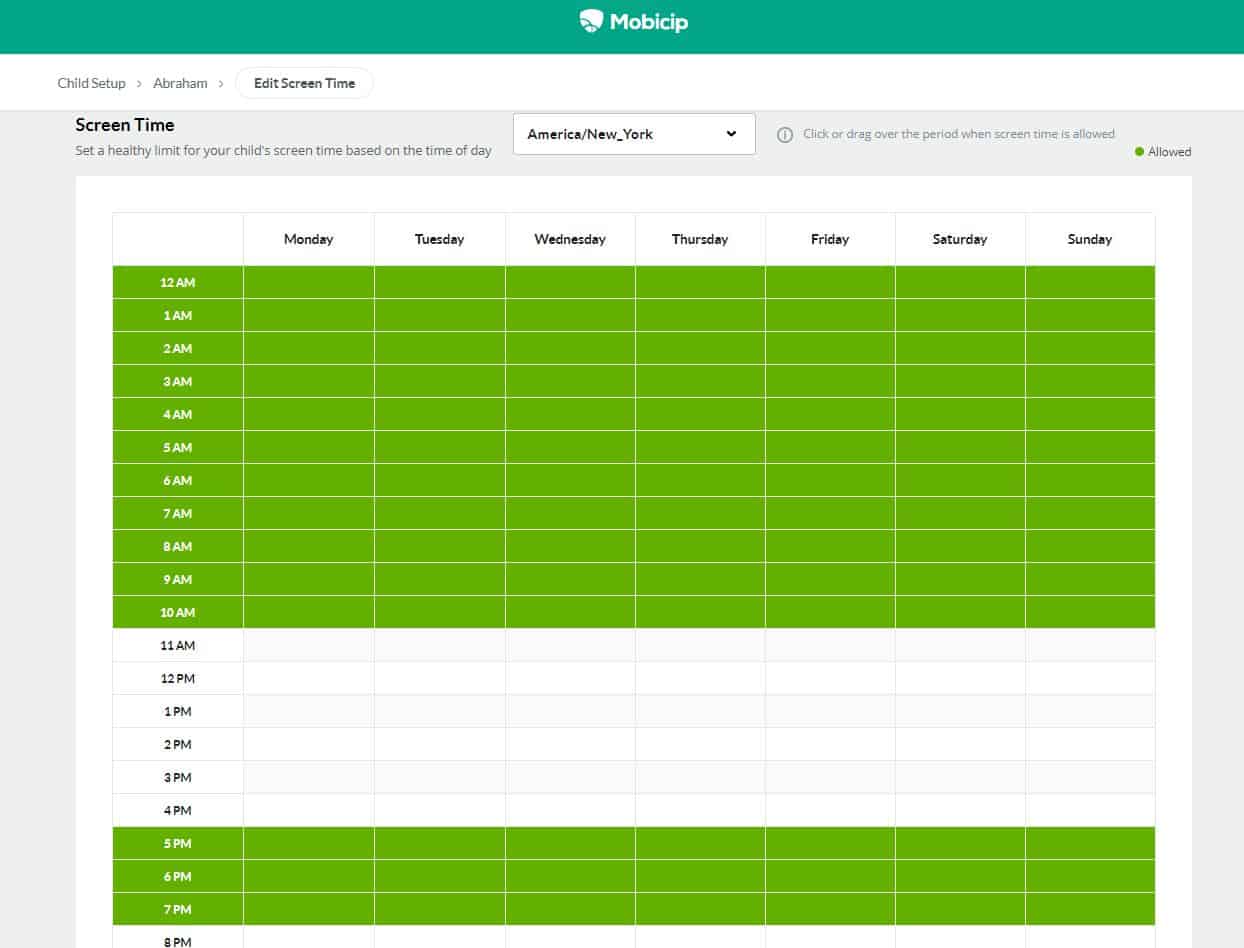 7. Block/Allow Social apps.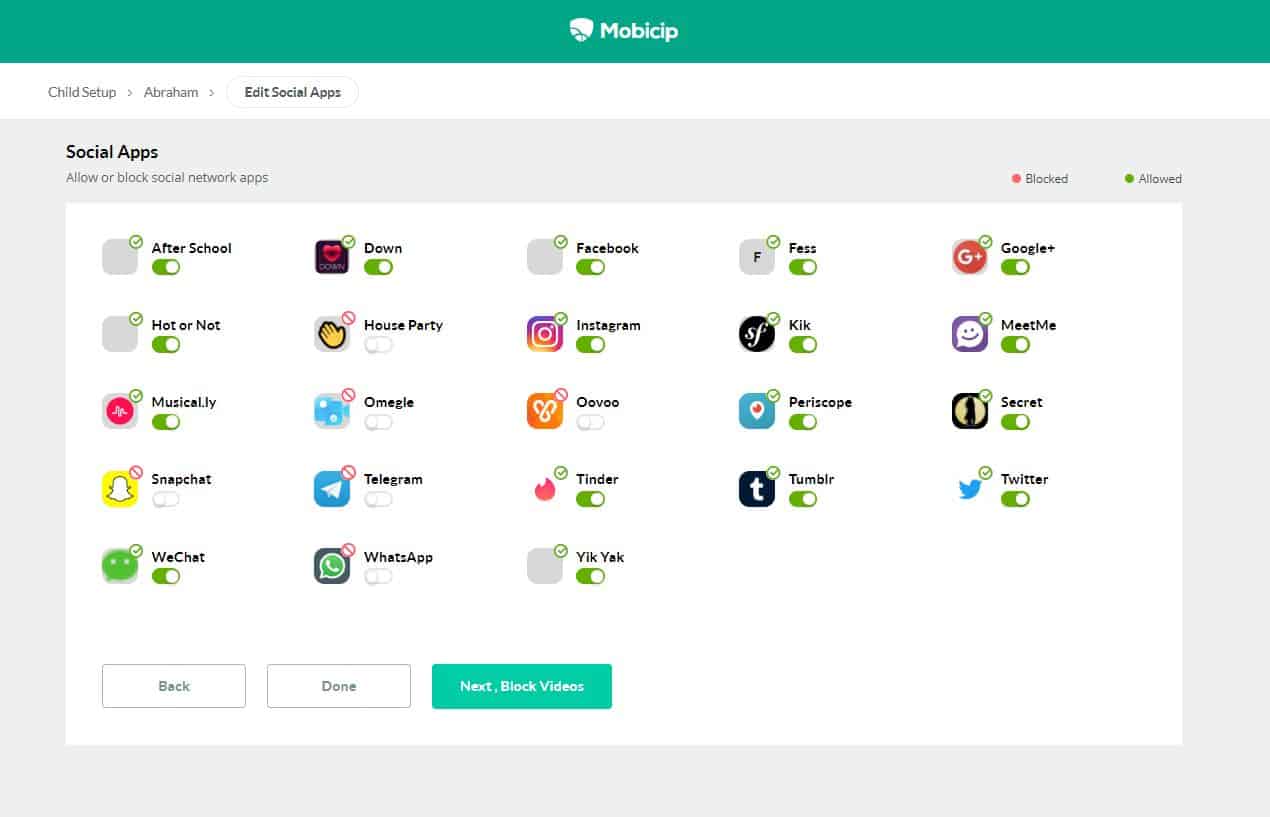 8. Block/Allow video streaming apps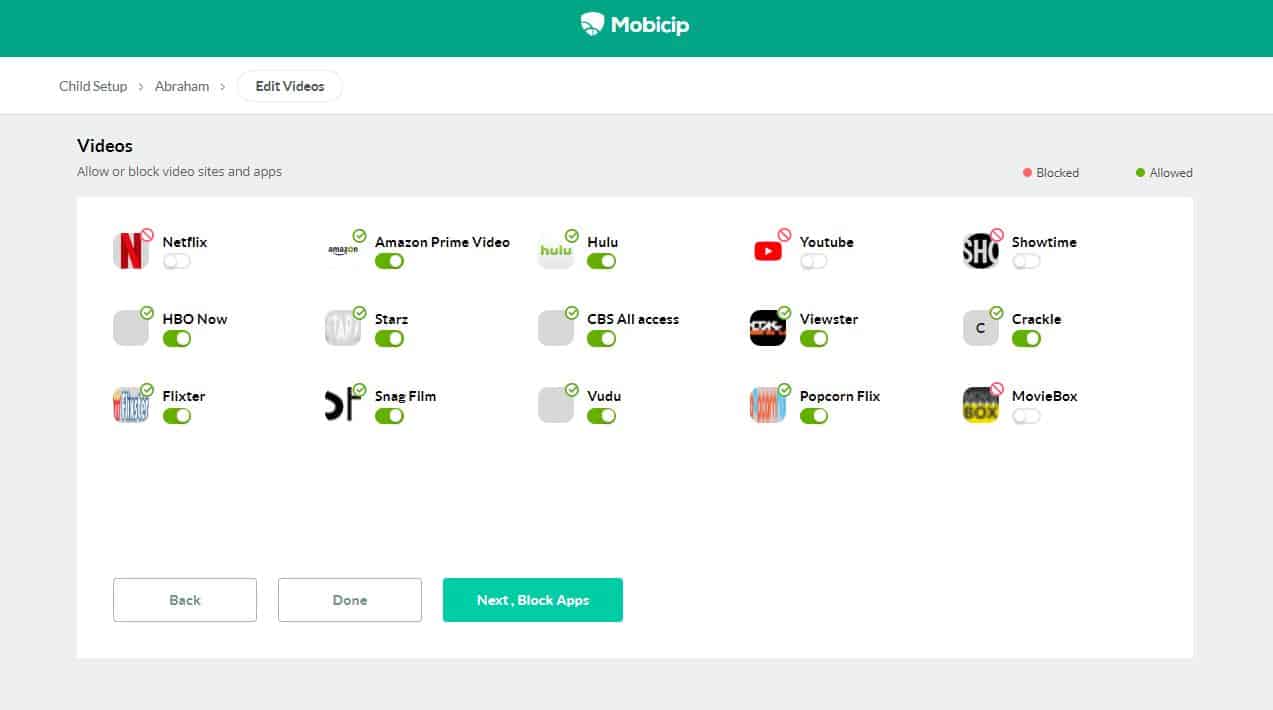 9. Block/Allow Apps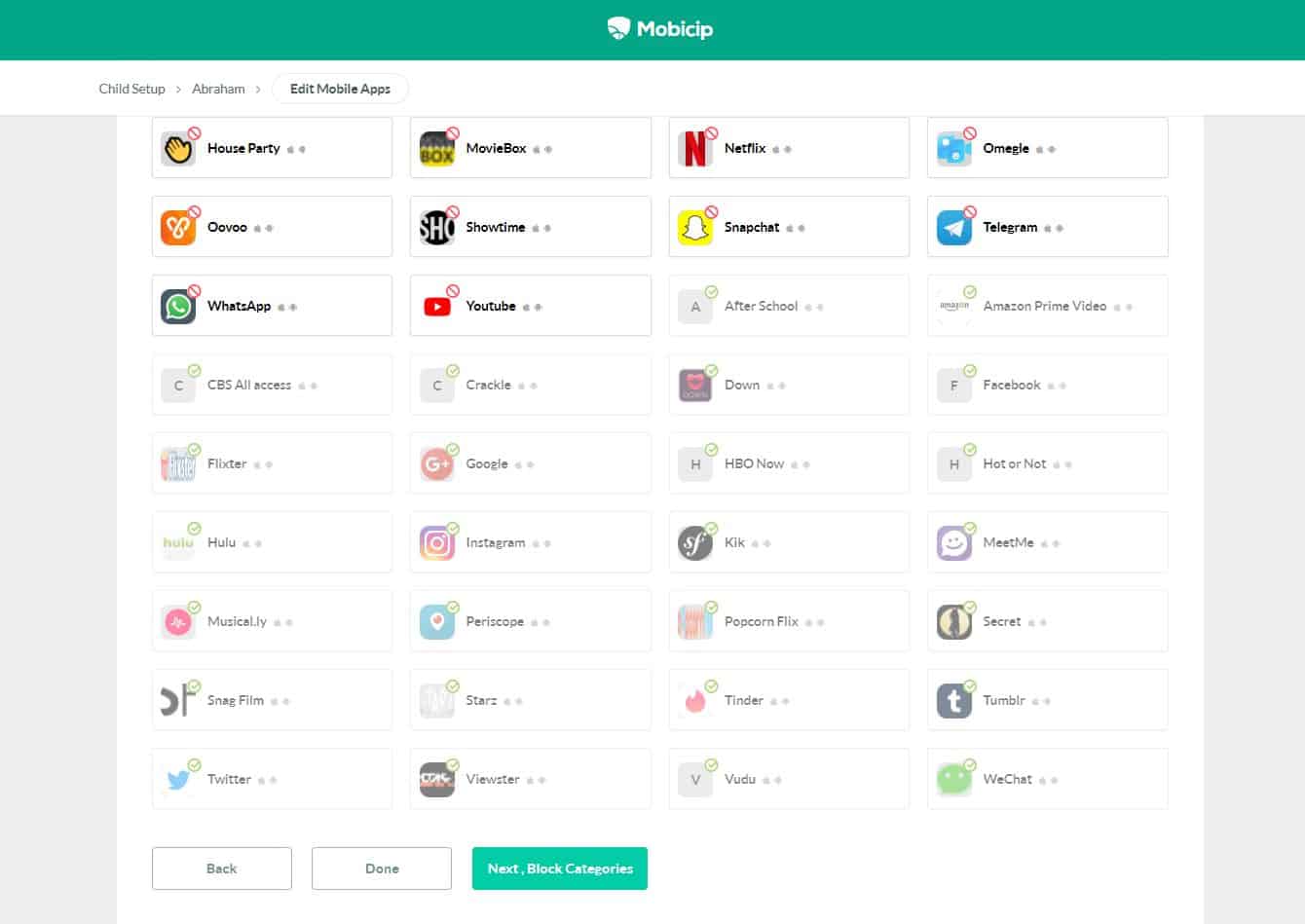 10. Block/Allow Web Categories.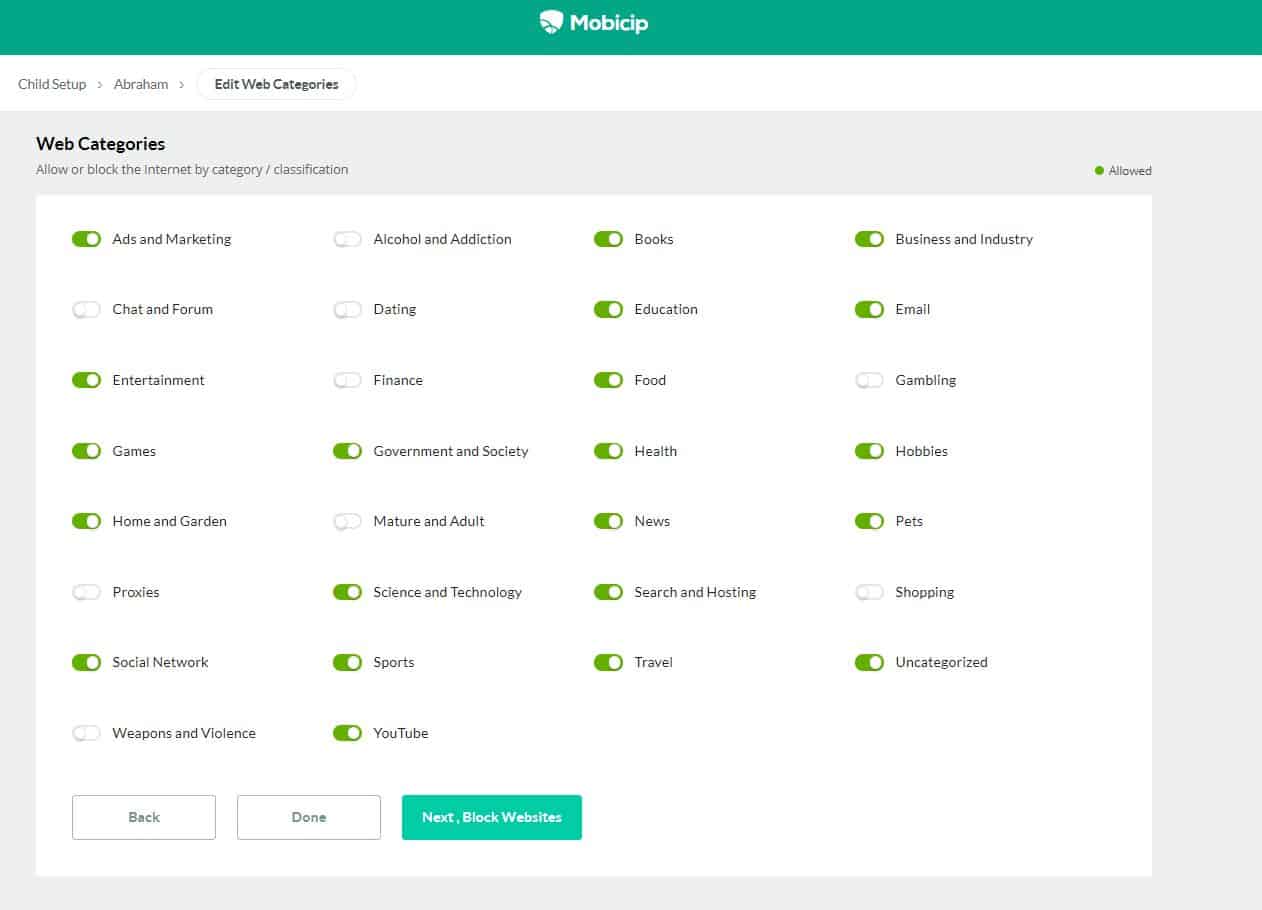 11. Block/Allow Websites.
12. You can even block phrases.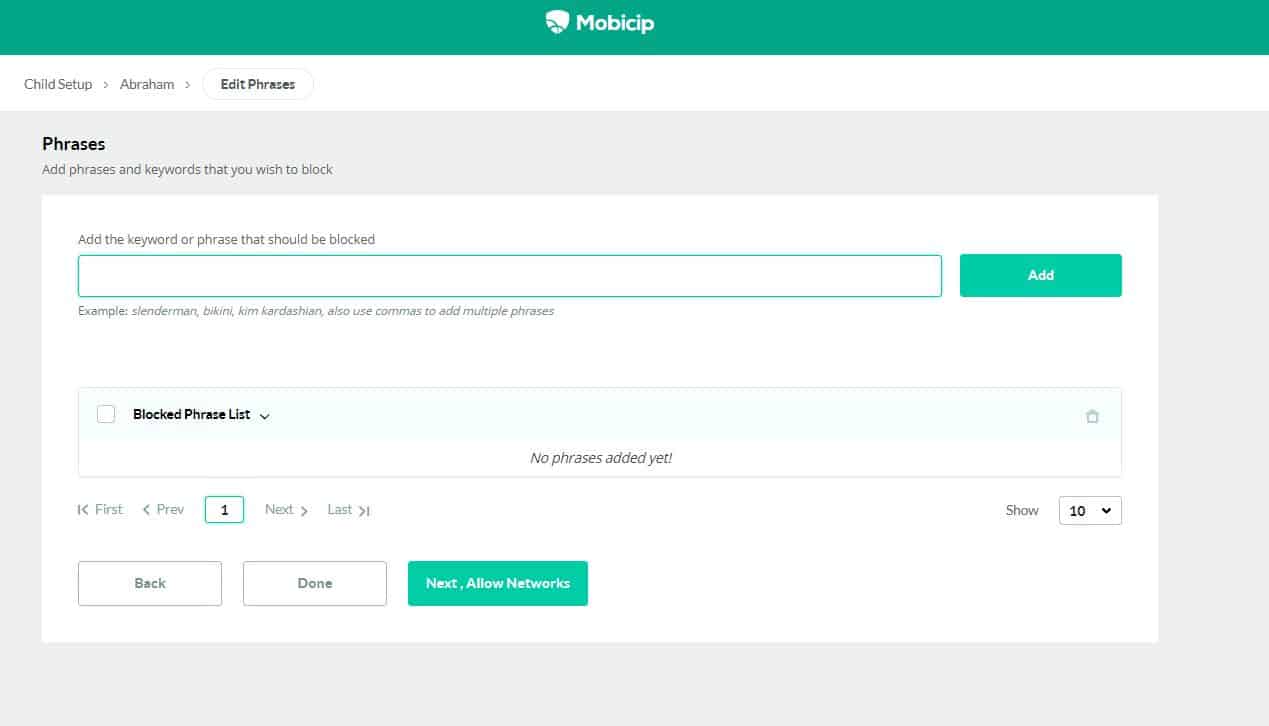 13. Block/Allow networks by IP.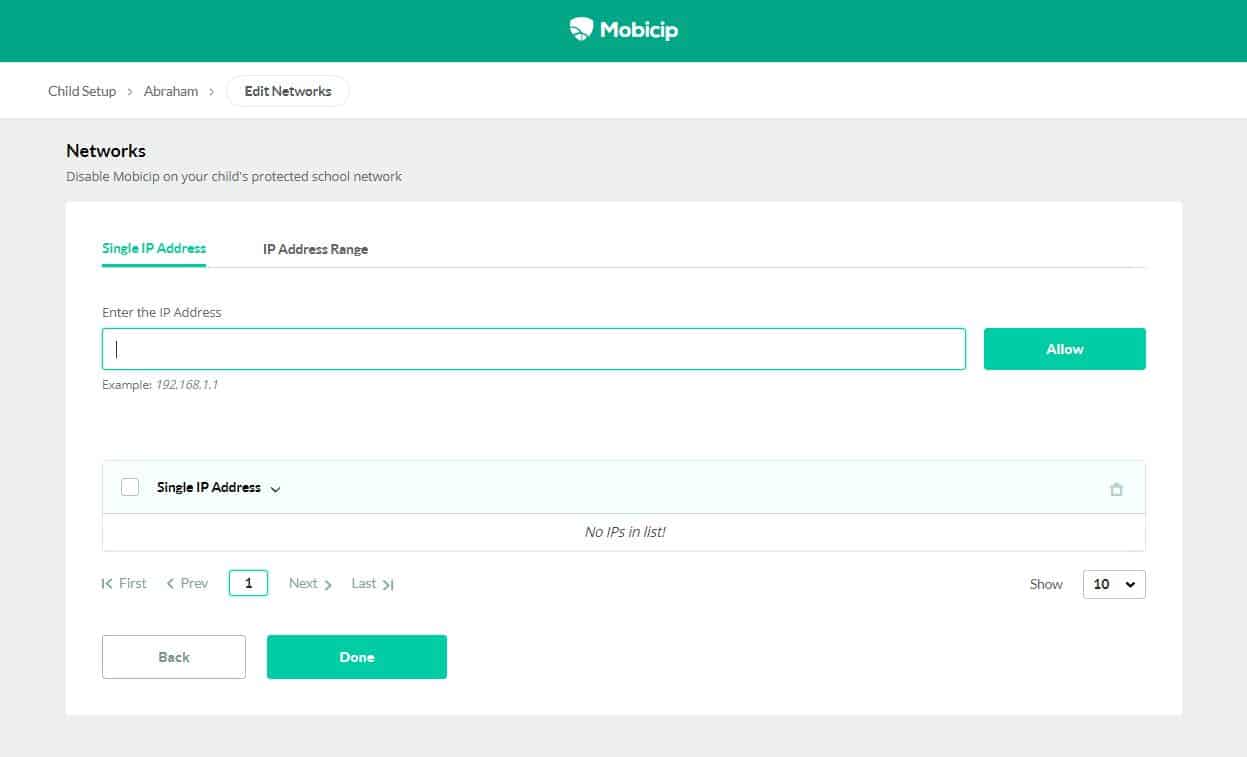 14. Save and continue.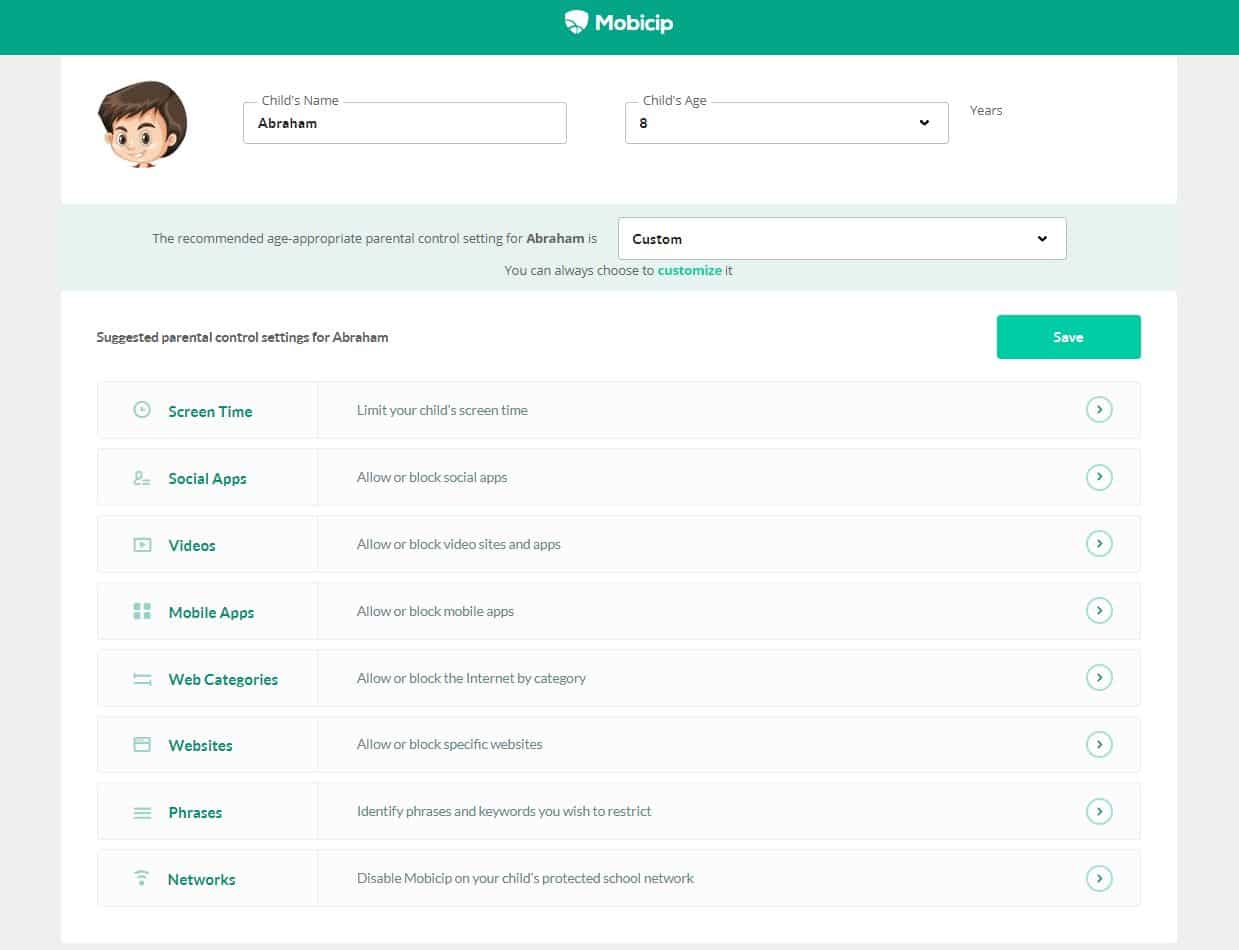 15. Set up the child device by scanning the QR code

16. Download the app from your store, install and read carefully the terms and conditions also the privacy policy.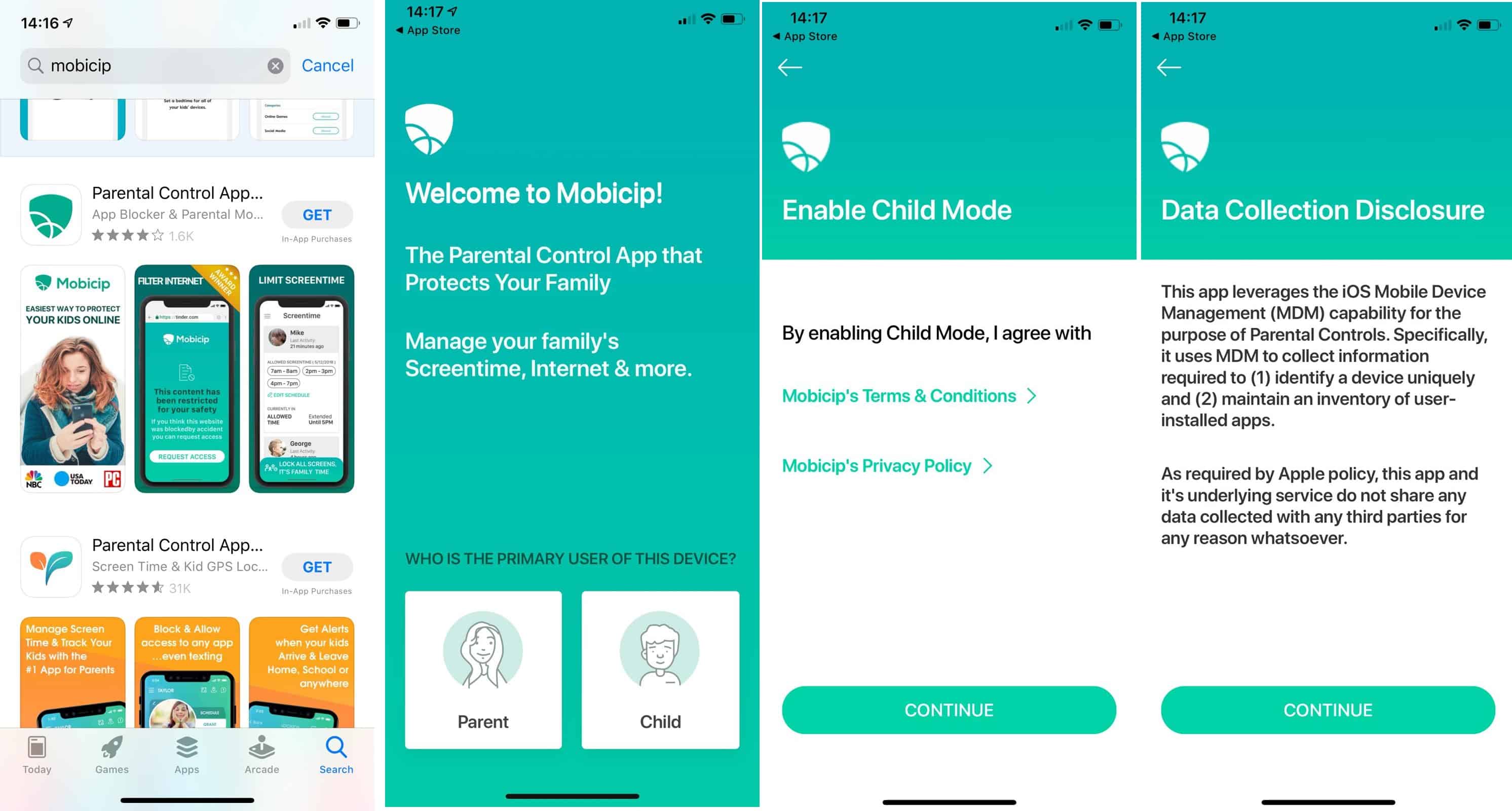 17. Scan the QR code from the dashboard.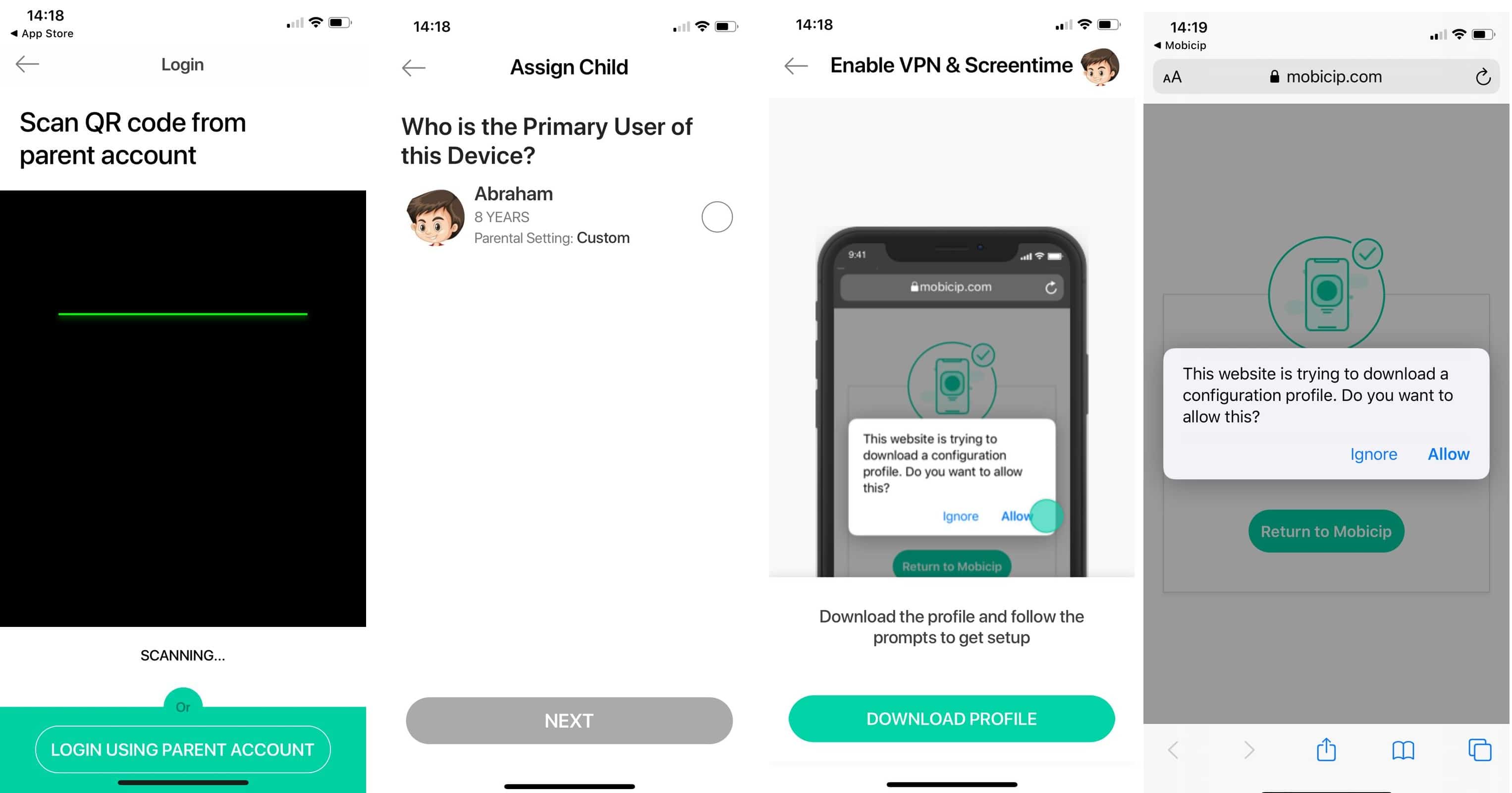 18. Download the profile that you created for the child.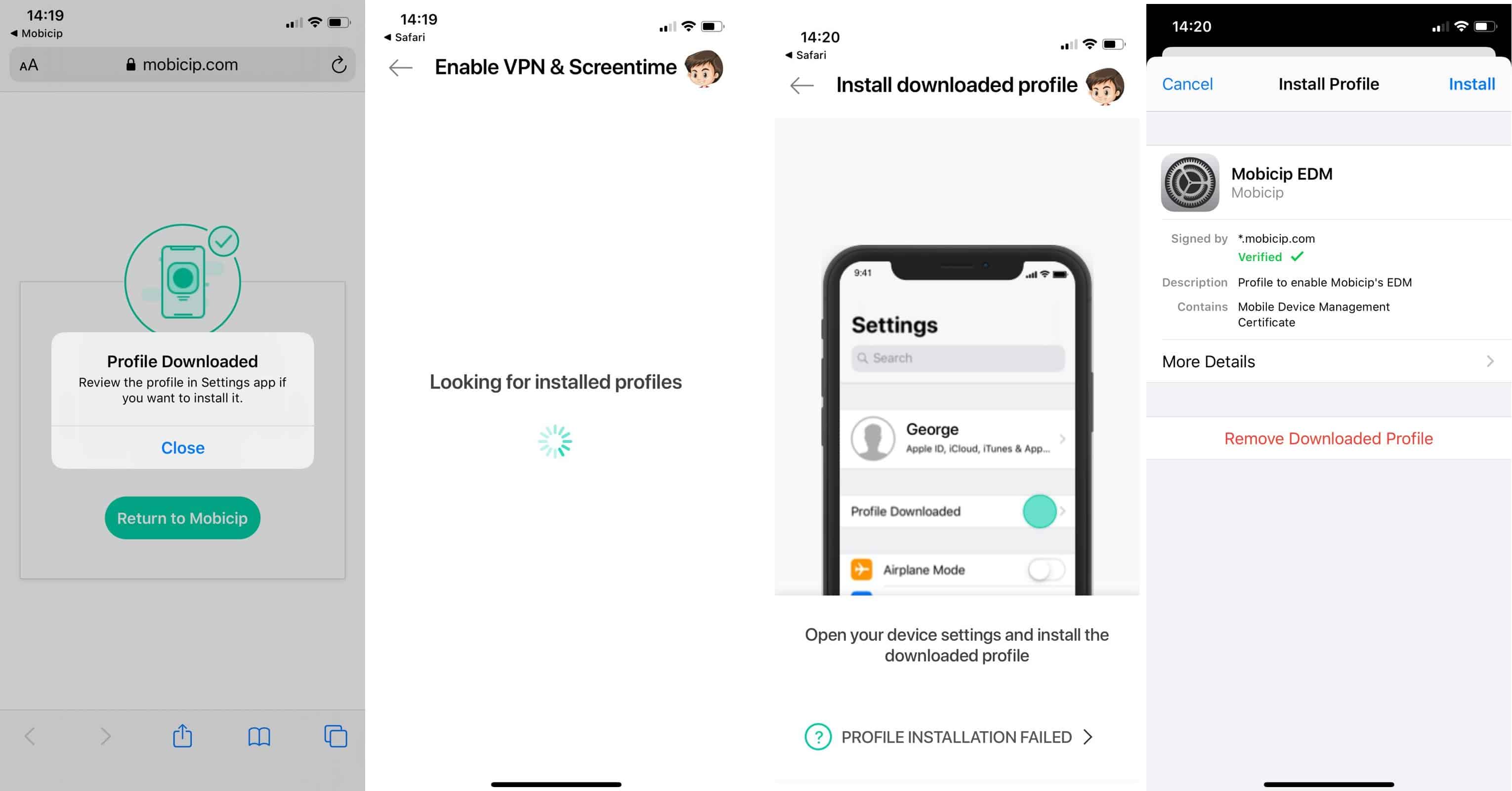 19. Check from the device setting if the profile is installed.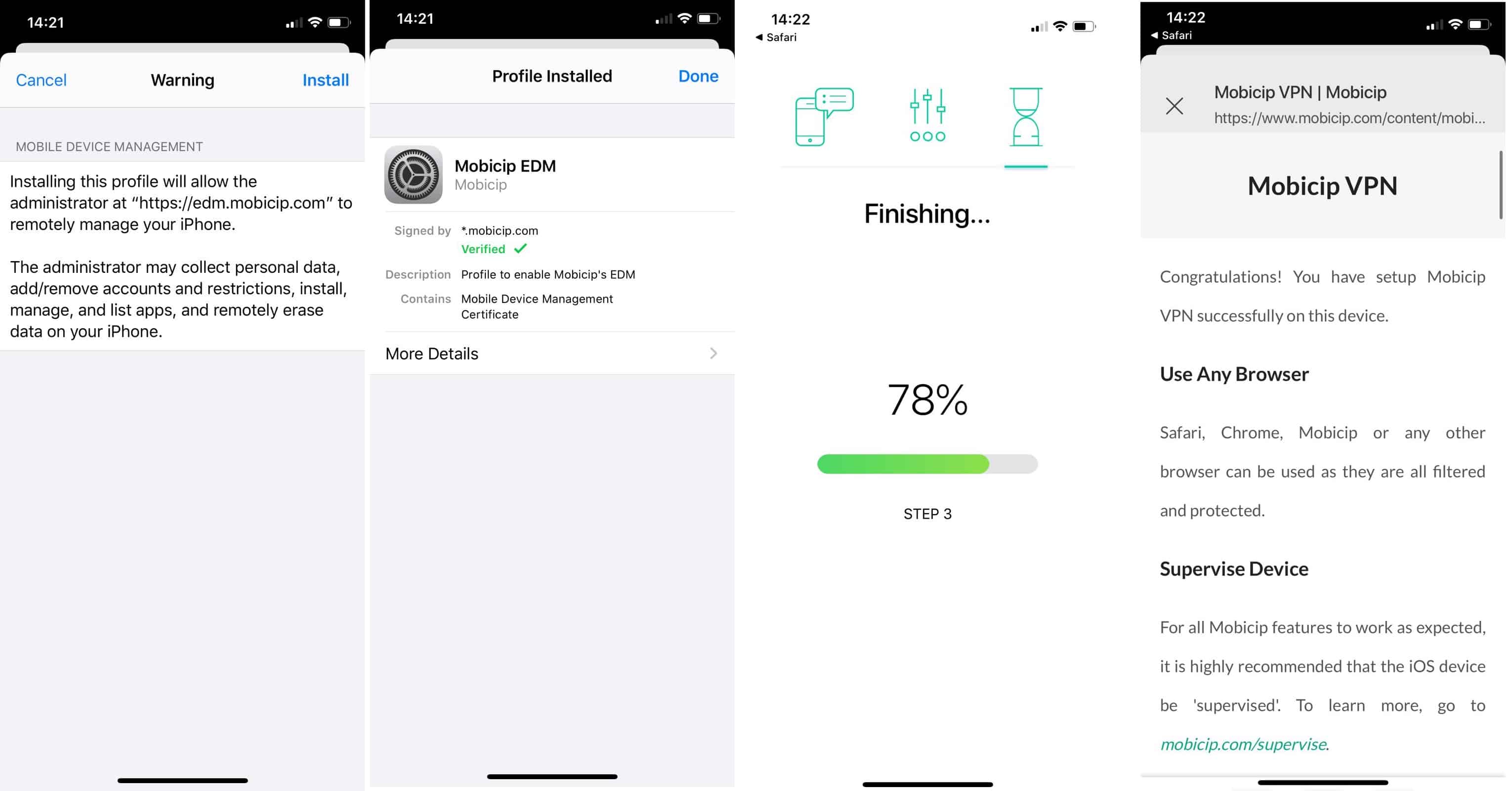 20. All apps and sites are blocked, thanks to the Mobicip settings.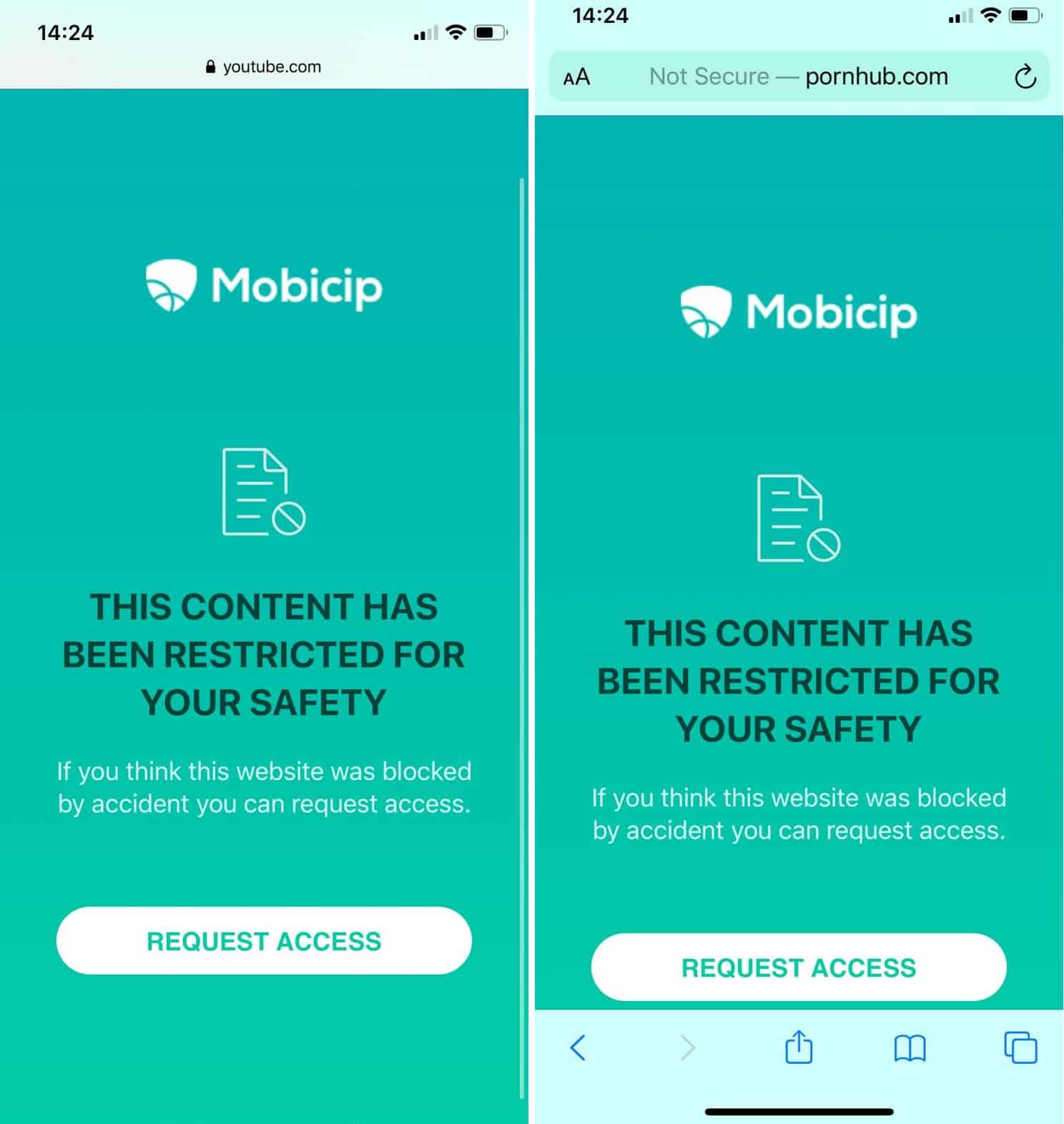 Check-in real-time from dashboard what your child access.

Price Points 
Mobicip prices have gone up a little bit.  The prices are determined from the bundle of devices synced. They are as follows:
124.99 per year for 15 devices &
159.99 per year for 20 devices
Final Thoughts
The value for the platform far exceeds the price point. Our take is that Mobicip is one of the easiest to use and to install of all the parental controls on the market today. Highly recommended.