We are reader supported and may earn a commission when you buy through links on our site.
Learn more
How Do Background Check Companies Get Information?
Many employers enact thorough background checks in order to make sure that you are financially responsible, socially responsible, and truthful in terms of your application details. You likely know this, whether it's from Hollywood films, information you found online, or previous job applications.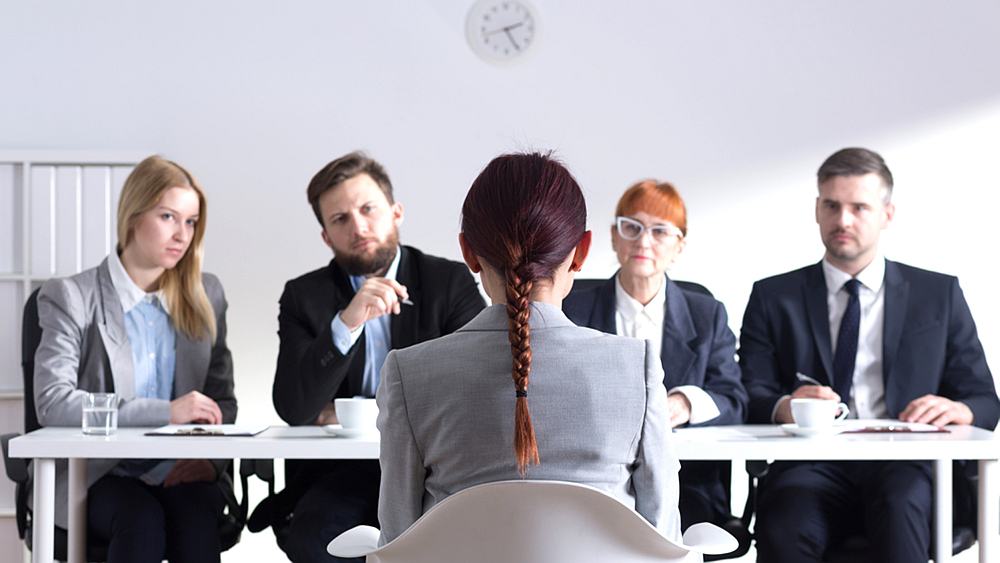 What you may not be aware of is that many corporations hire external companies to do checks for them. In fact, 2 recent surveys showed that 96% of employers conduct background checks on potential employees – with 50%+ partnering with a third-party background check provider. This article will explore the reasons behind these rising numbers, and explain how companies like these get information.
Why do employers conduct background checks?
Whether you are interviewing for a part-time job or being considered for an executive position in a large firm, your history may be looked into. Why? Well, first and foremost, an employer wants to make sure you are being honest about your past, be it personal or professional. 40% of CVs and resumes have false or modified information; so, a background check helps avoid unpleasant consequences as a result of poor hiring decisions.
The mechanics of background check can be straightforward. For example, the company may check whether you, in fact, graduated from a university or not. Things get more complicated when you're interviewing for more responsible positions. For example, if you are interviewing for an accounting position that involves a lot of sensitive information, an employer may also look into your credit reports to ensure that you are dependable enough to take on the role.
How do background check companies gather information?
A background check is a crucial part of the hiring process, and a background screening company allows the employer to make an informed decision based on the most truthful information. If an employer makes poor decisions when it comes to recruitment, not only can they gain a bad reputation, but face potential legal consequences and financial losses. A third-party screening company reduces both time and costs for the entire process, and here is how they gather their information.
Search Over 1 Billion Public Records
Run a comprehensive background check on ...
Employee applications and identity verification
Prior to delving into national records and credit history, background check companies will gather information from you as an applicant. Once you submit your resume, basic information such as your birth date and address may be researched to make sure your identity is credible and matches governmental records. Unless the applicant is providing faulty information regarding his identity, this is typically done as a routine check-up prior to looking into more detailed information.
Education records and employment history
One of the most important sections on your resume is your education and work experience, but unfortunately, many aren't completely honest about completing a degree, or even where they worked prior to the interview. As a result, most companies will want to verify whether you are telling the truth through a series of interviews and, later, double check with your school or previous employer.
When it comes to questions regarding your last salary, it may seem far-fetched that your interviewee will look into it. Believe it or not, though, many do, and most applicants lie about it during the recruitment process. While it may seem that it would be nearly impossible for an employer to get a hold of this sort of information, a simple W-2 forms request will get them this sort of information. If you ended up 'altering the truth', dealing with the consequences will be uncomfortable to say the least.
Due to an increasing number of false information being given out in interviews, the employment history verification is becoming more common. This typically includes everything from job titles to dates of employment and your salary earned at each job. In order to avoid losing a potential job due to dishonesty, provide accurate information or avoid answering questions about your previous salaries altogether (which will only work if the employer then decides not to request this information).
Financial records
If you are applying for an important position within a company, particularly one that deals with handling company finances, the background screening company may look into your credit records. These typically include past bankruptcies, evictions, loans, or any other financial circumstances that would prevent the employee in question from being trusted with a finance-associated position. For credit reports like this, background check companies request information from credit reporting bureaus or, in some cases, even landlords or rental agencies. If a prospective employee has a poor record of paying rent, this may be an indicator of his financial irresponsibility.
In case you are concerned about someone snooping around your credit reports, don't worry. Just like with most other personal information, the company would need to be granted permission for looking at your financial information. Furthermore, the company is obligated to notify you in writing and wait for your written agreement prior to looking through your financial history. Depending on where you are located, the company may have a limitation on this report, too. For example, 11 states in America limit the amount of information that an employer can gather through credit checks, including California, which prohibits basing hiring decisions on this metric.
Criminal records
While this is not typically a mandatory part of a background check, some companies look into both national and city/state-based criminal records. In America, certain states ban any snooping around arrests or convictions beyond a certain point in a person's life, therefore if the arrest took place a long time ago, it may be considered irrelevant.
Since criminal records are not complicated to look into, you are better off telling the truth about any convictions you have in your books. An employer who is impressed with your qualifications and experience may be willing to close their eyes on your past, particularly if it's been years since the conviction. As a matter of fact, approximately 33 states in America have employed the 'ban-the-box legislation', which limits the amount of questions an employer can ask in the beginning stages of the interview process. This eliminates any sort of discrimination or bias towards an interviewee who has a criminal history, and forces a company to base their decision on their skillset alone.
Will the employer warn me about a background check?
Don't worry – an employer is obligated to receive a formal permission in order to carry out a detailed background check. Furthermore, if any information discovered during the check prevents you from getting a job, the company must provide you with the report and inform you of the reason for your rejection in written form. This protects you from having potentially faulty information come up in your background check – if a mistake has been made, you will have a chance to let the employer know.
If your prospective employer informed you of a background check, there are certain things you ought to keep in mind. While certain details about your background may be concerning to an employer, these checks may not serve as a ground for discrimination. If an employer requested a background check for you, this must be the case for the rest of the applicants, too.
Our top recommendations for background checking websites and services
Not sure about outsourcing a background checking company? Or simply want to a run a background check on yourself prior to the interview? Luckily, there is a myriad of available background checking websites that will save you time, money, and energy. We have tested some of the industry leaders in this department and narrowed it down to three recommendations, so don't worry about making the right choice. However, it is important to know what criteria we based on our decision on.
In-depth research

– Depending on the number of available sources, different background checking websites offer different levels of research. When it comes to criminal records and financial background, however, you want to make sure that the website uses as many sources as possible and offers high-quality research.

Accurate, simple reports

– A background checking website is only as good as the results it generates, but even the most in-depth reports can get confusing. Make sure you opt for a service that builds comprehensible reports whilst gathering all the important and relevant information.

Quick results

– When it comes to conducting background checks, time can be of essence. The last thing you want is to wait days or even weeks for a comprehensive, detailed report. A quality background checking website will be able to provide you with a full report within 4 to 5 business days.

Mobile apps

– Why wait to do this until you're home? Choose a provider that has mobile apps available and carry out background checks on the go. Most top-of-the-line services offer dedicated apps for major operating systems and devices.

Quality customer support

– In case you have any questions or problems with using the the website, you need quality customer support available at all times. If possible, choose a company that has representatives available every day of the week for extended hours.
With something as sensitive as a background check, it's important to remember that there are no guarantees that provide 100% accuracy. While our recommended websites are as close to perfection as possible, there is always a little bit of room for errors with information as sensitive as this. Having said that, each one of our recommended websites have a myriad of success stories, case studies, and excellent record of seamless performance under testing.
Another great service for candidates and employers alike, Instant Checkmate, just like other services, is available in two pricing tiers. At the basic level, you can research sources such as criminal records, history of marriage and/or divorce, information on one's relatives, address history, and social media activity. If you are willing to opt for premium for just a few dollars extra, you will be able to look into comprehensive data on driving licenses, financial records, and weapons licenses.
Although InstantCheckMate sorts through millions of records, the highly intuitive dashboard and thorough, simple reports, are easy to use even for people with no prior experience. You will be able to access all your past searches and older reports whether you are at home or traveling, which is especially easy with dedicated apps for Android. Instant CheckMate has an excellent customer support system with staff members available 24 hours a day, 7 days a week. The call is toll-free, so you can get assistance any time of day or night, even if the issue is urgent.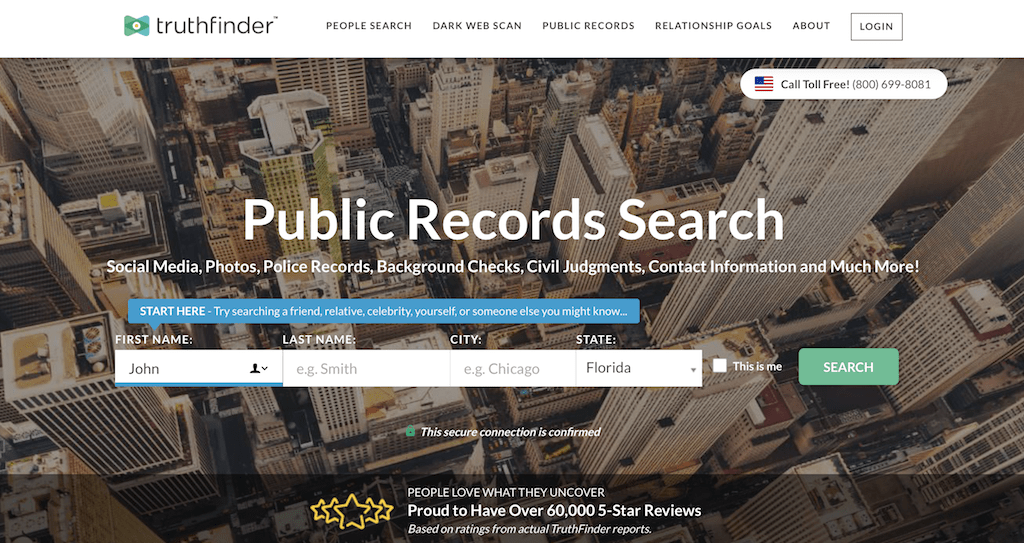 TruthFinder is one of the only background checking websites that delves into all sorts of information about a person, from online presence to court records and possible photos. The company uses deep-web (non-indexed) archives to put together a crystal clear picture of the person in question. If you opt for the premium service, which only costs a little more, the search can be expanded into areas like education history, voting history records, weapon licenses, and even criminal records. The unique deep web search allows TruthFinder to scan and research pages that are not available through traditional search engines. This could help identify concerns over things like identity theft or any other hidden and potentially dangerous information.
TruthFinder sorts through millions of data sources, from criminal history to driving records, but does not compromise on ease of use. Not only is the dashboard very easy to use, particularly on Android's dedicated app, but the final reports are full of details that are organized in a comprehensive way. This means that you will be able to make sense of all the reports regardless of whether you've used the service before or not. If you are still having trouble, TruthFinder also has an excellent 24/7 support service on a toll-free number, so whether you need an urgent fix or not, you will be able to get help.
3. Intelius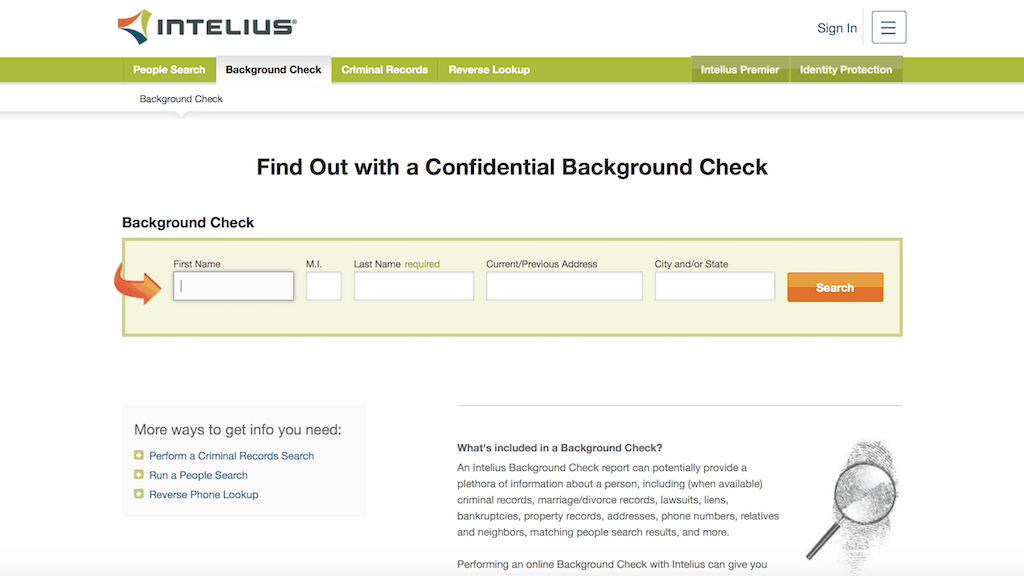 Intelius is the our last recommendation for background checking, but definitely not the least. This is one of the most affordable services on the market, but that doesn't come at the price of quality. Intelius allows you to gather information on a person's contact details, previous addresses, criminal or sex offender records, financial history, academic records, and more. Furthermore, not only are these results detailed, but the final reports are simple and engaging. Whether you have run background checks before or not, Intelius has you covered with an intuitive dashboard and attractive reports.
Intelius is available for use whether you are on the move or in your office. With dedicated apps for both Android and iOS devices, you can search, filter, and generally access all your data with just a few clicks. Though the customer service is not as impressive as some of Intelius' competitors, the troubleshooter service is great at covering most issues you may run into. The company has done over 50 million background checks since the beginning, so you can be confident that you are in good hands.
In conclusion
Conducting research on an employee prior to hiring them is an essential process in today's world. With the number of people lying in interviews growing at breakneck speed, even checking a person's college degree is essential before signing a contract. A background checking company not only provides employers with all the necessary information on prospective employees, but looks into details that would be too costly and time-consuming for a company to delve into.
A poor hire, let alone many of them, can impact the reputation of a company as an employer, which makes it harder to establish yourself as a respectable corporation. A background check looks into everything from credit records to criminal history, and protects you – as an organisation – from having to take harsh measures once a poorly-selected employee has already been hired.