We are reader supported and may earn a commission when you buy through links on our site.
Learn more
7 Common Myths about Background Checks
A background check can be the deciding factor in whether you get a job or not. Unfortunately, the stereotype is that background checks are intrusive, deep, and generally problematic for you as a job seeker.
This isn't really the case. The truth is that background checks are nothing to worry about for the vast majority of applicants. This applies even if you have a criminal record or other past problems.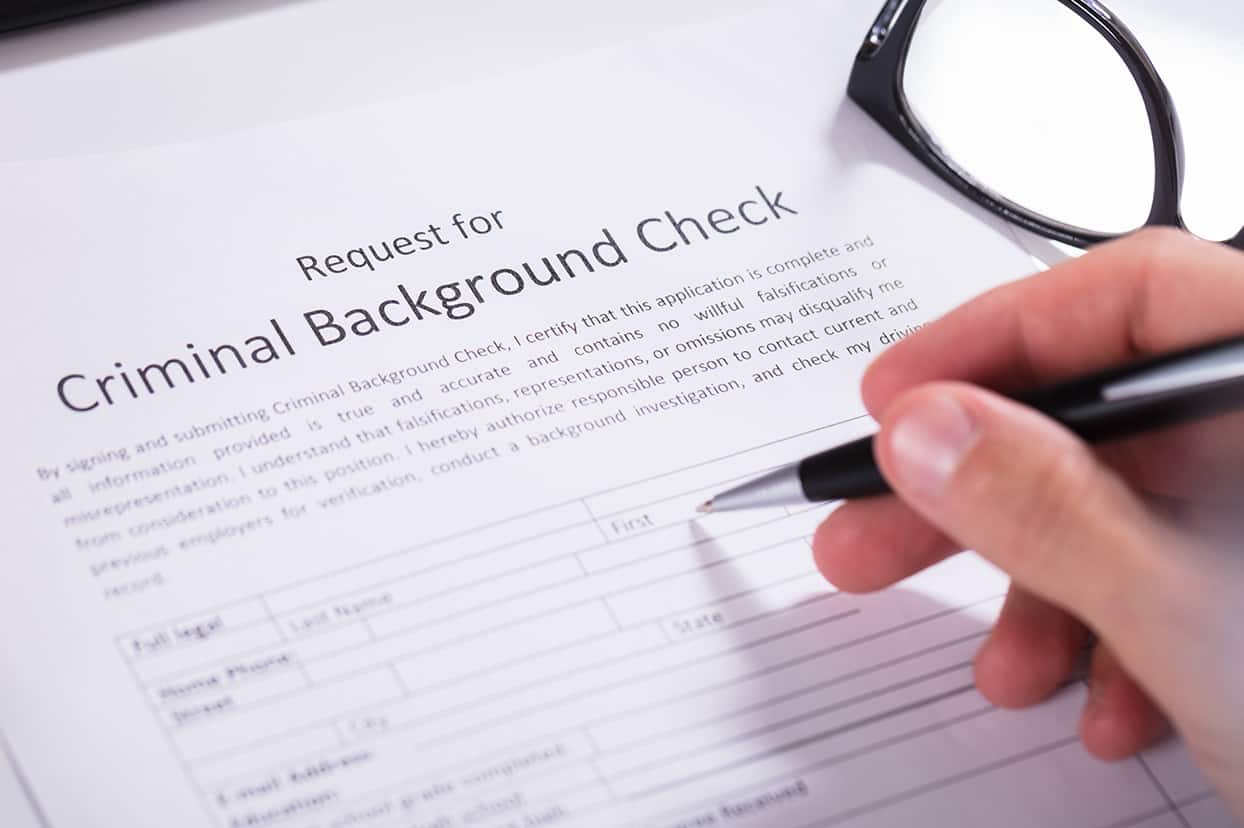 That's because most "problems" you might expect to run into are myths that don't exist in real life. So long as you know what's true and understand your rights, you're safe. To help you along, this article will cover 8 common myths and half-truths about background checks.
We'll start with…
Most common background checks myths
Search Over 1 Billion Public Records
Run a comprehensive background check on ...
Myth #1 – Failed background checks mean rescinded job offers.
Many job applicants assume that if they fail a background check, they won't get the job they want. Some even believe that a failed background check could result in a job offer being taken away. Neither assumption is correct.
The fact is that virtually no background check is foolproof. If you were flagged, your potential employer has no legal right to fire you, withdraw a job offer, or deny you the right to apply for a job. Doing so gives you the right to dispute said action under the FCRA.
Now, things are different if you can't (or won't) dispute a background check's results. In this case, an employer can withdraw a job offer once they've taken reasonable measures to do a background check in good faith.
Having said that, you won't have problems at the first sight of trouble. That's a pure myth.
Myth #2 – An employer can use a simple checkbox or statement to inform you of a check
Most people don't know this, but the FCRA states that your consent is needed for any background check.
Moreover, there needs to be a "clear and conspicuous" disclosure of the information you'll be checked for, any pertinent tests, and which information will be factored into a decision.
This means that a discrete checkbox or short byline isn't enough permission to check your background. Failure to do this is equivalent to FCRA non-compliance. Any attempt to "stealthily" run a background check on you is illegal.
If you fall victim to this, consider talking to a lawyer or looking for another employer.
Myth #3 – Employers only run background checks when hiring
his is another common misconception. While it's true that the first (and most thorough) background check usually happens when you're trying to find work, employers can screen you again for several reasons.
First, you may get screened again if you get promoted. The reason is that access to more sensitive information and more important company decisions requires more trust. A shallow background check may be enough for an entry-level job, but that changes as your career advances.
Another reason for background checks is the availability of new technologies or services. to start with, but insufficient once you advance through the ranks.
Second, you may get screened repeatedly as new methods and technologies become available. For example, if there's a new way to check criminal records from other states, an employer may choose to re-test current employees.
Third, your employer may simply choose to do repeated checks as time goes on. Thinking rationally, employees may do something inappropriate after they get hired, so regular checks are standard.
For all of these reasons, the idea that employers only check backgrounds when hiring someone new is yet another myth.
Myth #4 – Ban-the-box laws make background checks illegal
Ban the box laws make it illegal to ask employees about prior convictions, arrests, etc. A common myth is that these laws also make it illegal for employers to check applicants' job histories using their own tools and method. This isn't the case.
In reality, the 30+ states with ban-the-box laws don't prohibit background checks. Their goal is to stop employees from singling out applicants because of their criminal records, but they certainly don't stop organizations from running their own checks.
So long as a business is regulation compliant, they can use their own channels do run your background – even under ban-the-box laws. Many organizations simply delegate the process to Background Screening Partners, which is both legal and common.
Myth #5 – I can see my own background check results using online tools
Many job seekers concerned about the status of their use the web to predict what employers will see. This is not a bad idea, but it certainly won't show you everything an employer sees when they evaluate your background.
For starters, some states stop employers from using public criminal databases and other public information to disqualify an employee. This means that the information that comes up during a regular online search may not be useful to employers in any meaningful way.
This is because the information found on, say, your LinkedIn profile can skew an H.R. employee's decision due to your age, ethnicity, sex, etc. Many employers and states simply ban searches like these outright for this reason.
Another factor is that many employers refer to professional companies (Background Screening Partners) that use databases and tools you can't replicate as a private user on the Internet. In other words, you can try to figure out what employers are going to see – but you're unlikely to do so with much accuracy.
Myth #6 – Social media is fair game
A surprisingly high number of job applicants believes that employers have the right to check your media social profiles for information. Some even willingly cooperate when employers start fielding questions on the subject during interviews.
The truth is that many states already prohibit employers from viewing your social media. In cases where this isn't true, using social media information is still a faux-pas, as it doesn't do much to verify someone's job readiness.
If you believe that your employer may check your social media, make sure they're not breaking the law. If they are, seek legal counsel and consider legal action. If your state still lets businesses check applicants' social media profiles, remember that you're under absolutely no obligation to make yours available.
Any demand or request to the contrary is false, even if your employer insists otherwise. You can choose to make your social media available of your own free will, but that's it.
Myth #7 – Background checks are unlikely to happen at a small business
This myth goes something like this:
"A large employer is likely to run an in-depth check on me. A smaller one has fewer resources and will, therefore, spend less time and money on screening me."
This is actually not logical. According to careerbuilder.com, a bad hire can regularly cost a company more than $50,000. With this in mind, a small company has far more to lose from a bad hire than a large one. Many of them understand this and act proactively to a far greater degree than big businesses.
In other words, don't assume that a small, local business will be less thorough when evaluating you. If you foresee any difficulties, pre-empt them by addressing any sensitive information ahead of time.
Myth #8 – A single background check will reveal everything about me
This is the last myth, but certainly not the least. Many people fear that a single background check will reveal everything about them, from past crimes to embarrassing personal details. Fortunately, this is untrue.
The fact is that even a national criminal database check can be faulty, outdated, miss out on important information, etc. Many employers use several to make sure they don't hire dangerous ex-criminals.
Given this, you can safely assume that all your information will virtually never be available to an employer unless they invest thousands (or tens of thousands of dollars) into researching you personally. Your private information should certainly be safe unless someone hires a private investigator to collect it.
Running your own background checks
If you've got a background check in your near future, it may be prudent to check what employers will see when they look for data on you. To that end, you can use a number of online services the best of which are listed below. Specific features to look for include:
Search speed – you want your background report to come quickly so you can make good use of it. Avoid service providers who take a long time to give your background check results.
Accuracy – an accurate report will help you get a good idea of what employers can learn about you online. Conversely, an inaccurate report can muddy the proverbial waters and make it hard for you to find what you're looking for.
Custom searches – being able to tailor a search to your needs is important. Avoid services that only let you run basic searches with no customization, as these are less likely to give you the exact data you need.
Mobile Apps – these make it easy to search for background data on the go and take data with you without printing. Look for iOS and Android apps or, in the absence of these, responsive mobile websites that work on these platforms.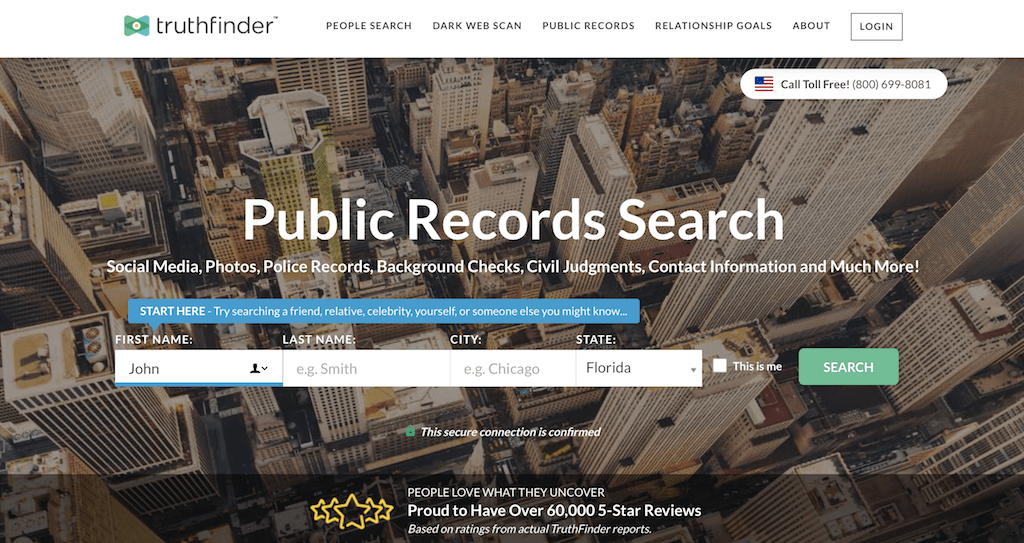 TruthFinder digs up information on people from a variety of sources and presents it using beautiful, informative reports. Basic level users get data from criminal records (including convictions and non-convictions), driving records, online photos, social media profiles, and a few other sources. Additional sources are available for an extra price and include things like weapon permits, education history, voter registration data, and more.
A unique TruthFinder feature is the ability to crawl deep web websites and public pages that aren't indexed by Google, Bing, and other search engines. This lets you get access to information that would usually be invisible to all but the most thorough employers. Customer support is available 24/7 via a toll-free number, and the Android app and mobile website are both outstanding.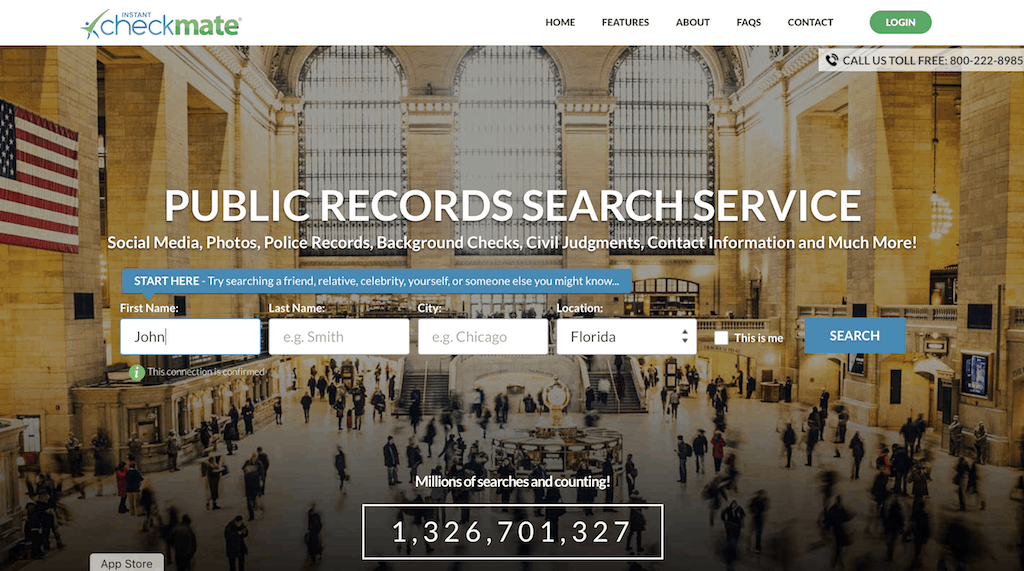 As the name suggests, Instant CheckMate specializes in delivering quick background search results. Their two-tier service includes basic and premium features. On a basic level, search sources include marriage and divorce records, criminal records, relatives' details, address histories, and public social media data. By paying extra, users can get access to financial and credit histories, licenses, and other more advanced search data.
In addition to a strong search feature, CheckMate is strong on extras. Support is available 24/7, with knowledgeable and helpful staff. The website is intuitive and well-designed, with a handy dashboard that makes custom searches easy. A mobile app is available from the Android app store while iOS users can enjoy the responsive mobile website from their devices.
SPECIAL OFFER: When looking for speedy, accurate, and comprehensive background checks, it's hard to do better than Instant CheckMate. Sign up with our special reader deal for a discounted price.
3. Intelius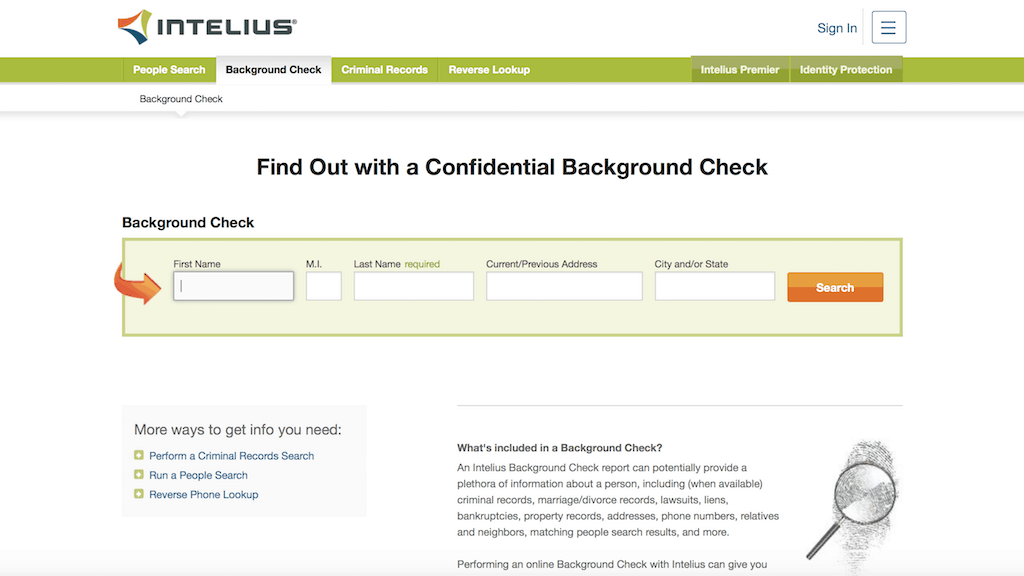 Checking someone's background with guns goes beyond weapons licenses held to consider an entire constellation of data points, including criminal records, sex offender registrations, financial history, property records and education. Intelius will gather the most relevant data into a single comprehensive report, and make it read logically and clearly so you can interpret your results instantly.
clean layout of their online dashboard, which makes it a breeze to manage your searches, as well as the two official Intelius apps available to both Android and iOS devices
Intelius offers a sleek and intuitive online dashboard where you can manage your searches and view your reports. Similarly, those reports strike the right balance between readability and depth of content. Adding to the mix are two dedicated apps for Android and iOS, respectively. Customer support may not be 24/7, but we nevertheless found their online troubleshooter tool a tremendous help.
Conclusion
At this point, you know all the myths that surround background checks in the US, Canada, and other countries. Before we close this article, we just want to add one more thing.
Criminal backgrounds are far from perfect. Fortunately, the lawmakers in your country know this well enough to create a large number of protective measures that safeguard you. So don't be nervous ahead of your interview or job application. Just make sure you're prepared, know the law and your rights, and do your best.