We are reader supported and may earn a commission when you buy through links on our site.
Learn more
How Are Criminal Background Checks Performed?
There a plenty of reasons why criminal background checks are run but what few people seem to fully understand is how they are run and what information they are looking for. In this article, we will explain exactly who runs criminal background checks, why they do it, and how they go about it.
We will explain the information they expect to find, the laws regulating these searches, and also explain how you can run a background check yourself to see what comes up on your own criminal background check.
There are a multitude of different reasons why people run criminal background checks. The various different reasons why a company or individual might want to know if someone has a criminal past are easy to guess. What is less clear to many people is how they go about finding out precisely what's on someone's criminal record.
TLDR:  Jump straight to background checking sites and see what shows up.
These days it is actually quite simple. All you have to do is run a background check. But no two background check providers are the same, so how can you be sure you are getting reliable information? What information should you expect to see? And if you are likely to be subjected to a criminal record check, how can you know what information will be found.
In this guide, we will try to answer all of these questions and more. By the time you get to the end, you should know exactly how a background check is run, what it will find, and how you can see what appears on your own criminal record.
What is a criminal background check?
A criminal background check is a service that searches through publicly available data to compile all available information about a person's criminal history.
All criminal records are a matter of public record and everyone has the right to look for and see the criminal records of every US citizen. But finding out about someone's criminal background is not easy.
Criminal records can be held at Federal, State, and County levels. They are complex files and with one in three American adults having some sort of criminal record, there are a lot of them too.
But these days many of them have been digitized and this means the days of having to sit in an archive manually searching through paper files is at an end. Nowadays, all criminal records can be accessed via digitized databases and a huge industry has sprung up using Artificial Intelligence to dig out relevant information quickly and accurately.
These days it is possible to run a criminal background check and get back complete and accurate information in just a few minutes. As a result, background checks are something anyone can do.
What information can a criminal background check find?
A criminal background check should be able to find out every detail of a person's criminal history. This will include:
Full criminal records – If a person has a criminal past, it will be recorded at either State, Federal, or County level. A good criminal background check will search through all of this data to find accurate information of all felony and misdemeanor offenses against a person. If needs be, they will even send runners to search for undigitized records manually.
Sex offender registers – If a person has been required to sign a sex offenders register at either a Federal or State level, a background check should find this information.
Driving records – While some major driving offenses are also recorded on your criminal record, minor infringements usually aren't. But a criminal background check will also look at your driving record so these minor offenses are likely to show up too.
Civil Records – Background checks should find records of any civil cases, bankruptcies, tax liens, or court judgments that have been filed against a person. They can also discover any FCRA, DPPA, and GLB complaints.
Arrest data – If a person has been arrested, this will be a matter of public record, even if they were never charged or convicted of an offense. This arrest data will also appear on a background check.
Personal data – As well as all the above criminal data, a background check will also confirm your personal data such as your full name, recent addresses, your family, what property you own, any business you control, your employment record, education history, and so on.
Are criminal background checks regulated?
It depends. If a criminal background check is being run by a professional such as an employer considering you for a job or a landlord wondering whether to rent you his flat, the answer is yes.
The main law that regulates professional background checks such as these is the Fair Credit Reporting Act (FCRA). This stipulates that any criminal record from more than seven years ago cannot be considered as part of a professional background check. This means any records older than that should not show up on a criminal background check.
It gets better. In some states, the law has been made even tighter. There are even a few states where it is prohibited to consider a person's criminal record at all. If you are worried about a professional criminal background check that is going to be run on you, it is well worth checking what your state laws are.
But while the law on this is clear, mistakes can happen. Sometimes the databases being used by background checking sites have out-of-date information on them. This means that professional checks do sometimes turn up information they shouldn't.
A criminal record is also not the only way to find out about a person's criminal past. If there are references to the crime in the media or on social media, these can be picked up too.
Then there is the question of public background checking sites. These sites are open for anyone to use and are not governed by the FCRA or any other legislation. This means that they will sometimes turn up information that professional checks won't. While employers and landlords are not allowed to use this information in making their decision, if they do so privately, it can be hard to find out.
Given this reality, if you are worried about what a criminal background check might find, there is an obvious step to take; run a criminal background check on yourself.
Best criminal background checking sites
Public background checking sites are available for anyone to use and the best sites will turn up information that is every bit as detailed and comprehensive as a professional check. Some will even find more as they are not bound by the FCRA or other regulations.
It is easy to run a check on yourself. All you have to do is sign up for a site, enter your details, and hit the search button. The site will then do all the work for you and produce a detailed report on all the publicly held information about you, including your criminal history. Often this can be done in no more than a few minutes.
The hardest part of this process is choosing which background checking site to use. There are dozens on the market and naturally, they all claim to be the best site around. Needless to say, in reality, some are far better than others.
That's why, over the past few weeks, we have been testing all the top background checking sites to see which offers the best criminal background checking service. Our exhaustive tests have resulted in a top two that were head and shoulders above the rest. They are: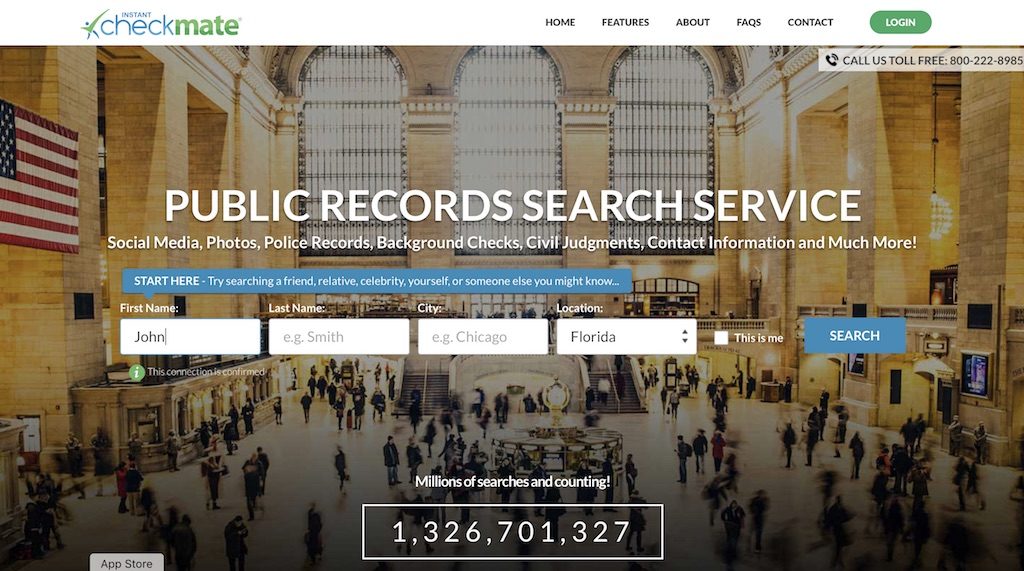 Instant CheckMate is a fast and reliable background checking site that lets you run online background checks with just a few clicks. It's big USP is speed and in our tests it lived up to the hype, delivering results faster than any other site we tested. There was no compromise on accuracy either. Instant Checkmate was still able to generate detailed and accurate criminal records data every time.
Using Instant CheckMate to run a criminal background check is very straightforward. Just sign up, enter a name and location or other basic information and then sit back. You won't have to wait long and with unlimited searches, you can look up as many people as you like.
Prices start at $34.78 per month, but if you choose a three-month subscription you can pay as little as $27.82 per month. This is a bit higher than some other sites but given the speed of this site's results, it still represents excellent value for money.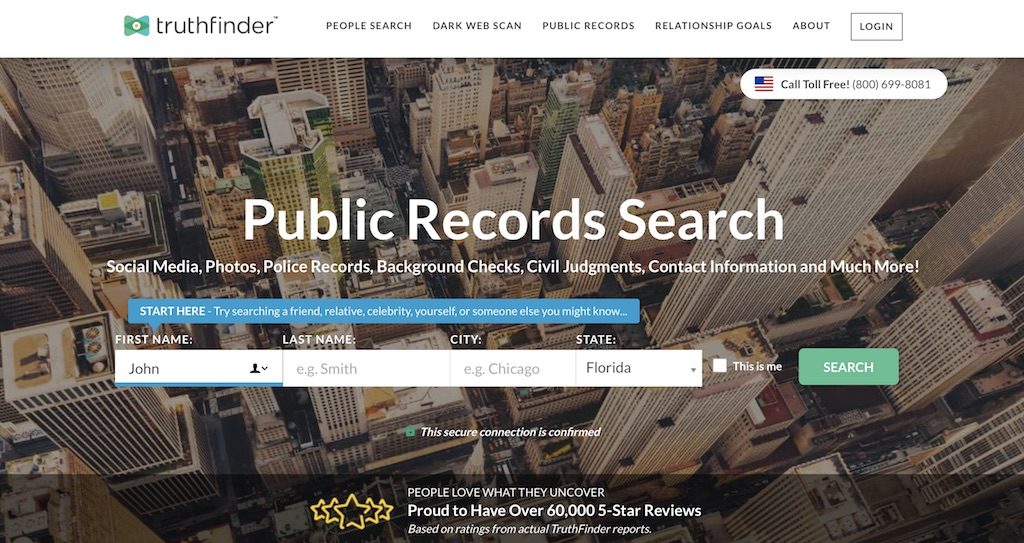 TruthFinder offers incredibly deep and detailed background checks and criminal history reports and as the name suggests it has an astonishing accuracy rate. Truthfinder can find everything from sex offender registries to driving records, arrest data, contact information, financial history, educational background, and employment records. Even if you enter misleading information it still has an uncanny knack of turning out the right results.
A one-month subscription starts from just $27.78 or you can opt to pay $23.02 for two months. The basic package offers a full criminal record check which should return information including sex offender registers, driving records, and data about known relatives.
If you pay a little more for their premium package, you will get every record there is including hard-copy records from county courts. Managing your searches is easy and prices are extremely reasonable. Put together, this makes Truthfinder another truly impressive site.
How to remove criminal records from your background check results
If your background check does come back with a criminal history you would rather your new boss or landlord didn't know about, there are a few ways you can ensure that the information stays private.
If the offense is older than seven years, it is worth speaking to your background checking provider to ensure that the data suppliers they are using are aware of the fact and ensure that the information you have found won't show up on a professional background check.
There are no guarantees that this type of approach will work and there are multiple sources for this type of data too.
A better response is to try and get your criminal history removed from the public records altogether. This is possible in one of two ways.
How to get felony and misdemeanor offenses sealed or expunged
If you have a misdemeanor or even a less serious felony on your record, it is possible to get that record removed from the public record. There are two potential ways to do this:
Expunged – An expunged record is one that a court has agreed to permanently delete from your criminal history.
Sealed – A sealed record is one that the court has agreed to remove from your criminal record. However, the record remains on the file but sealed meaning that if you find yourself in trouble with the law again, it can be unsealed and returned to your record.
The rules regarding getting criminal records sealed or expunged vary from state to state, so you will need to check what the criteria are where you are and then decide if you want to make an application or not.
These criteria tend to include things like not having any other arrests or convictions over a set period and fulfilling any jail sentence or paying any fine you were handed down.
If you do, it is advisable to consult with a lawyer first to ensure that an application is worthwhile and has a decent chance of success.
If they think it does, you will have to make a formal application to the court. They will consider your request, although be prepared to wait quite a while for a response as these requests are never Judge's top priorities.
If the court agrees with your request, your record should be immediately sealed or expunged and your criminal record update to reflect this.
Be aware that this is not a foolproof approach. While the official record should be updated quickly, the various databases that are used by background checking sites may take longer, so there is still a chance a sealed or expunged could still show up in a criminal background check.
Summary
While most people know why companies and individuals like to run criminal background checks, not everyone is so clear how these checks work.
In this guide, we have tried to provide a comprehensive explanation of the process. We have given you some tips on what information you can expect a criminal background check to find and advised how to use a public background checking site to see what your own record shows.
We have also given some pointers on how you might be able to get older felony or misdemeanor offenses removed from your criminal history altogether.
Have you ever lost out on a job or an apartment because of the results of a criminal background check? What sort of things did they find and what did you do about it? Have you managed to get your record cleaned up? It is always helpful to hear the experiences and insights of our readers, so why not share yours with us using the comment box below?