We are reader supported and may earn a commission when you buy through links on our site.
Learn more
How Long Does a Background Check Take?
Is there someone in your life you need to know more about? A new neighbor who you have a bad feeling about perhaps? Or someone in the office your partner talks about way too much? One of the best ways to find out more about them is to run a background check. Not only can the best services dig up a lot of information on a person, they make the process extremely easy without breaking the bank.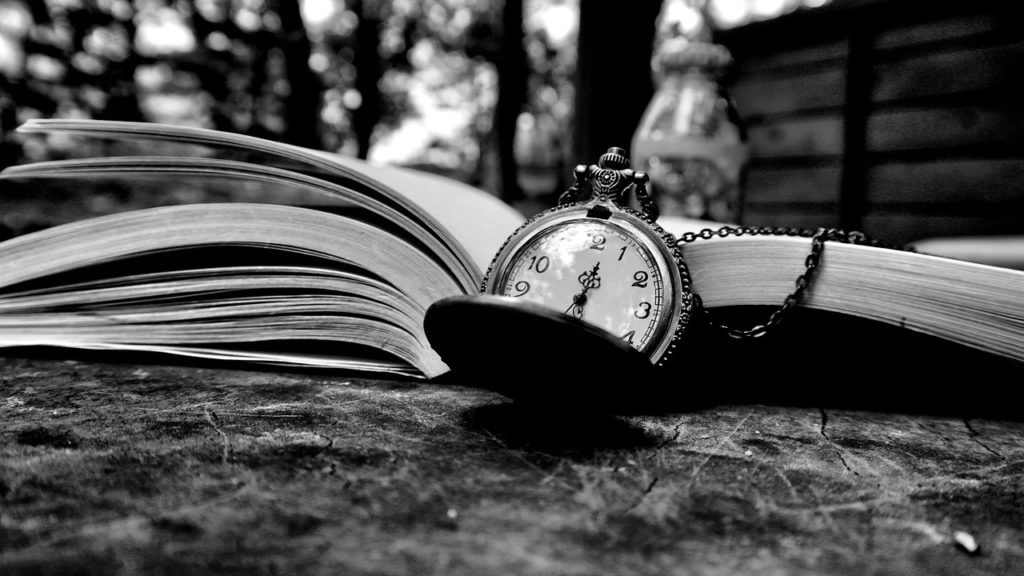 However, if time is of the essence, you may be concerned about how much time such a background check may take. The answer is, not nearly as long as you might think. Sure, searching through public records manually will take more time than you (or anyone) may have. Background checking sites, on the other hand, get the job done in a fraction of the time. In this article, we will explain how long it takes to run a background check on someone, as well as recommend some of the quickest and overall best services currently on the market.
What Goes Into a Background Check?
Search Over 1 Billion Public Records
Run a comprehensive background check on ...
How long a background check takes to return results depends on how much information you want on someone. An exhaustive report can entail everything from scouring criminal, employment, and educational records to sending a runner in person to check physical archives or to meet with former employers. This can all take quite a bit of time. On top of it all, most background checking services require up to four days to generate the report.
Of course, all of this can be done much faster by professional services than you can on your own. Additionally, the best background checking sites will allow you to specific how granular you want to get with your search, especially when time is a sensitive factor. After all, they will have a massive amount of resources immediately available to them, allowing even a cursory search to yield impressively accurate results. Conducting a more in-depth search often comes at a premium, and is usually only necessary for the most elusive individuals. In short: the standard search offered by a reputable service should provide you with the information you need in little time more than it takes to generate the report.
Fastest Background Check Sites 2018
There are many background checking sites out there, but only a few are worth your time and money to work with. Fortunately, we've done the hard work of comparing services and narrowing down the field for you. Each of our recommendations guarantees:
Speed and accuracy
Comprehensive background checks
Easy-to-read final reports
User-friendly interface
Customized searches
Helpful customer service
Handy mobile apps
Please note: our recommendations each have a stellar track record, but success is never a guarantee. It's important to accept that this is not an exact science, and results may vary.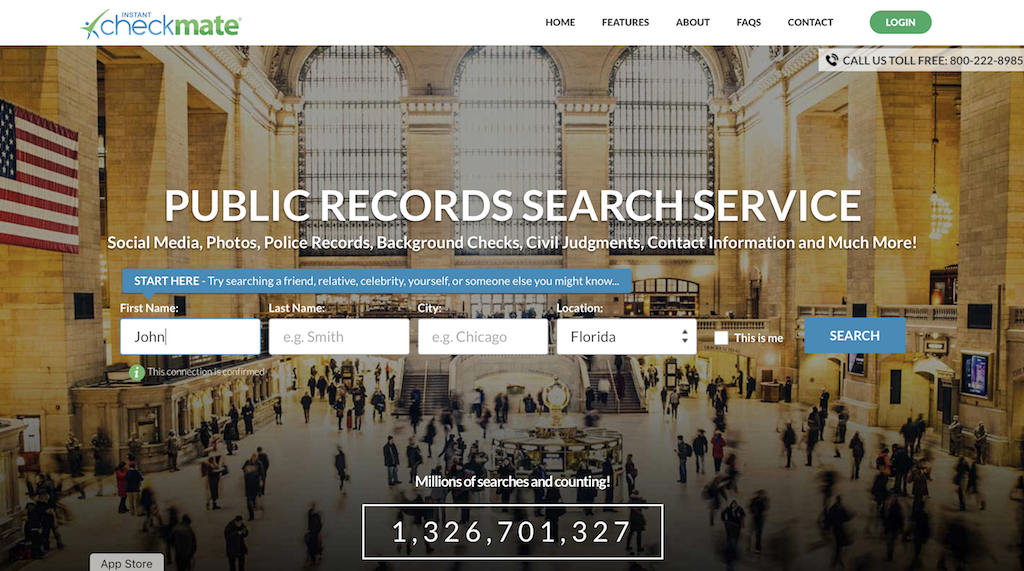 For speed and accuracy, our top recommendation is Instant CheckMate. With just a bare minimum of information to start with, they will comb through massive troves of resources to dig up virtually anything you might want to know. While CheckMate is not the cheapest service on the market, they provide value that is hard to beat.
For their basic service, you can find out things like sex offender status, criminal records, marriage and divorce records, details of relatives, address history and any public social media profiles. For more detailed information on such things as financial history, court records, driving licenses and weapons licenses, you will need to pay a bit more for their premium plan. The CheckMate final reports are detailed, accurate, and easy to read, while their excellent customer service is available around the clock via both phone or email. Unfortunately, CheckMate currently only offers an app for Android devices, so iOS users may opt for another service. However, the quality of service is still so good, that anyone who can make full usage of their offerings is recommended to do so without hesitation!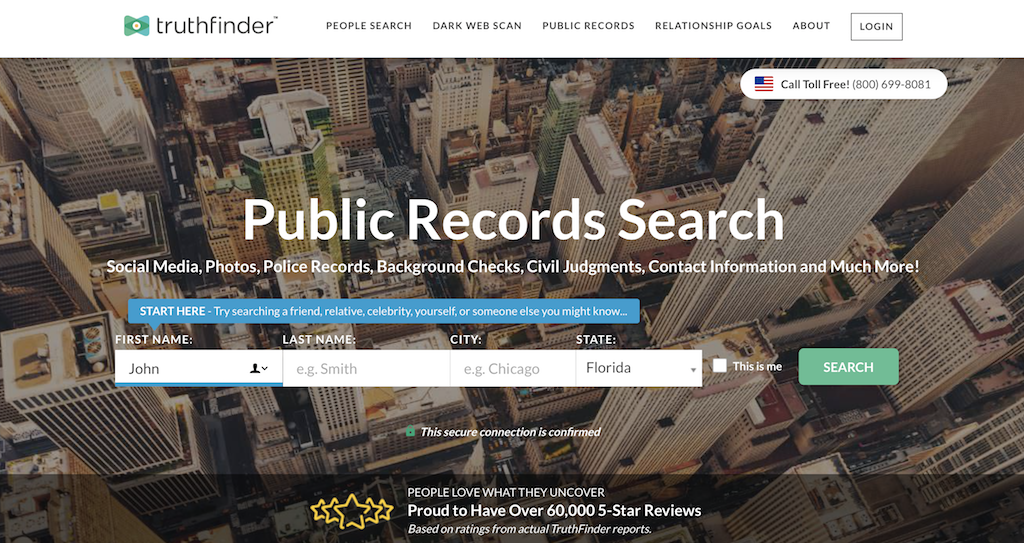 Truthfinder will search through millions of public records to provide information such as contact details, current and previous addresses, criminal and court records, driving records, personal information, and details of known relatives. They also offer what they describe as a "deep web research" service which claims to dig out more information from social media and other online resources than any of their competitors. Their results are comprehensive, detailed, and delivered in reports of a high standard. And crucially, they are also delivered in a shorter time than you might otherwise think possible.
Like most other background checking sites, Truthfinder offers basic and premium rates. For details such as a person's education history, voter registration records, weapons and other licenses held, you will need to pay a little more. At any tier, their prices are competitive, and offer incredible bang-for-buck. iOS users should be aware that Truthfinder only offers an Android mobile app at present, though their website features a robust dashboard that can be accessed from any desktop computer. Finally, you can rest easier knowing that 24/7 customer support is available.
3 — Intelius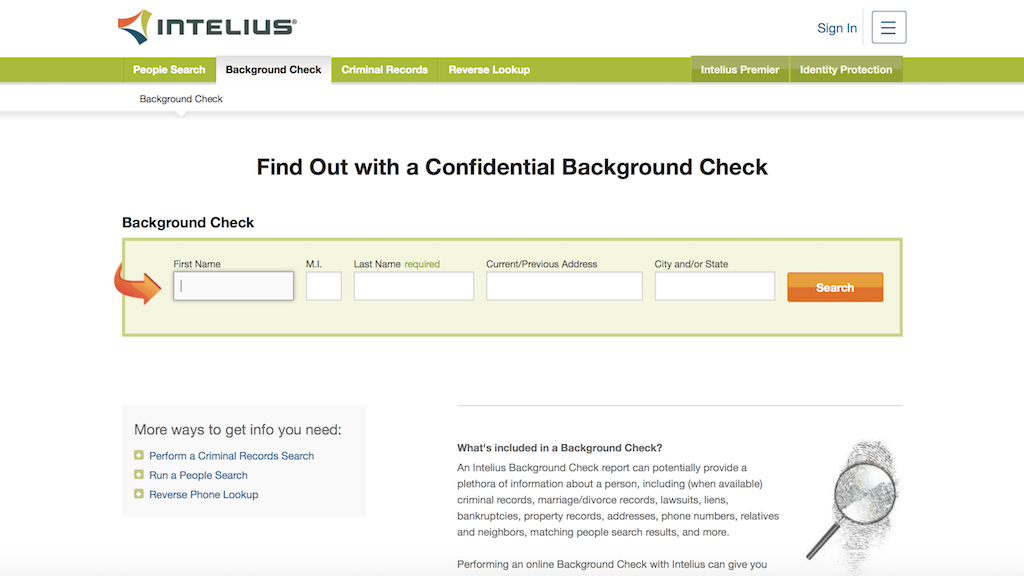 Intelius is a superb background checking site which delivers high-quality research fast and at a very competitive price.  They will search through an enormous range of data sources to do this including criminal records, financial history research, information on property records, educational history, job history, and more. Intelius has already completed more than 50 million background checks for satisfied customers from across the USA and has built up a fantastic reputation on the basis of delivering fast and accurate reports on almost everyone.
Intelius offers a nicely designed and easy-to-navigate dashboard which we found to be one of the best around. You will also receive a final report which is clearly laid-out and packed with information. Intelius also offers dedicated apps available for Android and iOS mobile devices along with excellent customer service, which is available on email, telephone, or via their online troubleshooter service.
Where Do Background Checking Sites Source Their Information?
Background checking sites can search through a whole host of different information sources depending on what information you want to find out. Most will have access to the same type of information, but may be accessing it from different sources. The information they are searching is all completely legal and available in the public domain. Indeed, there is nothing to stop you going to search this information yourself. But why spend days of your time doing what these sites can carry out in a matter of seconds?
The type of information most sites will access includes criminal records, education records, credit check records, driving records, social security data, litigation records (to reveal details of any legal proceedings a person were involved in), archive records, personal references, and any information that someone has posted publicly on a social media sites and other web forums. Because the majority of this data is openly available online, most of these sites use automated systems which allow them to search and compile this information much faster than a manual researcher could. As we have said above, for basic information, these sites can deliver a report in just minutes.
Why Are Some Background Checks Free While Others Have to Be Paid For?
One of the questions we get asked most about background checking is why there is a fee involved to access information that is already in the public domain. It is important to remember that no matter what level of detail you are searching for, the site you use will be employing some of the latest online research technology to find it. Scouring such huge bodies of data in such a short time is not easy, and developing and maintaining the technology that can do it does not come cheap. This information then has to be compiled into a report which requires yet more resources. Many data sources also charge a fee to access the information they hold too, which also has to be covered.
Some searches also involve a human element too, especially if runners have to be dispatched across the country to dig through records manually. This too takes time and involves a cost. In fact, it is impressive that many of the best background checking sites have managed to keep their costs so low. It is unrealistic to expect such a comprehensive and accurate research service to be available for free. There are indeed some free background checking sites out there, but they are either going to deliver little more than the results of a Google search or what can be found on the handful of freely available local resources. If you want a fast, accurate and comprehensive background check, there will always be a small fee involved.
When Can I Use a Background Check?
Running a background check is quick and easy to do, but that doesn't you are allowed to run one of just anybody. Most of the time, it is fine. All of the data involved is publicly available and that means it is intended for public viewing. These sites just make that process faster and easier.
However, there are still some laws in the USA which prohibit the running of background checks in some circumstances. It is important for everyone to be aware of these circumstances as we wouldn't want any reader to unintentionally fall foul of the law. The penalties for breaching these laws can also be quite severe, so it is definitely worth familiarizing yourself with when it is and isn't ok to run a background check
It is ok to run a background check for…
Finding out about your new neighbors
Looking into your new partner
Identifying sex offenders in your community
Research what information is publicly available about yourself
It isn't ok to run a background check for…
Researching future employees without their permission– This is considered illegal under the Fair Credit Reporting Act (FCRA) in the USA. If you do want to research a potential employee, you must first obtain written permission from them to do so
Researching the background of domestic workers – Looking into the history of potential cleaners or other domestic assistants is also illegal under the FCRA unless you have first obtaining written permission
Finding out if someone is eligible for credit, insurance, scholarships, or grants is also illegal under the FCRA
Identifying suitable tenants for a property to be rented out. Again, this is illegal under the FCRA
If you do attempt to use a background checking site for one of these prohibited reasons, you are running the risk of facing severe legal repercussions including potentially having to pay significant damages to the person you have run a check on.
Conclusions
The length of time it takes to run a background check can vary from a few days to just a few minutes depending on how much information you want to access. One thing you can be sure of is that using an online background checking site is far quicker than doing the job manually yourself. It is also far more likely to turn up accurate information too. There are a lot of background checking sites on the web at the moment, so we have identified three recommended sites that are not only quick, but also very good too. Now, all you have to do is choose your favourite and you can get the lowdown on your person of interest before you know it.
Have you ever used a background checking site to find out about someone in your life? How did you find the experience? Just how fast did these sites deliver your information? Which of the three sites we have recommended is your favourite? We are always interested to hear the views and experience of all our readers, so why not share them with us using the comment box at the bottom of this page.