We are reader supported and may earn a commission when you buy through links on our site.
Learn more
How to Get a Background Check (Threef Easy Ways)
There are all sorts of different reasons why you might want to get a background check carried out. Maybe you are trying to find a long-lost friend or family member. Perhaps you have worries about someone in your community and want to know more about them. Maybe you are suspicious about the bloke in the office your wife keeps talking about. Whatever the motivation, more and more people are choosing to get a background check in order to find out more about someone in their lives. And the word is spreading about just how effective they are. But still, some people are unsure about how to go about getting a background check done.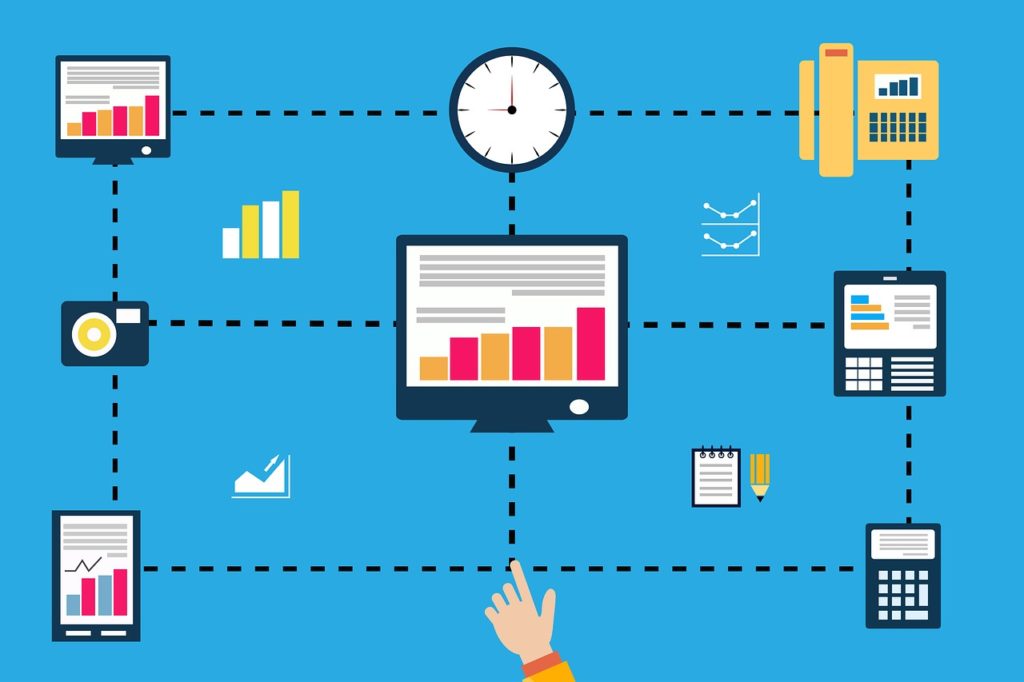 In this guide, you'll find everything you need to get a background check carried out quickly and easily. You'll learn exactly what information background checks can uncover, how to best prepare for your search, as well as which of the many background checking sites stand out as the best. Read on to learn how to get a background check.
What Is a Background Check?
A background check is the process of searching through publicly available data sources to extract all available information about a subject. You might be surprised at just how much information is held by the Government and their various different agencies about almost every American citizen. Even more, this information is freely available for anyone to access.
Of course, it's not particularly practical for most people to try and search through all that data manually. To scour every possible public record on a single person would take weeks, and potentially cost a fair bit of money too.
The new generation of background checking companies realized that there was a gap in the market, and have since employed the latest online research technology to fill it. Such services are able to pull meaningful insights from the buzzing hive of public data in mere minutes, and compile them into clear and useful reports for you to read. Contained inside these digital documents is often a clear and compelling portrait of your search subject, amalgamated from bits of information which, while meaningless on their own, form many fragments of a larger picture.
What Information can a Background Check Find?
Search Over 1 Billion Public Records
Run a comprehensive background check on ...
Despite the volume of data background checking services promise to search out, you may still be wondering exactly what sort of information you can expect to receive. The answer is that it varies a little from one site to another; most sites operate a two-tiered service structure, providing different data sets for each payment bracket.
But in general terms, if you are getting a background check carried out, you can expect it to return most, if not all, of the following data:
Full name and contact details
Previous address lists
Marriage and relationship details
Details of family and close friends
Employment records
Financial records
Criminal records
Records of any military service
Driving records
Details of any licenses held
Any information posted publicly on the internet or social media sites.
This is not an exhaustive list, and you should be aware that data will vary depending on who the subject of your search is and what information is held about them. Please also remember some details may be out of date, misplaced, or otherwise incorrect as they appear online or in public archives.
How to Run a Background Check
Once you have decided to get a background check done, going about it is a fairly straightforward process. But there are a few steps you will need to go through if you want to get results that are both fast and accurate. Here is a simple rundown of what you need to do:
1. Compile a List of Everything You Know about Your Subject
This step might take a few minutes or a few hours depending on your relationship with the subject of your check. A background checking service can deliver accurate results based even a small amount of initial information, but the more data you can give it, the better their results are likely to be. It is therefore worthwhile to sit down at your computer and write a list of everything you know about your subject. The sort of things you want to think about include:
Name
Any previous names they used
Date of birth
Place of birth
Any previous known addresses or contact details
Names of their husband, wife, or children
Where they went to school or college
Where they work
It doesn't matter if you don't have all of this information available, but the more you know, the easier your search could prove to be. If you list looks very small when you are done, don't panic! If you choose the right background checking service, they should still be able to deliver positive results.
2. Do Some Online Searching Yourself
Before you decide to invest in a background check, it makes sense to do a bit of digging around yourself first to ensure the information you are looking is not easily available online. After all, while search engines like Google will not show data from public records, many people are willing to place vast amounts of information about themselves online, so you might just find what you are looking for yourself. The key to this step is to search smart. Your subject's name alone is unlikely to return useful information, but if you combine bits of information from your list, such as name and school or name and college, you could hit on some useful information. Doing an internet search yourself will not deliver the detailed information a background check can, but it might be able to provide you with the crucial thing you are looking for.
3. Scour Social Media
As well as running an internet search, it is also advisable to take a look at social media. Again, many people put a lot of personal information up on social media and leave it open for the public to see. The main social media networks like Facebook, Instagram, and LinkedIn are the best place to start, but if you don't find what you want there, try the less obvious ones like YouTube, Reddit, Pinterest, Tumblr, and Snapchat too. It is sometimes surprising just how much information you can find about someone on these sites and again, they might just deliver the information you need.
If internet or social media searches do not deliver useful information, or you are keen to compile a more detailed profile of your subject, the next step is to turn to a background checking company.
"Which Background Checking Company Should I Choose?"
Selecting the best background checking company to use can seem like a daunting prospect. There are dozens available and, needless to say, they all claim to be the best in the business. But there is a big difference in the level of service these sites offer and the prices they charge. It is important to make the best decision for your particular needs and, our experience suggests that most people are looking for the same basic things from a background checking site.
Detailed research – Not all sites are a diligent in their research as they might be. But the best offer high-quality research using the latest technology and the widest possible range of sources.
Accurate and understandable reports – The final report is how the information found is explained to the customer. The best final reports are detailed but well-laid out and easy to understand.
Fast results – Getting a background check is usually a serious decision and users often need fast results. Response times can vary between sites, but the best can deliver basic results in a few minutes, and a more complete report in no more than a few days.
Search customization – It's a testament to their services that the best background checking companies can return comprehensive reports about a person based on very little starting information. Not all companies can make that claim honestly, so watch out.
Usable dashboard – Sites offer a dashboard where users can manage their searches and results. This tool needs to be easy to navigate around and intuitively designed.
Mobile apps – You might want the option of accessing your searches remotely. Not all sites offer dedicated apps to allow you to do this, but they are increasingly available.
Good customer support – If you encounter a problem with your search or have questions about the information found, you need a reliable and accessible customer support service. These can vary significantly between sites, but the best offer long opening hours and are accessible in a number of different ways.
To help you, we have tested all of the main sites with these criteria in mind, and found just three which we felt ticked all of the boxes. None will offer a cast-iron guarantee that they will find exactly what you want, but user feedback suggests that all of these sites have an excellent track record and extremely high user satisfaction ratings. Our recommended background checking sites are:
The appropriately named TruthFinder offers expert background checking at an affordable price. Two tiers of prices define the service you receive. At the basic rate, you'll uncover criminal records, driving records, personal information, information about relatives, and more. The premium service expands into data points like education history, voter registration records, weapons licenses, and many others. If your search subject is out there, you've got a great chance of finding the truth about their lives with TruthFinder.
In delivering these results, Truthfinder offers simple, well-designed final reports which are dead-simple to read and understand. You can access these reports from your slick online dashboard, or else from the dedicated Android app. (iOS users rest easy: the dashboard works perfectly with Safari!) Customer support is phenomenal, with a toll-free line open 24 hours a day, 7 days a week.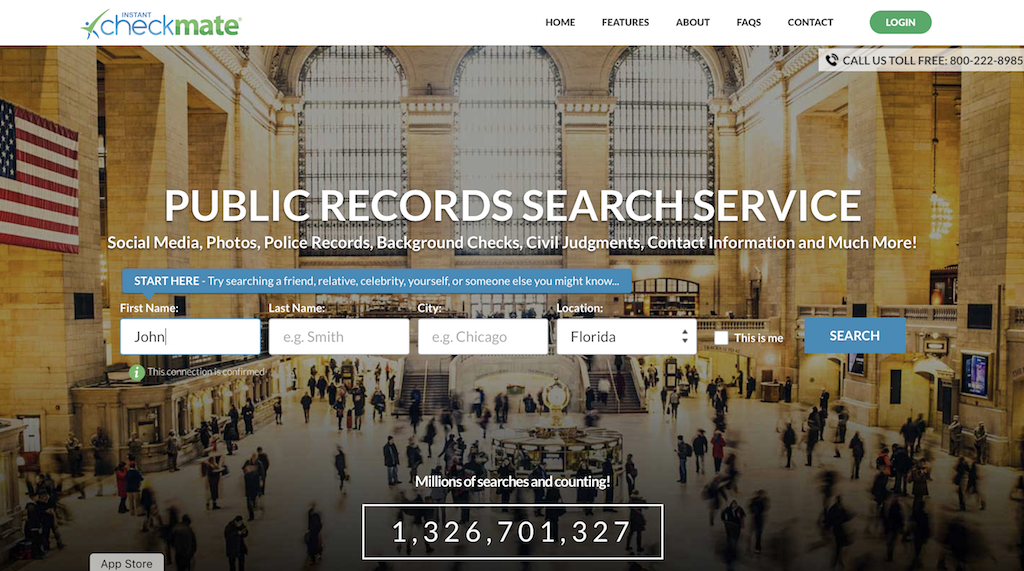 Instant CheckMate offers an impressive all-round service and can boast high user satisfaction rates. Like our previous two recommendations, CheckMate offers a two-tiered service package. At their basic rate, they can search sources such as criminal records, marriage and divorce records, details of relatives, address history, and any public social media profiles. For more data, you can pay a little extra to access things like financial history, driving licenses and weapons licenses.
CheckMate offers a final report which is at once highly detailed and simple to read and understand. You can access reports for your current or past searches from within the handy online dashboard, or from your Android phone with the official CheckMate app. Customer support is uniformly excellent, with a 24/7 staff that is both helpful and quick to respond.
3. Intelius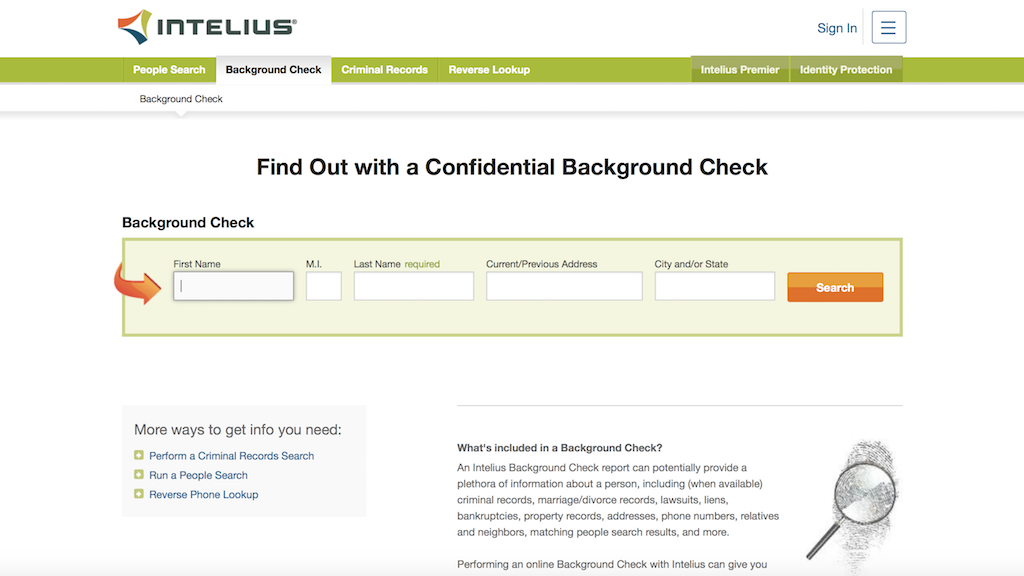 Last but not least is Intelius, an aggressively priced but fully featured background checking site. Searches cover an enormous range of data sources to uncover contact details, address history, criminal records, sex offender register details, financial history, property records, educational history, and more. Their attention to detail is hugely impressive and, with more than 50 million successful background checks already carried out, they are clearly doing something right.
Intelius offers a sleek online dashboard which we found to be well designed and easy to use. Their final reports are detailed but still straightforward to follow and understand. They have got mobile devices for both Android and iOS devices, both of which we were impressed with too. The online troubleshooter is generally useful when it is needed, but response times on other mediums are not the quickest, nor the most helpful either. But despite that, Intelius offers a great all-round service and some of the best value for money on the market.
Why Do Some Background Checking Sites Charge a Fee While Others Don't?

You might wonder why you can't just opt for a free service instead. There are indeed free sites available, but if you do choose to use them, it is important that you set your expectation levels accordingly. These sites cannot deliver anything like the same level of service as a reputable paid background checking service can. Accessing this data is not always free and the technology that ensures that they return fast and accurate information costs money too. Any site offering this service for free is most likely not accessing the full range of available data and is unlikely to be searching the data they do access very thoroughly.
There are other possible risks from free background checking sites too. Hackers are aware of the growing popularity of background checking, and some have already tried to take advantage. This means that users of free sites are now running the risk of having their personal data harvested by unscrupulous sites. Some could even be trying to plant malware on your device! In these circumstances, it is really not worth taking the chance with a free background checking site. The sites we have recommended here only cost a few dollars a month, but for that price, you can be sure of reliable results and no nasty hidden surprises.
Conclusion
In this article, we have highlighted the criteria that most users are looking for from a background check site. And we have also picked out the top three providers that user feedback and our testing suggest best deliver on those core needs. If you do want to get a background check carried out on someone, you can be confident that these three sites are able to deliver the best possible results.
Have you ever got a background check carried out on someone? How did you find the experience? Did you use any of our recommended sites? Would you recommend the site you used to someone else? Did you encounter any problems that we haven't touched on in this guide? We always welcome the thoughts and experiences of all our readers, so why not share them with us using the comment box below?