We are reader supported and may earn a commission when you buy through links on our site.
Learn more
Was a Background Check Run on You?
If you are wondering whether a new employer, new landlord, a new partner, or even a new neighbor is running a background check on you, this article has all the information you need. Some background checks are governed by specific laws and regulations that mean you should be told. But others are not. So, if you are worried about who is running background checks on you and what information they might find, you need to read this guide.
Background checks are becoming increasingly popular and it can be empowering to know that you can find out information about anyone should the need arise. But background checks work both ways and that means there is nothing to stop people digging into your past too.
It is not always quite as clear-cut as that though. There are various rules and regulations that govern how background checks can be used in certain scenarios. The Fair Credit Reporting Act (FCRA) in particular dictates that you must be informed before most professional organizations run a background check on you.
But these rules don't apply in all situations, so how can you find out anytime someone runs a check on you, and how can you know what information they might be able to find. In this guide, we will answer all of these questions and tell you the best way to make sure no-one finds out anything that you don't want them to know.
What is a background check?
A background check is a way of finding out information about a person's past. It involves an online search through all publicly held data. The information found is then compiled into a single report.
It often surprises people just how much information about them is publicly available. It has always been this way, but digitization has made accessing and searching this information much simpler. As a result, a whole industry has sprung up to provide people with the tools they need to run a background check on just about any US citizen.
The sort of information you can expect to see in a background check report includes:
Criminal records (state, county, and city)
Driving record
Employment history
Work authorization
Credit history
Education history (high school and college)
Licenses held
Social media profiles
When all of this information is pulled together it gives you a compelling image of an individual and their life. This is why background checks are so powerful and popular and explains why people use them for all kinds of different things, including:
It is important to note that there are different types of background checks. This is important because some background checks are governed by very specific laws and regulations while others aren't.
This difference is also important when it comes to working out whether anyone is running a background check on you.
Professional Background Checks
Professional background checks are those run by employers and landlords or other professional organizations. They are most commonly used as part of the employment process but can also be deployed ahead of renting someone an apartment or for various other purposes.
If you are going to be the subject of a professional background check, the good news is that prospective employers and other organizations are legally obliged to inform you.
Professional background checks are governed by a piece of legislation called the Fair Credit Reporting Act (FCRA). Under the terms of the FCRA, employers are required to provide you with a disclosure form notifying you of the background check and asking you to sign to confirm you give consent.
This disclosure form must be an individual document and separate from other application forms or related materials. If an employer doesn't follow this rule or you don't give permission, they are not legally permitted to run a background check on you.
This rule means that you never be in doubt about whether a prospective employer might be running a background check on you or not. If they are, they must provide a disclosure form and request your consent. If they don't do this, you can safely assume that no background check will take place.
The FCRA also states that if you a rejected from a job on the basis of information revealed in a background check, an employer is required to inform you of the reasons and provide you with a copy of the background check. If this happens and you have not given consent for the check, you will have grounds to take legal action.
Other situations where you could be subject to a background check includes things like applying for a loan, applying for a credit card, or applying for housing. In these situations, you should also be informed if a background check is being run on you and be asked to provide your consent. However, that could happen at different times during the application process, depending on the individual provider.
Public Background checks
Public background checks are very different from professional ones. They are much less formal, not subject to any regulation, and open for anyone to use.
Your neighbor can run a check on you to make sure they aren't living next to someone dangerous, your new girlfriend might want to check that she's not dating an ax murderer, or a business colleague might want to ensure they aren't going into business with a fraudster.
Some will just run a few Google searches to see what shows up. But others will choose to sign up with a public background checking site that offers many of the same features that professional sites do. They can also access most of the same data too.
This might come as a surprise to some people, but it is important to remember that all background checking sites use information that is already held in the public domain. These sites simply make it easier to access information you already have a right to see.
Because it is public information, this means that there is no requirement on either individuals or public background checking sites to seek your permission or even inform you when a search is being run on you. Anyone can run a public background search on you without either your knowledge or your consent.
The credit monitoring loophole
The one exception to this is with credit reports. You are able to set up something called credit monitoring. This will inform when any agency, business, or individual runs a check on your credit history.
Credit monitoring is a useful tool and, if you are worried about who is looking into your background, it is well worth setting up for two major reasons.
Firstly, if someone is running a credit check on you, the chances are it is an attempt at identity theft or fraud. Being aware of these checks can help protect you against these types of crimes.
But credit monitoring is also a way of finding out if people are running a background check on you. Not all background-checking sites will check your credit history but many will, so while credit monitoring isn't 100% foolproof, it can still flag up when someone is checking up on you.
Controlling what people can find out about you
Information held about you in the public domain is largely out of your control. These are records that the government keeps on everybody and once you have committed a criminal offense or got a gun license, that information is automatically placed on file.
But there is a way you can find out what information is available about you and correct any errors or mistakes there might be on your record. You can run a background check on yourself.
Running a background check is remarkably simple, fast, and affordable. All you have to do is sign up with a public background checking site and then input some information about yourself. The site will do the bulk of the legwork and generate a report on you that compiles all the relevant publicly available information about you into a single document.
You can read this document at your leisure and if there is any information you find that is wrong, you can speak to the site's support team for advice or otherwise contact the relevant government agency to get your records corrected.
The best site to run a background check on yourself
The hardest aspect of running a background check on yourself is choosing the best site to do it. There are dozens of public background checking sites available but some are much better than others.
Fortunately, we set our researchers the task of testing all the top background checking sites to see which performed best. They have tested every aspect of the service on offer and put their heads together to select the top two sites currently available.
So, if you want to see what a background check on you will reveal, the two sites we recommend you use are: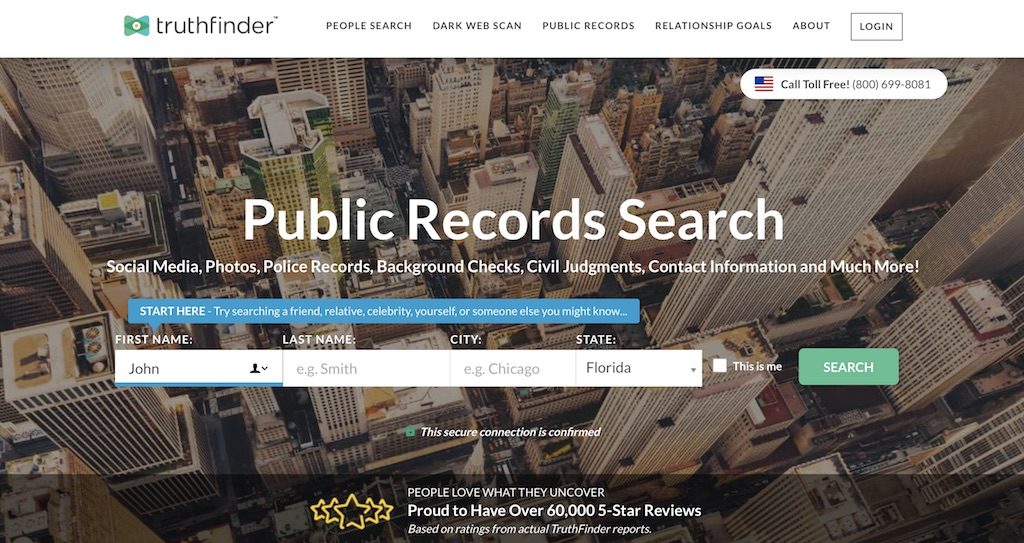 TruthFinder is an excellent background checking site with a terrific record of delivering detailed and accurate results. It excels at seeking out the correct information and in none of our tests did TruthFinder miss out anything of consequence. Our researchers were unanimous in their praise for its accuracy and they also liked its final reports which are very well structured and easy to follow.
TruthFinder has a two-tier pricing structure. A one-month subscription starting from just $27.78 or you can opt to pay $23.02 for two months. This basic package will seek out the most key information including detailed criminal records. If you are happy to pay a little more for the premium package, this guarantees that TruthFinder will leave no stone unturned.
TruthFinder's 24/7 customer support service is available on a toll-free number which means you can get support whenever you want at no extra charge. With impressive apps and a desktop dashboard available, TruthFinder is another safe choice for running a background check on yourself.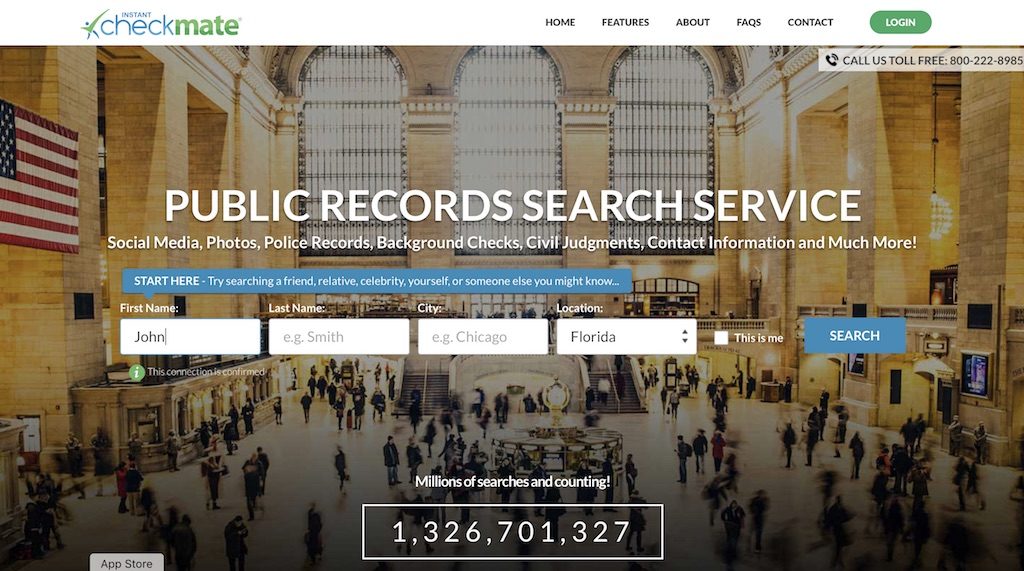 Instant CheckMate is a site that turns around searches faster than any other we tested. Even more impressive, it is able to run quick searches that still return impressive results with a high level of detail and accuracy. Regardless of what information you input, Instant CheckMate had a knack of digging out the right results.
Managing your Instant Checkmate searches is easy with its excellent desktop dashboard and user-friendly mobile apps. The data it finds is also presented in a final report that was easy to read and navigate despite the level of detail.
Subscription prices for Instant CheckMate start at $34.78 per month, but if you choose a three-month subscription you can pay $27.82 per month. This is slightly higher than some of its rival sites but if you want fast results without compromising on accuracy, Instant CheckMate is guaranteed to deliver.
Summary
If you are the subject of a professional background check as part of a job application or to rent an apartment, it is a legal requirement that you are informed about this and give your written consent.
But public background checks are open for anyone to use and there are no such requirements in place for them. In this guide, we have explained why and also revealed a loophole that could help you find out when anyone runs a check on you.
We have also shown you how to run a background check on yourself to see what information people might find and recommended the best sites to use to do it.
Are you worried that someone might be running background checks on you without your knowledge? Would you be reassured to take a look at your own record to see what they might find? Did you find any mistakes or inaccuracies when you ran a background check on yourself? Do you have any other tips for our readers? It is always helpful to hear the thoughts and opinions of all our readers, so why not share yours with us using the comment box below?