We are reader supported and may earn a commission when you buy through links on our site.
Learn more
What's Included in a Background Check?
There is a huge amount of publicly available information about every single US citizen held in the USA. The Federal and State governments keep records about various aspects of our lives, even making some of our personal data publicly available. By running a background check on someone, you can access this body of data quickly and easily in order to either find specific information or piece together an entire personal profile.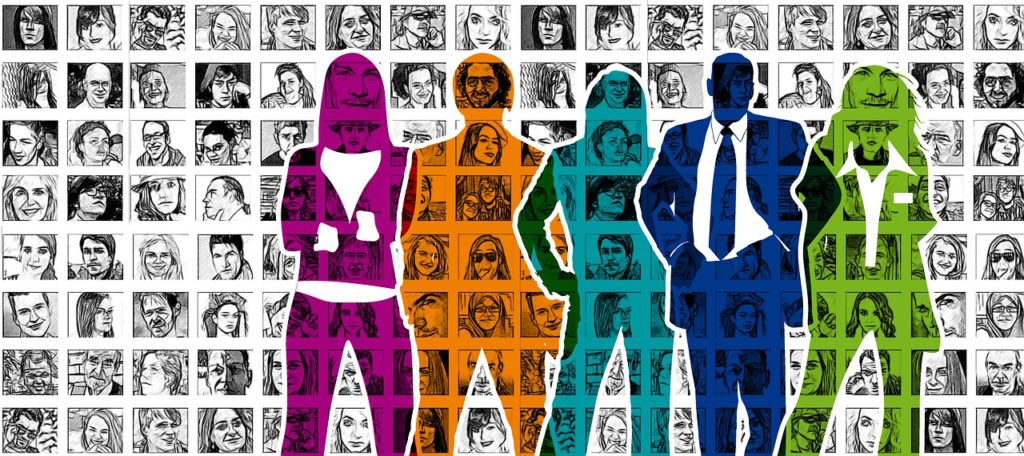 So, exactly what information does a background check involve? That depends largely on which service you use to conduct your search, as each has access to different data sources and different payment tiers which can affect the end result significantly. However, most background checking sites will still cover a common core of search criteria, which we will delve into further in this article. If you've been wondering what information is included in a background check (and which service to use), read on!
What Do Background Checking Sites Offer?
Government transparency is a fundamental part of western democracy, and it is also the crucial factor that allows background checks to function. US Federal and State governments (along with their various agencies) are required by law to ensure that a great deal of information is accessible to the general public. However, it is not as easy as just running a Google search to find it. Much of this data is held on big public databases, which you are welcome to view so long as you pay a fee to sort through this massive trove of information. As there are typically millions upon millions of records in such databases, finding the right data manually can be incredibly time consuming and onerous.
Search Over 1 Billion Public Records
Run a comprehensive background check on ...
This is why many people turn to background checking sites, which employ the latest technology to search through this data automatically. Their intelligent algorithms are able to seek out the data you need quickly and accurately. Results vary from site to site, but broadly speaking almost all background checking sites should be able to reveal the following information:
1. Personal Information
Most sites are able to run a check based on even the smallest amount of information. Even if you only have a partial name or partial address for someone, many sites will be able to turn up a lot of personal information from those small details. These will include things such as maiden names or any legal name changes they might have made. Sites can also use marriage records to compile a history of relationships they have been involved in. It may also be possible to pull together a list of phone numbers and email addresses which have been associated with them as well as details about immediate family members and any close associates they may have. It is also quite likely that their current and former address records will also be available.
2. Employment Records
Using different data sets, it is usually possible to compile a pretty accurate employment history for almost any subject. This might include things like their current and former employer names, the dates their employment began and finished, and what job they did. It is also possible that a search might reveal details like salary and any professional qualifications they hold as well.
3. Financial Records
It is usually possible to compile a fairly accurate record of a person's financial activity, including their social security number and details of their credit rating. Other possibilities include any shares they hold in companies, what property they own, and any other major assets held in their name. You can also see if they have a record of bankruptcy or any financial liens against their name.
4. Education Records
A background check will often uncover information about a person's educational background. Things like which schools and colleges they went to, what they studied, and even the qualifications and grades they got, can all be found. Any other qualifications they might hold should also show up as well.
5. Military Records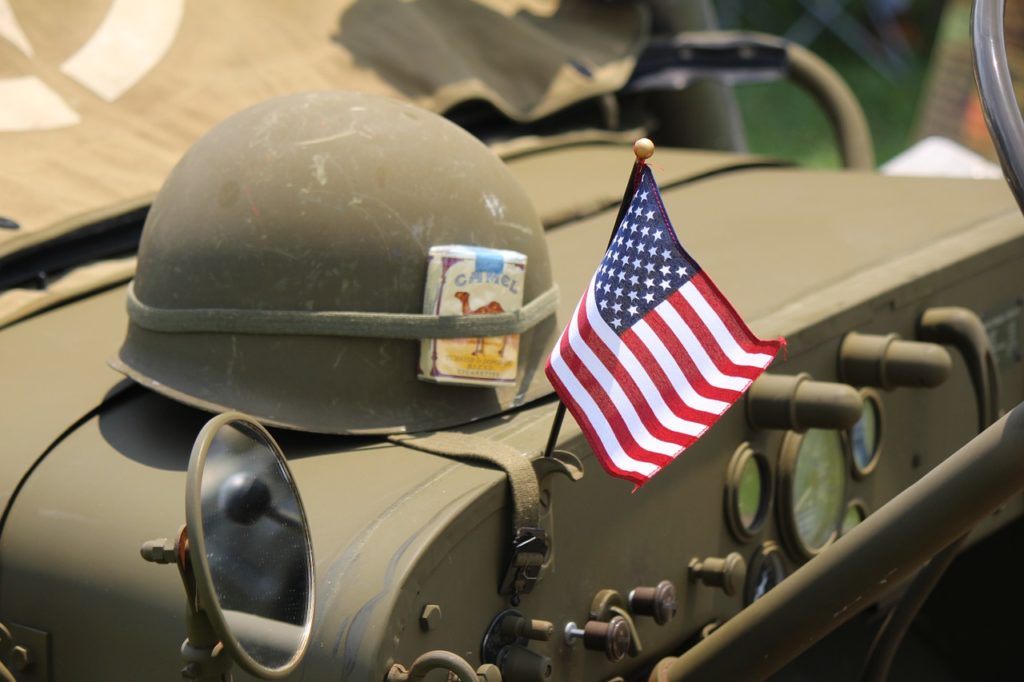 If your subject has served in the US Armed Forces, there should be lots of information about their period of service that is publicly available. This might include details such as the date and location of any active service they were involved in, the dates they joined and left the armed forces, what ranks they held, what medals they earned, their home addresses while they were serving, and any records of educational achievements during this period.
6. Criminal Records
If your subject has a criminal record of any kind, a background check should uncover it. Any convictions they may have, whether handed down at the Federal, State or County level, are made available. Additionally, non-convictions such as arrests, warrants or charges that have been dismissed or expunged will be uncovered, provided they took place within the past seven years (which is how long these records are held). And if the subject has been involved in a court case, many sites will dispatch a runner to get hold of any non-digitized court records that may be available.
7. Driving Records
Detailed records of everyone's driving history are held by the DMV and thus publicly available. Many sites will also be able to reveal whether a person has any traffic tickets or driving offences on their record, as well as if their license has ever been either suspended or revoked. Other information is available beyond what the DMV collects, including drunk-driving charges and more minor traffic-related incidents.
8. Licenses Held
If the subject of your search has a license to do something, the chances are that this data is also publicly available. There are plenty of things that you need a license for in the USA including flying a plane, possessing certain firearms, practicing medicine or law, and working as a Private Investigator. License checks should also uncover details of any additional certificates held that relate to the license as well as any complaints that may have been filed against the license holder.
9. Social Media Data 
People routinely share loads of personal information on their social media profiles. If their privacy settings aren't changed from defaults, much of this data can be freely accessed by virtually anyone. It is therefore possible for sites obtain data on relationships, family, friends, employment, current and past residence, as well as up-to-date pictures of a person.
Which sites are most thorough?
How we selected our pick of the sites
Anyone who has ever Googled 'background checking site' will know that there are a lot of sites out there. And of course, they all claim to be the best in the business. But how do you tell the wheat from the chaff? In our experience, most users are looking for a site which can offer the most comprehensive all-round checking service possible. That is why we have compiled our list of recommended sites below. But just searching the most data sources, doesn't necessarily make you the best site.
Detailed research – Comprehensive searches are of paramount importance to many users. Some sites will offer a more thorough research service than others.
Search customization – The best sites should be able to dig up useful information based on a bare minimum of starting information provided by you.
Fast results – Reputable background checking services can deliver basic results in just a few minutes, while a more detailed character assessment can typically take a few days.
Accurate and comprehensible reports – What good is a thorough search if the results are hard to understand? Each of our recommendations offer well-designed, accurate, and easy-to-follow reports.
Usable dashboard – The user dashboard is where many users will manage their searches, reports, and other data. A good user interface facilitates positive results.
Mobile apps – While not an absolute necessity, dedicated mobile apps can streamline the search process by delivering a great deal of convenience to your fingertips.
Helpful customer support – If you encounter any problems with your search or have questions about results, you will need a reliable and helpful customer support service to be available.
It is important to remember that as good as modern background checking sites are, they are not totally infallible. Mistakes can happen, and there have even been a few occasions when they have failed to track any information down. However, these are very much the exception, and our recommendations below should offer you the best chance of finding the information you're looking for.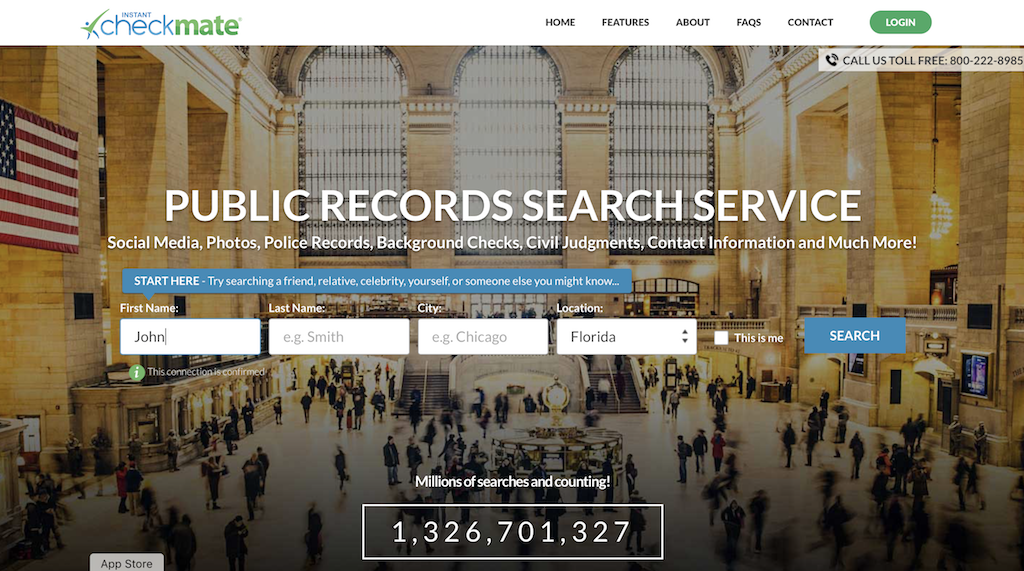 Instant CheckMate offers a remarkably efficient and detailed service. At the basic pricing level, you can expect extensive insight into criminal records, sex offender registers, marriage and divorce records, details of close relatives, address history, and any relevant social media content. For a premium, CheckMate can also deliver things like education records, financial history, driving licenses and weapons licenses.
CheckMate's final reports are well laid-out and quite straightforward to follow. They also offer an excellent 24/7 customer service. One downside to their service is that they only offer an Android app right now, but their excellent online dashboard should work on most Apple devices via the user's web browser. CheckMate delivers an overall excellent service that is well worth giving a try.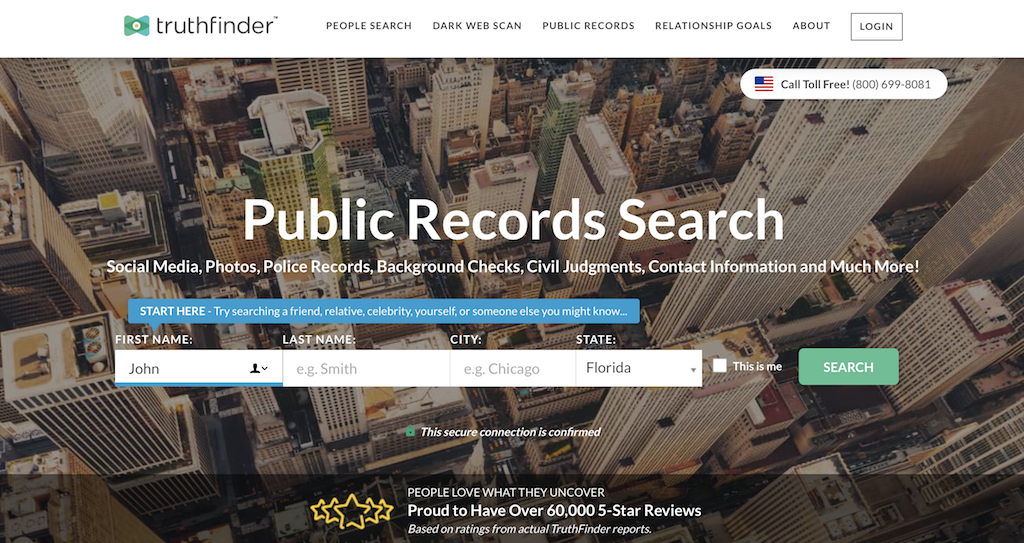 Truthfinder searches through millions of different data sources, making them one of the most comprehensive services available at the moment. A basic search scours most criminal and court records, driving records, personal information, information about known relatives, and much more. Premium subscribers can access education history, voter registration records, and licenses details as well. Most notably, Truthfinder offers a unique deep web research service, which searches through more online sources and social media profiles than any other site.
Their final reports are well-designed and simple to read, while their online dashboard is similarly user-friendly. Unfortunately, iOS users will be disappointed to learn that they only offer an Android app. Their customer support is among the very best though, with 24/7 coverage available on a toll-free number. Truthfinder delivers consistently excellent results and has high user satisfaction, which is why we are happy to recommend them.
3. Intelius
Intelius is a well-known background checking site that searches through a wide range of data to deliver impressively detailed results. Among the information they can compile is a person's full contact details, previous addresses, criminal records, financial history, property records, educational history, and plenty more besides.
Intelius offers an impressive and user-friendly online dashboard, and their final reports are amongst the best we have encountered. They also offer dedicated apps for both Android and iOS mobile devices. As an added bonus, we found their online troubleshooter service to be particularly useful. Intelius claims to have run more than 50 million background checks since they started, which is a testament to their customer satisfaction.
When Can I Run a Background Check?
While most of the data that background checking sites access is completely legally available, there are some circumstances when it is not permitted to run a check. The Fair Credit Reporting Act (FCRA) is the most important piece of government legislation in this area and it stipulates four clear scenarios where it is illegal to run a background on someone:
Researching future employees without their written permission
Looking into the background of domestic worker without written permission
Checking if someone is eligible for credit, insurance, scholarships, or grants
Identifying suitable tenants for a property to be rented out
The legal repercussions for breaking the FCRA rules in this area include heavy fines and compensation payments to the subjects of the search. However, there are still plenty of scenarios where it is perfectly legal and legitimate to run a background on someone, including:
Looking into your new date
Seeking out long-lost friends or relatives
Finding out more about a new neighbor
Discovering who keeps calling your phone
Identifying sex offenders in your community
Looking into publicly available information about yourself
Conclusions
You may be astonished by just how much detail it is possible to compile about someone just from publicly available information. With only have a bare minimum amount of detail about your subject to start with, it is still possible to get a comprehensive insight into almost every aspect of their life.
Have you ever carried out a background check? What sort of information did it manage to turn up? Did you decide to use one of the background checking sites we have recommended here? What sort of experience did you have with them? We always welcome the feedback and opinions of all our users, so feel free to share them in the comment box below!