We are reader supported and may earn a commission when you buy through links on our site.
Learn more
What Shows up in a Background Check for a Job?
When we think of background checks, different things come to mind. Some people think about getting screened for prior convictions; others fret about calls to prior employers. The truth is, background checks can cover virtually anything, from whether you have a gun permit to your childhood friends to, of course, criminal records.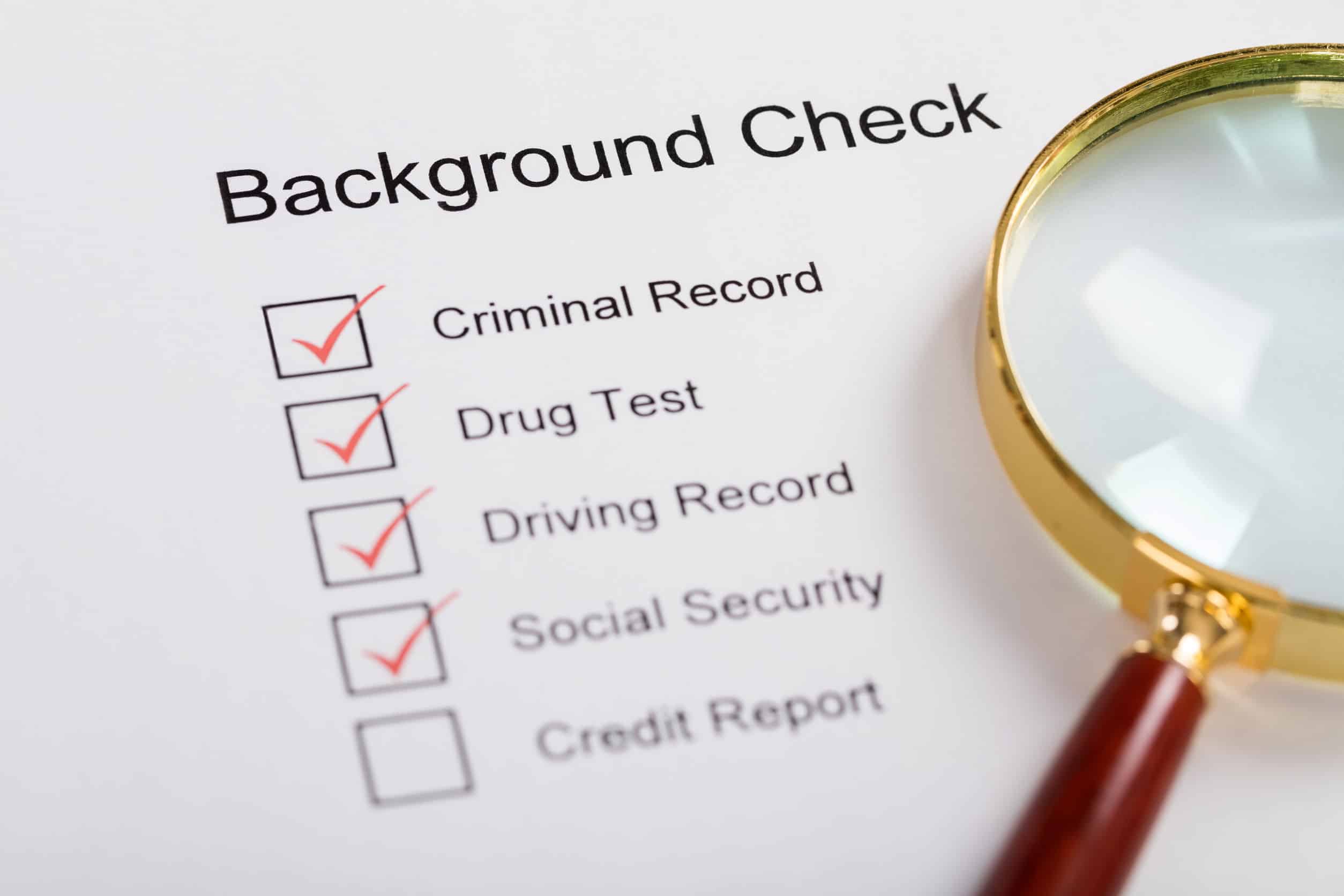 The obvious question, then, is "what can I expect to show up in a background check for the job I want?". To help answer it, we've written this article where we cover everything that can show up in a background check. We also explain how to best handle some of this information, especially if you think it may count against you. Read on below to learn more, starting with criminal record checks.
1. Criminal records
A common misconception is that ban the box laws in states like California, Massachusetts, and New Jersey make criminal record background checks illegal. This is untrue. While they do make it illegal to field conviction history questions, they certainly don't stop employers from checking up on your history on their own.
In fact, the first thing most employers look at is your criminal background. However, despite what most people think, the how and what of a criminal background check is neither 100% accurate nor a deciding factor in whether you get a job or not.
First, there are non-convictions. These can include arrests, warrants, court summons, dismissed cases, and other judgments that don't lead to a misdemeanor, felony, etc. Non-convictions aren't necessarily going to count against you, especially if you're applying to an entry-level job.
Moreover, many non-convictions can be expunged or dismissed depending on your state and the amount of time elapsed. It pays to check your criminal records on your own and take the steps necessary to erase records like these on your own or with the help of a lawyer. If you do everything right, you're more likely to come to your application with a clean slate than not.
Convictions are trickier. For starters, they're unlikely to be omitted from a criminal background check. Second, they're significantly more difficult expunge or overturn. Third, very few convictions are sealed meaning your potential employer is likely to know all the details of what happened after running a thorough search.
2. Verification checks
After criminal record background checks, verification checks are the next most important kind. They help your potential employers verify whether what you said on your application is true. Specific verification checks can include:
Education checks. The range of measures can vary from asking for proof of education, i.e. physical or digital certificates, to trying to speak to your professors. Checks like these get progressively more involved if you're applying to work in fields where education is important: medicine, law, engineering, etc. They're unlikely to be very deep or thorough for low-level positions.
Employment history. Employment history checks can be cursory or involved. We'll cover them in more depth in the following section.
Licenses. Have you declared any kind of license on your resume? Then you're liable to get checked on them. Professional licenses, like medical and legal ones, tend to be checked rather thoroughly. Other licenses, like drivers' permits and gun carry permits, tend to come under less scrutiny. If you want to make sure that your license is seen as legitimate, do a little preliminary work and get documents to prove its authenticity.
Professional and legal status. Everything else aside, an employer has to know that you are who you say you are, that you're cleared to work in a given state, and that you aren't already employed elsewhere. This includes checking for your visa status if you're not a US citizen.
If you do run into verification checks, don't take them personally. One survey found that 86% of resumes checked had lies or misrepresentations in them. An HR that grills you on the accuracy of information provided is simply doing their job.
3. Past employment information
One of the most frequently asked questtions is whether a past employer can disclose information about you to your current tone. For better or worse, there is absolutely nothing to prevent this as far as federal laws are concerned.
Furthermore, your past employers can say whatever they want about you. Unless you can prove that they said something slanderous in a court of law, there's no punishment for it.
This means several things.
First, if you're on bad terms with a past employer, consider letting your prospective employer know during the application. The same applies if you can't vouch for who's going to pick up the phone when someone calls to check what your previous organization has to say about you. If there's even a slight chance that the person on the line won't know you, or will have something disparaging to say, let the people interviewing you know in advance.
Of course, the reverse is also true. If you trust a past employer to represent you in a truthful, forthright, respectful manner, just let them know you're applying for a new job. This will make you look good during your application process and give your previous workplaces a chance to prepare canned responses about you.
4. Personal details
You may believe that your private life has nothing to do with your future employer. This is often true – but private corporations, federal organizations, and the army may all try to look into your past to get an idea of your morals, motivations, and overall character. Here are some of the specifics they may be looking for:
Current and past associates. This is a common check for federal and military jobs. It consits of your potential employer (or a company they hired) going through your friends, family, and acquaintances. These tests can be surprisingly thorough. For example, anecdotes about the FBI checking out everyone you know, all the way down to childhood friends, abound.
Marriage records. An employer may check your marriage records for several reasons. First, to make sure you haven't broken any laws, e.g. through marrying twice in different states. Second, to get an idea of your character. For example, a litany of successive marriages and divorces might suggest you're reckless or irresponsible.
Phone numbers. In a deep background check, phone numbers can point to all kinds of useful things. For example, if you have a large number of phone numbers, you may have something to hide. Another example: if you have an old number that's connected to a crime or something unsavory, that can be a bad sign to an employer.
Social media posts. As with current and past associates, what you post on social media can say a lot about you. For example, if you want to work for the DEA but have pro-drug social media posts, that can be a problem.
If you're worried about anything that can come up as far as your personal life goes, you can do one of two things. First, consider hiding or removing anything that makes you look bad. Hide your social media page from public view, get past court proceedings related, etc.
Second, simply let your interviewee know what's bothering you. If you have a childhood friend with a long history of crime, you may want to mention that during a federal or military job application. So long as you can show that you have no current ties to any criminals, you should be fine.
Search Over 1 Billion Public Records
Run a comprehensive background check on ...
How to run online background checks on your own
Whether you are looking to hire a new employee or want to research your own online data, background checking is one of the most efficient ways to do so. This is particularly useful if you are interviewing for a job and want to know what the background checking company will come up with in the final report. However, with the amount of reputable online background checking websites on the market, it's hard to pick the best service.
In order to reach a conclusion, we tested some of the industry leaders to find out whether they provide detailed yet comprehensive reports. Furthermore, we used user feedback as an indicator of how straightforward the website is despite the wealth of information. Below is the criteria we used to make recommendations for our readers.
In-depth research – If you are conducting a background check, chances are you will need to use a range of sources for cross-referencing and ensuring that the information is reliable. Choose a website that uses as many online and offline sources as possible to compile your detailed report.
Detailed, comprehensive reports – Considering the volume of information you are about to be exposed to, it's important that the service you pick makes a concise report out of said data. The layout should be easy to understand without compromising on attention to detail.
Fast turnover – The idea of an online background check is that it is not only thorough, but fast. The last thing you want is to wait weeks for the report to come through. A quality service will have your report ready almost immediately, but some companies will require 4 to 5 working days of waiting.
User-friendly dashboard – As complicated as the task may sound, the dashboard needs to be as intuitive and simple as possible in order to simplify the task. The best websites will be well-designed with dedicated mobile apps and an attractive browser layout.
Quality customer support – In case you ever face a problem while using a background checking website, you will need quality customer service to help you out. Choose a company that employs reliable staff for this purpose specifically. That way, you will never have to wait long to resolve an issue or receive a report.
Now that you are familiar with the criteria we use for rating background checking companies, take a look at our recommendations below. By choosing one of these services, you can be certain that you are getting the best possible deal out there.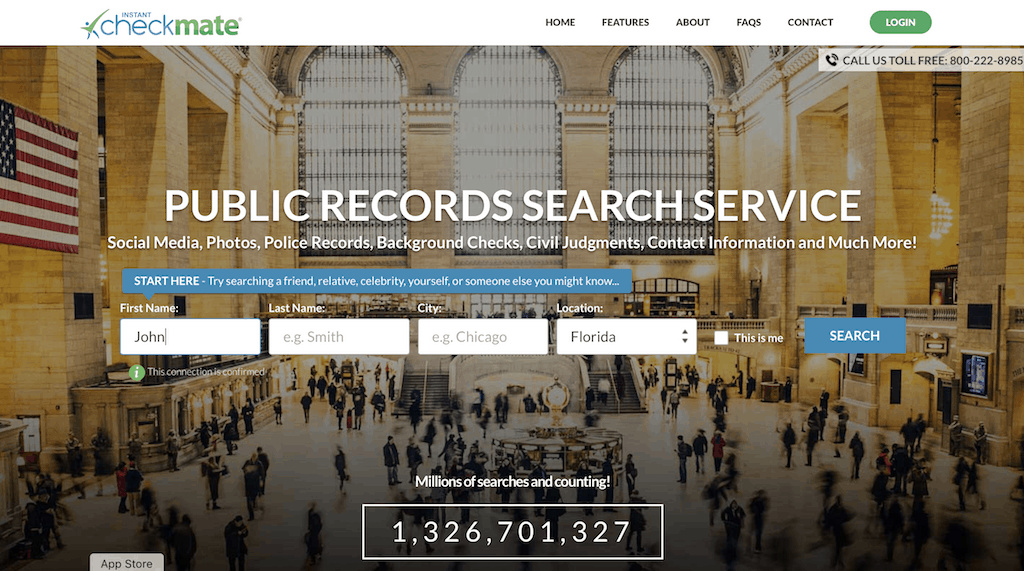 Instant CheckMate, true to its name delivers detailed reports within just a few minutes. The company conducts thousands of checks on the daily, and according to user feedback, is a solid choice for thorough online background checking. Similar to other services, CheckMate offers two levels of service, basic and premium. Regardless of the tier you choose, sources of information will include everything from criminal records to marriage and divorce history. The premium fee, on the other hand, will grant you access to important archives, uncovering data regarding credit history and even voter registration.
Despite the level of research, CheckMate's final reports are extremely easy to follow. The user-friendly dashboard further simplifies the entire process, allowing you to search and filter all your data within clicks. For Android users, there is a special app that allows you to access your account. For iOS users, the well-designed browser website works seamlessly to deliver fast, reliable results. Should you ever have any problems with the website, CheckMate offers customer support around the clock every day of the week.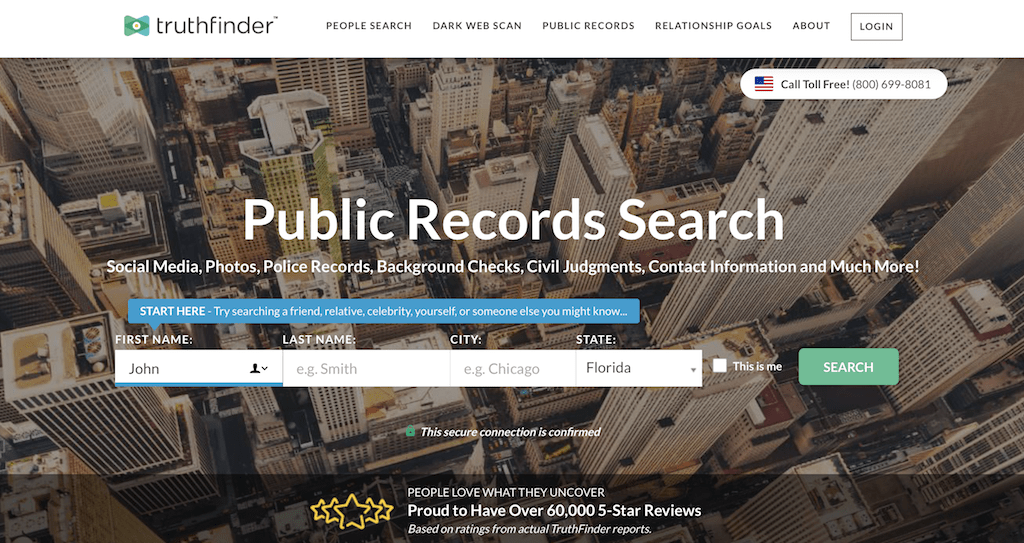 TruthFinder earned its reputation as a service ideal for extensive, detailed research for serious positions. The premium subscription not only looks into a person's weapon licenses, but matches this information with social media history and other deep-web (non-indexed) archives to put together the full profile of the person in question. Therefore, putting together these details allows you to assess how dangerous a person may be and whether they pose a potential risk to your employees if they were hired.
Despite these advanced features, TruthFinder is also ideal for basic background checks. Even without the premium subscription, the report generates data fro criminal records, financial history, contact details, and professional records. All of these features are available through a simple user interface and a flawless dashboard, as well as an Android app that will allow you to access your reports on the go. Customer assistance will be able to help you with any questions you have along the way.
3. Intelius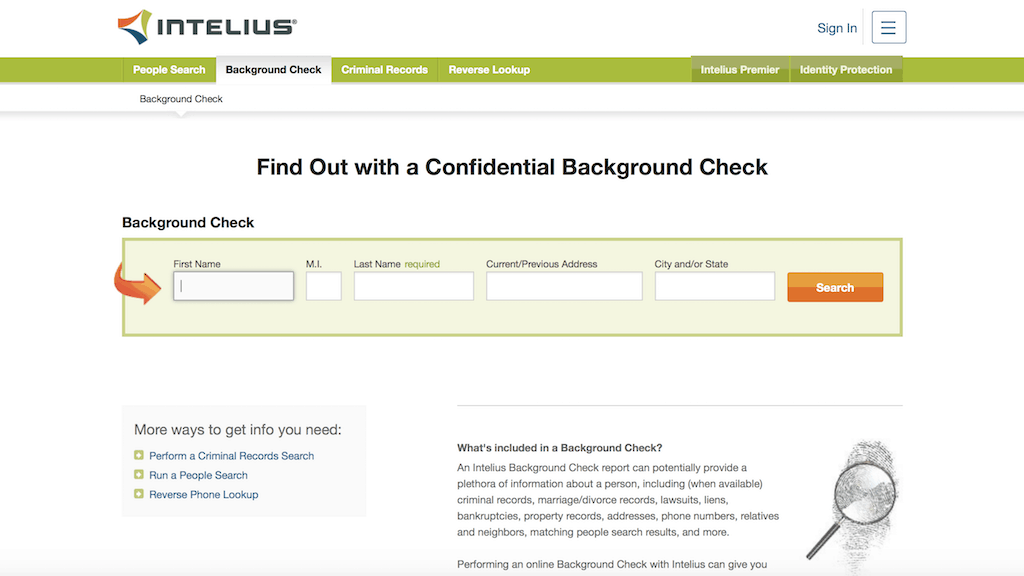 Intelius gained its reputation as a reliable service with more than 50 million background checks under its belt. The final reports are compiled with data ranging from criminal records to academic history and even sex offender register details. Other major information points include the big picture of every search subject, allowing you to make better hiring decisions or prepare answers for interviews.
Intelius is also a solid choice if what you're looking for is seamless experience. The highly intuitive dashboard lets you easily sift through your search history and previously generated data, compiling a concise report in little time. Whether you are looking for a website to access through your computer or an app on the go, Intelius has you covered. With dedicated apps for Android and iOS, you'll be able to enjoy the depth of content without needing access to a computer. Furthermore, the customer support and online troubleshooter tool are available to assist you with any questions that may occur.
Conclusion
Now you know just about everything that can come up on a background check. Have any comments, questions, or additional tips? Did we miss something that came up during a previous background check for you? Then let us know by using the form below!