8 Best Sleep Apps in 2021 for a Good Night's Sleep
Many people have trouble falling asleep at the right time and turn to sleep apps for help. They can't possibly replace healthy sleeping habits, like switching off all devices for a half an hour before bed and reading a good book instead.
Still, a dedicated app is a good place to start. You can use it to listen to white noise or calming sounds that help you fall asleep easier. Or you can monitor your sleeping pattern and learn how to improve it.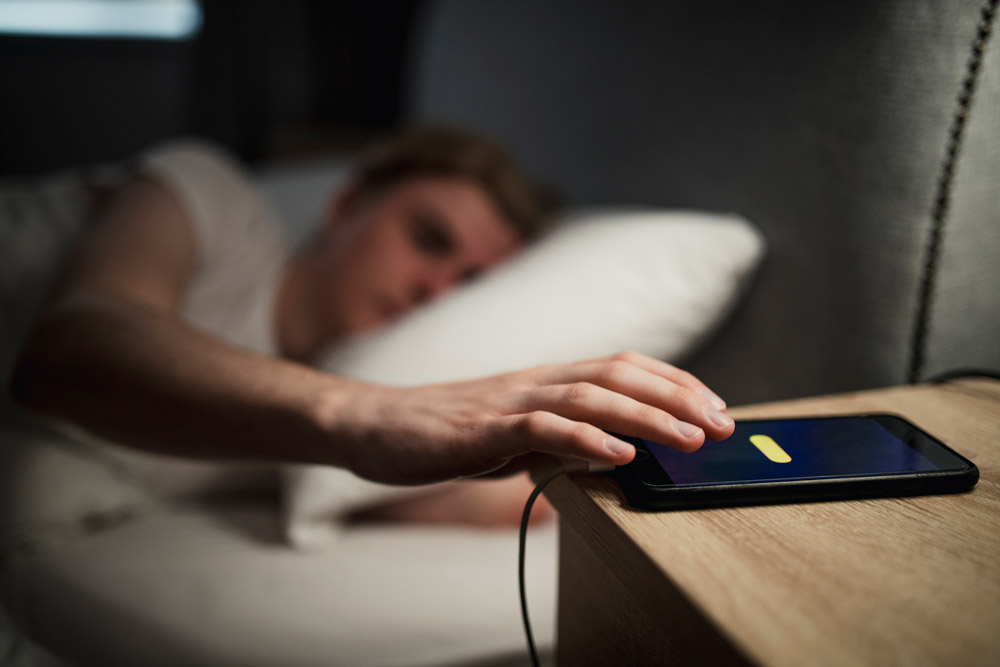 Best Sleep App: Android and iOS
We carefully tested numerous sleep apps and selected the top picks while taking into account Android and iOS users.
1. Calm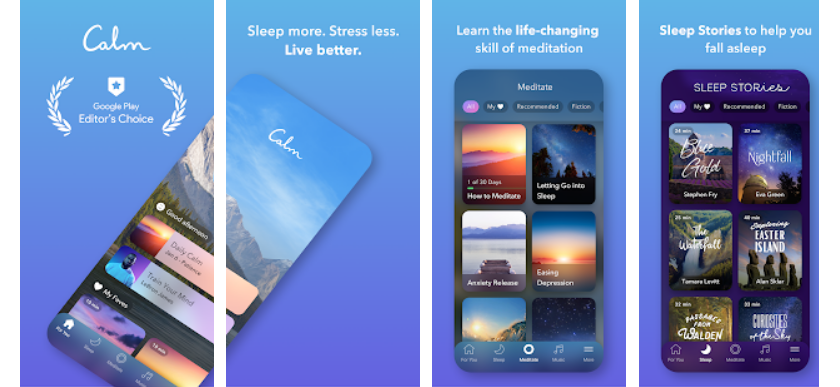 Available for Android and iOS, Calm can help you not only sleep but also meditate, focus on work, or just relax by listening to calming sounds. It has a super-intuitive interface and numerous features, including sleep stories, breathing exercises, and guided meditation sessions of different lengths.
2. Sleep Sounds by Sleep Pillow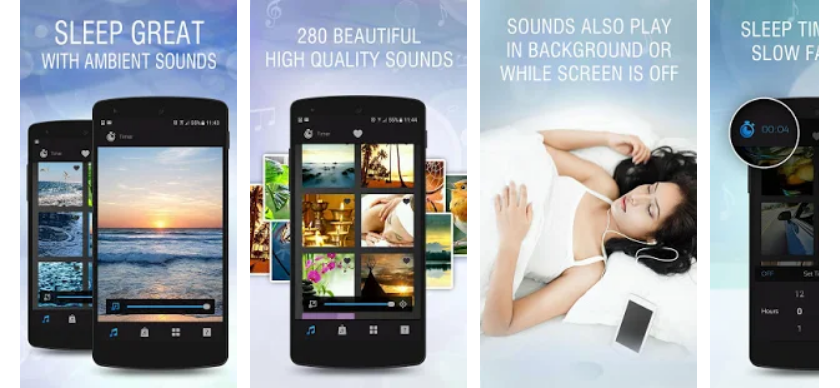 Sleep Sounds by Sleep Pillow is a simple sleep app designed for Android and iOS. It has a wide range of pre-mastered and high-quality ambient sounds that you can listen in order to remain relaxed and fall asleep faster. It runs in the background and lets you mark favorite sounds.
3. Headspace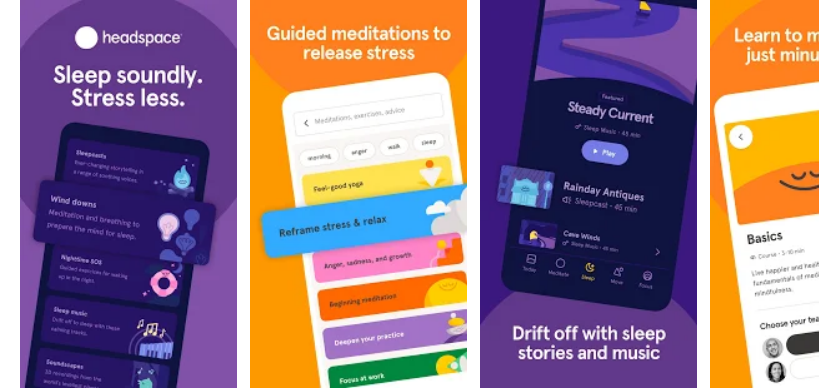 Headspace is an app similar to Calm, which you can install on Android and iOS. It's wrapped in an intuitive interface and promotes a healthy lifestyle by improving your sleep. You can use it to practice yoga, meditate, listen to stories, and play sounds to drift off. It has a daily video series and even guided meditation courses for kids.
4. Sleep Monitor
Sleep Monitor is a bit different. Besides playing relaxing sounds, it can monitor your entire sleeping cycle and let you now if you snored or talked while dreaming. It provides a sleep score with graphs and gives you recommendations, like working out or drinking less caffeine. Furthermore, the app wakes you up gently and reminds you to go to bed early. You can also take notes. It's only available for Android.
5. Pillow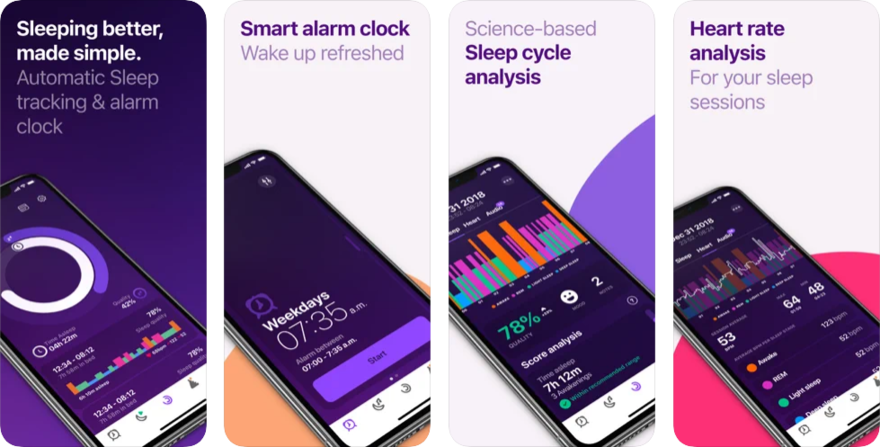 Pillow is a sleep cycle tracker made for iOS. It plays calming sounds, keeps track of your sleeping pattern, and even records your snoring, apnea, or sleep talking. The app helps you wake up naturally by taking into account the lightest sleeping phase. It can also be installed on Apple Watch to monitor your pulse and analyze your heart rate.
6. Sleep as Android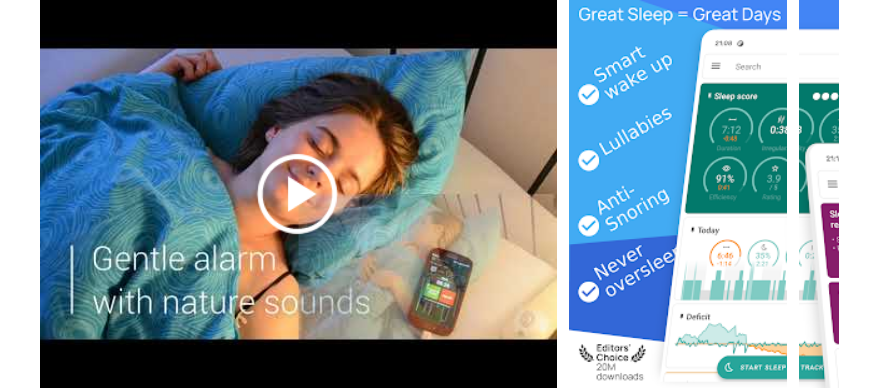 Sleep as Android is one of the top sleep apps for Android and Android Wear OS. It includes playlists with nature sounds and lullabies, tracks your sleeping cycles, and wakes you up softly in the morning. Moreover, the app uses a sonar for sleep tracking, so you don't have to sleep with your smartphone in your bed anymore. It supports smart bulb control and integrates with health apps like Google Fit.
7. Sleep Cycle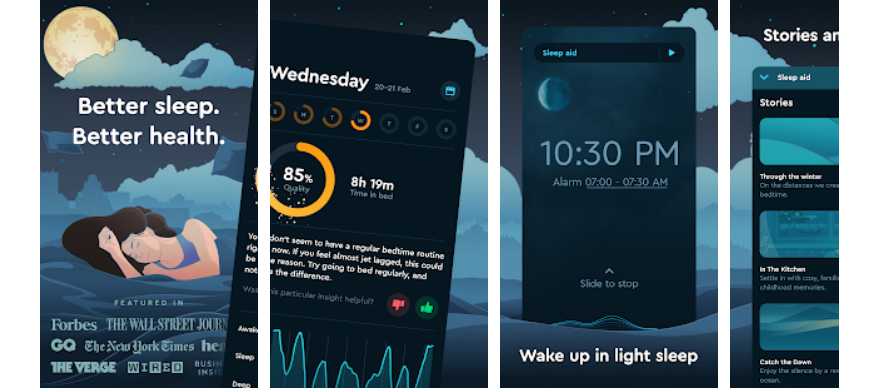 Sleep Cycle is another app made for Android and iOS, which features sleeping sounds and bedtime stories. It can wake you up gently, discover your snoring pattern, measure your sleep quality, and generate statistics. Additionally, you can keep a journal, take notes, get recommendations to improve your sleep, and export sleep data to Excel.
8. Slumber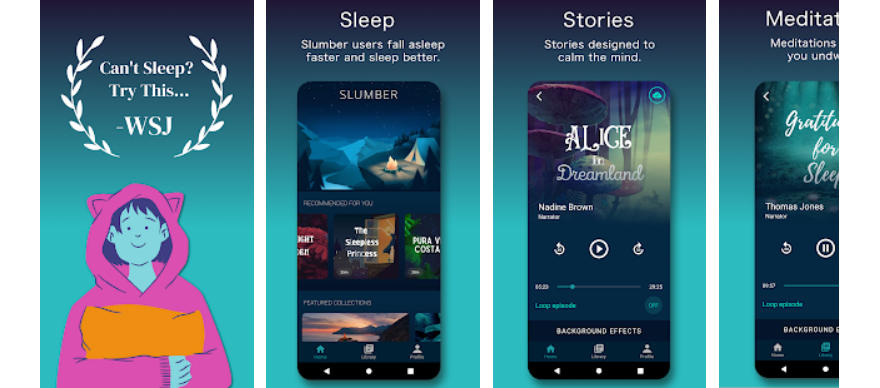 Made for Android and iOS, Slumber is a calming app that includes a collection of stories to help you drift to sleep easier. It also features loop mode, ASMR soundscapes, and bedtime stories for children. You can stick to background music or go with nature sounds like rain. Furthermore, you can set a background noise to play when a story is finished.
9. Tide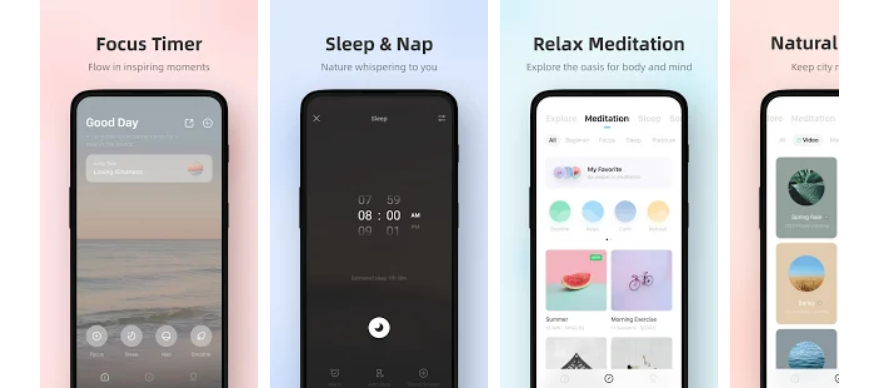 Tide is a simple and elegant sleep app built for Android and iOS, which offers calming sounds to help you sleep, take a nap, focus, or just breathe to practice mindfulness. It has meditation series and nature sounds, reminders, a favorites section, together with useful statistics about the sleep cycle.
Sleep better with the top apps for Android and iOS
In conclusion, if you suffer from insomnia or just have trouble falling asleep every now and then, these mobile apps should help by playing calming sounds and monitoring your sleep cycles to give more in-depth information about your habits.