How To Access Microsoft OneDrive On Linux
Have you ever wanted to access your Microsoft OneDrive on Linux? If you're waiting around for Microsoft to make a killer sync client for the Linux platform, don't hold your breath. They're not interested in in the Linux platform. Instead, you'll need to take matters into your own hands.
The best way to access Microsoft OneDrive on Linux is with a program called OneDrive-D. It's a third-party app that works with OneDrive's API to bring a decent syncing experience to the Linux desktop. You can access all your files in OneDrive on your Linux PC with this app.
Getting OneDrive-D
Microsoft OneDrive users can sync their files on Linux with the help OneDrive-d. Getting the program working on Linux doesn't take much. It starts by installing the git package to your Linux distribution. Without this program, getting code from Github isn't easy. Open a terminal, and enter the following:
Ubuntu
sudo apt install git
Arch Linux
sudo pacman -S git
Fedora
sudo dnf install git
Debian
sudo apt-get install git
OpenSUSE
sudo zypper install git
Other
Git is available on all mainstream Linux distributions, due to the fact that sites like Github are so popular. To get the Git program working on your Linux distribution of choice, simply take the normal way of installing programs, and search for "Git". Then, install it to the system. This could mean opening a terminal and using your Linux distribution's package manager, or even an app store like "Gnome software".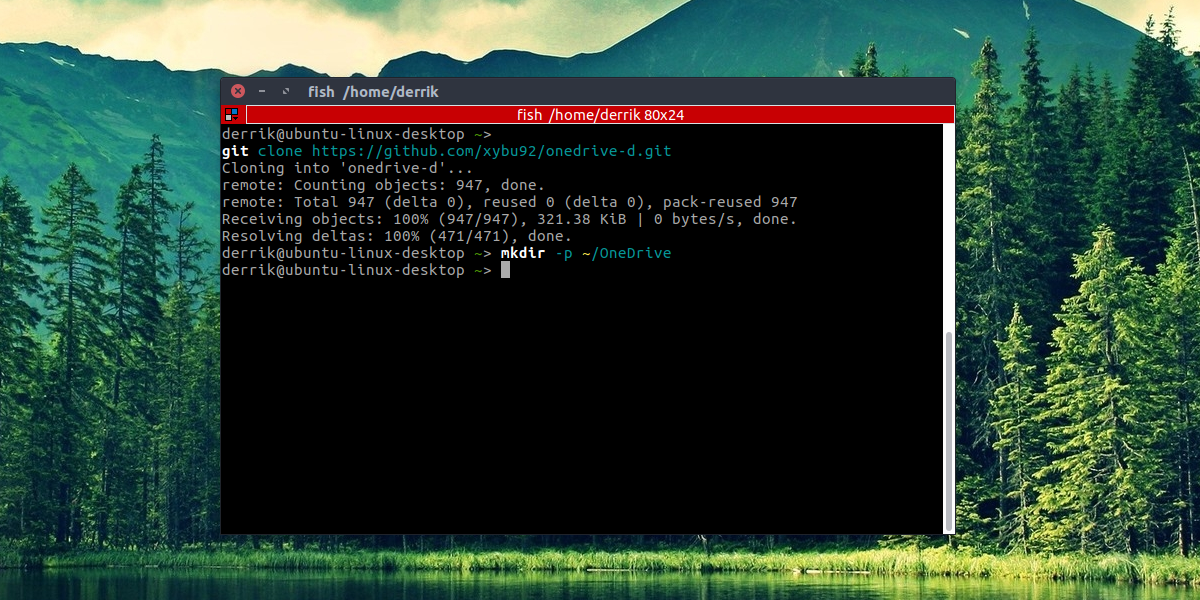 With the Git tool installed, we can use it to clone OneDrive-d's code directly in the command line. Do this with:
git clone https://github.com/xybu92/onedrive-d.git
Then, enter the code directory to start the install process.
cd ~/onedrive-d
Installing OneDrive-D
The OneDrive-D code downloaded with Git contains a lot of different things; binaries, libraries, and different scripts, etc. Luckily, the developers made installing this software very straight-forward. They've written a Bash script that will completely configure the program, and get everything working. To start the installation process, simply run the script. This is done by running it as a program.
./install.sh


Running the script will allow it to start installing all of the little things that OneDrive-D needs to run correctly. Specifically, libraries, and other important tools that the program is built with will be installed. Be sure to enter your password (if asked) and allow the program to continue installing what it needs.
Configure OneDrive-D
Next in the process comes configuring OneDrive-D. This is necessary, as the program needs to connect to Microsoft servers and start the initial sync. Since OneDrive-D is a terminal based program, the initial program will not create a desktop icon, or anything like that. Instead, a command is required to start the configuration process. Start it in a terminal with:
onedrive-perf
There are 4 simple steps to this configuration process. The first step involves connecting the sync client to your Microsoft account. In the terminal, onedrive-perf will print out a one-time link. Paste this link into your default browser, and authorize OneDrive-D access to your Microsoft account to continue to step 2 of the process.
After clicking "yes" in the connection window, you'll need to paste the callback URL back into the terminal. Not sure what that is? It's the URL that the connection window redirects to. You'll know you're getting the right URL, because refreshing stops. A good giveaway is to look for "code=" in the URL.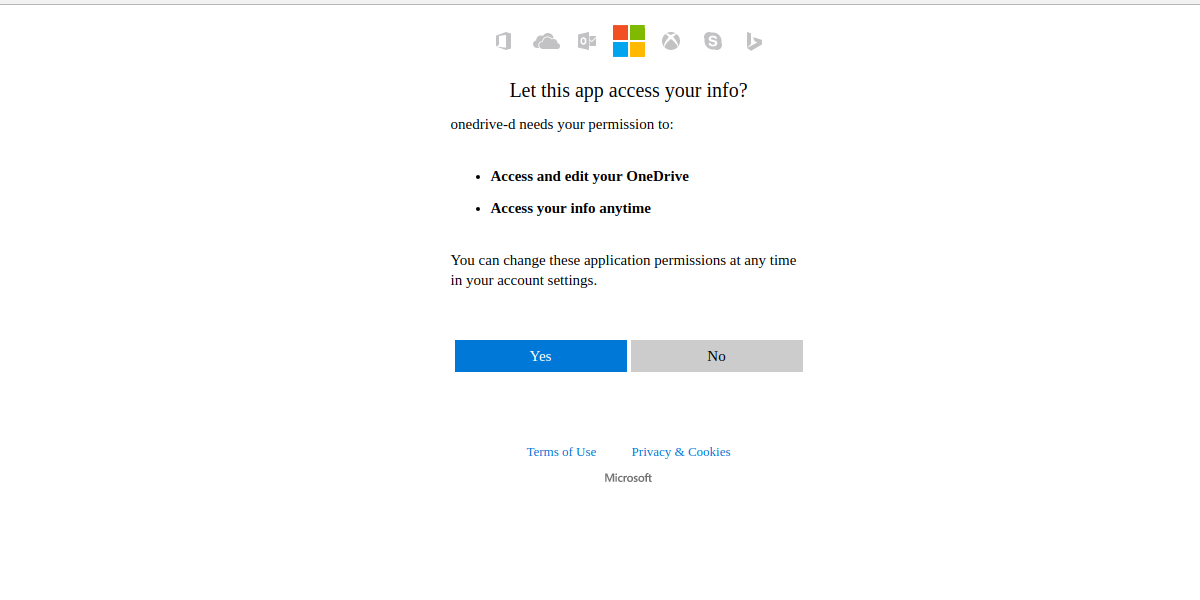 Step two in the process is to tell OneDrive-D where to sync to. If you haven't got a OneDrive sync folder on your PC already, now is the time to create one. Open another terminal and enter this command:
mkdir -p ~/OneDrive
Then, in step 2, tell the program where the folder is so that it can be used as the sync location. Be sure to use the full path: /home/username/OneDrive/
Step 1 and 2 are the most important parts of the configuration process. Steps 3 and 4 involve settings to do with both the numeric settings and the ignore file list. Most Microsoft OneDrive users will not need to do anything with steps 3 and 4. Enter "n" for no to get through both of these steps. If for some reason you feel like you want to edit these settings, choose Y instead to do so.
Note: be sure to change "username" to your PC's username in the command.
Syncing with OneDrive-D
When the configuration process finishes, syncing can begin. Much like configuration, this needs to be done within the terminal. OneDrive-D runs in the background as a process. All that the user needs to do is start it. This is done with:
onedrive-d start


From here, the terminal can be closed at any time. OneDrive-D will continue running as a background program, uploading and downloading anything placed in the OneDrive sync folder. To turn off the background program, use this command:
onedrive-d stop
Conclusion
Microsoft OneDrive is one of the better cloud storage tools out there. It has great integration within the Windows desktop, along with neat features like integrating Microsoft Office, fast upload/download speeds and more. It's no wonder some Linux users are begging Microsoft to bring this service and it's features to their favorite operating system as well. Unfortunately, Microsoft has no plans to do so.
As Linux users, we'll never be able to experience what it's like to have this service baked into our operating system like Windows users do. Luckily, for those that need access to OneDrive and are willing to go without some of the flashy things, this program is a must. If OneDrive isn't your preferred cloud storage, you can check out Google Drive. It's fairly easy to access Google Drive on Linux.