The 6 Best Markdown Editors For Linux
Markdown is quickly becoming the way most people write posts online. The reason it is becoming so popular is that it allows users to generate complex, formatted text without trying that hard. Thanks to the rise of markdown editors, this process is very streamlined. Each platform has a pretty good selection of markdown text editors, including Linux. That's why in this article, we'll be ranking and going over the absolute best markdown editors for Linux. We'll break down some of our favorites and outline the individual features of each. Let's get started!
1. Typora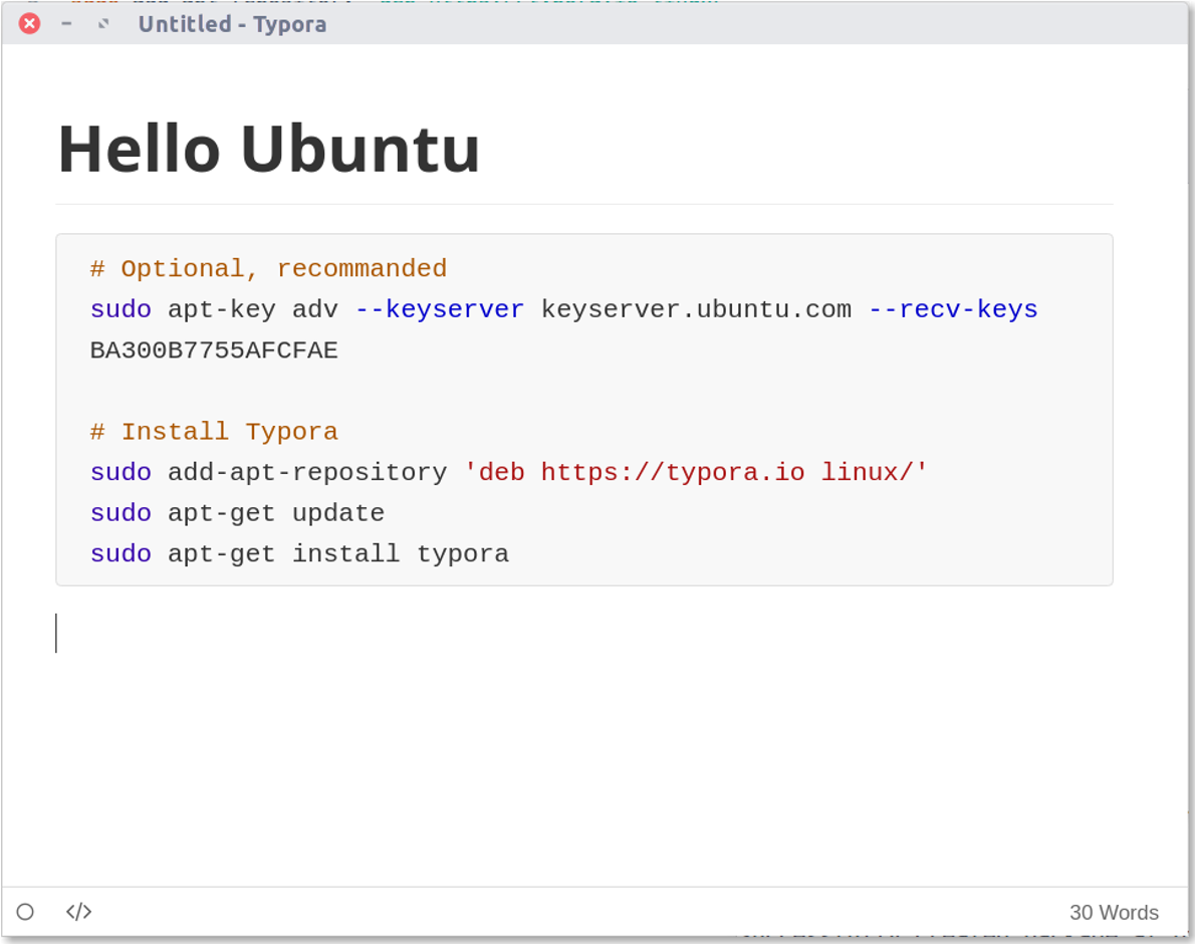 Typora is a "minimal Markdown reading & writing app" powered by Electron, and available on all major platforms including Linux. The main goal is to give users a "distraction-free" user interface. Unlike a lot of other markdown tools, Typora gets rid of the split-screen "preview window" in favor of a productive editing environment that quietly generates sensible Markdown code.
This app is perfect for those that require Markdown but don't know very much (if anything at all) about it.
Notable Features
Built with Electron web technology ensures a genuinely seamless, cross-platform experience.
Easily export Markdown documents to various formats.
Support for WYSIWYG style editing ( "what you see is what you get").
Live HTML editing.
Easy to use editor makes users who don't know much about Markdown feel comfortable.
Custom theme support (via CSS style-sheets).
Rich Markdown features (such as tables, code fences, etc.).
LaTeX support.
"Table of Contents" tool.
Flowchart, Sequence, and Mermaid style diagram support.
In-line image display.
Export in PDF, OPML, and DOC.
Integration for MediaWiki, EPub, ReStructuredText, Textile, and other popular formats.
2. Remarkable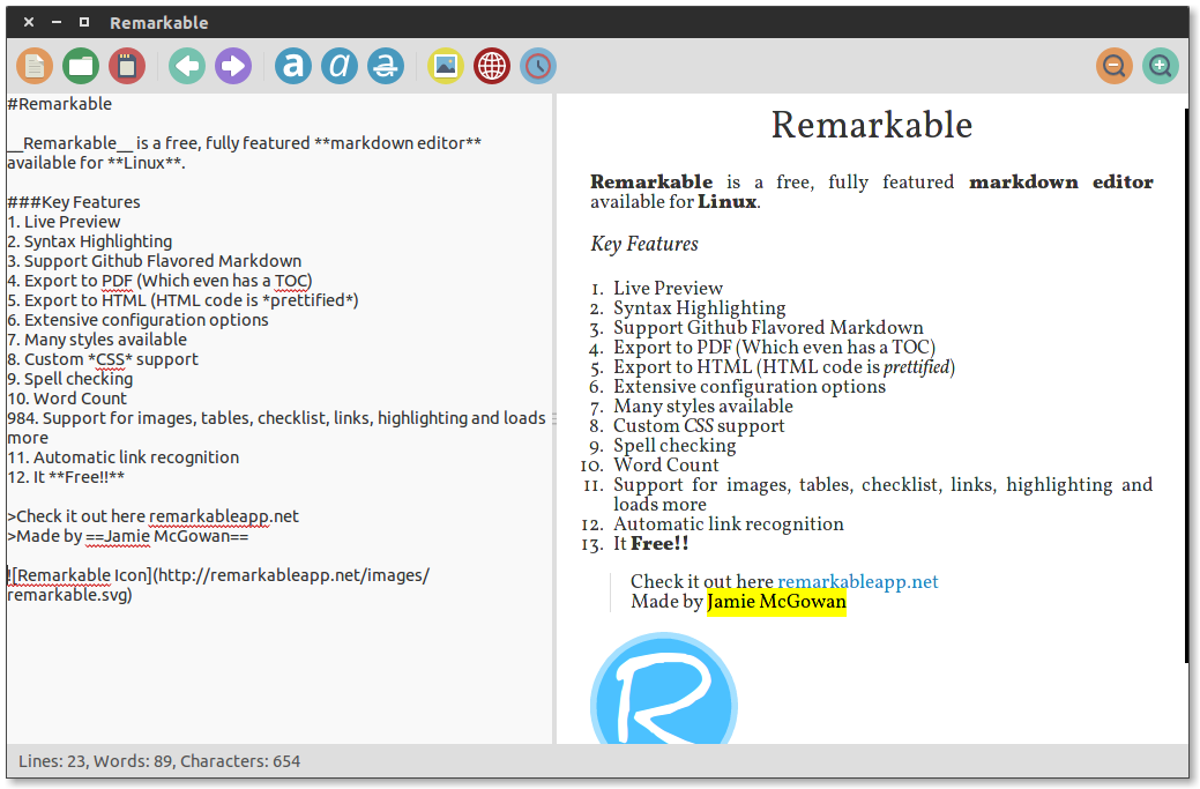 Remarkable is an excellent, open source markdown editing tool for Linux and Windows that is highly praised due to its large set of features, and focus on simplicity for the average user. Those who need to use Markdown but want it to be easy should give this one a go.
Notable Features
Live preview allows users to see how their Markup looks as they go.
Has the ability to export markdown documents to a PDF or HTML file.
Syntax highlight support
Support for "Github Flavored Markdown."
Support for MathJax
Highly configurable keyboard shortcuts
Image support
Easy checklist creator
3. Ghostwriter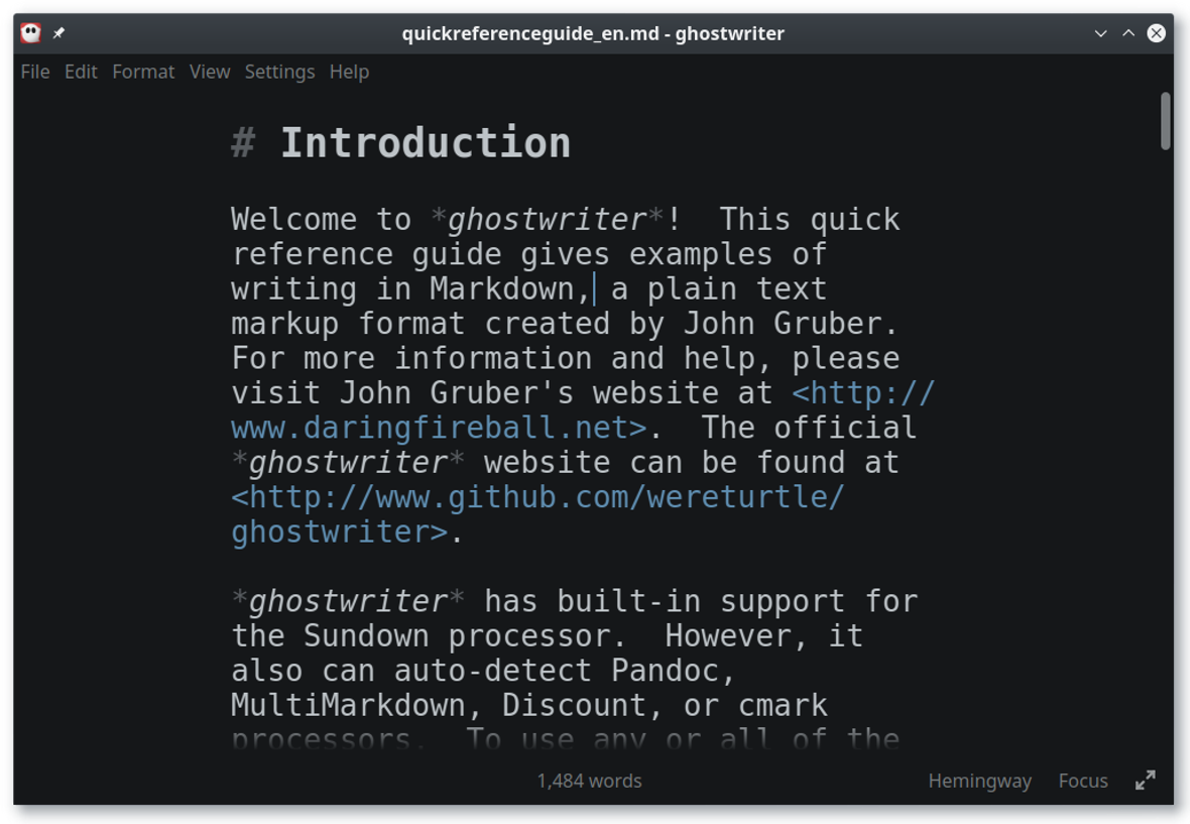 Introducing Ghostwriter, an excellent text editor that specializes in a minimalistic Markdown writing experience.
At its core, Ghostwriter is a minimal text editor and not for the faint of heart. It ditches the popular "split-screen" style editing/preview mode in favor of a simple, single-window. This app is perfect for Linux users who need Markdown and abundance of features but dislike split-screen style editing.
Notable Features
Markdown syntax highlighting.
Document heading navigation.
Theme support (also includes light-dark themes.)
Lets users make their own Ghost Writer themes.
Spell check via Hunspell.
Live word counter.
Live HTML preview.
Allows for custom CSS style sheets in HTML preview.
Works with popular Markdown processing tools (Pandoc, MultiMarkdown, Discount, Cmark)
Can export to PDF, RTF, ODT, HTML and etc.
4. Haroopad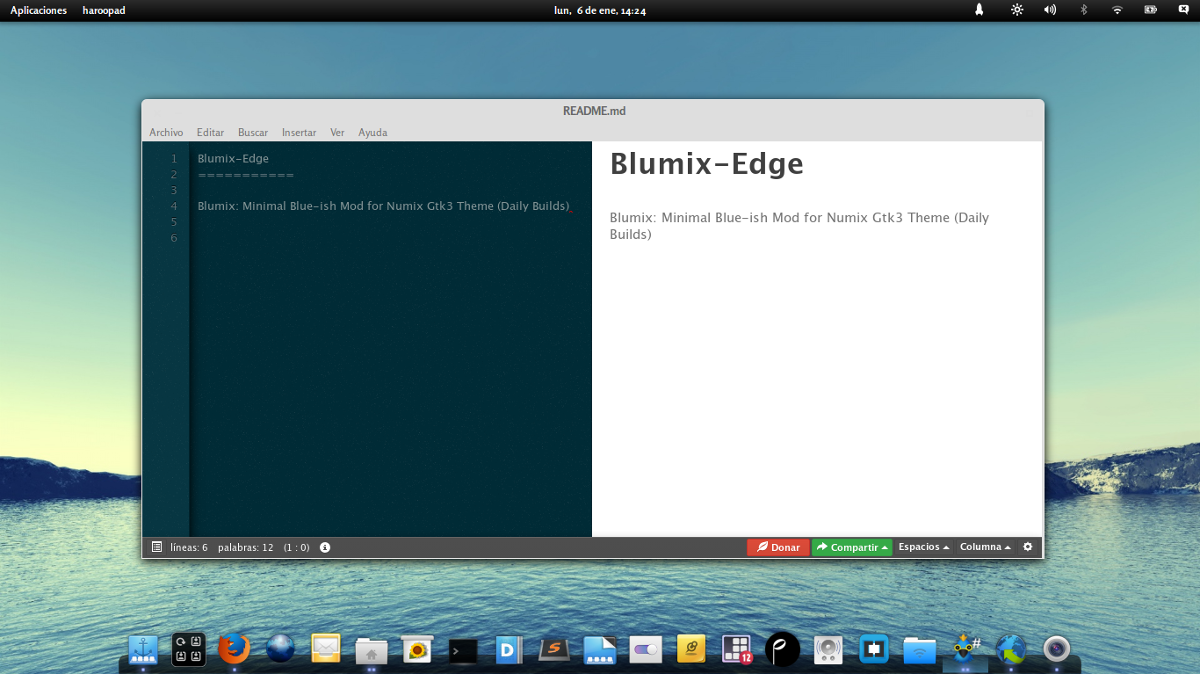 Haroopad is a cross-platform markdown tool that makes writing complicated markdown easy. The editor is built with Electron tools, ensuring that users get the same experience no matter the platform they're on. This program is essential for Markdown fans who use Linux and another platform regularly and need a consistent experience.
Note: Haroopad hasn't seen an update in quite a while, so consider that when downloading this software.
Notable Features
Cross-platform means users get the same experience on Mac, Linux, and Windows
Allows users to import content from various sources quickly (Wikipedia, YouTube, Vimeo, Slideshare, etc.).
Support for Github Flavored Markdown
Support for Plugins/Allows users to create their Haroopad plugins
Mathematical expression support via LaTeX
5. Moeditor
Moeditor is an Electron-powered "all-purpose" Markdown editing tool for Mac, Windows, and Linux. Everything is written in Javascript, ensuring a very lightweight code-base. Moeditor is an excellent option for low-resource Linux PCs.
Notable Features 
Built with Electron web-app technology means it is cross-platform and will deliver the same, consistent experience on all OS's.
Simple interface makes navigating a breeze.
"Distraction-free" to allow users to get work done faster.
Live HTML preview of text editing.
6. ReText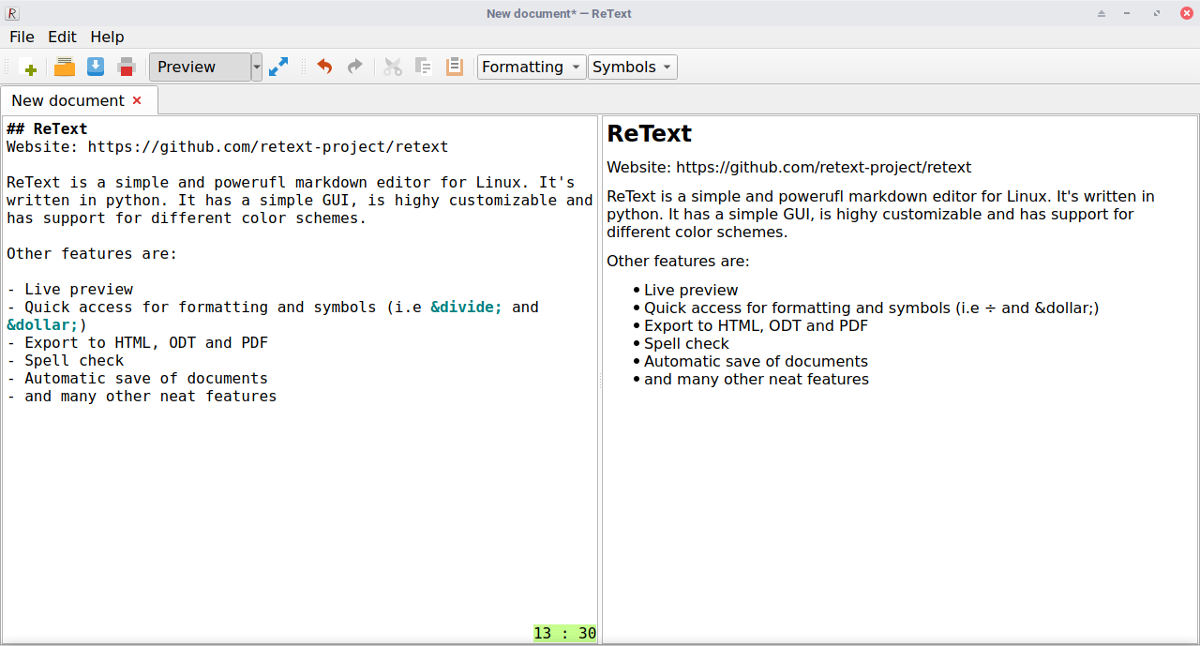 Retext is a cross-platform text editor that supports reStructuredText and Markdown. The main draw to a tool like ReText is that it's built using the latest Qt libraries, ensuring a great looking experience for those on Qt-based desktop environments.
Notable Features 
Support for every operating system (even BSD) and offers a similar user interface on all platforms.
Syntax highlighting.
Support for reStructuredText as well as Markdown.
Users can style Markdown documents with CSS stylesheets.
Can import images directly from the clipboard.
Synchronized scrolling while HTML live preview is open.
Tab interface allows users to edit multiple Markup text documents at a time.
Export files to PDF, HTML, and even Google Docs.
Markup "table" editing mode
Configurable shortcut keys.