We are reader supported and may earn a commission when you buy through links on our site.
Learn more
How to Use Couchpotato to Download Movies
Couchpotato is a software that allows one to "Download movies automatically, easily and in the best quality as soon as they are available". If you love downloading and watching movies, then you know how tedious the process of finding and downloading them can be. Couchpotato attempts to address this and reduce the effort required by making much of the process automatic.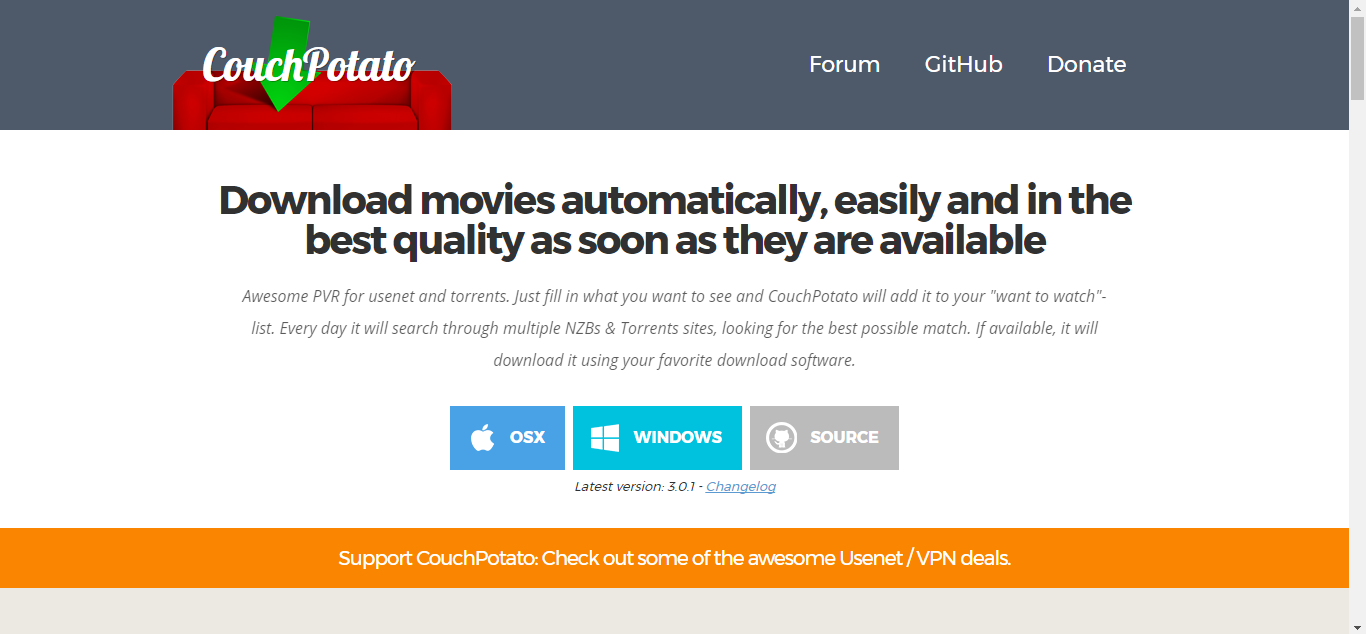 In this article, we'll first show you what Couchpotato is all about and talk about what's needed to use it successfully. Once you know what Couchpotato is, we'll guide you through its installation and initial configuration. A lot of work is required to make it work correctly. Our easy-to-follow instructions should make it an easy task. And after we have it installed and configured, we'll show you how to use Couchpotato to find what you're looking for.
Disclaimer: AddictiveTips.com does not condone or recommend the use of any means to access copyrighted content to which you have no right. We're not responsible for what you decide to do with the contents of this article. Piracy is not something we support or approve, and we strongly advise users to only access content they are legally entitled to. You must always take steps to ensure you are not in breach of any copyright or other law.
Our Recommendation For the Best Usenet Experience – Newshosting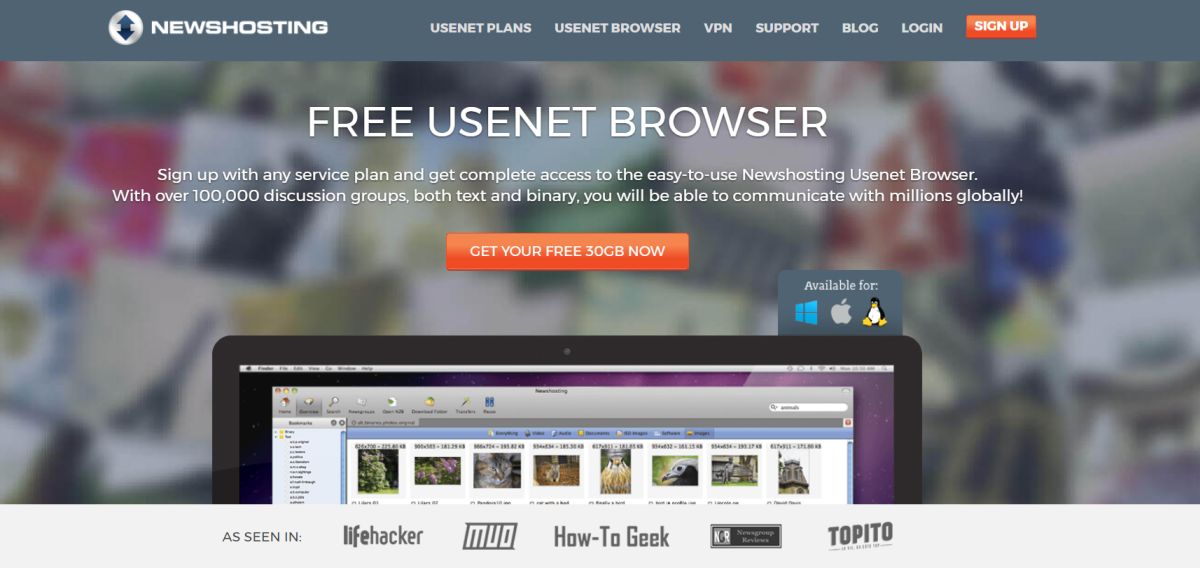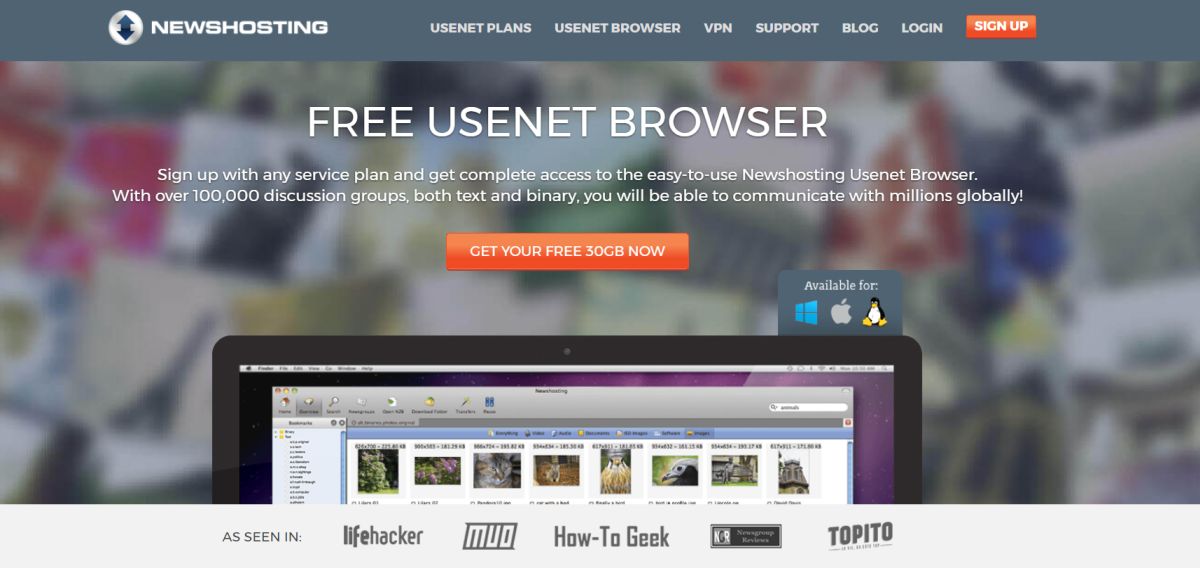 To get started with Usenet, the first thing you'll need is a reliable Usenet service provider. With so many suppliers to choose from, this can be a daunting task.  We've reviewed many of them for you, in order to find the best one. The one we recommend is called Newshosting.
Newshosting offers 256-bit SSL encryption to protect your privacy, a built-in, full-featured newsreader so you don't need any extra software, one of the longest file retentions of any Usenet provider so you can find more content and many more excellent features.
Take advantage of AddictiveTips special pricing offer and consider the yearly plan, so you can get both a good monthly rate and their VPN service include.Enjoy unlimited Usenet and VPN from just $8.33/month with our discount.
What is Couchpotato
In a nutshell, Couchpotato is a PVR (Personal Video Recorder) for Usenet and torrents. After you tell it what you're interested in, it will search daily through multiple NZB indexers and torrent sites, looking for a match. And when it finds what you've been looking for, it will automatically download it using your favorite software. The software is available for both MacOS and Windows. It is also available as source code that you can compile on Linux systems.
Usenet or Torrents? Which One to Choose
Couchpotato can use either or both Usenet or torrents to download the files it finds. This raises the following question: Which one should be used? Well, the debate between Usenet and torrents is an ongoing and neverending one. Proponents of each will defend "their" system tooth and nail. In the end, they are actually quite similar although Usenet is usually faster in terms of speed of download. For that reason, it is the option we prefer.
But with Couchpotato supporting both, there's actually no reason not to use them both. This article will assume this is what you want to do and we'll cover both options when we get to configuring and using the software.
What's Needed to Use Couchpotato
As we've said, Couchpotato uses Usenet and torrents to download movies to your computer. But it doesn't do it directly. You'll need a Usenet subscription and a newsreader and/or a torrent client. Couchpotato works well with several (and most likely all) of them, but we've chosen to use Newshosting as our Usenet provider, SABnzbd as our newsreader and µTorrent as our torrent software. Your experience with Couchpotato will be the same no matter what software you use but the configuration steps will, of course, be different.
Both SABnzbd and µTorrent can be downloaded from their respective websites. Both are available for free and their installation is as easy as any other popular software. If you don't already have them, go ahead and download and install them. You will need them if you want to follow our Couchpotato instructions.
Upon starting SABnzbd, you'll need to select your language and enter your Usenet server credential.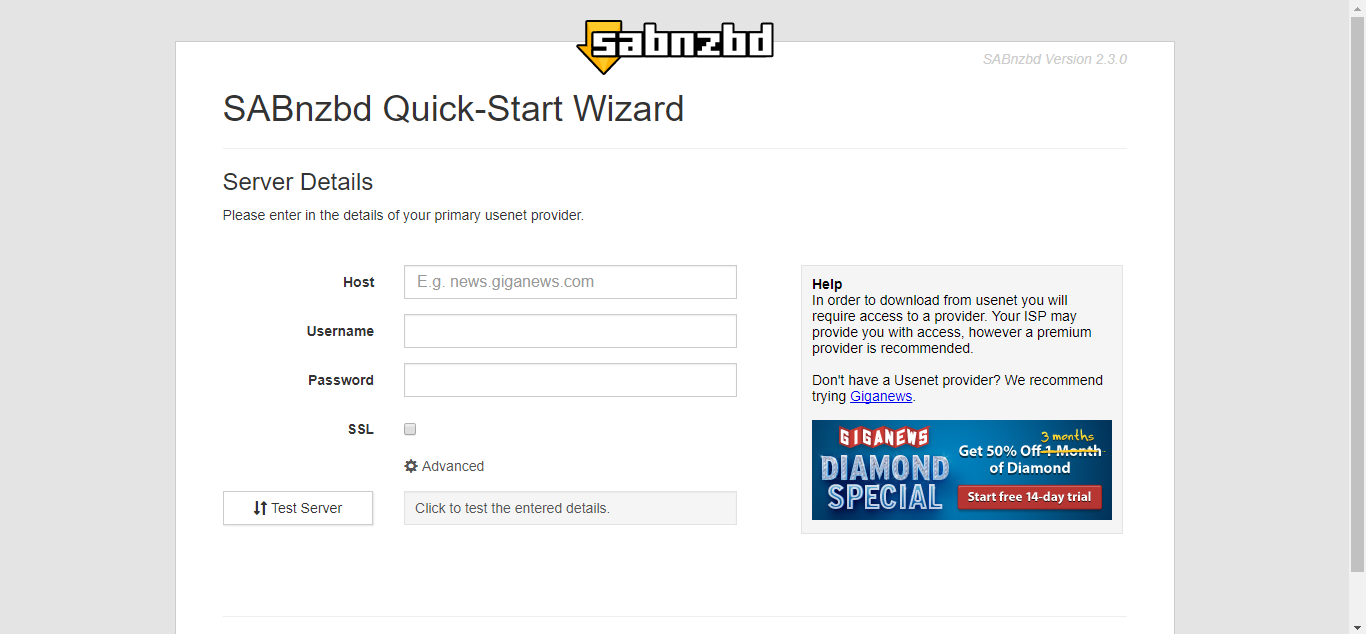 After clicking Next, you'll have the option to change the default location for downloads. If you want to keep them, just click Go to SABnzbd. That's it! SABnzbd is ready to use.
As for µTorrent, you just run the installer and it should work. There's nothing particular to configure there.
Installing and Configuring Couchpotato
Installation
Now that you've got all the prerequisites addressed, you're ready to start installing and configuring Couchpotato. So, from the Couchpotato homepage, simply click the OSX or Windows button, depending on your operating system. Save the file to your computer and once the download is complete, double-click it to start the installer.
Once the installer starts, just click next a couple of times, then click Install and let the installer work its magic. After a few seconds, the installation will be complete. Click Finish to quit the installer and start the application. It really is that easy! However, installing Couchpotato is just the beginning; the bulk of the work is configuring it. And this is where we're going next.
Initial Configuration
Upon starting Couchpotato, instead of opening in an independent window, it will open in a browser window. I'm using Chrome, so it opens in a chrome window for me.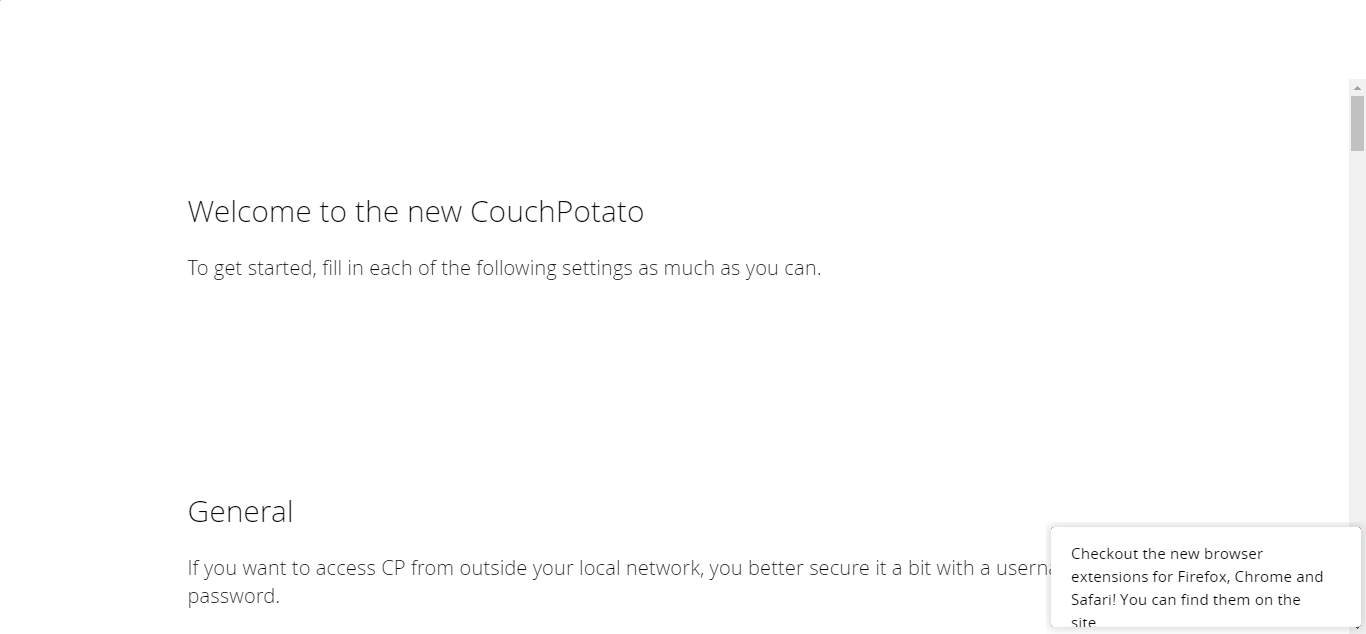 The presentation is a tad minimalist but don't let that stop you. You'll soon see how powerful this software can be. Scroll down just a bit to the Basics section.

You have the option to set a username and password to access Couchpotato. If you intend to access it from a remote location, we strongly advise you to do that. It not, it is up to you.
Now, scroll down again until you get to the Download Apps section.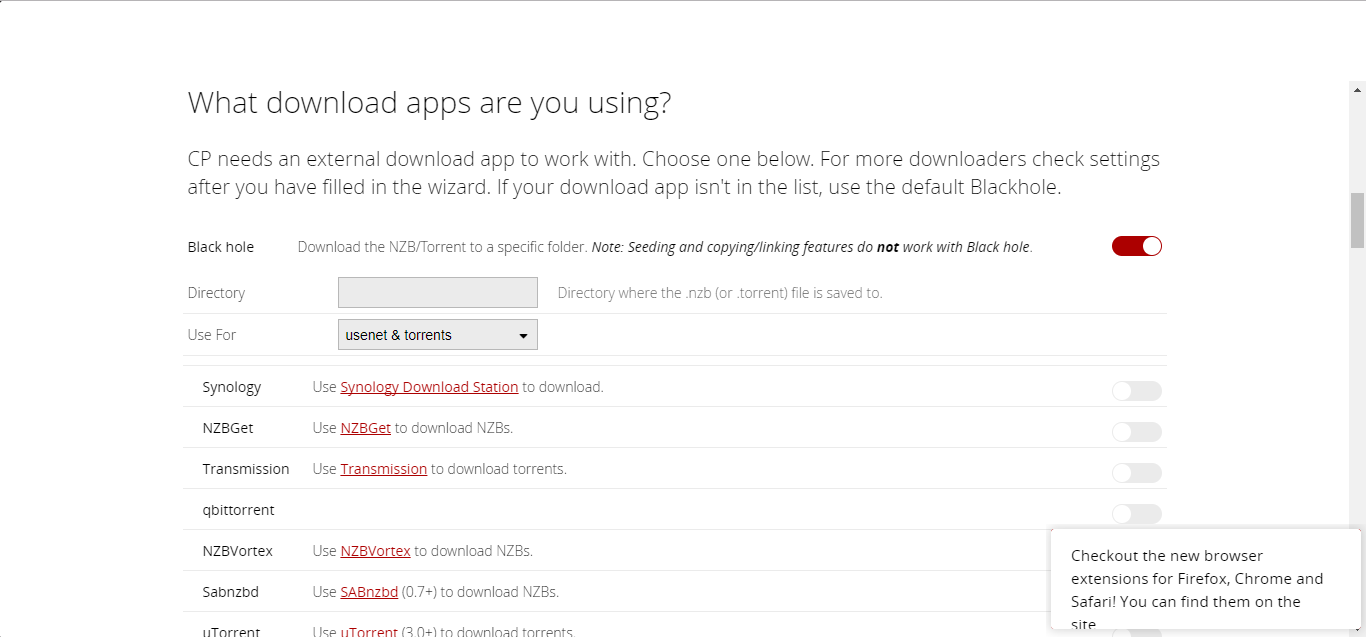 This is where you'll tell Couchpotato what application(s) you'll be using to actually download the files. As we've indicated earlier, we'll be using SABnzbd for Usenet and µTorrent for torrents. All we need to do is flip the toggle next to µTorrent and SABnzbd.
Let's Get Sidetracked For a Little While

Before we go any further, we have to adjust some µTorrent and SABnbzd settings. First, start µTorrent and open the Preferences using the gear button near the top right of the window. From the Preferences window, click the + next to Advanced on the left to expand the options, then click on Web UI. Check the box to Enable Web UI, and choose a username and password. And while you're there, check the Alternative Listening Port box (with the port at the right number set to 8080). Click the OK button at the bottom to save your changes.

While we're still outside of Couchpotato, we also nee to prepare SABnzbd. Start the application and go to its browser window. Click the Config button (the one with the gear) at the top right of the screen. Click the General tab, take note of the SABnbzd port number near the top and scroll down a little until you see the Security section.

Select the text in the API Key box and copy it to the clipboard (ctrl-C).
Back to the Couchpotato window, enabling SABnbzd and µTorrent has revealed some fields we need to fill.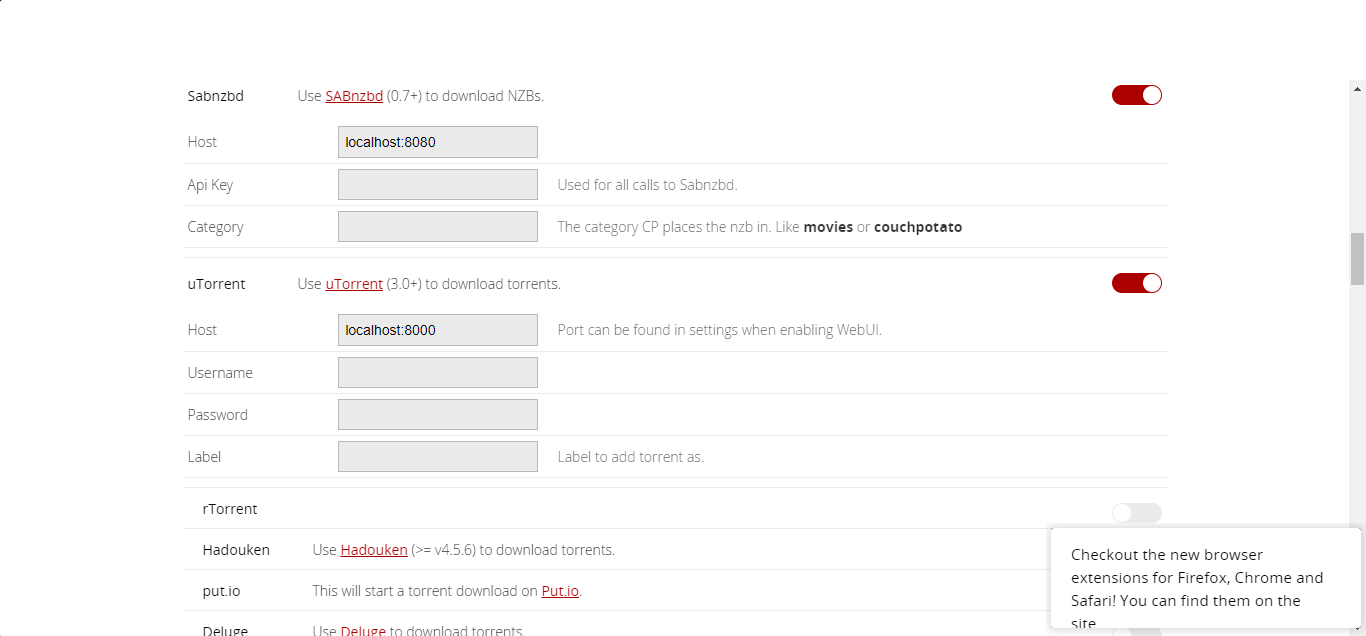 Under the Sabnzbd section, next to API Key, paste the key you just copied from the SABnbzd window. Make sure the port number is correct and under Category, enter a category name you want Couchpotato to place nzb files in. For simplicity, let's just enter Couchpotato in that field.
Next, under the µTorrent section, make sure the localhost port number matches that from the µTorrent Preferences screen and then enter the username and password you've just added in µTorrent. Finally, enter a label that will identify the Couchpotato downloads. Again, let's just put Couchpotato.
Continue scrolling and, on your way down the page, make sure the switches next to Binsearch and NZBClub are on.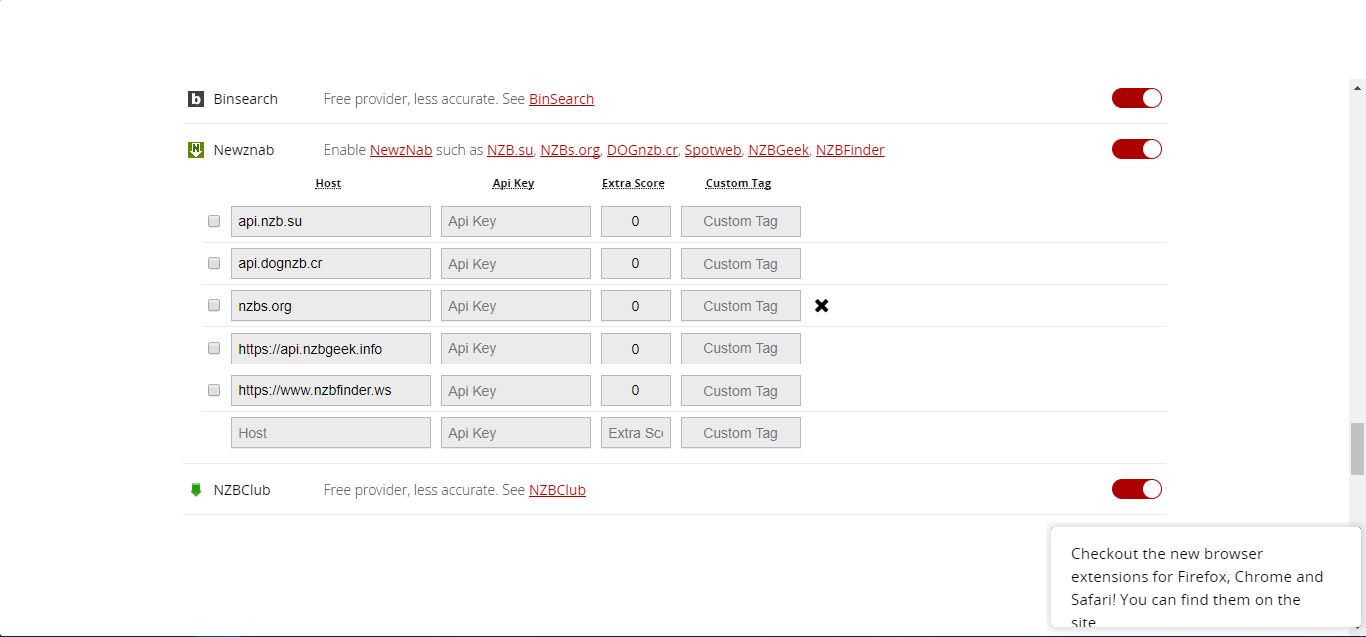 Now scroll all the way down and click "I'm ready to start the awesomeness!"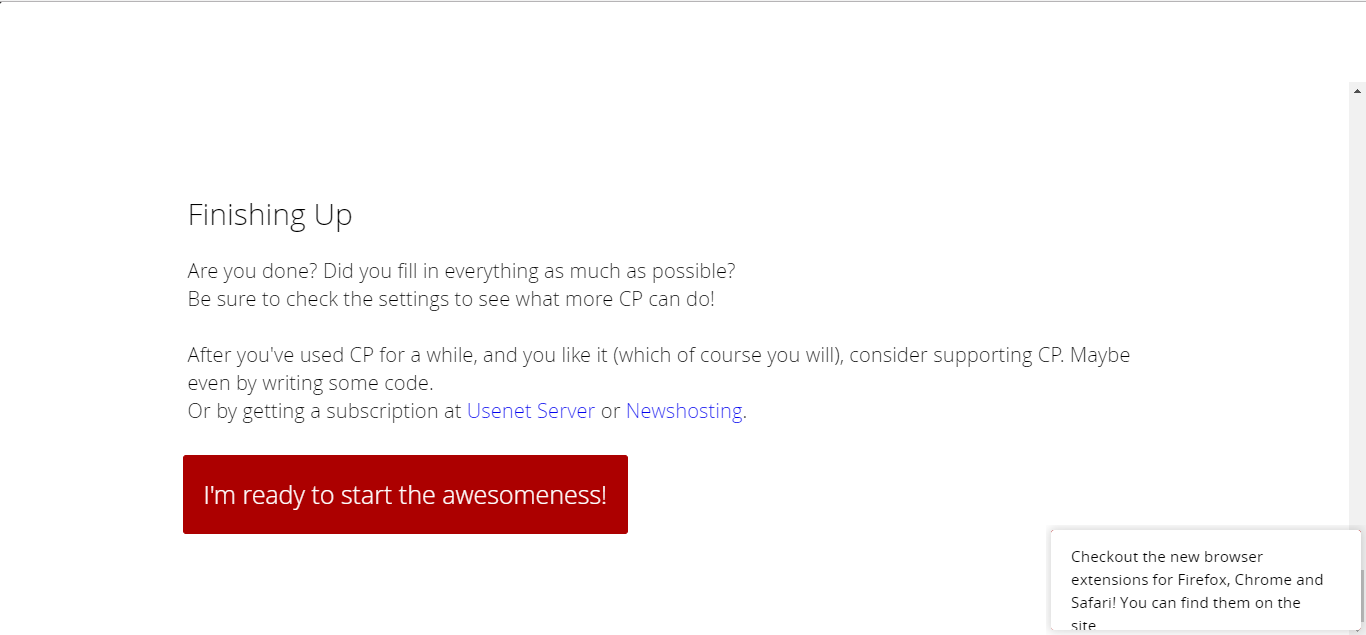 Remember that for Couchpotato to work, you need to leave SABnzbd and µTorrent running.
Before you start using Couchpotato, we suggest installing the Couchpotato browser extension. It will make adding files to your wanted list easier. There is one for Firefox, one for Chrome and one for Safari. How to do that differs from browser to browser but a simple search within the extension store for Couchpotato should quickly locate it. Then, it's just a matter of downloading and enabling it.
To connect the extension to Couchpotato, go back to your Couchpotato page and click the Couchpotato extension icon. A small list of instructions will open, just follows the directions.
DON'T FORGET: USE Newshosting– we have a special offer which is exclusive to Addictive Tips readers – $8.33/month with our discount.
Using Couchpotato
Adding Movies
Now that we've got Couchpotato installed, let's see how it actually works. The basic principle is rather simple: You tell it what movies you're looking for and it will periodically search the Usenet groups and torrent sites for the movie title you specified. When it finds a match, it will automatically download it. Let's see how you add a movie to your search list.
Go to the Couchpotato window and make sure you're on its homepage. Click the Home link on the left pane if you are not. To search for a movie, click on the box that says Search & add a mew media near the top of the screen. Just type the name of the movie you want to add into the box.
As you type, a list of suggestions will drop down. Find one that matches what you are looking for (look at the year to the right of the list as well) and click on it. The tile and movie year will be replaced by two drop-down lists. One has the exact movie title and the other has the quality.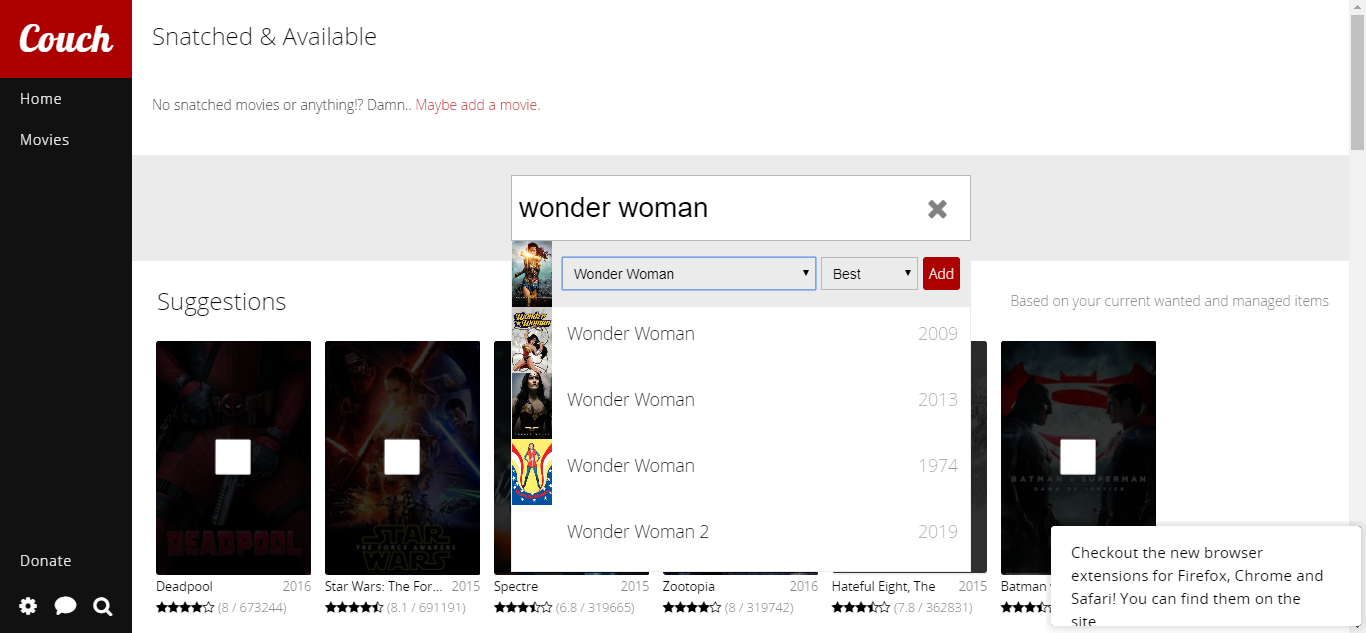 Make sure the title is the right one and, optionally, click Best to pick a different quality. There are several levels of quality you can specify from HD to cam. To get the best available quality just leave "best" to download the highest resolution version of the movie. Finally, click on Add. The movie will be added to your Wanted list.
If the movie is available right now, it will appear in your library. Click on Movies on the left pane and on Manage at the top of the window to see what movies are in your library.
Searching for Wanted Movies
If the movie is not available for download, it will appear in your wanted list. You can see the content of your wanted list by clicking Movies on the left pane then Wanted at the top. Couchpotato will periodically search the torrent sites and Usenet NZB indexes for your file. When it does locate it, it will call µTorrent or SABnzbd to start downloading the file. The files are downloaded to whatever location is configured in either µTorrent or SABnzbd.
Note that you don't have to leave the Couchpotato browser window open for it to work. It will continue working in the background even after you close your browser.
Another cool option is the renamer, which will take the downloaded files and rename them. You configure it via the Couchpotato settings by clicking the gear icon near the bottom left of the screen and choosing Settings. You then specify the renaming parameters by clicking Renamer at the left, switching it on at the far right and filling the appropriate information.
While you're in the settings, you might have a look around for other interesting adjustments. For instance, you could fine-tune the searcher, specifying what quality levels the app will search for and if it should wait for higher-quality files to become available.
Overall, there are many options you can configure to enhance your Couchpotato experience. In fact, there are far too many to talk about them all here! Try playing around with them and experiment to get the app working the way you want it.
Using the Browser Extension
Remember how we suggested you install the Couchpotato browser extension? Let's see how that works. It's made to work with the Internet Movie Database (IMDB) website. It might work with other sites but the documentation doesn't specify which.
So, from any IMDB movie page, you simply click the add-on button at the top of your browser screen. This brings up the extension's panel from the right side.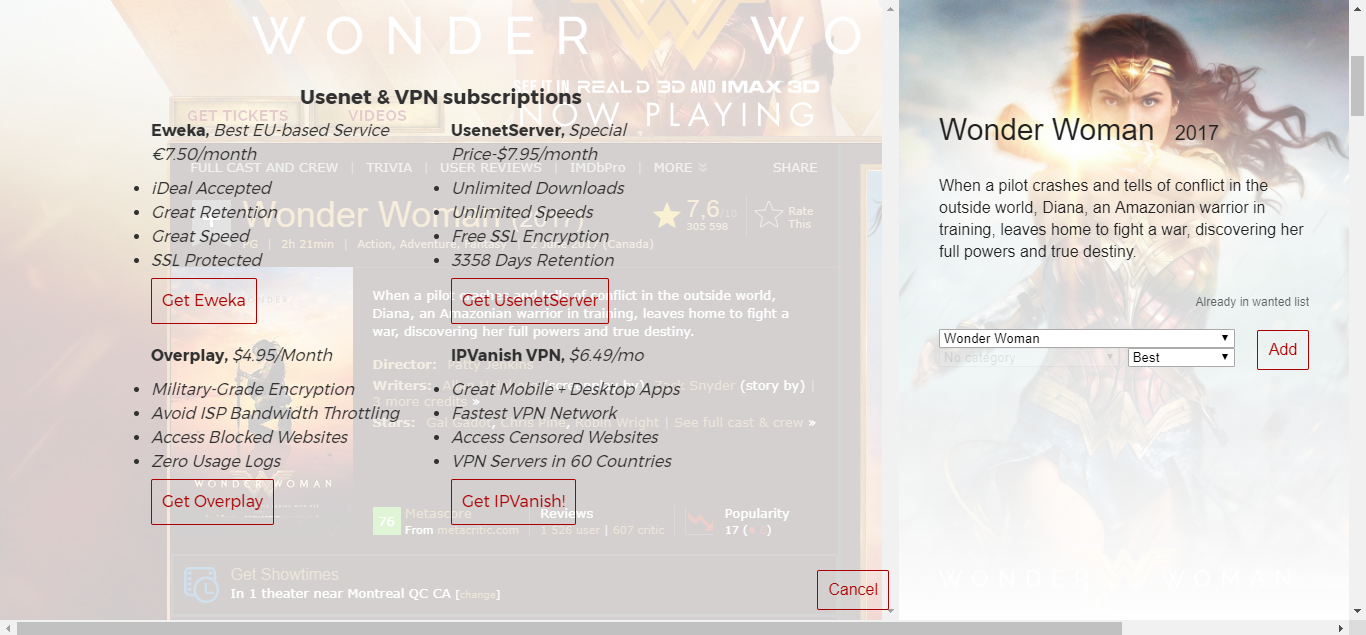 Just like with the Couchpotato search results, you can pick the exact title (if multiple titles exist) and select a specific quality level. To add the file to your wanted list, just click the Add button and voilà! The file is added to your wanted list and will automatically be downloaded as soon as Couchpotato finds it. Optionally, you may click the Cancel button at the bottom to get out of the extension without added the movie to your wanted list.
Conclusion
Although its installation might be a little complicated, Couchpotato is a great piece of software. It is particularly useful for well-organized people who plan ahead and want to ensure they don't miss out on any of their favorite movies. Not only that, it will also ensure you get your files as early as possible and in the quality that you want them. It sure beats running manual searches every now and then until you find what you're looking for.
Are you a Couchpotato user? What do you like and dislike about it? Have you had any issues installing, configuring or using it? We'd like to hear from you, so share your thoughts in the comments section below!