We are reader supported and may earn a commission when you buy through links on our site.
Learn more
PureVPN vs ExpressVPN: Who's the Best? Quick Review
We commonly recommend both PureVPN and ExpressVPN, but ultimately only one VPN provider will be the best for your needs. If you're having trouble deciding between the two, check out our quick but comprehensive review comparing these top-tier cybersecurity tools below.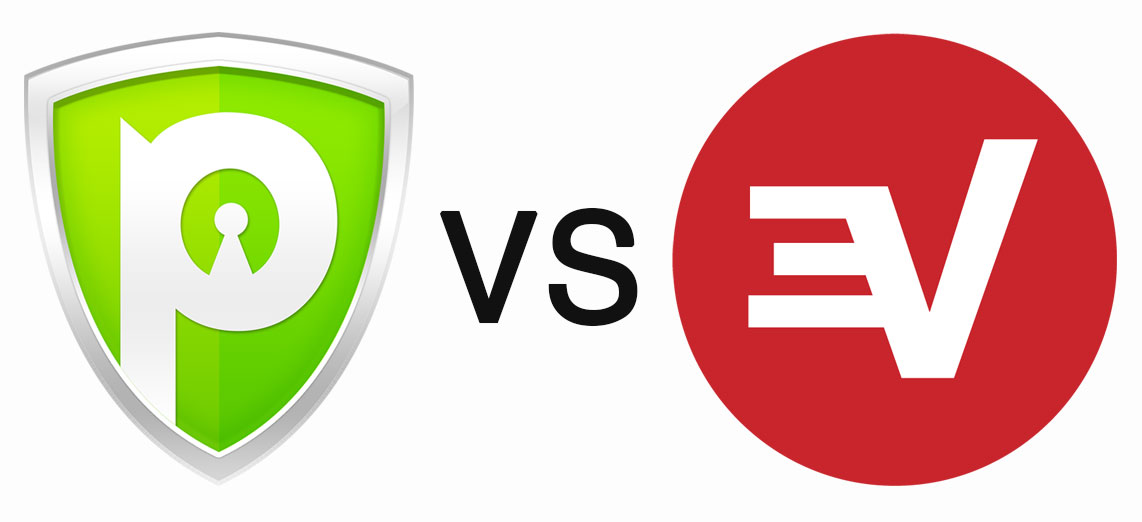 When you're looking for a VPN, you'll notice that there are hundreds if not thousands of VPN providers out there, all claiming that they can keep you safe and make your digital life more secure. So which provider should you choose?
We already warned you about the dangers of free VPN services as these services often make money by selling off data about their users, which is the opposite of what you want. So you know to stay away from those. But even within the reputable paid VPN sector, there are still many, many providers to choose from.
Two providers that you'll often see us recommend are PureVPN and ExpressVPN, both of which have all the essential features that you need from a VPN, plus some helpful extra features too. If you're wondering which of the two you should choose, then this article is for you. We're going to go through the key features of each VPN and compare them so that you can select the right VPN for your needs. Read on to see our full comparison of PureVPN vs ExpressVPN.
30-days money back guarantee
Reasons to use a VPN, in short
If you're wondering why you would need a VPN, then you should know that it's never been more important to keep yourself safe online. Using a VPN means that they data which you send over the internet is encrypted, so that no one can see what sites you visit, read the content of your messages, or see what files you download. Even law enforcement or your ISP won't be able to track you online, so your privacy can be assured.
As well as protecting your privacy, a VPN will also improve your security by protecting you from hackers on public wifi and allow you to access region locked content. This means that you can get around censorship or geolocks to browse the internet freely without any restrictions.
Both PureVPN and ExpressVPN will allow you to do all of these things, but they do have some different features beyond these basics. Let's look in depth at their features.
PureVPN vs ExpressVPN
When it comes to the essential features of a VPN, both PureVPN and ExpressVPN have you covered. They both use strong 256-bit military grade encryption to ensure that your data is safe and can't be decrypted by hackers. Both services will hide your IP address when you are online, and allow you to stay anonymous. If you want to use torrents or other peer to peer downloads, then both services will allow you to do so safely and anonymously. And both services have DNS leak protection and IPV6 leak protection to prevent any of your data or activities being viewable by your ISP.
Neither service has a bandwidth cap, so that means that you can browse or download as much as you want in a month without worrying about hitting a ceiling of allowed usage on your VPN. And both services allow multiple simultaneous connections so, for example, you can protect both your laptop and your phone at the same time with just one subscription.
However, there are differences between the two services. Let's look at each feature in turn:
Consideration #1 – Number Of Servers Available
When you choose a VPN, you'll want to look for one with a large number of servers that are available for you to connect to. More servers available means that you'll have a better chance of finding a server which is fast, reliable, and which meets your needs. You'll also want the option to have servers located in many different countries. This will allow you to get around region locks by browsing as if you were located in the same country as the server. The more countries in which servers are available, the more flexibility you'll have to get around region locks.
ExpressVPN has a massive server network that covers more than 3,000 servers in 94 different countries, including the US, Canada, UK, Netherlands, Sweden, Japan, Hong Kong, and Singapore. Unlike many other VPN providers, ExpressVPN also has servers available in countries in Africa like Kenya, South Africa, and Algeria which is good for people who live in relatively underserved African regions. There is a full list of available ExpressVPN servers on their website.
PureVPN also has a large server network, although not quite as big as ExpressVPN. The PureVPN network covers more than 2,000 servers in 180 locations in 140 countries. Although the overall number of servers is lower than ExpressVPN, the variety of countries covered is higher, and includes countries which don't often have VPN servers available like Papua New Guinea, Armenia, Bangladesh, Brunei, Cambodia, Kazakhstan, Mongolia, Senegal, Tanzania, and Ghana as well as the locations you would expect like the US, Canada, Germany, the UK, Australia, Hong Kong, and China. This makes PureVPN perfect for globe trotters who want to have many options for countries they can connect to. See a full list of the available servers here.
This aspect is a draw between the two services – ExpressVPN has a larger number of servers to make it easier to find one you need, while PureVPN covers a larger number of countries for the best possible flexibility.
Consideration #2 – Fast Connection Speeds
When you use a VPN, the data from your device has to be routed through a server in an extra step before being sent on to the website you are visiting. Therefore, using a VPN will inevitably results in a slight loss of internet connection speed. However, a good VPN will have connections so fast that you barely even notice that they are there.
ExpressVPN is known for being super fast, true to its name, and our testing has found this to be accurate. The connections available on ExpressVPN servers are some of the fastest we've experienced, so you can download large files at super high speeds.
PureVPN advertises its fast speeds, and the connections are fine for everyday activities like streaming high definition video. There is also a speed test feature to help you find the fastest server. However, even using the speed test, the connections are not as fast as ExpressVPN.
In this round, ExpressVPN was the clear winner due to its superior speeds.
Consideration #3 – Privacy
A big issue for VPN users is privacy. A VPN should protect your privacy as much as possible – and part of this protection of privacy should be your VPN not keeping any logs of your activities. ExpressVPN has a great reputation for this, and they have a strict no logging policy. In fact, even when the police in Turkey seized one of the ExpressVPN servers there recently, they found no usable data about customers on the server. This is just what VPN users want to hear.
PureVPN is a bit more tricky. They do have a policy that prohibits logging of the sites that users visit or the apps that they use. However, they do log information about the connection you set up (such as the time at which you connect) and the bandwidth that you use. This issue came to light recently when it was announced that a cyberstalker had been prosecuted even though he was using PureVPN, as the FBI were able to compel his VPN records and track his online behaviour. How you feel about this is a personal matter – lots of VPN users say that logs of any kind should never be kept, and that PureVPN failed their customer by keeping these logs and handing them over to the FBI. But others argue that stalking is a serious enough crime that people should not be protected when they engage in this kind of destructive and violent behaviour.
However you feel about protections for criminal activity, we have to agree that ExpressVPN has the superior privacy policies to PureVPN.
Consideration #4 – Works With Netflix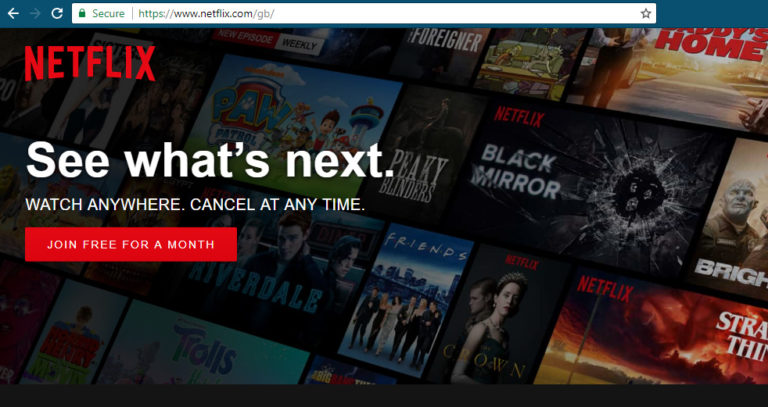 You might want to use your VPN to access geo locked content – that is, content which is only available from certain locations. If you want to watch videos on the BBC iPlayer website, for example, you need to access the site from the UK. If you try to access videos from any other location, you'll get an error message. But a VPN lets you get around these restrictions by using a server in another country – in this case, in the UK – to access the site. Many users want to get around these geo locks on Netflix in particular. The catalogue of available content on Netflix differs by country, so there's much more content available in some places like the US than there is in places like India.
If you try to access Netflix with a VPN, you'll find that many VPNs don't work with Netflix due to their VPN detection software. However, there are still some VPNs that work with Netflix. ExpressVPN is one of the best and most consistent VPNs at accessing Netflix, and you can see a guide to using Netflix with ExpressVPN here.
PureVPN is a more mixed experience. Although the company does say that the service can be used to access Netflix, in practice this is quite limited. You have to use the browser extensions for PureVPN instead of the desktop software to access Netflix, and the only country you can reliably access is Netflix US. Some users report that they have been able to access Netflix UK and Netflix France as well. However, it isn't nearly as reliable as ExpressVPN which lets you access Netflix from any country where they have a server.
In terms of this feature, Netflix users will have a better experience with ExpressVPN than with PureVPN.
Consideration #5 – Easy To Use Software
Both ExpressVPN and PureVPN have software available which you run on your device to connect to the VPN. And fortunately for new users, both pieces of software are simple to use and have a simple graphical user interface. You don't need any technical knowledge to use either piece of software.
The ExpressVPN software has intuitive icons like a large round button on the main screen which you use to connect to your VPN. From this screen you can also access features for quick connecting to an automatically chosen smart location or for choosing a server in a particular location. There are more features like a kill switch, a DNS leak test, a speed test, and an IP address checked to help you feel confident in the security of your VPN connection.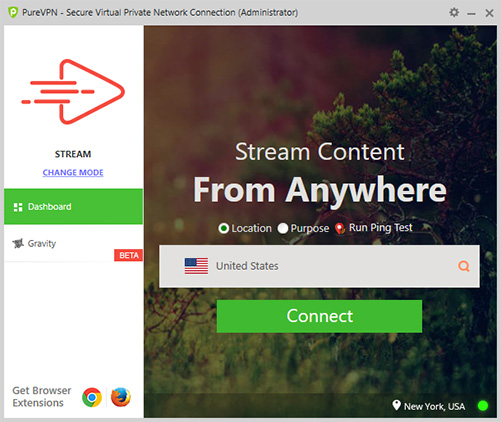 The PureVPN software has a similar graphical approach, letting you choose from modes like streaming, file sharing, or security/privacy to automatically select a server and adapt the VPN settings to your needs. If you haven't used a VPN before and you want a simple way to set up a VPN connection for your particular need then you will appreciate this simple approach. There are also options in PureVPN for further security services like malware protection, ad blocking, and intrusion protection which you can enable to beef up your security.
Both pieces of software are easy to use, even for beginners, but PureVPN has more features that will appeal to users who want a simple, set it and forget it approach to online security.
Consideration #6 – Different Platforms Supported
With your VPN subscription you'll be able to protect all of your devices which go online – including your phone, tablet, PC, Mac, and even some games consoles and smart TVs. As long as your VPN provider has software available for your device's platform you'll be able to secure it online.
ExpressVPN supports a truly impressive number of platforms, with the basics like Windows, Android, iOS, Mac, and Linux, plus some routers, games consoles like Playstation and Xbox, and other devices like AppleTV and Amazon FireTV. The app is essentially identical on each platform, making it very easy to use.
PureVPN has support for Windows, Mac, Android, Android TV, iOS, Firestick, and some routers. This is a solid range of options too.
ExpressVPN just about pips the win in this category thanks to its support for games consoles which PureVPN does not support.
Consideration #7 – Browser Extensions Available
Another handy way to use your VPN is through a browser extension. This allows you to connect and disconnect from your VPN from right within your web browser, so you don't need to open up the software when you want to connect.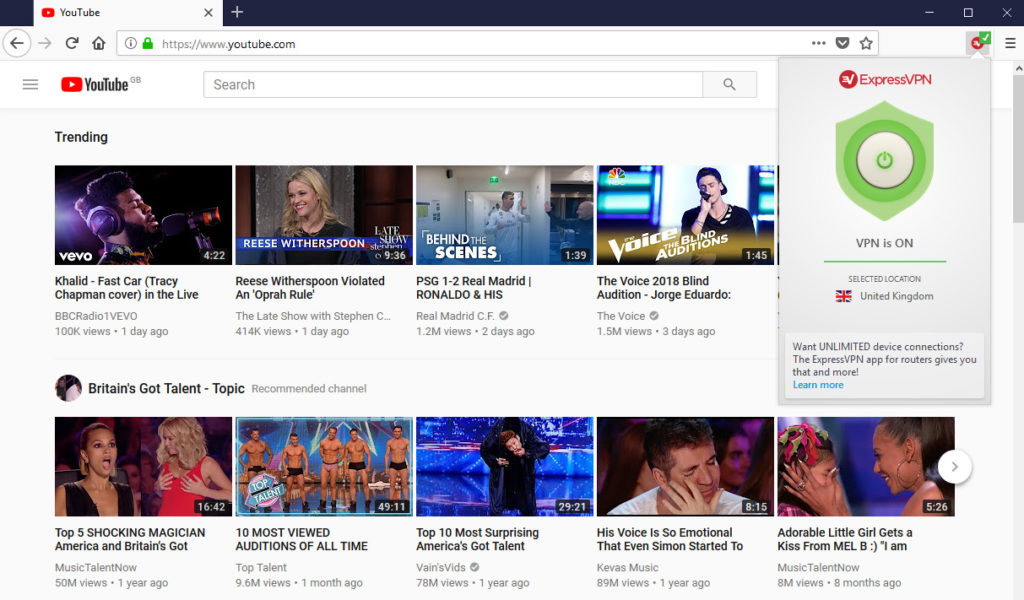 ExpressVPN has extensions available for three different browsers: Google Chrome, Mozilla Firefox, and Apple Safari browser. You can clearly see from the icon in the toolbar when you are connected, and you can choose a server in any country to connect to.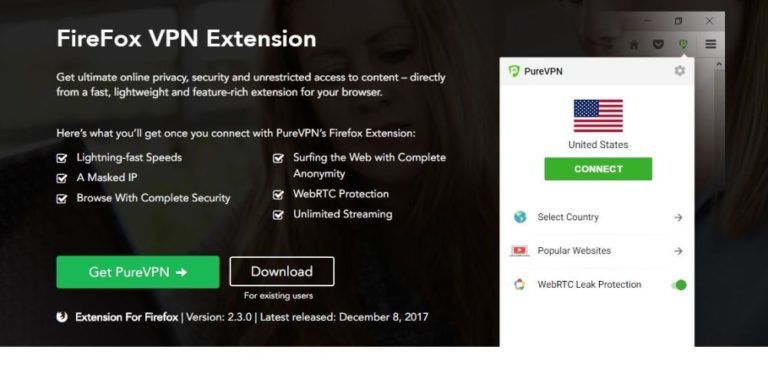 PureVPN also has browser extensions for Firefox and Chrome, and the extension is even easier to use. You can either choose to connect to a particular country, or you can choose optimised servers to connect to a particular website. For example, there's a Netflix US option that you can select to connect you to a server that will work to access Netflix US. Other sites available include YouTube US, Amazon Prime US and UK, BBC iPlayer, and Spotify US. This is really convenient for users who just want to access these streaming sites with minimal hassle.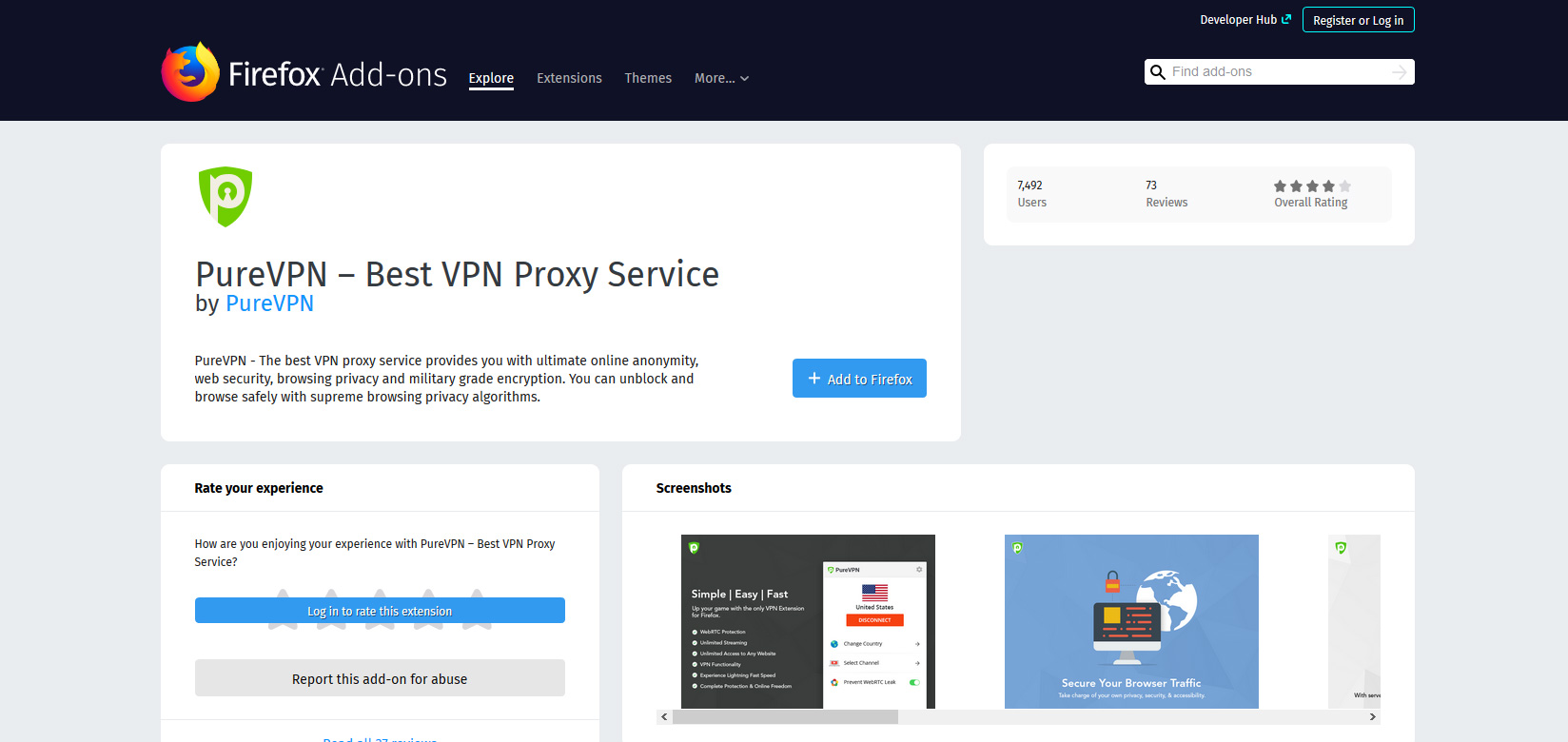 This aspect is a draw between the two services, as ExpressVPN supports more browsers but the PureVPN website select feature is very handy.
Final Call – Which Is Best?
Overall, you can see that the two services differ in their approaches. ExpressVPN has better security and privacy protections and is more flexibility, as it can be used on sites like Netflix, and it has faster servers. ExpressVPN is the best choice for users who want no restrictions and to be able to access any content that they need. On the other hand, PureVPN does have features like included malware protection and ad blocking, and the software is easier for a beginner to use. PureVPN might suit a user who wants a VPN that is dead simple and requires no technical knowledge to set up.
Special Offers
If you want to try using either ExpressVPN or PureVPN yourself, then we have special offers available on the subscriptions: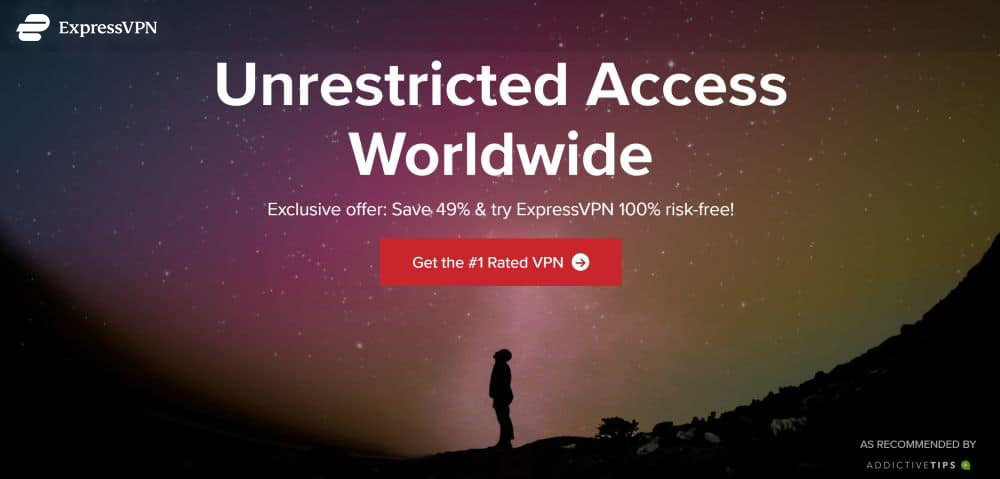 ExpressVPN is a well known and respected name in the VPN space due to its super fast connections, high level of security, and flexible software that can be installed on many devices. The key security features are the use of strong 256-bit encryption and the strict no logging policy which protects you and keeps you safe. There are more security options like a kill switch, DNS leak protection, and an IP address checker available too.
The massive server network covers more than 3,000 servers in 160 locations in 94 different countries, and the software can be installed Windows, Mac OS, Linux, and Android, and more, and there are browser extensions for Google Chrome, Mozilla Firefox, and Apple Safari.
Read our full ExpressVPN review.
Pros
Unblocks US Netflix, BBC iPlayer and other streaming services
Fast serves with minimal speed loss
OpenVPN, IPSec & IKEv2 Encryption
No personal information logs kept
24/7 Chat Support.
Cons
High cost for month-to-month users.
PureVPN is a service that includes a host of extra security features as well as the VPN. The VPN uses strong 256-bit encryption and they have a policy against logging the sites that their users visit. The reasonably sized server network of more than 750 servers spans an impressive 180 countries so you can access content from all over the world.
Extra features included in the subscription are anti virus and anti malware protection, plus an anti spam filter to keep your email inbox clean. There are options for DDoS protection, a kill switch, dedicated IP, and a NAT firewall, and there's an app filtering system to only filter the data of some apps through the VPN. The software is available for Windows, Mac OS, Android, iOS, and Android TV devices, plus browser extensions for the Chrome and Firefox browsers.
Read our full PureVPN review.
Conclusion
Both ExpressVPN and PureVPN have all the key features that you'd look for in a VPN. But overall, we think that ExpressVPN is the best choice for most users thanks to its high level of security and good flexibility. PureVPN could be a choice for new VPN users who want something simple to use, but their issue with logging some information about their users has put off some users.
Do you have experience using either of these two VPNs? Which do you prefer? Let us know your preferences in the comments below.