How to enable and use Microsoft Teams integrations
Microsoft Teams works with lots of Microsoft 365 apps and a handful of other Microsoft products that aren't normally included in the productivity suite of apps. It isn't limited to Microsoft's products though. Microsoft Teams works with a long, and noteworthy list of other apps that can be added as integrated apps to any Microsoft Teams team.
Microsoft Teams integrations
Microsoft Teams integrations are third-party apps that have developed add-ons or plugins that can be connected to the app. The list of available apps will differ based on the type of Microsoft Teams license that you have but you will still have a fairly diverse list of apps to choose from.
Add Microsoft Teams integrations
To enable integrations in Microsoft Teams, follow these steps.
Open Microsoft Teams.
Click Apps at the bottom of the column on the left.
On the Apps screen, search for or select an app to add.
Select a team or a tab to add the app to.
Click Save and the app will be added.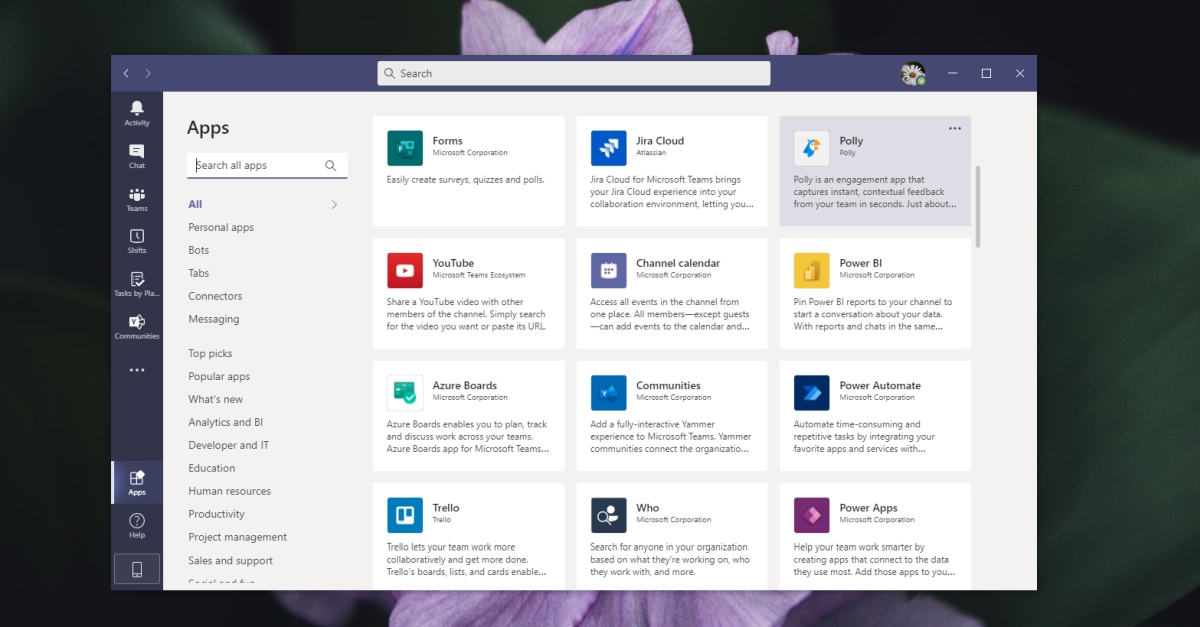 Types of Microsoft Teams integrations
Microsoft Teams integrations aren't all apps like the Shifts app. They differ from how they're used and how they appear in the Microsoft Teams app. The integrations are divided into the following types. They may overlap e.g., you can add OneNote as an app and as a tab to a channel.
Tabs: A tab integration is added as a tab to a channel. When you add it, you will be asked to select a channel in a team to add it to. You will also have the option to announce the addition of the new tab to everyone in the channel. A 'Tabs' app can also be added directly from a channel.
Connectors: These types of integrations deliver content e.g., an RSS feed reader. It is added to a channel but not as a tab. Instead, it will post content to the channel regularly e.g., each time there is something new in a feed, it will be shared to a channel. It is best to add a connector to its own channel or to one that isn't used for important updates.
Bots: These are integrations that can collect or deliver information automatically. One popular bot is Microsoft Forms which can be added as a tab and can run polls.
Apps: An app works with an entire team and can normally be added as a tab to the channel. Tasks is an example of an app that you can add as a stand-alone app to keep track of your own to-do list and you can use the planner that comes with it to assign tasks to teams from a channel.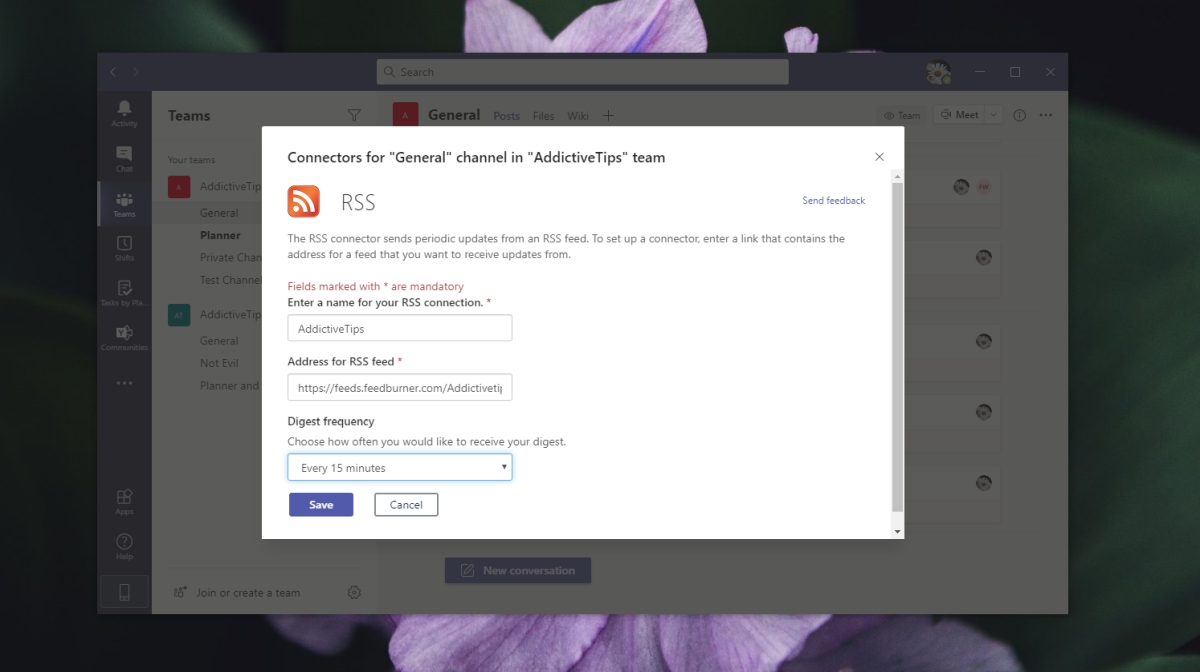 Conclusion
Apps are simple to add but if you're using an enterprise license, your team's admin can choose to block or remove apps. Some apps can be pinned while others cannot. This is a setting that is controlled by the Microsoft Teams admin or the Microsoft 365 admin. If you're unable to find an app, get in touch with the admin for your team.