Auto-Detect & Add RSS Feeds From Websites To Protopage In Chrome
Google Reader wasn't just a feed aggregator; it was a service that apps and feed burners integrated into their own products. You could add a feed to Reader in just two clicks and there was rarely a need to manually subscribe to links. There are now quite a few emerging services that can be viable Google Reader alternatives but it will take time for app developers to decide which one they want to favor. Till then, we might no longer be adding feeds with just two clicks. Protopage RSS Reader is a Chrome extension for the Protopage service that automatically detects and adds feeds to your Protopage account. The service provides you with feed widgets that can you can manage and read on your profile page on the service.
Since Protopage RSS Reader works with the web service, you will have to sign up for a free account. It comes bundled with a few pre-added feeds that can easily be deleted. Once you've signed up for an account and installed the extension, head over any website that you would like to subscribe to. Click the asterisk like button next to the URL bar and it will detect all RSS feed links on the page. An RSS icon appears on the button whenever it detects a feed link on the page. The page must finish loading first in order for the extension to detect the link.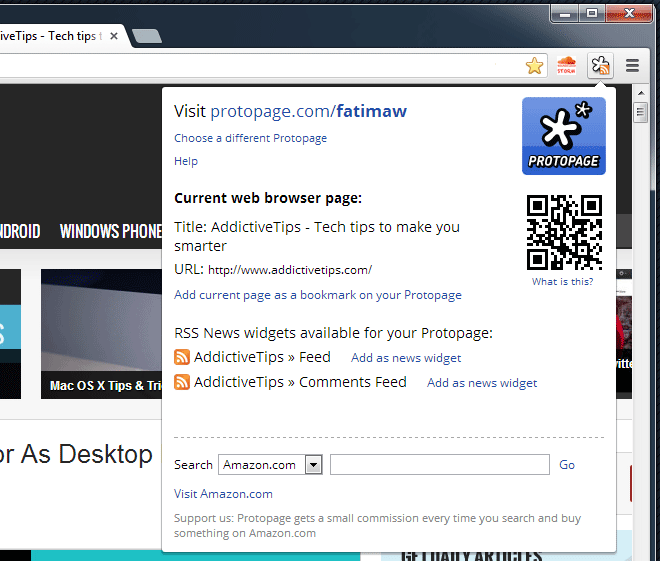 Protopage RSS Reader can detect different feed streams and allows you to add them selectively. To read your feeds, you will have to visit your Protopage profile. Protopage presents feeds as 'widgets', and several streams can be added to a single widget. For example, we were able to add AddictiveTips' posts feed, comments feed, and Twitter feed all to the same widget. Protopage lacks folders but allows you to group feeds into tabs to achieve the same purpose of organizing your similar feeds together.
The extension is unique as far as RSS services go since hardly any of them auto detect feeds like that. Protopage RSS Reader also has  search feature for Amazon integrated in the popup that detects and adds feeds, but it might have been better to replace it with a more useful function like the button showing the number of unread or new items. The popup itself would do better to display recent items in the feeds instead of the search field. The search field should at the very least be expanded to include more search engines instead of just supporting Amazon.
Install Protopage RSS Reader From Chrome Web Store