Create A To-Do List And View Day, Month, & Year Time Progression [Chrome]
It's a new year, and no doubt everyone is starting out on a positive note. New Year's resolutions should still be fresh and the usual suspects are going to be on the list; be a better person, eat healthy, exercise more, finally catch up on my email. Where many personal goals are being considered for new year resolutions, people are going to be hunting for big and small ways to make accomplishing goals easier. One simple way is of course a to-do list and if you use Chrome, Prioritab is an extension that might be just right for the occasion. It lets you add tasks and create a to-do list. Obviously there is nothing remarkable about that but the extension takes over your New Tab page. Each time you open a new tab, you will see how much of the day, the month, and the year as already passed and that is meant to serve as a kick in the pants to get to work Below this ticking time clock your tasks are listed so you know what needs to be done.
Install Prioritab and visit the New Tab page. You'll be shown the current time in a live clock, with the date. The tab will also indicate how much of the current day, the current month, and the year are now over.
Below this are three columns for adding tasks to; Today, This Week, and This Month. Click the 'Edit' button to add a task. You can drag and drop tasks one over the other to manage the order they appear in. Unfortunately, you can move a task between columns which means if you planned on getting something done that day, you're either going to have commit to that, or you'll have to delete the task from the 'Today' column, and add it fresh to the 'This Week' or 'This Month' column.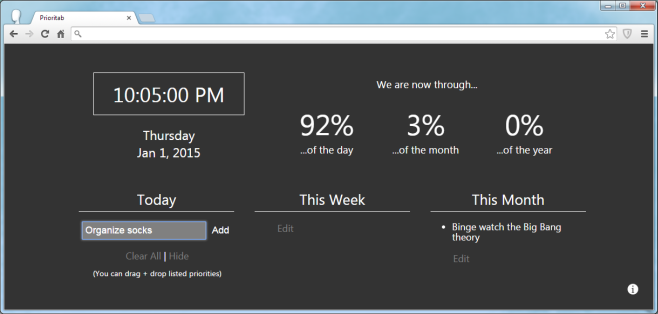 Prioritab is very basic and it's not likely to be useful for short term goals like the daily ones. It might serve more as a tool to monitor deadlines. The Week and Month lists are definitely more useful. Like with most extensions that take over the New Tab page, Prioritab also comes with the same disadvantage i.e. you no longer having access to the speed dial feature.
Install Prioritab From The Chrome Web Store