How To Enable The New Gmail Design
Gmail has a new design and it's rolling out slowly to users. The new design brings with it lots of new features, some that are available now, and others that will be rolled out in the coming few days or weeks. One highlight feature that's been added in the new Gmail design is Smart Replies. Smart Replies were added to the Gmail apps for iOS and Android early last year. Other features include a snooze button, and hover actions. If you can't wait for the design to roll out for your account, you can opt-in and enable the new Gmail design.
The new Gmail design is bringing a lot of features from Google's Inbox to regular Gmail. The UI has new icons and a few new buttons, and there's some more color to it which makes it visually easier to manage email but it doesn't look like Inbox. It's still Gmail but Smart Replies and snooze have been ported over.
Enable The New Gmail Design
Open Gmail in your browser. Click the cog wheel icon at the top right, just below your profile picture thumbnail. The menu will have a 'Try the new Gmail' option. Click it to switch to the new Gmail design.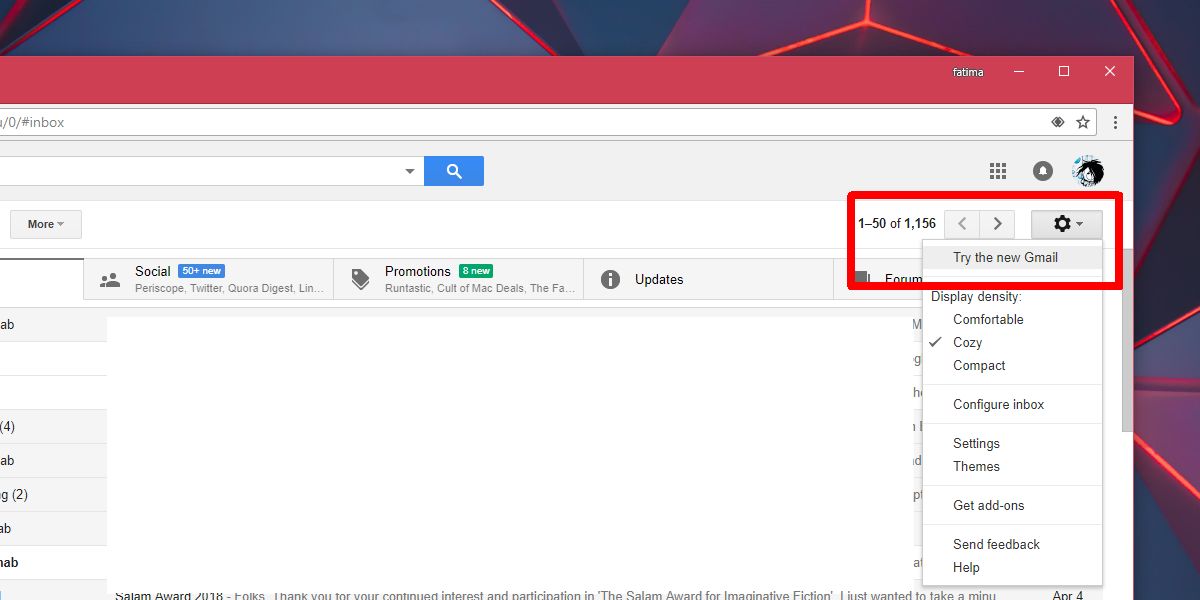 This option may not be available in all countries, and for all accounts. From the few accounts we tried this on, it seems Gmail business accounts do not have the option to opt into the new Gmail design. Gmail accounts appear to have it though we're not sure about which countries the option will be available in.
You can try using a VPN to fake your location and see if that forces the option to appear but Google might be restricting it on an account basis as well as location basis.
It's not clear when Google will roll out the new design to everyone but it can take a few months. Even with the new design, a few of the features that were announced with the new Gmail design will not roll out. This includes the new Confidential mode for sending emails, and nudging.
The new features in Gmail, once they all roll out, are going to put a few extensions out of business. There are extensions that let you pause emails in Gmail, and the snooze and nudge feature will make it so that they're no longer needed. The Boomerang extension for Gmail still doesn't have a rival even with all the new features. It seems Gmail doesn't think an easy way to schedule sending emails is necessary.