Evernote Web Clipper For Chrome Gets Revamped UI, New Clipping Options & Sharing
If you're an avid user of Evernote's Web Clipper app, today brings some exciting news for you, as the company has unveiled a bunch of handy new features for its Chrome extension. Besides two brand new clipping options called Simplified Article and Bookmark, there's now a freshly designed UI that feels more intuitive than ever before, and instantly pops up on the right side when you click the extension's button. Appearance aside, Evernote has also now implemented an integrated share function for easily sharing your clips over social media, as well as ability to take screenshots and annotate them right away. Read on for our in-depth review.
For those who haven't used Evernote's Web Clipper, the extension acts an ad-on for Evernote and allows users to clip notes and webpage snippets, syncing them straight to their Evernote account. Coming back to the update, the UI looks really nice and pops up as a sidebar on the right when you click the Elephant icon. The interface is split into three sections: Clip, Markup and File, along with a new Share button at the bottom.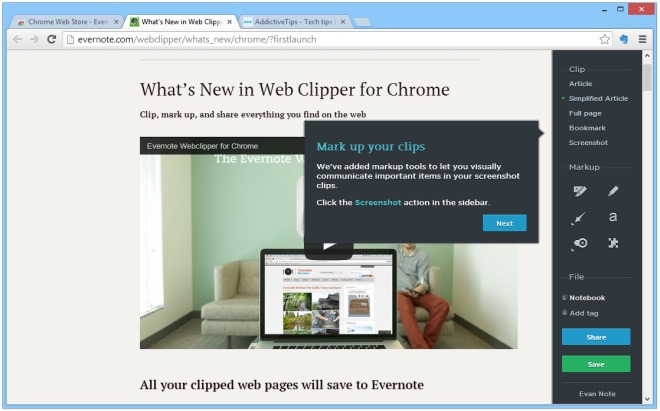 Simplified Article is something that instantly got me excited, as I don't really like my saved clips to be full of distractions. Once clicked, Web Clipper instantly does its magic and trims any ads, share bars, ads, javascript snippets and other embedded components off the page to present a really clean and content-focused view. This is similar to the results achieved by using Readability, Pocket, Instapaper etc.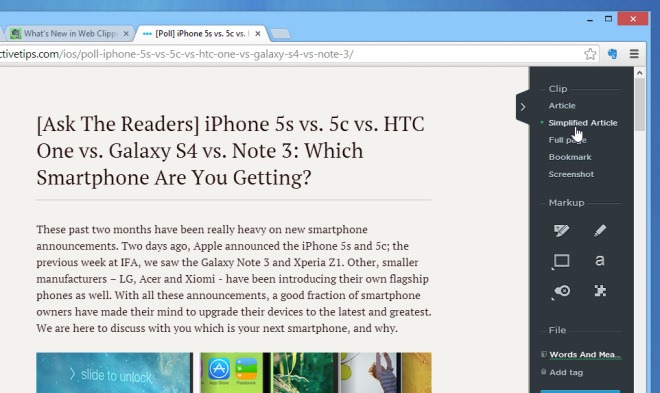 Then there's the Bookmark option, which is also quite handy if you constantly feel the need to save pages to your notes complete with their URLs. Just click Bookmark, and Web Clipper will squeeze a snippet of the page's content to you, along with its link on top and an image preview on the left. Click Save, and the page will be bookmarked like that in your notes.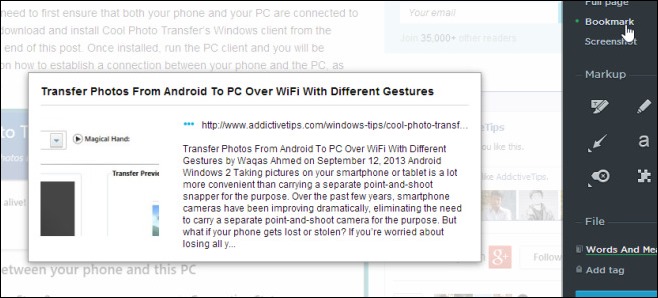 Evernote has also integrated screenshot and annotations features into Web Clipper, which were previously found in the company's Skitch app. This options enables you to instantly take screenshots, annotate them within your web browser using various markup tools, and have them synced and available across all your devices straight away. The Markup applet houses various types of annotation tools and also lets you select among a handful of colors for the tool you've selected.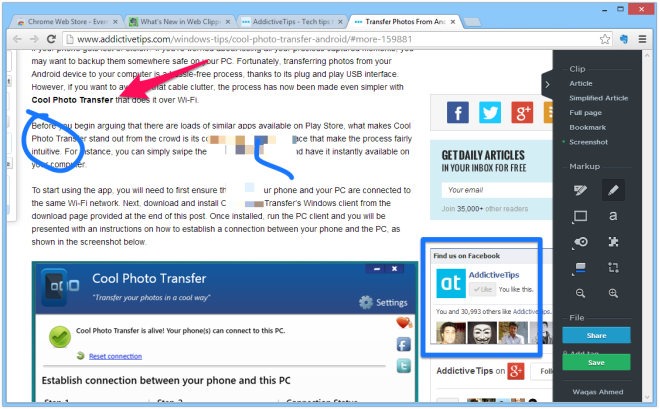 Last but not the least, the update brings full social media sharing functionality, which means you can now share your clips and snippets with your friends over Facebook, Twitter, LinkedIn, email etc. Clicking Share also copies the URL to the clipboard automatically, allowing you to easily paste it into your desired location.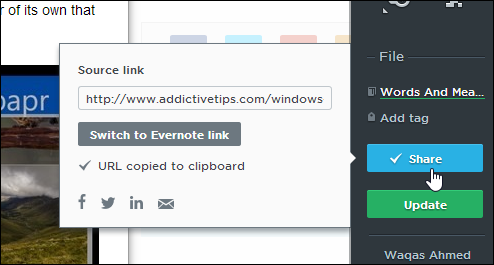 All in all, Evernote has done a great job at taking the Web Clipper many steps further. The extension is currently available only for Google Chrome, and you can download it to your browser via the link below. Happy clipping!
Install Web Clipper from Chrome Web Store