A Look At What's New In Firefox 16
Firefox 16 is scheduled for release tomorrow to the Stable channel and the current version on the Beta channel is very likely the one that will graduate to stable version (with a few under the hood changes). There aren't any major updates to speak of, and most Firefox users are probably waiting for version 18 with the new Australis theme to debut. Still, there are a few minor changes for users and one significant change for Developers. Native support for PDFs (introduced in Firefox 15 Beta) that did not make it to the Stable version and wasn't working at all when we tested it, appears to be responding now in Firefox 16. You will still have to enable it from about:config configuration page by searching for the pdfjs.disabled option and setting it to False. In hopes that this will at least show up in the final release notes, other features to look forward to include a new developer toolbar, VoiceOver support in OS X, Web App support and Incremental Garbage Collection.

New Developer Toolbar
This new toolbar, accessible from Tools>Web Developer>Developer Toolbar or using the Shift+F2 shortcut, lets you access the Web Console, Inspector and Debugger. Additionally, the toolbar itself supports a number of commands. The list is limited just now and supports some functions like taking screenshots, open HTML snapshot of a page, and highlight the cookies on a particular site. The commands are going to take some time to understand, but if you want to try one out for yourself, type in screenshot heading.png 0 false h1 to capture a screenshot of the header. Press F1 to see more commands. The commands aren't for development, rather, they are meant to help control and manage the developer tools.

VoiceOver Enabled For OS X
The VoiceOver utility in OS X, if running, will be enabled by default in Firefox 16. It should now be functional when you launch the browser, though according to the official community, there are still some bugs to iron out and it isn't nearly as good as the VoiceOver support in Safari.
Web App Support
Firefox 16 comes with support for Web Apps. Chrome, as a browser, offers much better support for web apps and this is the first time it's been added by Mozilla. It's going to get better over time and for now, you can start using some of the apps that are available in the Mozilla app directory. The directory can only be accessed if you're using Firefox 16. An installed app appears as a shortcut on your desktop, but not all apps are full functional. Some failed to install during testing, so this is still a work in progress.  With the arrival of apps users will be able to sync data more easily across multiple devices.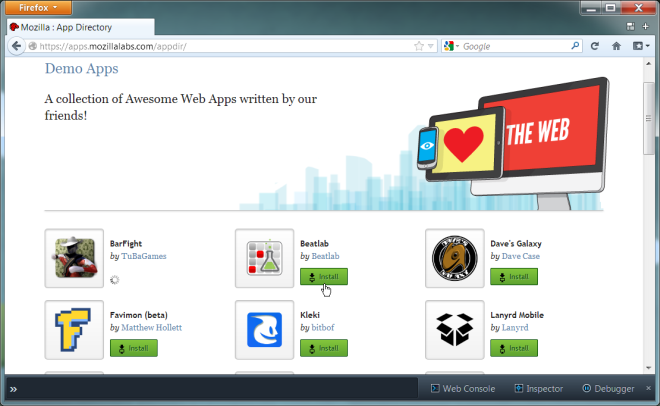 Incremental Garbage Collection
The Incremental Garbage Collection will speed up your browser in general. What the feature does is recycle/reuse memory that a JavaScript program is no longer using. For websites or web apps that use JavaScript, this means faster and better response from the Mouse among other things. The lag is often very noticeable causing the browser to slow down. You can test it out yourself with this tool developed by Mozilla. When compared between Firefox 15 and Firefox 16, the difference was huge; for every second cycle, there was at least a 400ms+ time delay in Firefox 15 while in Firefox 16, it rarely went above 50ms but was contained to less than 100ms.
Dropping Support For Snow Leopard
This isn't so much a feature as it is just a news, possibly sad news for people still using Snow Leopard, but Firefox 16 will be the last version that will be compatible with Snow Leopard. The versions to come which include Firefox 18 and its Australis theme will not run on this version of OS X.
In addition to the above features, Firefox 16 also comes with Per Tab Reporting in about:memory which will allow you to see the memory consumption by each tab. If you're eager to try out Firefox 16, you can get it in the Beta channel or, wait one more day and download it once it's released to the Stable channel. For more, check out the the release notes for Firefox 16 Beta.