Generate Detailed Graphical Analysis For All Your Chrome Bookmarks
Often, while browsing the web, we tend to quickly bookmark multiple websites without organizing or giving them meaningful names. This cannot only clutter your Bookmarks Bar and folders, but can also be very difficult to organize these at a later time. In such a scenario, you won't normally be able to get an idea of the nature of content that is stored for later in your favorites, or the origin of most of them. This is where Gleana Bookmark Infographic comes in useful. This nifty Chrome extension quickly generates an infographic-style visual report for your browser bookmarks, letting you view various aspects of your collection, such as folder structures, largest folders, deepest folders, top domains, total number of folders, bookmarks and more. It does this by displaying bookmark statistics in bar charts, line graphs and mind maps. Gleana seamlessly integrates with Chrome, letting you view, access and arrange bookmarks in a unique and interesting way.
After you've installed the extension, simply click the button in the toolbar, and Inforgraphics for your bookmarks will automatically be generated and displayed in a new tab. Here, you will be able to get an analysis for all your favorites by various criteria, such as Bookmarks added by day of week and Bookmark added by month etc.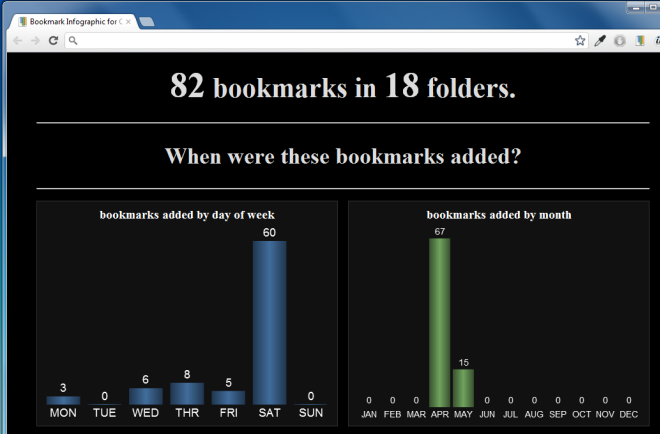 As you scroll down the page, you will be able to view a graph for Growth over time. Note that each band in this graph represents a single folder.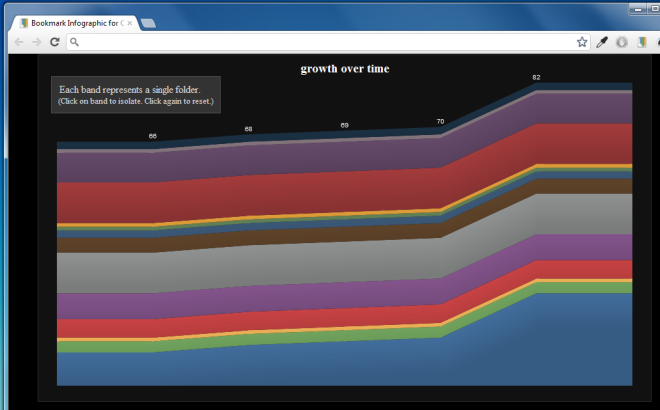 Next, you will be able to check statistics for the most active days, longest gap (when no bookmarks were added), bookmarks per day and more. You will also be able to view top domains and bookmarks by host graphs as well.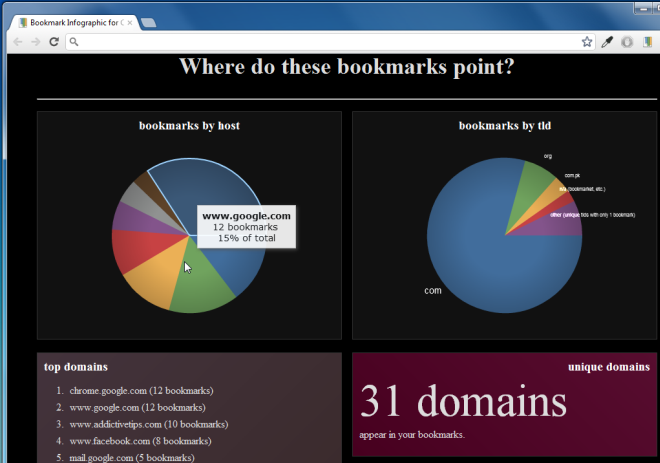 At the end of the page, a mind-map representation of your bookmarks is relayed, where each oval represents one of your bookmark folders, and the size indicates the number of bookmarks that it contains.
Note that the extension neither records nor stores any information related to your bookmarks, or attempts to navigate to any of the target URLs. Gleana scans your bookmark data, creates graphs, and then forgets about these as soon as the tab is closed. It can be especially useful for people who work with a lot of bookmarks and would like to view them in colorful graphical representations, so that they can manage them in an easier manner.
Install Gleana Bookmark Infographic For Google Chrome