Get A Universal Google Services Menu In Chrome & Remove The Black Bar
For a lot of users, Google is the internet, and that makes perfect sense; why go anywhere else if your local store is better than the competition? I know it sounds a bit hyperbolic to say this, but Google makes some of the best apps, products and services around. How it enables users to access them is quite another matter altogether; most of us aren't particularly inclined towards the black bar that runs across the top of Google's homescreen, since it's limited and non-customizable. Let me introduce you to the brilliant Black Menu, a Chrome extension that places all of Google's most popular apps and services together in a simple, customizable panel, bringing everything you need within single-click radius. If the internet ever had a start button, it'd be this. The developer is also offering Black Bar Removal extension to get rid of the black Google bar that you will no longer need with Black Menu.
In case you have added many quick access buttons for Google's services to your URL bar, you can remove all of them now, as Black Menu gathers all the most popular Google apps and services in one stylish panel – click the extension's icon to see for yourself! By default, you have Search, Google+, Translate, Maps, Play, YouTube, News, Gmail, Drive and Calendar in descending order.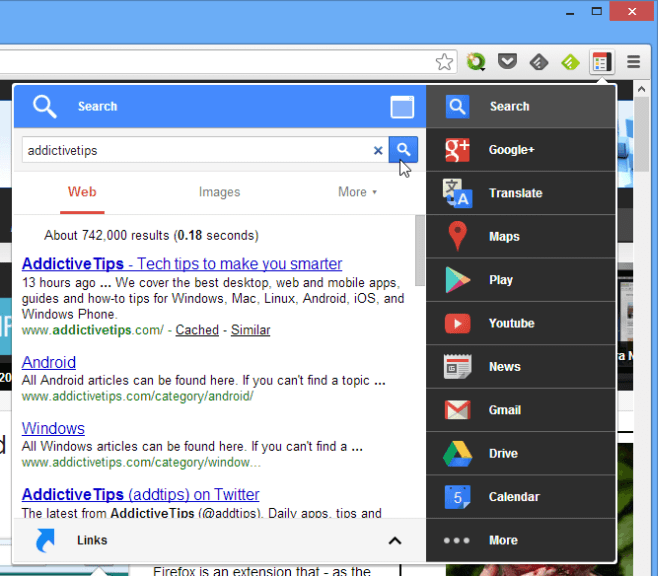 You can search for and display search results right in the display panel; a square button in the blue 'Search' header above will open this panel in a new window. The tabs in the menu to the right can be shuffled around by drag and drop. Clicking an individual tab, say 'Translate', will open the service in a new browser tab.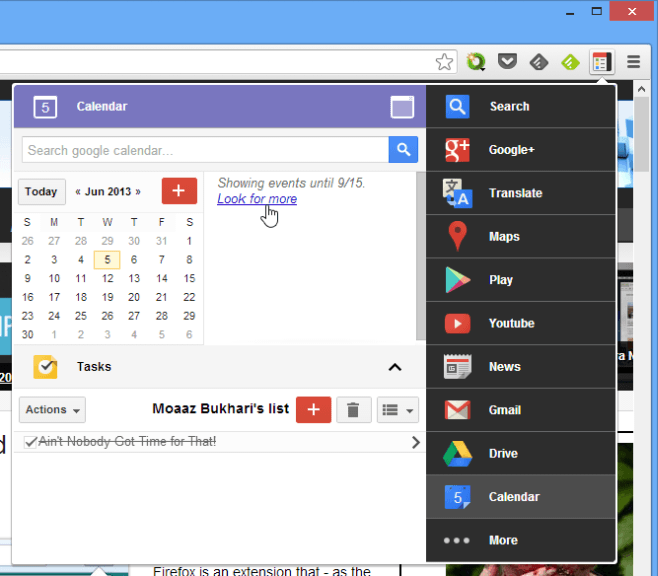 To remove a tab, simply drag it over to the 'More' tab at the bottom of the menu. To add other apps and services to the menu, hover your mouse cursor over the same 'More' tab and, from the selections available in the display panel, drag the one you want into the menu, as shown below.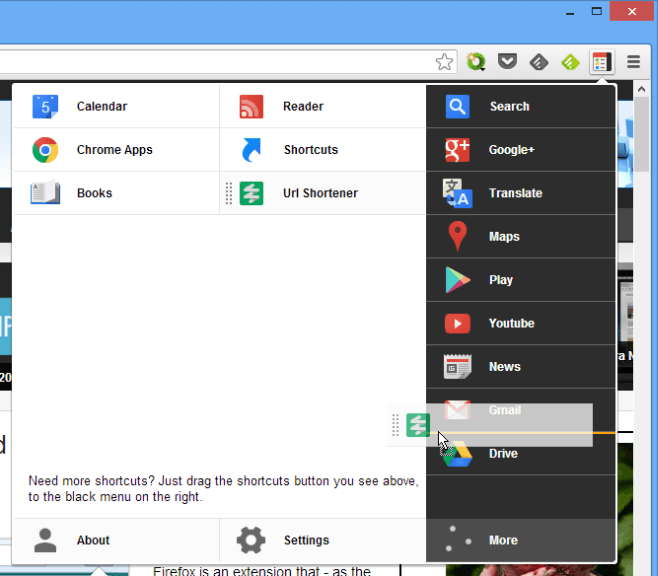 To access Black Menu's settings for the apps, click the 'Settings' gear icon; quite a few – though not all – can be customized. Hover over each one to reveal its options, and make the necessary changes in the display area to the right.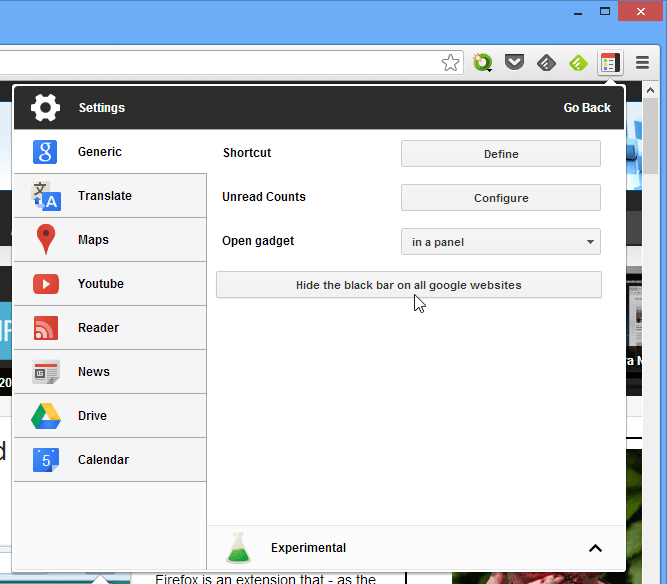 The wit behind Black Menu, Carlos Jeurissen, has another Chrome extension that can elevate your Google experience: Black Bar Removal. This add-on hides the top black Google bar from Google Search, Google Drive, Google+, Gmail, and many more, which makes for a perfect compliment to Black Menu since with the latter installed, the bar only takes up screen space.
Black Menu comes highly recommended for all Google users, especially those who heavily rely on its many products and services. It's one of those extensions you'll rely on often enough to forget it isn't a native part of the browser itself.
Install Black Menu From Chrome Web Store
Install Black Bar Removal From Chrome Web Store