Google 'Speed Test' To Test Your Internet Speed From The Google Search Page
The Google search home page does quite a few tricks. Type in 'Atari break out' in Google image search or 'Do a barrel roll' on the search home page and you can see two of the most popular Google Easter eggs in action. The search page isn't all games and quirks though. It can do lots of other things like perform unit, time, and currency conversations. You can also get the weather for your current location and look up the pronunciation of a word. The results are all displayed in a card on the Google Search page negating the need to click on and open a link. Another neat trick the Google search page can do is test your internet speed. Simply type 'Speed Test' in the search box and hit enter.
Open Google or, if Google is your default search provider, you can simply type 'Speed Test' into your browser's search bar. On the Google search results page, you will see a card at the top with a 'Run Speed Test' button. Click it to start the speed test.
Make sure you do not have any file uploads or downloads in progress or it will impact the results.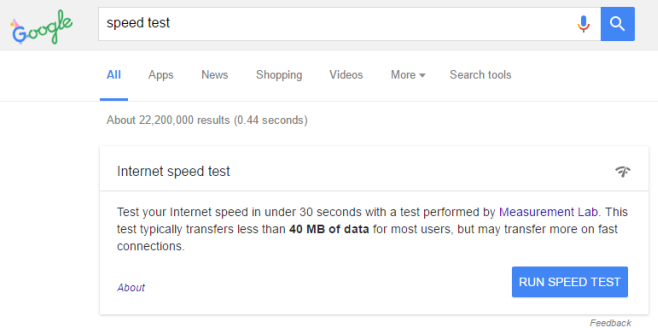 The speed test will test both the upload and download speed you're getting. The results appear in a card overlay on the search page and include the highest upload and download speed you're getting. The results also tell you which server was pinged during the test as well as the latency.
You will also be told how slow or fast your internet speed is. If it's too slow to stream a video, the result card will tell you as much. It's pretty useful if you're thinking of signing up for Netflix or Hulu.
You can rerun the test by clicking on 'Test Again' on the results page. The test comes courtesy of Measurement Lab, a partner of Google Open Source Research.