How To Fix No Sound On TV When Casting To Chromecast From Chrome
The Chromecast is easy to set up and easy to use from practically any device. You can cast to Chromecast using just your browser and if all goes well you will never experience a single hitch with your device. If however you have trouble casting, the help available from Google isn't going to help you much since it mostly just assumes you haven't set the device up properly. For users who can cast video to their TVs from the Chrome browser but aren't getting any audio, the problem isn't with the Chromecast but with the Chrome browser. Here's how to fix it.
Your problems are caused by Adobe Flash, the most unlikeliest of culprits. To find out if that is indeed what is preventing audio from being cast to your TV, go to Chrome://plugins. Click the 'Details' button at the top right corner and then look for the Adobe plugin. If you've been able to play videos normally in the browser you will definitely find the plugin here. What effects the audio casting is the PPAPI/NPAPI setting.
For audio to be cast, the plugin should read the following in the Location field;
C:\Users\user name\AppData\Local\Google\Chrome\User Data\PepperFlash\21.0.0.197\pepflashplayer.dll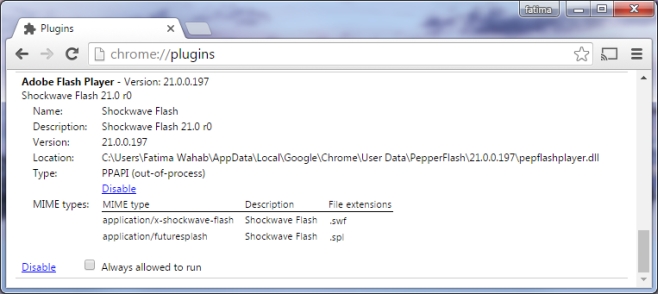 The Type field should read PPAPI and it should of course be enabled. If the type instead reads NPAPI or a second plugin from Adobe appears in the list with NPAPI in the Type field then this is the problem. Simply disable it so that the PPAPI type is the only one enabled. Restart Chrome and the audio problem should be resolved. If you only see the NPAPI plugin and not the PPAPI one, you will need to install Flash in your browser again.
These are both Flash plugins by Adobe but the PPAPI one comes preinstalled on Chrome. It might accidentally have been uninstalled or disabled which is what causes problems with Chromecast. If you know about a different solution to the Chrome browser not casting audio to Chromecast, let us know in the comments.