Infogram: Quickly Create Embeddable Graphs & Charts For Your Website [Web]
Graphs and charts are a great way to understand and summarize large sets of data values. There are tons of apps out there that let you create charts/graphs, but if you want to create embeddable graphs for your website, then you need to take a look at Inforgram. This handy web application brings you the best themes, templates and designs, which you can use to create attractive charts and infographics. Infogram requires you to login via your Facebook or Twitter account. The Templates and Chart options allow you to choose from a variety of graph types, which can then be edited and embedded on your website or blog. Moreover, the values for each of these graphs can easily be edited by accessing a spreadsheet in the left pane, and you can even use the Load Data option to import data from an MS Excel file.
To start off, login via your Facebook or Twitter account, and the app will allow you to select New Inforgraphic, New Chart or Library options. The New Infographic button opens templates for you to choose and create your graph. The New Chart button open chart templates  and Library is where you will find all the charts and graphs you've created.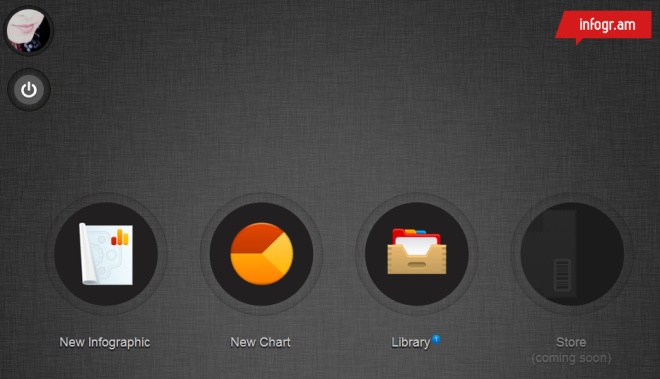 Next, different types of charts and graphs will be displayed in a neat interface, including bar graphs, pie charts and line plots. You can then click the Use it button to open and edit the data for a graph according to your needs.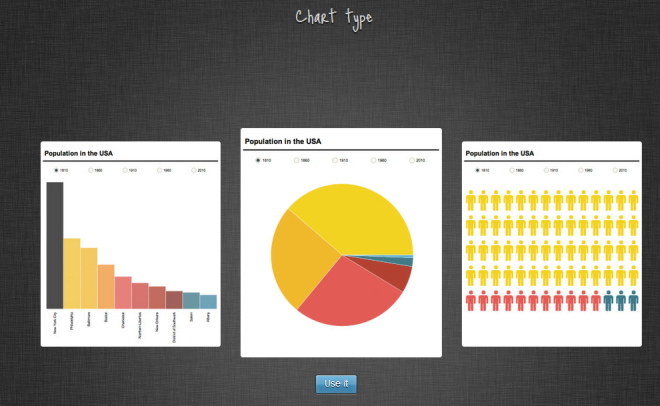 Once the graph is displayed, you can double click it to open a spreadsheet in a panel to the left of the page. From here, you can completely change the graph by entering new values and changing labels for the x and y axis. When you're satisfied with the results, hit Done, and you're good to go.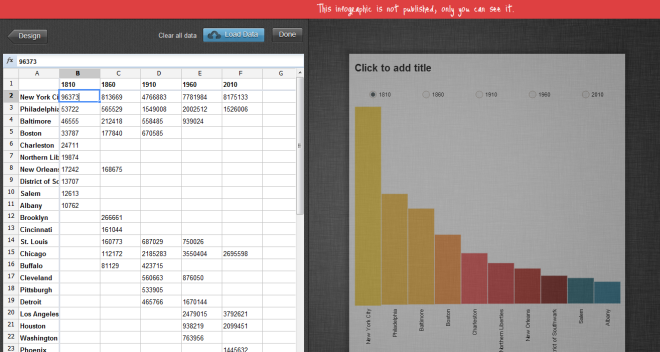 The Infogram Share option will then let you view the graph on web, send it to Twitter or embed it in your blog or website.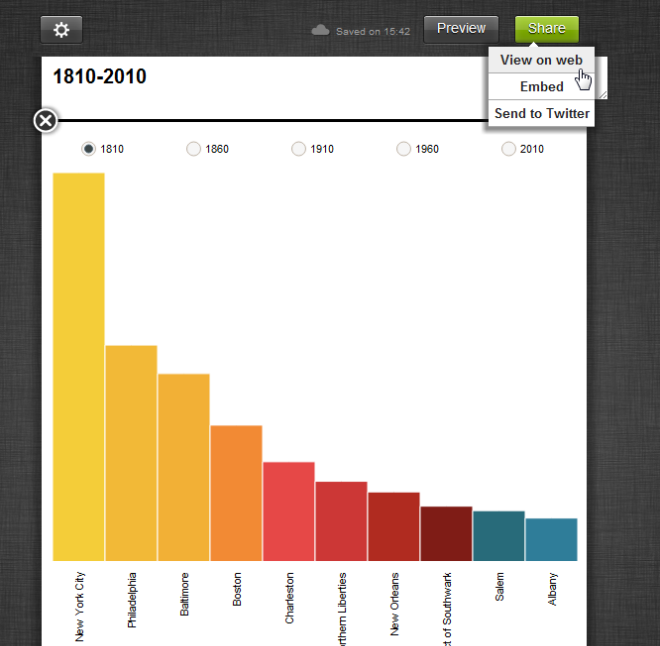 The embeddable code can be obtained by clicking the Embed option, which can then be copied and used for a website. That's how simple it is!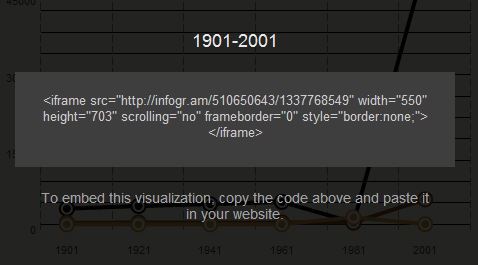 Inforgram is a flexible tool that quickly lets you create different types of embeddable graphs with only a few simple clicks. It can be especially useful for people who regularly work with large data sets and find it difficult to create professional looking charts and graphs.
If you liked this app, you might also want to look through our showcase of web applications reviewed so far.