How To Manage Site Settings In Chrome
Websites can request access to your location, camera, microphone, and more. It gets this access through your browser. Not all websites need access to all this but they can ask for it if they need to which means the settings are there. By default, all these settings are set to 'Always Ask', i.e., whenever a website needs to access your location or use your camera, it will prompt you to give it permission. If you've granted a website permission e.g., Facebook is allowed to access your camera, you can always revoke them. Here's how you can mange site settings in Chrome.
Site Settings In Chrome
To manage site settings in Chrome, you need to visit the website. Once you have the website open, look at the URL bar. On the far left, just before the URL, you will see a padlock icon and the word Secure next to it. Click it and in the pop-up that opens, click Site Settings.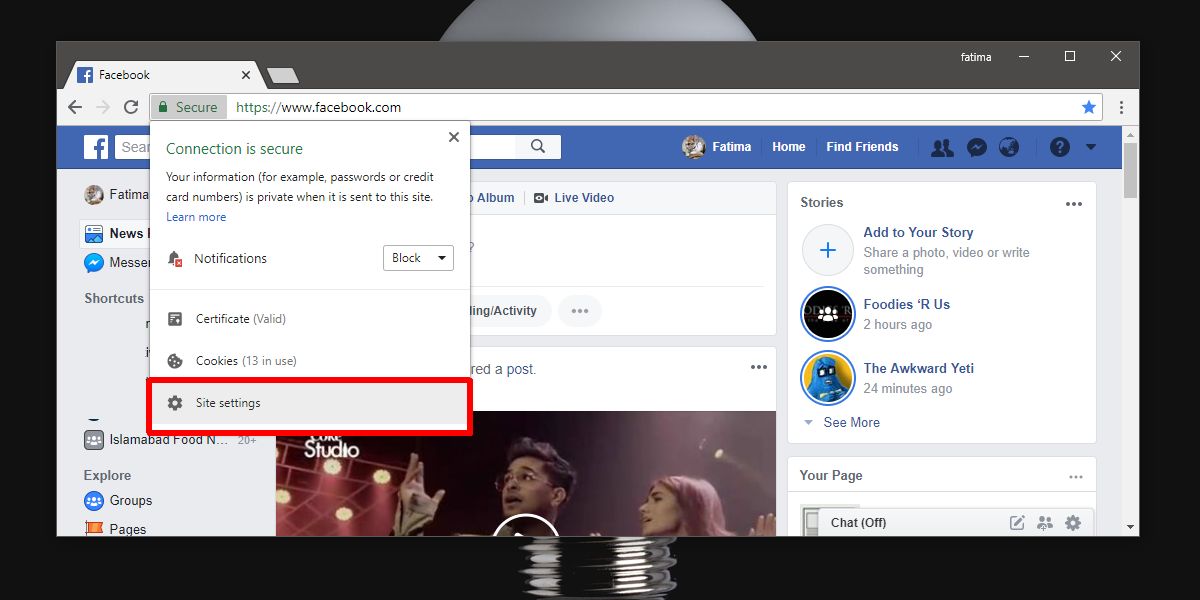 This will open the Chrome page for managing the settings. You can change every bit of permissions the website in question can ask for.
For example, in the screenshot below you can see that notifications for Facebook have been disabled. You can change it by opening the dropdown next to the respective permission and selecting a different option e.g., change it from blocked to allowed. You can reset it to default by selecting the Ask (default) option.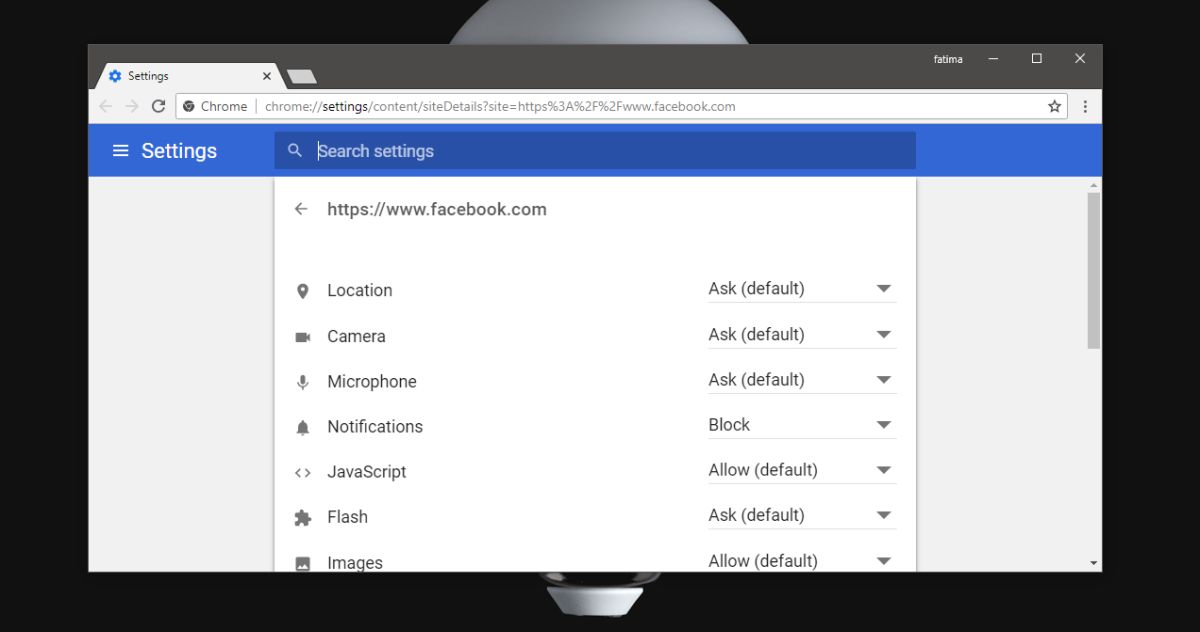 Some permissions are granted by default to websites such as permission to save cookies to the browser but you can revoke those as well. The cookies are often essential for the website to function e.g., Facebook needs to save cookies if you want it to remember your session.
These permissions, and the site settings are for Chrome only. They have nothing to do with OS level notifications. If, for example, you don't let Chrome use your camera, a website requesting to use it will not be able to even if you allow it. You will see a prompt from Chrome asking for permission to use the camera and then the website will be able to use it.
Similarly, these permissions only work inside Chrome and not other browsers. If you've allowed camera access for Facebook in Chrome, it doesn't mean that you've allowed it to access the camera in Firefox. Firefox, and all other browser will have their own settings panel for managing these permissions. Regardless of which browser you use, there will always be a way to change them whenever you want.