Open The Current Firefox Tab In Private Mode With One Click
A good two years back I found a Firefox add-on that I believed was a pure yet simple work of genius. The add-on in question is called Private Tab and it lets you open a private tab within a normal Firefox window. Incognito This Tab is a similar Firefox add-on that lets you send the current tab to a private window. The add-on essentially helps you avoid quite a few clicks because you no longer have to copy the URL for the page open in the current tab, open a window in Private browsing mode, and paste it and hit Enter.
Install Incognito This Tab and it will add a mask icon next to the URL bar. It will also add an 'Incognito This Tab' option to the right-click context menu. Any time you want to open a tab in private mode, simply click the add-on's button or use the option from the right-click context menu. The add-on will open the tab in private mode.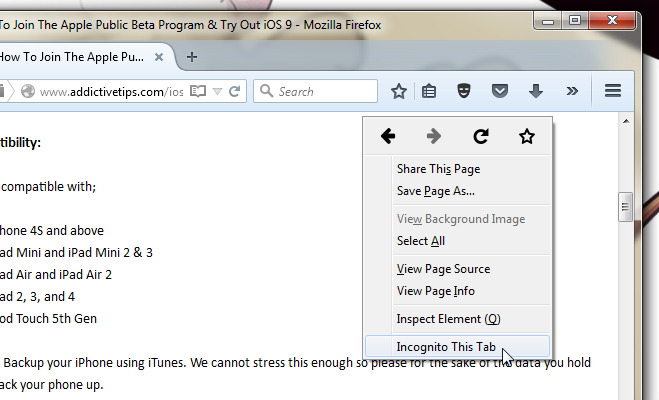 Needless to say your current session will not carry over to the private window so if you've sent a website where you had to log in to use it (Facebook, Twitter, Reddit) you will have to log in to again in the private window. The add-on also doesn't consolidate all the tabs you send to private mode into one single window which means each time you click the mask button, or use the right-click context menu option, you are in fact launching a new window. That said, the add-on is still incredibly useful and definitely saves you a few clicks.
Install Incognito This Tab For Firefox