Scroll Over Firefox Search Bar & Context Menu To Switch Search Engines
Ever notice that a lot of other browsers don't have the switch-search-engine function in their search bar, like Firefox does? Chrome, as Google's flagship web browser, is naturally more inclined toward googling than surfing per se, for example, but Firefox tends to not think that way. Using the search bar next to the URL bar, you can quickly switch to a different engine, from Twitter to Bing and everything in between. Scroll Search Engines, an extension for Firefox, makes this even more convenient. Now you don't have to click the down-arrow and select a search engine to go with;  simply hover your cursor over the bar, and use the mouse wheel to scroll through the available option till you have the one you want.
For illustration's sake, here's a screenshot of Firefox's search bar. When you want to run a query using a different engine, you normally click the down-arrow in the bar and select a new search engine from the menu.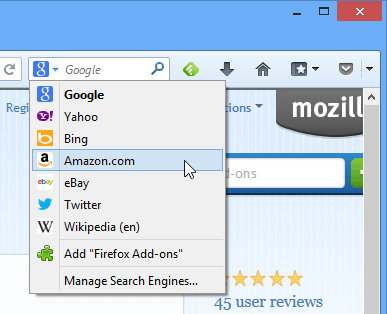 From the link at the end of this post, you can add Scroll Search Engines to Firefox. At a mere 10KB, it's a tiny plug-in that doesn't burden your browser at all, nor does it add yet another button to the toolbar. To use it, simply hover your mouse cursor over the search bar and flick the mouse wheel back and forth; you'll be scrolling through the same list of engines, in the same order as they appear on the menu.
Do note that the add-on doesn't disable the menu or limit its function; Scroll Search Engines simply makes the overall searching process more comfortable, in as minimal a fashion as possible.
Another way to scroll through search engines is to first select a word on the screen, right-click for the context-menu, and then scroll your mouse wheel while hovering over 'Search SearchEngine for…'.
The add-on supports two keyboard shortcuts; Ctrl+K scrolls the list of engines top-to-bottom, while Ctrl+Shift+K reverses the order. Alternatively, you could set the extension to loop the list of search engines, via the 'Options' button from Firefox's Add-ons Manager. That way, once the end of the list has been reached, continuing to scroll in the same direction (or using the same keyboard shortcut) will take you back to the beginning of the list if scrolling down, or the last entry in the list when scrolling up.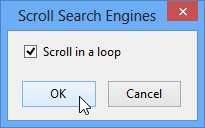 In conclusion, the add-on can prove to be a real time saver for those of us who heavily use Firefox's search feature and need to switch between different search engines often.
Get Scroll Search Engines for Firefox