How To Get Sent And Seen Status For Gmail Emails
Messaging apps tell you when a message you sent has been delivered and seen by the recipient. This may or may not be a useful feature. It all depends on how you look at it. If you've ever wanted to get a similar sent and seen status for Gmail emails, then that's possible provided you aren't averse to adding an email tracker to your email. That's essentially how it works and the service of choice here is DoubleTick.
Sent And Seen Status For Gmail
DoubleTick works via a Chrome extension but you need to sign up for a free account to use it. When you compose an email, the tracker is added automatically. It also adds a ' – Sent via Doubletick' byline to the end of your email. You can delete it if you want.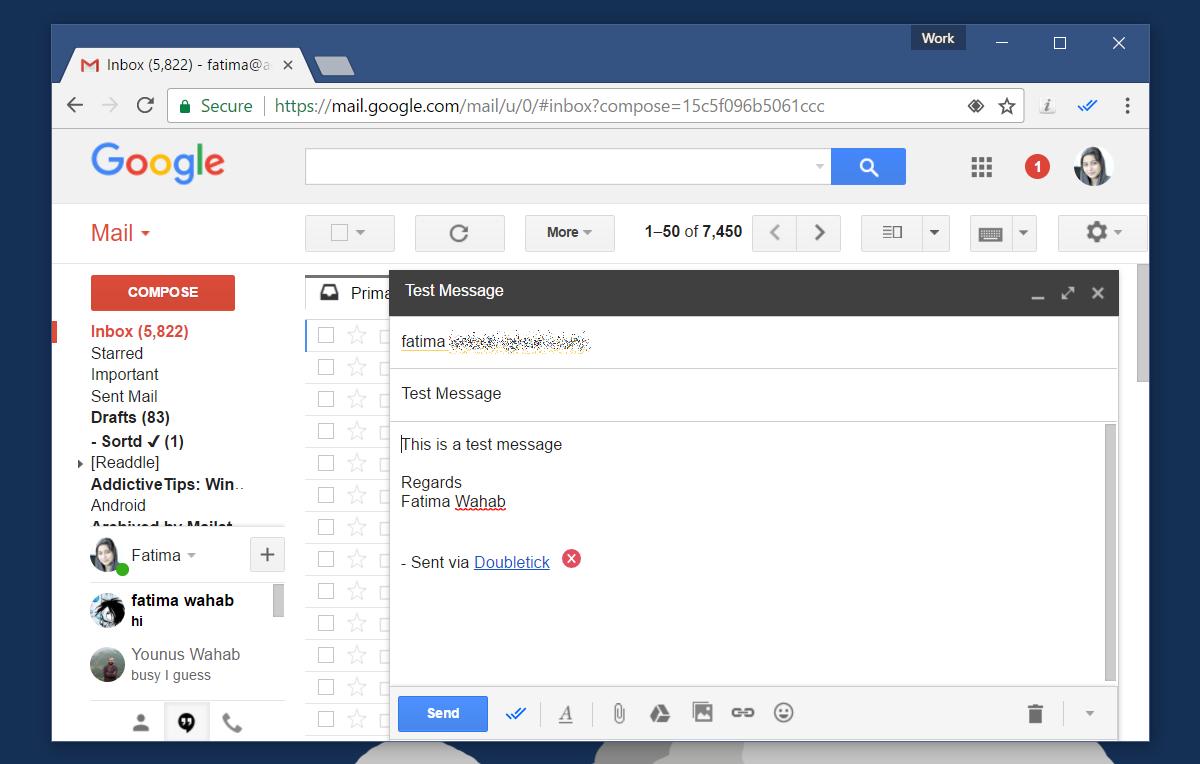 When you email is sent, and delivered to your recipient, two black tick marks appear next to the email in your Sent box.

When your recipient opens i.e., reads/sees the email, the tick marks turn blue.

DoubleTick works in your browser via the Chrome extension. Your recipient will not need to install the extension. If you feel you might be invading their privacy by adding this tracker, consider leaving the service's byline at the end of the email to tip them off.
Implications
Your recipient will not be aware that you know they've seen your email. The sent and seen status for Gmail works because you enabled it and not because your recipient has. What this means is, if they deny reading your email and you tell them you added a tracker to it so you know they're lying, things will get awkward.
DoubleTick is by no means illegal but you can't hold someone accountable over it. If you're using this service and extension to make sure your emails are answered, you probably shouldn't use it.
The service is great if, for example, you just need to know an email has been seen. For example, if you sent an update and need to know it's been seen, then DoubleTick is fine. You won't have to bother with follow ups and you won't have to annoy anyone with multiple emails on the same subject.
DoubleTick does have access to all your emails. The service accesses them in good faith and promises not to sell your data or share it with anyone else. It's understandable that users might be hesitant to use a service like this given what Unroll.me did but we have no cause for concern.
Install DoubleTick From The Chrome Web Store