Vine For Chrome Brings The Popular Video Sharing App To Your Browser
Vine, Twitters' social network service based on short, looping videos, has been all the rage since its very launch, and there are no signs of things slowing down for it anytime soon. The video-sharing app, which is now available on both iOS and Android platforms, lets you record and upload videos of up to six seconds in length, and has become a popular hit among casual users, enthusiasts and celebrities alike. But even though it's an online service, what it lacks is a way to browse and watch Vine videos without the mobile apps. While Vines shared on Twitter can be played in your timeline, there's no official web interface of the service itself that can be accessed from any desktop web browser. But fret not – there's always a workaround! There are already a myriad of web services that let you watch Vine videos, but you can now browse Vine right in Google Chrome with Vine For Chrome extension.
It's worth mentioning here that the extension comes from a third-party developer and not from Twitter itself. It does not work with your Twitter username and password, and you will need to either associate your email address with your active Vine account, or create a new one from scratch and then use the same email address and password to log into Vine from the extension.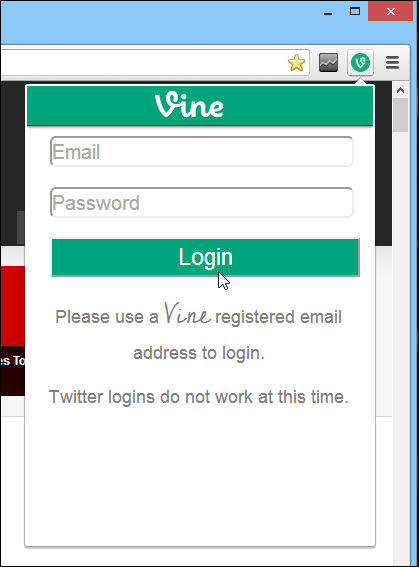 Vine For Chrome works in a popup accessible from its button next to the URL bar, and provides a constant stream of Vines just like the mobile apps. However, unlike the mobile apps, videos aren't played until you manually click the Play button. On the bright side, playing only one Vine video at a time lets you toggle Full Screen mode, which makes Vine all the more interesting.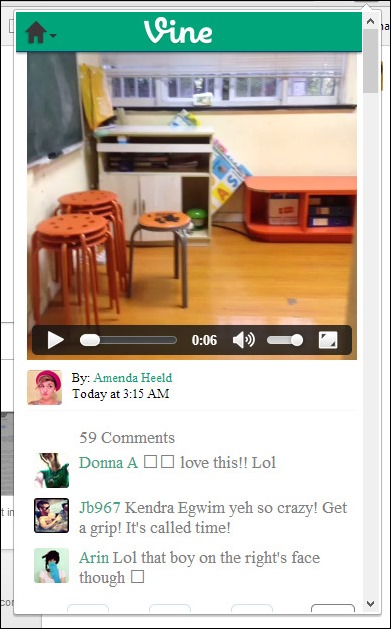 Besides video playback, Vine For Chrome also lets you view and post comments on videos, and share them with others. You can also explore feeds via Vine tags, which makes the process of finding videos that are related to a certain topic or genre a lot easier.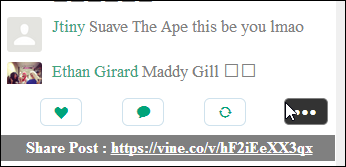 Clicking the Home button beside the Vine logo at the top-left corner reveals a menu that allows you to navigate to Home, Popular, Explorer and My Profile. These are exactly the same sections that you will find on the mobile apps.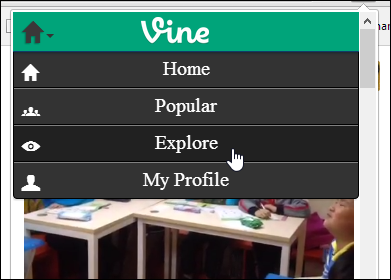 For instance, the Explore menu lets you navigate to videos from a color-coded list of bunch of categories including Comedy, Cats, Dogs, Family, Food, Nature, Beauty and Fashion, and more.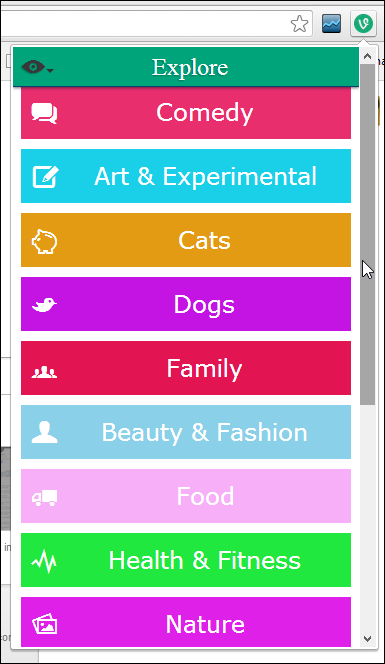 In a nutshell, if you don't have your Android or iOS device around and want to access your Vine content, Vine For Chrome provides a convenient solution right in your browser.
Install Vine for Chrome from Chrome Web Store