PC & Mac Remote Control App Splashtop 2 Comes To Windows Phone 8
When it comes to apps that let smartphone users access their desktops remotely, Splashtop is sure to be among the first names that crop up. Splashtop became available for iOS quite a while back, and the Android app wasn't too far behind. After some time though, the company behind the awesome remote access software decided to revamp it and came up with Splashtop 2. The new app became popular for its better streaming quality, and audio support. However, Windows Phone users could only watch in jealousy as their friends on other platforms went around using Splashtop 2 for playing PC games on their smartphones. Finally though, the situation has suddenly changed for the better. Despite the fact that the WP Store did not have the original Splashtop app, it has directly received Splashtop 2! The app isn't too different from its Android and iOS counterparts, but does have a few features designed exclusively for Windows 8 and WP8.
In order to use Splashtop 2, the PC or Mac you intend to access should have Splashtop Streamer installed on it. This desktop client can be downloaded for free from the official Splashtop website (www.splashtop.com/splashtop2). Once the desktop part is set up, grab the Splashtop 2 app from the WP Store. You can create a Splashtop account from within the app, or from the service's website. Registration just requires your email address and a new password.
To make sure everything works as intended when you establish a connection with your computer, configure the app from its settings menu. You can choose to show/hide computers associated with your account, optimize the streaming quality for your network, or enable Windows 8 gestures. These gestures let you invoke the Charms bar and other Windows 8-exclusive features while you are accessing a Windows 8 PC tablet.
Once you have enabled a Splashtop connection on your computer, it's time to refresh the main screen of the WP8 app. A list of all detected devices is presented to the user, and starting a session just takes a single tap.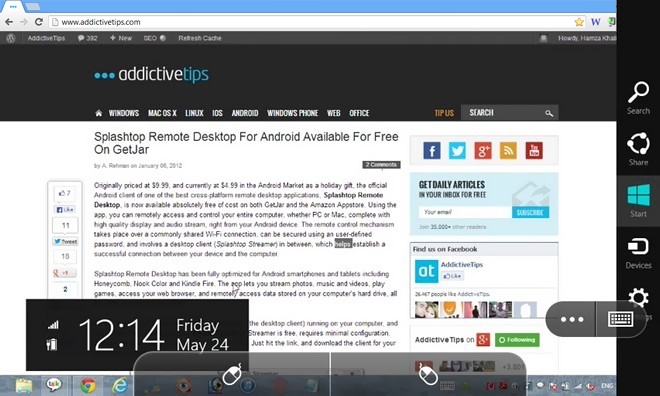 During a remote access session, Splashtop 2 displays the current screen of your computer in its entirety. To pan around the view, use three fingers. Swiping across the screen moves the mouse pointer around to different areas, and you can click anything by tapping it once. Long-pressing the mouse serves as a right-click. To bring up extra options, tap the three-dot icon located next to the keyboard one. The available options include 'trackpad', 'smooth' and 'win 8'. The first two deal with scrolling and using the mouse, while going for win 8 shows options like nav bar, start, app bar and charms.
Apart from doing more practical tasks like accessing documents, and viewing files that are otherwise incompatible with WP8, Splashtop 2 can also be used to stream videos and music stored on your computer. If you have a high-end device, even games might be remotely playable without considerable lag.
Splashtop 2 is a free app and carries no limitations on Wi-Fi access, but if you want to use your computer over the internet, you'll need to purchase a subscription. The new app is compatible only with WP8 devices, and can be downloaded from the link below.
Download Splashtop 2 For Windows Phone