SoundGecko Comes To Windows Phone; Converts RSS Feeds & Articles To MP3 Audio
Ever since podcasts made it into mainstream, they have become a part of the daily routine of many smartphone users. The idea of being able to stay apprised of the latest happenings in the areas of your interest, without having to sit still in front of a TV or reading a book, is certainly appealing to most people. Having said that, no matter how good a podcast is, not all of it can be to your liking, and there are bound to be some boring its and bits in there. Won't it be just heavenly if there was some way of creating your own, personalized podcast? Thanks to SoundGecko, that is exactly what users can do. The service is not new, by any means, and has been around for iOS and web for quite a while. With SoundGecko, you just have to email any article's link to the service, and all its text content is converted to audio (in MP3 form) and sent back to you. While this sort of functionality is useful on a computer, too, it becomes absolutely awesome if you can listen to all the MP3s on your smartphone (and hence, the iOS app). The big news regarding SoundGecko is that the service has released its official Windows Phone client, and is sure to earn the admiration of everyone who wants to listen to their RSS feed or other web content on the go.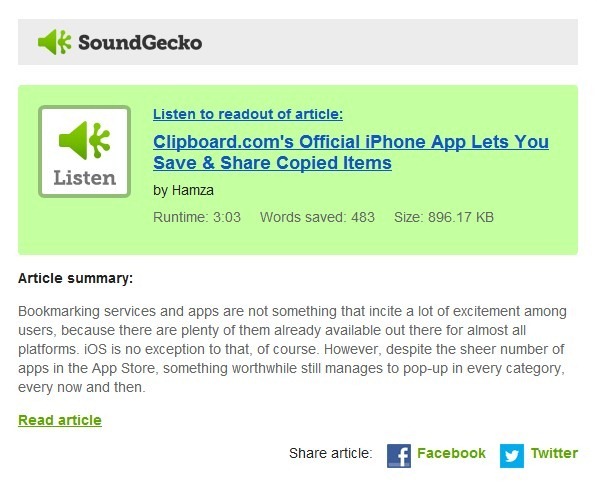 If you don't have a SoundGecko account already, the app will guide you to the service's web version where you will have to sign up. SoundGecko for WP7 is great, but it does have one rather annoying limitation. You can't add new articles or RSS feeds to your own audio list from within the app; you will have to use the service's Chrome extension. If you don't use Chrome, or just want to add an article from your WP7 device, you can do that by simply copying the intended article's URL and emailing it to go@soundgecko.com without adding any subject to the message. A few minutes after sending the mail, you will get a reply from SoundGecko, stating that the article or feed you sent to the service has been converted to an MP3 file and is available in your personalized audio list. Once you have added all the articles you need for one session, you are free to go to the SoundGecko app on your Windows Phone.
SoundGecko for WP7 has been constructed as a really simple app, and comes with just two main sections. The Popular list in independent of your SoundGecko account, and features audio files that are currently trending on SoundGecko. My List presents everything that you mailed to SoundGecko or bookmarked via the service's Chrome extension. The app supports background play, and you get the audio controls for the current clip in the top volume bar of your phone. SoundGecko for WP7 organizes your list in chronological order, and you can refresh your audio feeds with a single tap of the button located in the bottom bar.
SoundGecko for WP7 is free, and so is the web service. If you are the kind of person who likes to multitask, the app is must-have for you. The addition of a browser of its own to SoundGecko can make the app a whole lot better than it currently is, since we know that the addition of a SoundGecko button to Internet Explorer is asking a bit too much, but even as things stand, you should take the app for a spin.
Download SoundGecko For Windows Phone