14 New Features In Thunderbird 3 That Will Make You Rejoice
We have been covering Outlook 2010's features in much detail, but since it won't be released before June 2010, it is time to look at Thunderbird 3. There are 14 new noticeable features in Thunderbird 3 which are enough to make you ditch Outlook.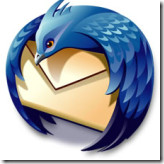 Editor's Note: Thunderbird 3 has been released, grab it now. The folks over at Mozilla have finished working on the features, they are now fixing the bugs, tweaking the client, and performing some testing before releasing the final version.
It is important to know what's new in Thunderbird 3 before giving it a try. You launch it up and proclaim, "Huh! There seems to be nothing new". This is exactly what this post is about, showing you 14 new features in Thunderbird 3 that you can't seem to find otherwise.
Tabbed Interface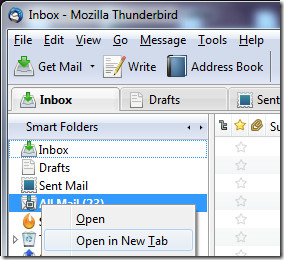 It is one feature Mozilla knows how to implement. They were the first to implement it in Firefox(alright Opera was the first one, but what I meant here was that tabbed browsing of Firefox is better than Opera's, atleast IMO) and the rest is history. Now the tabbed interface has arrived in Thunderbird 3 as well, allowing users to open multiple folders, emails, and search results with ease. When you quit Thunderbird, all tabs are saved and then restored the next time you open Thunderbird. The quickest way to open messages or folders in a new tab is to Middle-click them.
New Global Search With Advanced Filtering Tools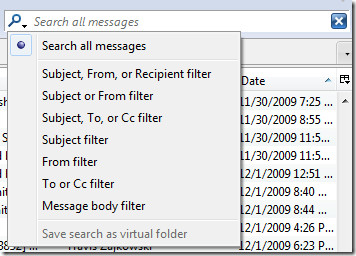 Thunderbird 3 has dramatically improved the Global Search(with autocomplete feature), making it one of the best search feature I have ever seen in an email client. The improved Global Search is both quick, and simple. Once you enter a keyword and hit Enter, it will open the search result in a new tab.
You can filter out the emails from the left sidebar, they can be filtered by emails send by you, send to you, starred, or those which include attachments. Click any person and you will be able to filter out the emails send/received by/from that person.
You can also filter the emails by timeline, it is located on top and can be enabled by clicking the small timeline button on the upper-right corner. It also gives a better visualization on the emails send/received over time.
New Mail Account Setup Wizard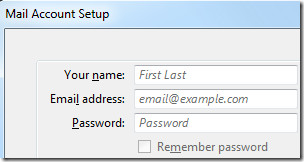 This is the first thing you are going to observe when setting up an account in Thunderbird 3. Instead of having to manually enter the settings, it will match against the database of email settings from popular email providers, thus, you only need to provide the name, email, and password. If IMAP support is enabled in Gmail settings, Thunderbird will automatically set it up for you.
Redesigned Mail Toolbar
The mail toolbar on top has been redesigned, it now includes the Global search bar while the buttons such as Reply, Forward, Archive, Junk, and Delete are now part of each email. You can always add them back by customizing the toolbar.

Smart Folders
The folder pane on the left sidebar now offers Smart Folders which is enabled by default. So what is Smart Folders? This mode allows users to combine special mailboxes, such as, Inbox, from multiple accounts.
Messages Summary View
This feature is a dream come true for many users. Now when you select multiple email messages, Thunderbird 3 will show you the summary in the Preview pane along with the amount of space these messages are taking up. If you selected 2 email messages from the same person, they will be merged into one and the number of messages will be shown in the brackets next to it. Beat that, Outlook?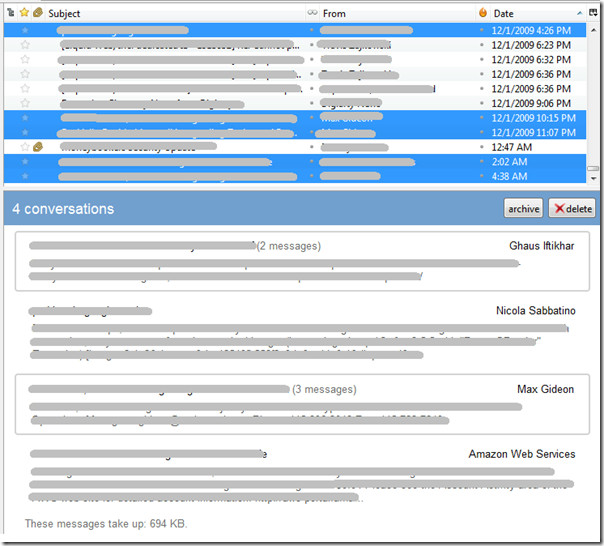 Message Archiving
With improved IMAP support comes improved Synchronization. Thunderbird 3 now supports email message archiving, meaning that you can now file any message in Inbox into the new Archive folder system. If you archive an email message from Inbox, it will be added to the All Mail folder just like it happens in Gmail.
Improved Gmail Integration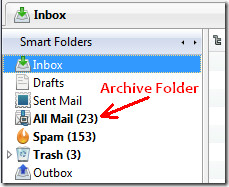 Thunderbird now recognizes and integrates Gmail's special folders, such as, Sent and Trash, including non-English versions of Gmail. As I mentioned above(in Message Archive), Thunderbird now uses All Mail as Archives folder for Gmail.
Activity Manager
Every interaction that happens between Thunderbird and the email server is logged in one place, Activity Manager. It can be accessed by going to Tools > Activity Manager.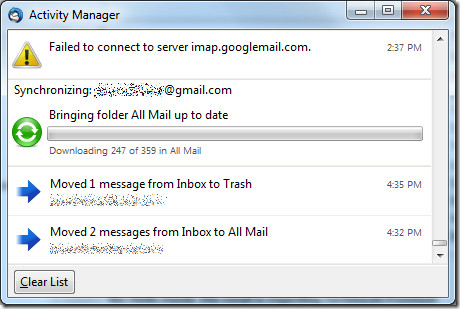 Improved Address Book
The address book has been improved dramatically. If someone is in your address book, it is indicated by a new star icon which upon clicking will allow you to edit the contact details inline. And if they are not in your address book, one click on the icon and you can add them. There is now a new option to enter the birthday and photo of the contact.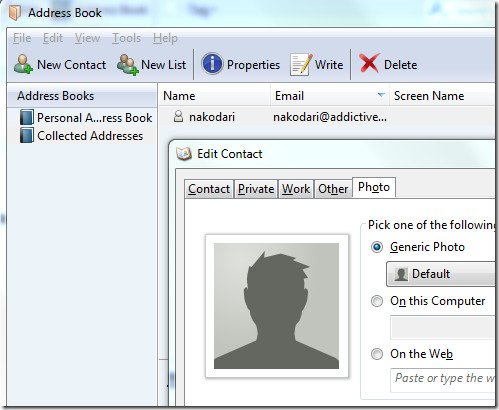 New Add-on Manager
The new add-on manager is very different from the point of functionality. Now you can find, download, and install add-ons(extensions, themes, and plugins) without having to use the web browser. It can be launched from Tools > Add-ons.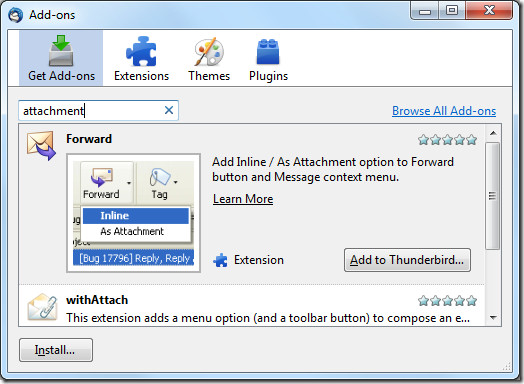 Message Threads
I am not sure about this feature(perhaps it is included in Thunderbird 2.x too), but it was discovered accidentally. You can display message threads which allow better visibility of the email messages, also it can be a great way to quickly check for a specific message in the email conversation. First select an email message, then hit the small Message Threads icon on the upper-left corner. You can also sort Emails by Star or Attachments.

Integration With Windows Search (Windows 7/Vista)
On first start, Thunderbird will prompt you to install the indexing system in Windows 7/Vista. This will help index all emails in Windows Search and allow users to see emails and new messages in Windows search results.
Improvements For Mac
Some improvements have been made to the Mac version of Thunderbird client. It is now integrated with Spotlight, can import Mail.app, read Mac OS X address book, and can use Growl for new email alerts.
Conclusion
There has been quite some buzz about Thunderbird 3's new features but it has died down quickly, this is due to the lack of information on the new functionalities. Now you know what really is new, it is time to get excited about Thunderbird 3's debut.