7 Sidebar Brings Vista Sidebar To Windows 7
7 Sidebar is a small gadget. Run it and you see the Vista sidebar without any gadgets in it. Click the small '+' icon on top and start adding the installed Windows 7 gadgets to this sidebar. Yes, a gadget in which you can add all other gadgets.
So what's the purpose of this gadget that simulates the good old sidebar of Vista? Windows 7 doesn't contain any sidebar and you can position the gadget anywhere you want on the desktop, but if you want a proper sidebar where the gadgets can be placed, then this is for you.

It also acts like a Windows Manager, i.e, it can show all windows that have been minimized to the taskbar. To enable Windows Manager, click the small icon next to the '+' icon at the top of the sidebar.

You can either position the sidebar to the left or right side of the desktop. If you have dual monitors, right-click the sidebar and go to Settings, now choose 2 from the Monitor drop-down menu. Doing this will move the sidebar to the other monitor's desktop, i.e, the sidebar fully supports dual-monitor setup.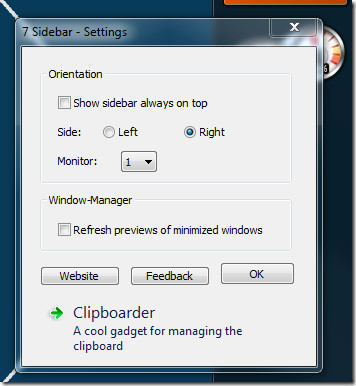 Apart from the above two option, you can choose to keep the sidebar always on top and also select to refresh previews of minimized windows in Windows Manager.