8 Zip Is A Windows 8 Store App To Create & Extract Archives
If you're using Windows 8, then you already know it doesn't offer any integrated file archiving app in the Modern UI flavor. Since file archiver is one of the most useful utilities to have on the PC, I wonder why Microsoft wouldn't add one to Modern UI environment.  Thankfully, Windows Store has now started to receive new apps every other day, and one of them that caught our attention is 8 Zip. This Windows 8 Store app is designed to let you view, extract or create ZIP archives on your Windows RT tablet or without having to switch to the desktop on your Windows 8 PC. The current version of the app only supports ZIP format, but according to the developers, support for 7z, RAR, ISO, BZIP2, GZIP, TAR, ARJ, CAB, CHM, MSI, NSIS is in the pipeline.
To begin, launch the Windows Store from the Start Screen and hit Win + Q on your keyboard to bring in the Search Charm. Type 8 Zip, press enter and then head over to the app's in-store page. Clicking Install will download and install the app.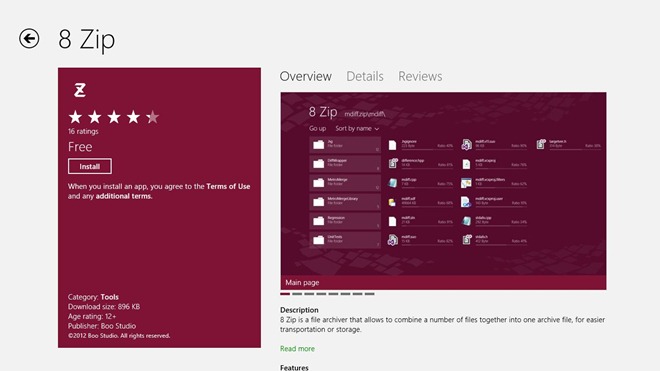 The main interface houses two navigation buttons; Create Archive and Open Archive. To browse for an existing ZIP file, click or tap Open Archive.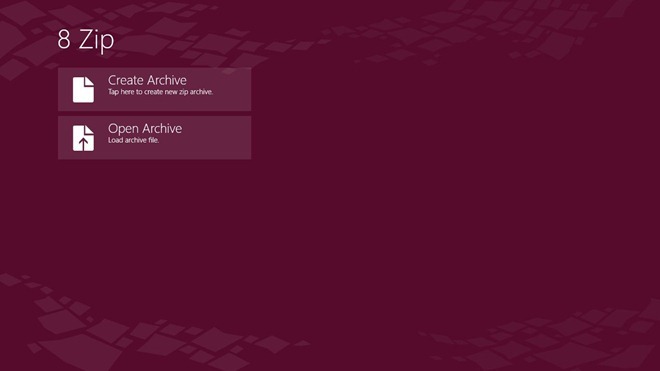 The file explorer lets you navigate among your drives and directories. As stated earlier, the current build only recognizes ZIP archives, in fact it only displays ZIP format even if you have other type of files stored on your disk. To open a file, select it from the list and click Open.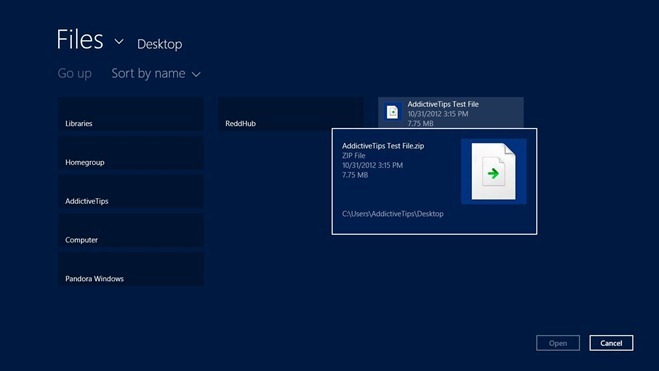 This in turn starts showing the files that are archived inside. If you right-click anywhere on the screen, further controls appear at the bottom including Open, Extract, Delete, Select All, Clear Selection etc. To the right, you have controls for New Archive, Open Archive, Add Files or Add Folder (to existing archive), and Extract All.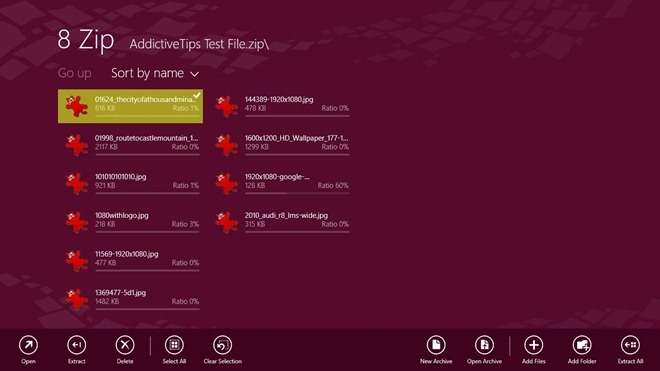 You may also create a new archive from scratch. The app lets you input the archive name and specify the destination directory on your PC/tablet. The created archives can be easily modified, thus allowing you to remove or add files in the future.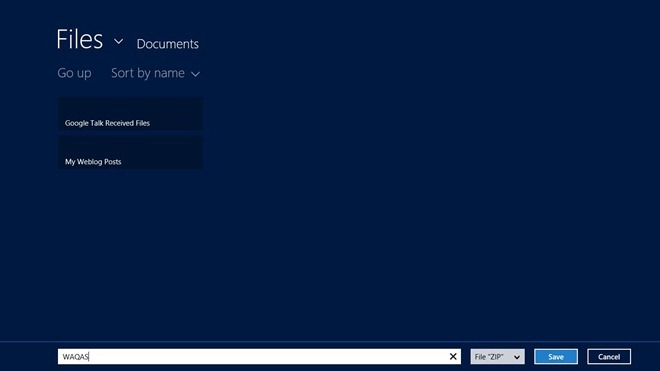 From the application's Preferences panel, you can change Color Theme to Grape valley, Sunny day, Dark knight and Cool water. Additionally, it allows you to choose among three background palettes.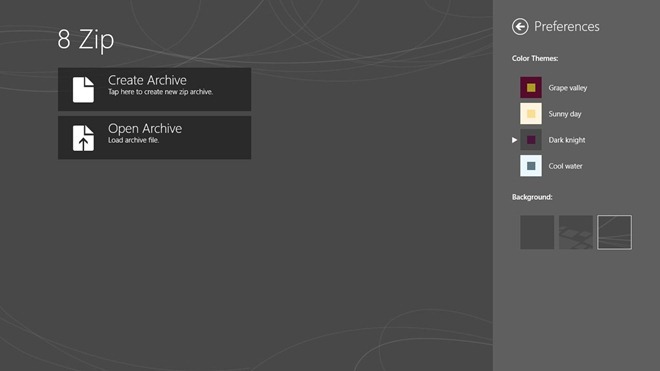 Overall, 8 Zip offers an easy way to create, extract, and manage ZIP file containers without having to use the desktop mode. It can be had from Windows Store for free. Testing was carried out on Windows 8 Pro, 64-bit edition.