8Smoker Pro Bundles Tons Of Windows 8 Performance & Security Tweaks
It's been over 9 months since Microsoft introduced Windows 8 to consumers. The time in between went by fairly quickly, during which loads of third-party tools and apps were developed to bring both aesthetic as well as performance refinements to the new OS, despite it being already quite smooth and snappy out of the box. 8Smoker Pro is a new Windows 8 app designed to boost the operating system's performance in a lot of aspects. Although it looks very simple on the surface, the application carries many tweaks and performance enhancements that can optimize Windows 8 via implementing backend changes to the registry. It's a one-click optimization tool, though not something to tinker with if you're not sure what you wanna do. Read on for more details.
On its first run, 8Smoker Pro asks you to create a restore point of your system. This is to make sure you can always revert back to the current working state of Windows 8, should something goes wrong while tweaking anything. Simply click Yes to create a restore point, or click No to skip the process.

The interface of 8Smoker Pro looks surprisingly simple, especially when pitched against today's modern-looking app designs. The flat UI shows system resource monitor to the left, which basically displays total, used and free system memory as well as pagefile. On the top-right, you will find the Category section for Tweaks, Maintenance, Security and Passwords. You can click each category to reveal what it offers. For instance, Tweaks houses a number of tools (called widgets) for configuring Internet Explorer, system performance, startup apps, shell tweaks and servicec. Likewise, Maintenance and Security have their own set of customizable options.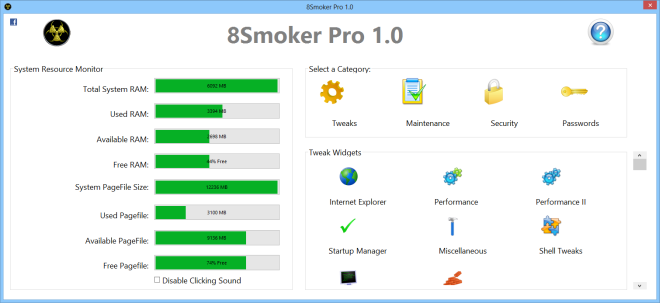 When you click a tool, widget or tweak, it pops open in its own window, letting you toggle the settings according to your requirements. For instance, the Performance tweak allows you to manage CPU priority, enable a few timeouts and snappiness tweaks, enable/disable core parking and so on. The developer hasn't provided explicit explanation about what each tweak really does, which leaves the end users guessing certain non-obvious things on their on. So in a nutshell, 8Smoker Pro is more of a power user-oriented application.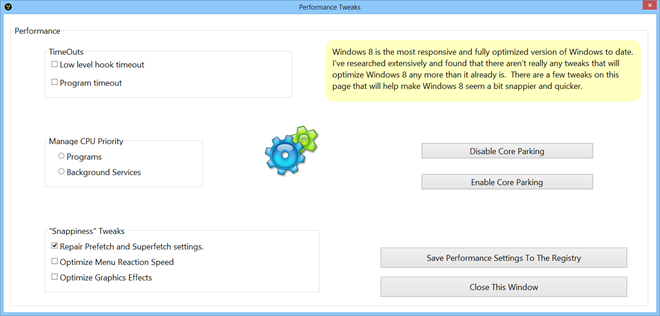 During testing, however, I noticed that even though the tool consists of a plethora of settings, not all of them really work as they are supposed to. For example, there's a right-click disable option in Desktop & Explorer Tweaks section (found in the Security tab) but when toggled, this parameter didn't quite work for us despite several tries. This window also has many other options, some of which work and others don't. The 'Do not display the lockscreen' toggle, for instance, worked like a charm and I was able to permanently stop Windows 8 from displaying the lockscreen after enabling this toggle.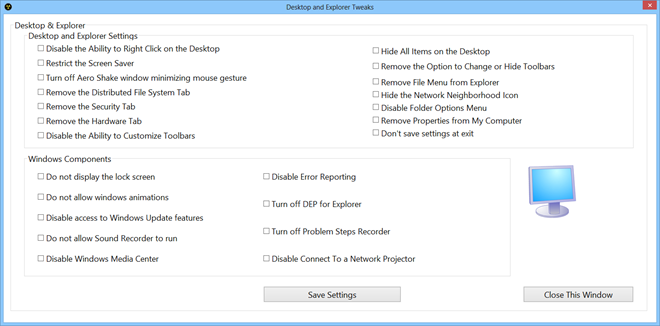 There's also a DriveFreeze option under the Security tab that allows you to swiftly disable any optical drive attached to your computer. Other noteworthy features that you might want to explore include Shell Browser, Disk Usage & Disk Cleaner under Maintenance, and Control Panel & Firewall Control under Security. The application also allows you to lock your settings by entering a password under the Password tab.

All in all, it's quite a very comprehensive Windows 8 tweaking suite that's loaded with a whole variety of tweaks that would take quite a bit of time to explore completely. Testing of the app was carried out on Windows 8 Pro.