Adjust The Transparency Of Windows 7 Taskbar With Taskbar Transparency
Taskbar Transparency is a portable application which allows adjusting the transparency of the Windows 7 taskbar. This way you can easily tweak taskbar transparency for allowing under lying wallpapers to provide a background for your taskbar.
After launching this app, right click on the system tray icon and select Settings.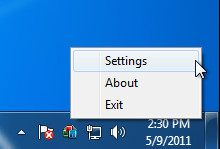 Once done, hit a key combination to assign hotkey (e.g. Ctrl+Alt+T) and select transparency level. 255 is the maximum level for an opaque taskbar, whereas reducing the transparency will require selecting a lower level such as 100. If you would like to make the taskbar invisible, then type 0. After selecting a hotkey and transparency level, click OK.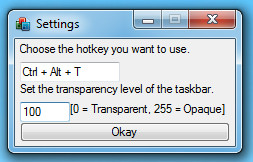 You can toggle between the transparent and opaque taskbar by hitting the assigned hotkey. Below is a comparison of a transparency level of 170 as compared to the default 255 transparency level. As you can see, even the pinned icons on the taskbar will appear transparent, the same will be true for any minimized windows.
Taskbar Transparency works on Windows Vista and Windows 7.