AllDup Scans Every Data Byte-by-Byte To Find And Remove Duplicate Files
If you've found some duplicate files while visually scanning different folders, it's an indication that all the drives must be checked for the duplicate files and folders. Before choosing a duplicate file cleaner, do check that to which extent it can search and apply filters using regular expressions and if it considers NTFS junctions as duplicate or not. AllDup offers a quick way of finding and removing duplicate files while supporting almost multiple types of filters to narrow down the search. It was developed to be light on system resources, so you can carry on with your work during the scanning process. An option to include or exclude NTFS junction points is also available to include or exclude folders from scanning which are referring to other (linked) folders.
With AllDup, you can define search criteria according to your system current state. You can for instance choose to thoroughly scan the system for duplicate files by enabling file content byte-by-byte compare option or check most recently added folders and files only.
The main interface allows you to directly start the scanning process. Before starting the process, choose source folders, set search criteria and options, and apply necessary file and folder filters.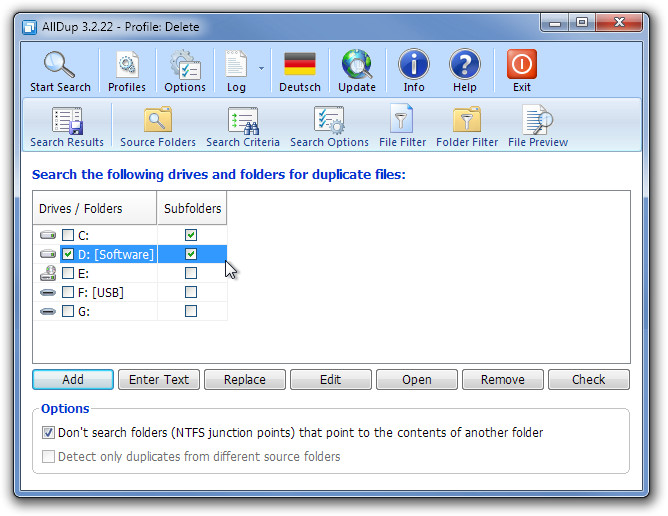 The Search Criteria presents a slew of options to tailor the search process. For deep scanning, don't forget to enable Content (Byte by byte compare) option followed by specify File Content options.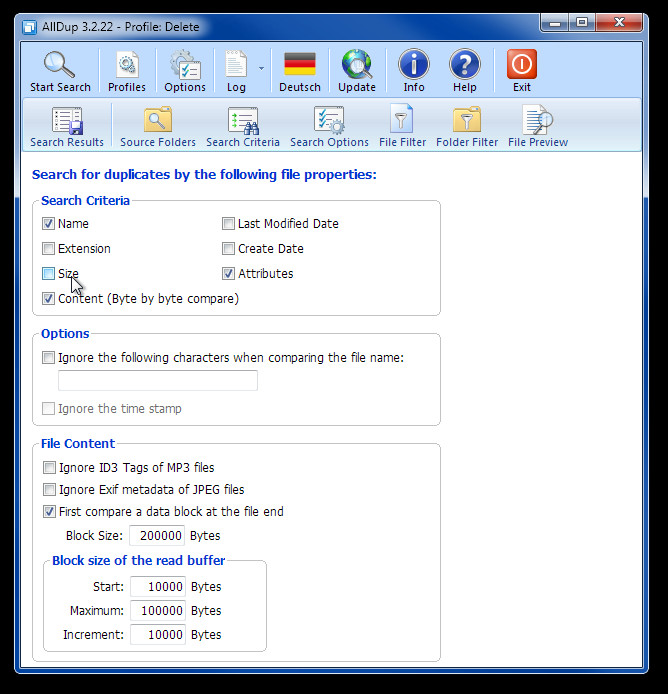 Similarly, you will find settings in Search Options, File Filter and Folder Filter windows to customize the search process. After you've set up the required options, click Start Search to begin the search process. It is must be noted here that file content based search may take a little longer than normal scanning process. Once the scanning is completed, it will list down all the groups which contain duplicate files. Apart from options present in toolbar, you can open, move, and delete the groups having duplicates from right-click menu.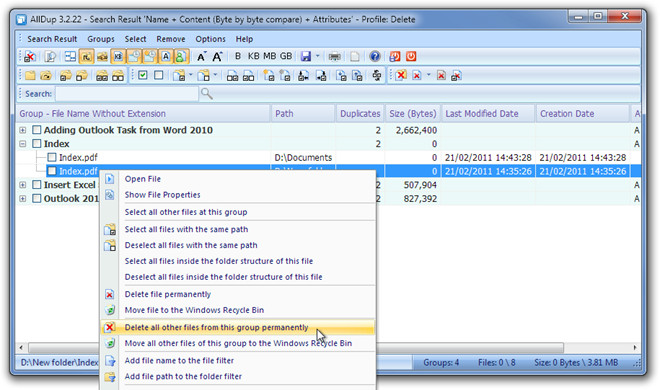 You can find more details regarding each provided feature on author's product page. It works on Windows XP, Windows Vista, and Windows 7.