Batch-Download Facebook Videos On Windows For Offline Viewing
Facebook can be an awesome platform for viewing and sharing different videos from around the web, but sometimes you like a video enough to want to view it again and again. Signing in to Facebook every time you want to view the video can become a bit tedious. In such a scenario, you'd want to download the video to your computer and enjoy it offline, as you would other videos stored on your computer. AVGO Free Facebook Video Downloader is a Windows app that makes that very convenient; grab any clip you want, and copy it to your hard drive!
AVGO Free Facebook Video Downloader has as simple a user interface as you can find, and it's operation is just as easy. Simply copy the video's URL when you're at its Facebook page, and paste it in the app's 'Paste URL' text field. You probably won't even need to paste it yourself, though; during testing, the app automatically detected the video's URL that had been copied to the clipboard, and pasted it into the bar all by itself.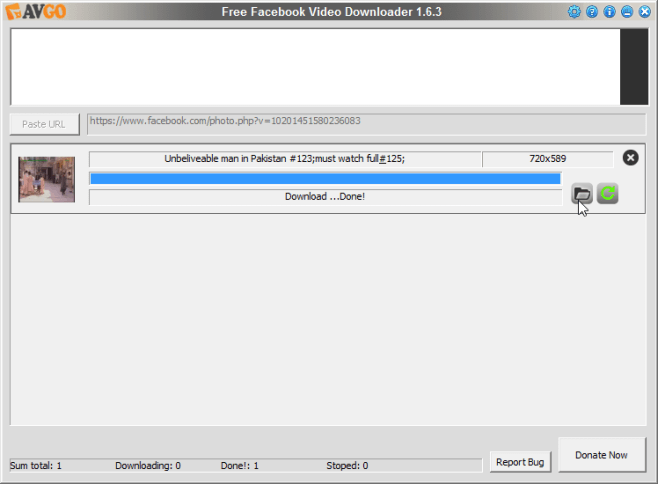 Before the video starts downloading, a dialog box will open up, prompting you to pick a video resolution from the available selections, and also specify the format you want the to download it in. You have quite a few options, among them AVI, MKV, iPhone, iPad, WMV and Android.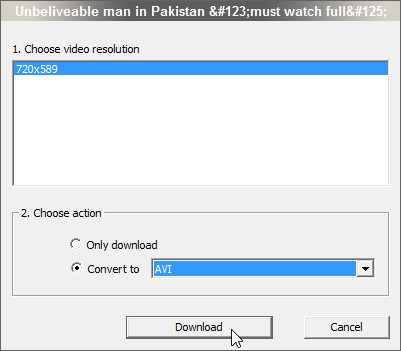 Once everything is set the way you want, click 'Download' to begin.
To terminate the downloading process while it is in progress, you can hit the red 'Stop' button on the right hand side of the app's user interface. Once the download is complete, the same button will turn into a green 'Re-download' button, which you can click to try downloading the video again if it failed in the first attempt. The 'Open' folder icon next to it will open the downloaded video's containing folder – the place where it's stored on your computer.
To access AVGO Free Facebook Video Downloader's options, click the little blue gear icon at the top-right on the user interface. An 'Option' window will open up.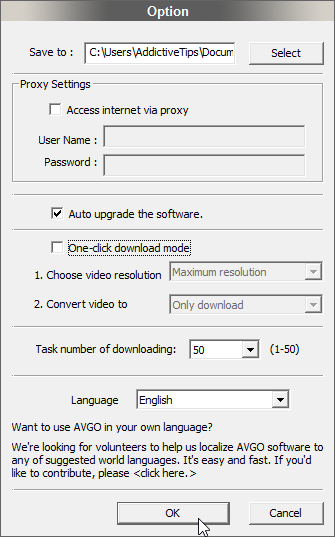 Here, you can browse for a default location for your videos from the 'Save to' segment, and specify any internet proxy settings if required. If you want to make the download process even more streamlined, try selecting the 'One-click download mode' box; you'll be able to set a default video resolution and default file format for all your downloads. Lastly, the number of maximum concurrent download tasks can be selected via the 'Task number of downloading' drop-down.
AVGO Free Facebook Video Downloader is available for Windows XP, Vista, 7 and 8. Testing was carried out on Windows 8, 64-bit.
Download AVGO Free Facebook Downloader