Easily Change Your Rooted Android Device's Screen Resolution
With every new Android device that hits the market, manufacturers try to put in as much technology and innovation as they can to make their product stand out from the competition. Besides speedy internet, longer battery life and punchier cameras, a device's display also comes in as the main deciding factor when making its purchase. Many of today's Android devices let you output on-screen activity to your TV or monitor. Not to mention, you can even play video games on your TV using your Android in a console-like fashion. But sometimes the difference between display resolution or aspect ratio of your TV and smartphone or tablet can be a nuisance, and you end up seeing black bars at the top and bottom edges due to this difference. You can, however, fix this issue to a certain extent by using the aptly-named Resolution Changer. Available on Google Play Store for free, the app allows you to change your Android device's screen resolution and aspect ratio among various sizes.
Altering the display resolution can also help you play today's graphically demanding games on older devices. Resolution Changer sports a very simple and minimal design, and works equally well on phones and tablets. When launched, a Display Scaler window pops up. Just select your device's display type, and then choose among a number of predefined sets of resolution. The main interface carries menus for Tablets, Phones, Custom and Fixes.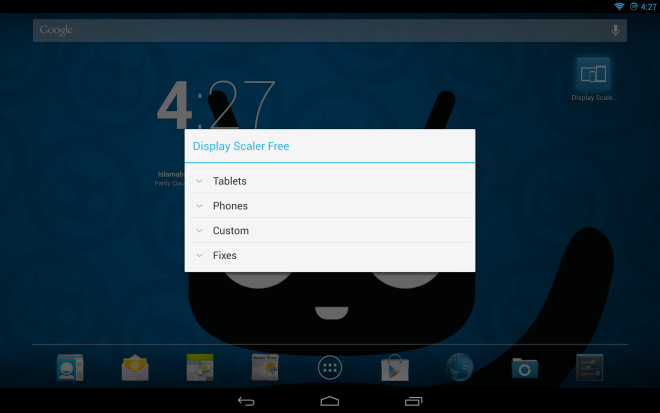 You'll be able to select the aspect ratio of your choice between 16:10, 16:9 or 15:9. Resolution Changer also lets you tinker with DPI Settings. However, this feature is only available in the paid variant of the app, which also offers the Custom Resolution option.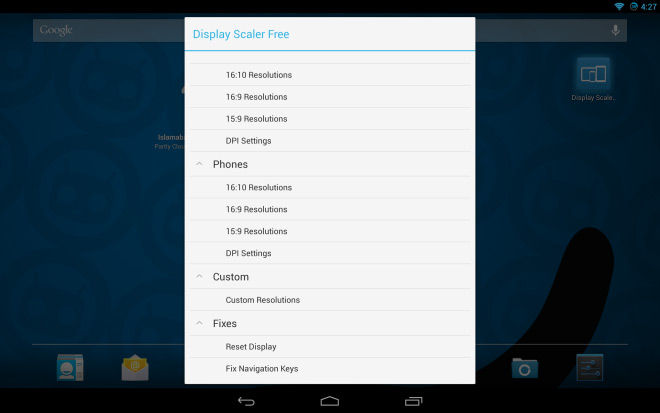 After you have selected your desired aspect ratio, the app shows you the resolution options available to you. For instance, during testing the app on our Nexus 10, I was offered two resolution options for the device under 16:10 i.e. 1920×1200 and 1280×800. Selecting a resolution instantly switches display to that resolution size. You can't undo any of these changes directly from here in case you need to revert back to the default states; for that, you will need to make use of the Fixes menu instead.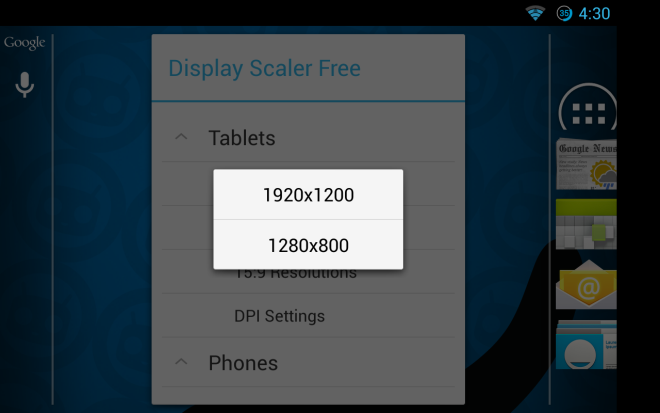 The Fixes menu holds two different options for fixing the display settings. The first option is to reset the display to its default (native) resolution, while the second option named 'Fix Navigation Keys' basically allows you to automatically fix on-screen navigation controls on nexus devices that can sometimes disappear from the screen after applying a new resolution.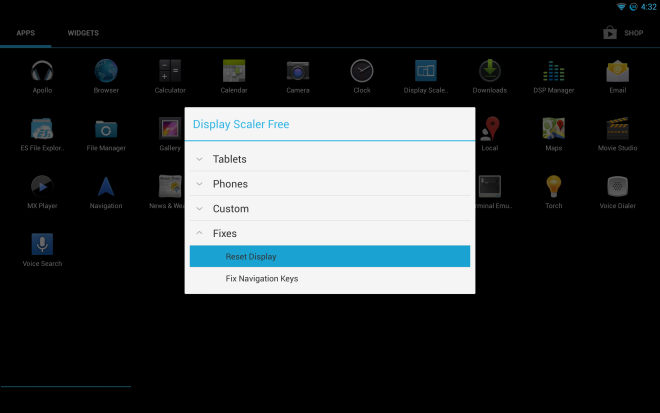 Resolution Changer works only on rooted Android devices and is available on Play Store in Free and Paid ($0.84) variants.
Download Resolution Changer Free for Android
Download Resolution Changer for Android