Batch Remove Image/JPEG Metadata With BatchPurifier Lite
Metadata is used to identify files by their attributes, such as color depth, resolution, time of creation, authors name, camera model etc. This data may include some personal information that you may have entered while editing the metadata (if you want to add and edit metadata, try PhotoMe), which can create a privacy issue if you are giving these images to someone else, or choosing to distribute them over the internet. Removing the metadata of each file can be quite a tedious and time taking task if there are a large number of files. Today, we have an application for you called BatchPurifier Lite that solves this issue. It is a batch metadata removal tool for Windows that lets you delete all the metadata information from JPEG images in one go. It removes metadata, including XMP, Comments, ICC Profile, EXIF, Photoshop Image Resources and Other hidden data.
To start, click Add Folder button available on the right side, and select the folder containing your images. BatchPurifier Lite allows you to add multiple folders to remove metadata tags from your images. When all required folders are added, click Next.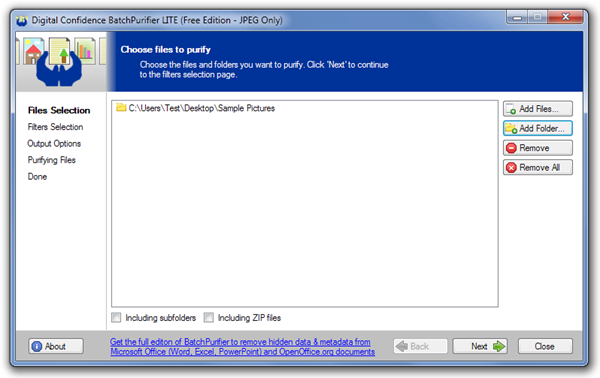 Then, choose the type of data that you want to include in the removal process. You can choose to remove the following types of data from your image files: EXIF (including thumbnail and geo-tag), Photoshop Image Resources, XMP, Comments, ICC Profile and Other Hidden Data. Click Next when all the required fields are selected..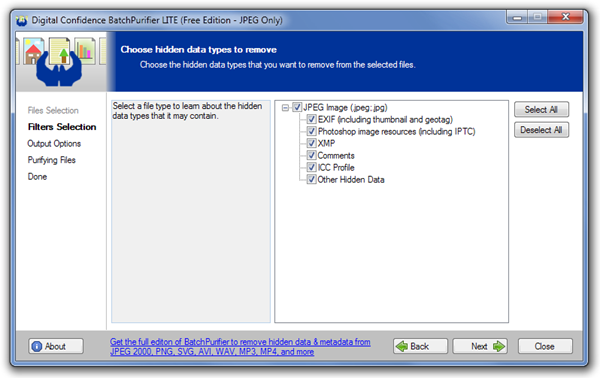 If you don't want to mess up the original folders, you can select a new folder to save the processed files. If you choose the Overwrite original files options, the old files will be replaced by the new one's in the same folder. Click Finish to complete the process.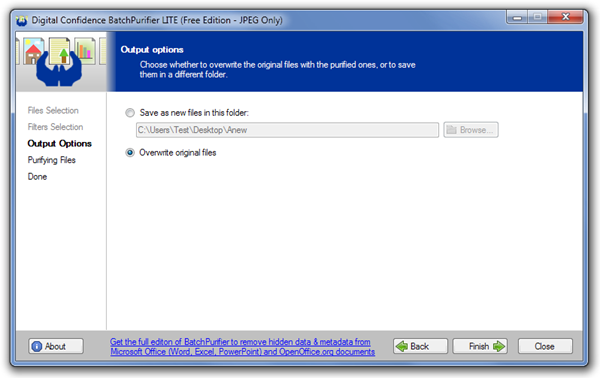 The selected metadata of all the desired images will be deleted. You can verify the removal of data by viewing the Details in image Properties.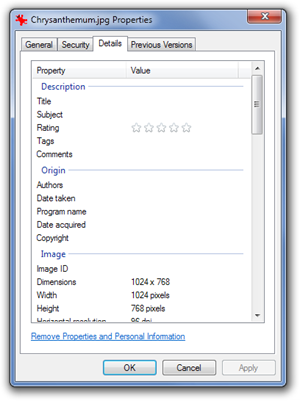 It is n doubt a very useful tool, but the limitation is too much to ignore. The fact that it can only remove metadata from JPEG files makes it useful in only specific situations. If the developer can add support for more image formats, it can become a must have tool for anyone who works with images. Moreover, the application can be expanded to include other types of files as well, such as audio files, video files etc. BatchPurifier Lite works on both 32-bit and 64-bit versions of Windows XP, Windows Vista and Windows 7.