Open Links In Private Browsing Mode From Right-Click Menu [Firefox Add-on]
The need for privacy is pretty basic for just about everyone (unless you're a reality TV star, then it doesn't matter) and privacy is all the more important when it comes to your online activity and there are always situations when the HTTPS protocol doesn't cut it. At times like this, browsing in private mode is the best option since it stops the browser from saving your browsing session, accepting cookies or tracking your browsing history. Open in Private Browsing Mode is a Firefox add-on that is designed to open links in private browsing mode when right-clicked. When you come across a link you'd like to open, but privacy is a concern, this add-on can come in handy. Just right-click a link and select Open in Private Browsing mode, and Firefox will switch its function, launching the link you selected with it.
Once you've installed the Open In Private Browsing Mode add-on, the option will be added to the right-click context menu. When you want to open a link in a private browsing mode, simply right click it and select Open Link In Private Browsing Mode from the context menu.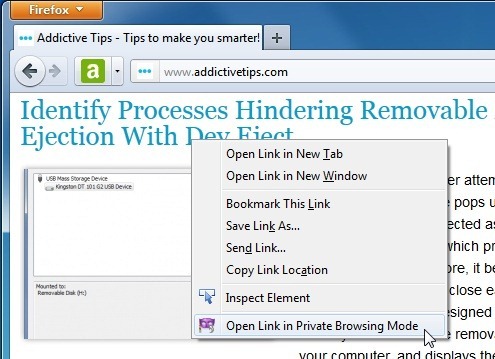 If you click the Back button, a Private Browsing web page is displayed. This gives you a warning that Firefox won't remember any history. It also explains how you can stop the private browsing. In order to stop the private browsing, go to Tools in the Menu bar and you will find a Stop Private Browsing option. Click this to get back your normal Firefox browser.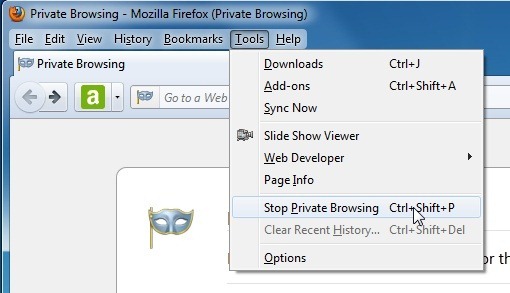 The extension uses the default controls to exit the private browsing session and gives no indication that your current session will be saved and restored when you return to normal browsing mode. The good thing is that while no such indication is given, the session is saved and when you exit private browsing, all your previous tabs are automatically restored. Since the add-on aids in opening links in private browsing mode, it makes sense that there should be an equally simple method of exiting it.
If you're wondering why you would want use an extension to change to private browsing mode instead of using the default function, it is because this add-on does more than just launch the browser in private mode; it also opens the particular link you wanted to view in stealth. Open Private Browsing Mode Add-on can be found at the link below. Chrome users can use Ghost Incognito for easily opening websites in incognito mode as a viable alternative.
Install Open Private Browsing Mode Add-On For Firefox