iPlayer Downloader is a nifty little app that can download DRM-free video(h.264) and audio(mp3) files from the BBC iPlayer service by pretending to be an iPhone. Downloading video from BBC iPlayer has been the toughest piece to crack and Paul Battley solves the problem by making an app that pretends to be an iPhone, a method that is both witty and clever.
You simply need to enter the Programme ID and choose the location of the output. When all is ready, hit Download. Since BBC iPlayer is available in UK only, this app is suited for viewers living in UK or have UK IP address.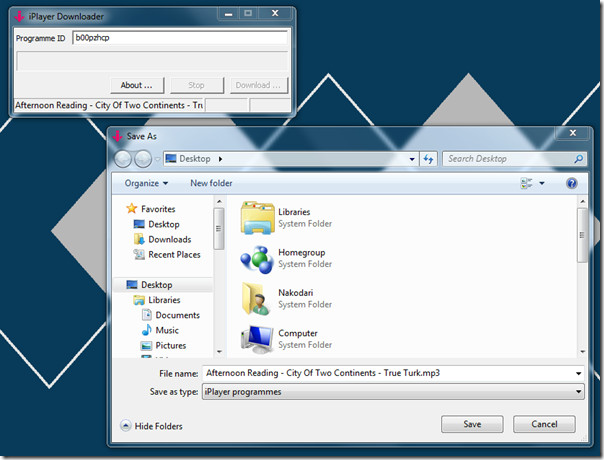 It won't be able to download every programme on iPlayer website since they are not always available. 3rd party videos embedded and locked content can't be downloaded. Having said that, you can download almost every other program. Most users who have tried it are having success downloading various programmes in HD video(h.264).
Note: If you get either Msvcp71.dll or Msvcr71.dll missing error, here is the guide to fix it.
It works on Windows XP, Windows Vista, and Windows 7. It is also available for Mac. For more, also check out iDownload.